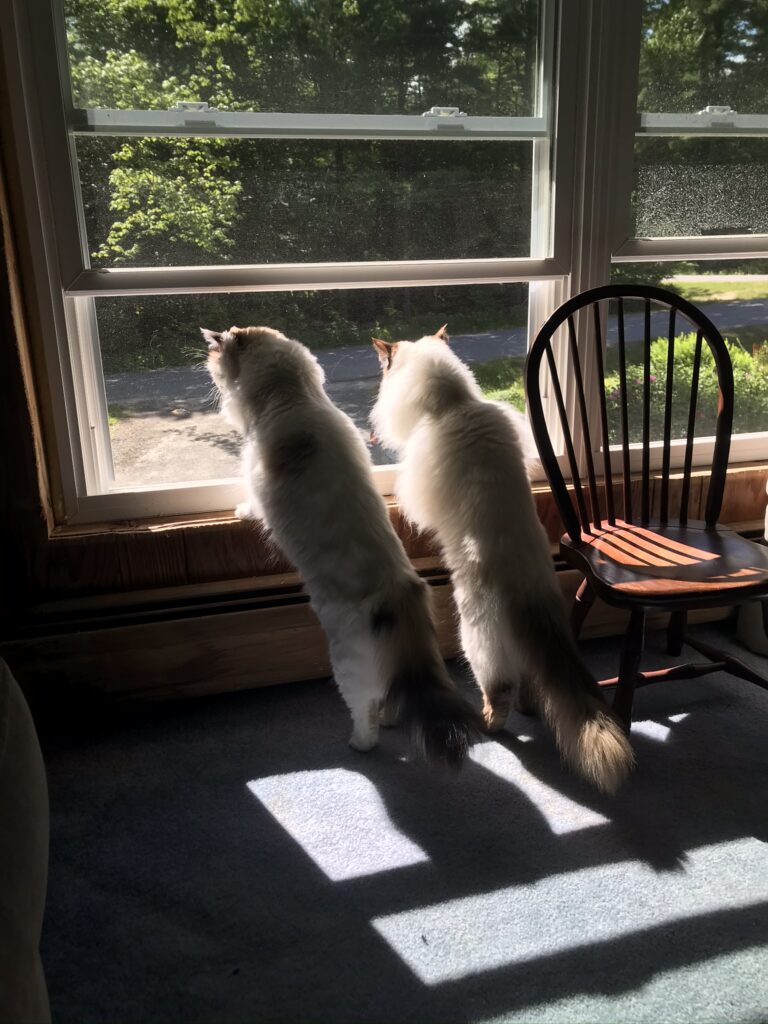 Jenny Lane Update #1 – Propane Tank Install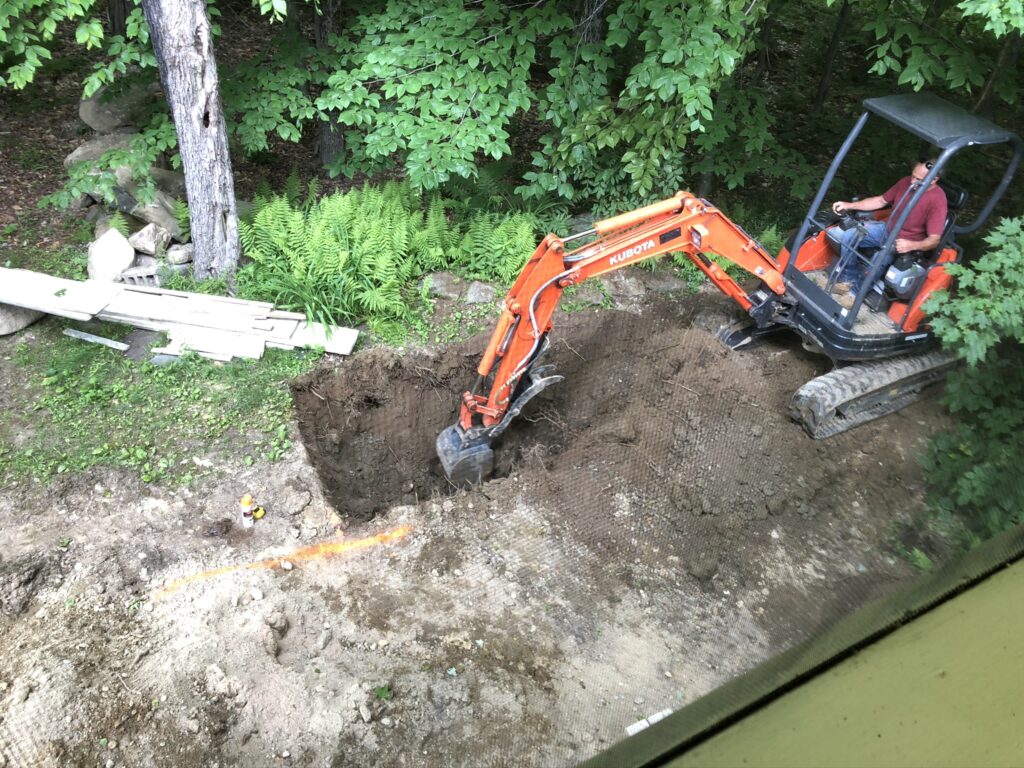 It was quite the week at Jenny Lane. Between the windows, the furnace, the hot water and the cement I don't know where to begin. Preparation was made for the installation of the new furnace early on in the week as the schedule called for the Huckleberry (furnace) folks to arrive promptly at 8AM on the 17th to begin the install. That meant that all needed to be ready for them to proceed. First and really the most important part was we needed to get the propane tank removed as a lawn ornament and buried in its permanent home in the yard behind the house.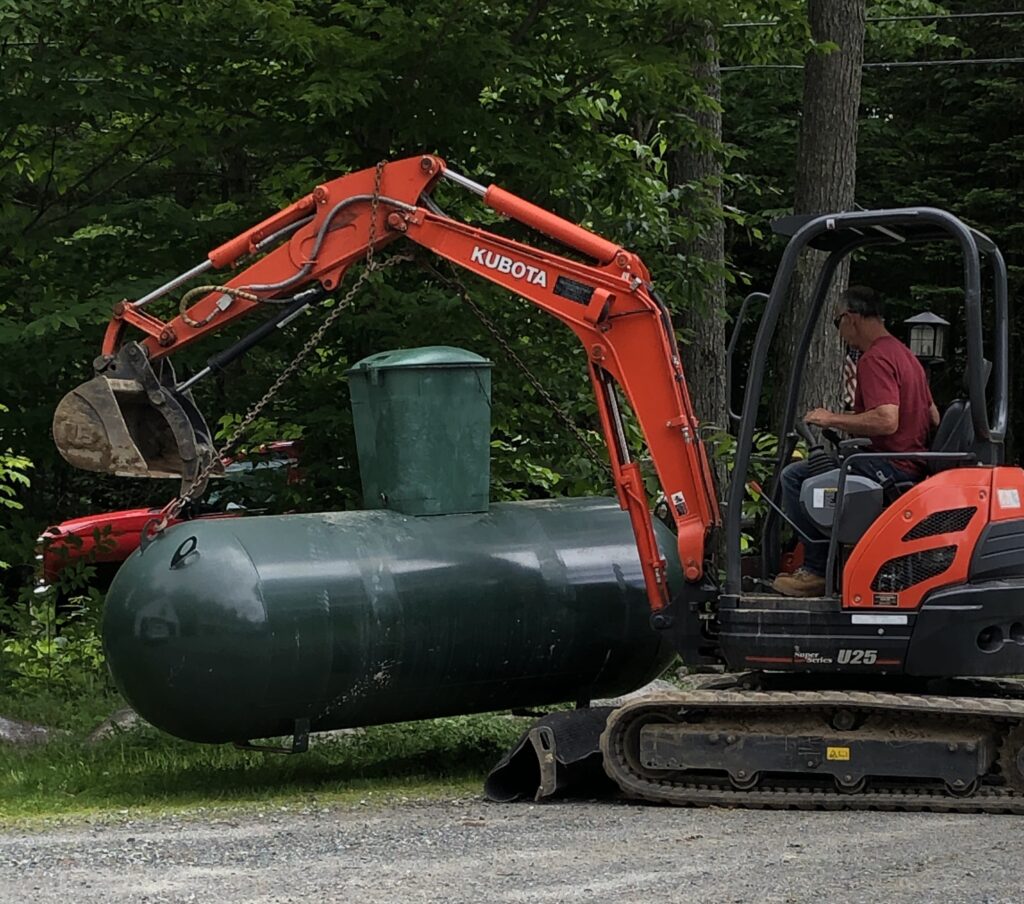 Roger's little red machine was up to the task and he figured out a way to lift the tank using chains and some sort of physics thing – he said you just have to outsmart the tank – and it went up in the air, swung a little left and right but made it to its new home behind the house. I, frankly, held my breath and yelled at John to move my car – just in case!!!!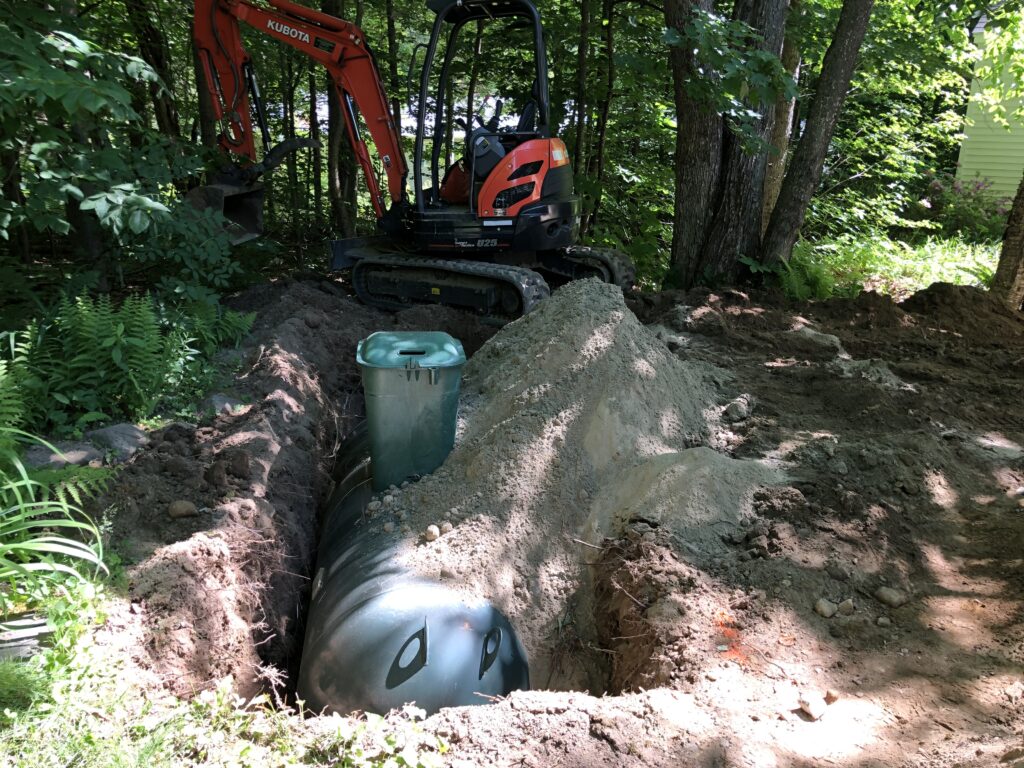 Jenny Lane Update #2- Creating Space for New Furnace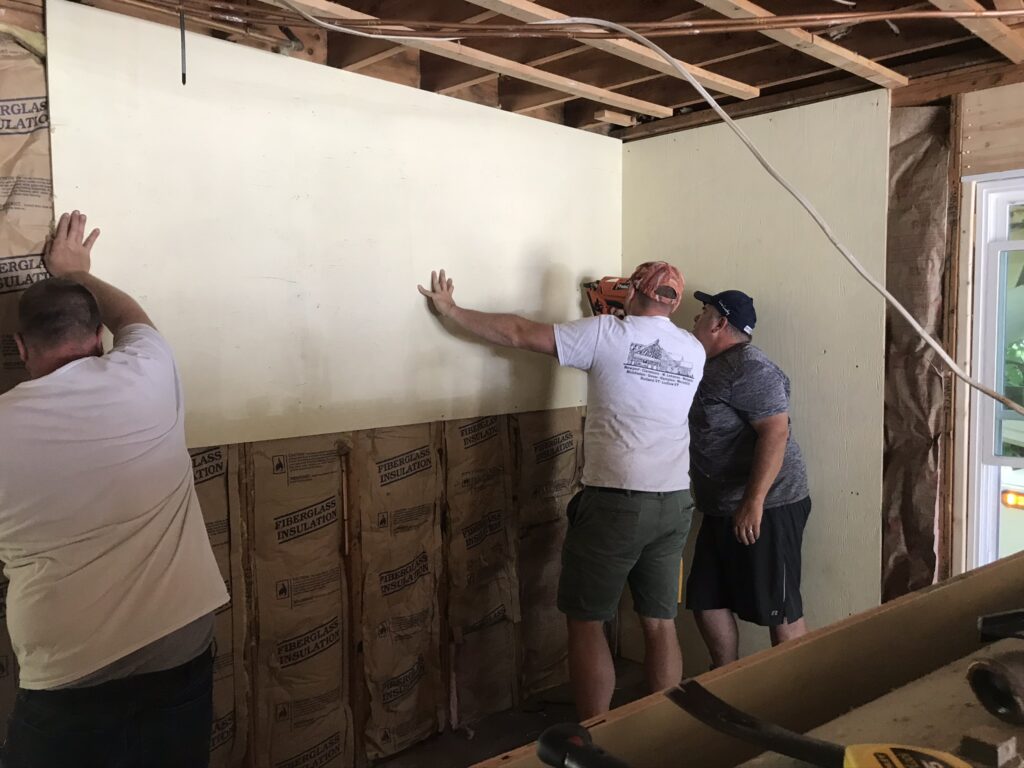 Second and almost as important were the plywood walls that John had painted which needed to be installed. This was for all the equipment to be hung on. Believe me, I had no idea. I'm thinking one little piece of plywood, how much could a furnace take up? Wrong! Three pieces and they were used to their fullest extent. Again, I am thinking a small unit attached to a wall. Hadn't figured on how the hot water for the radiators or the showers would be distributed.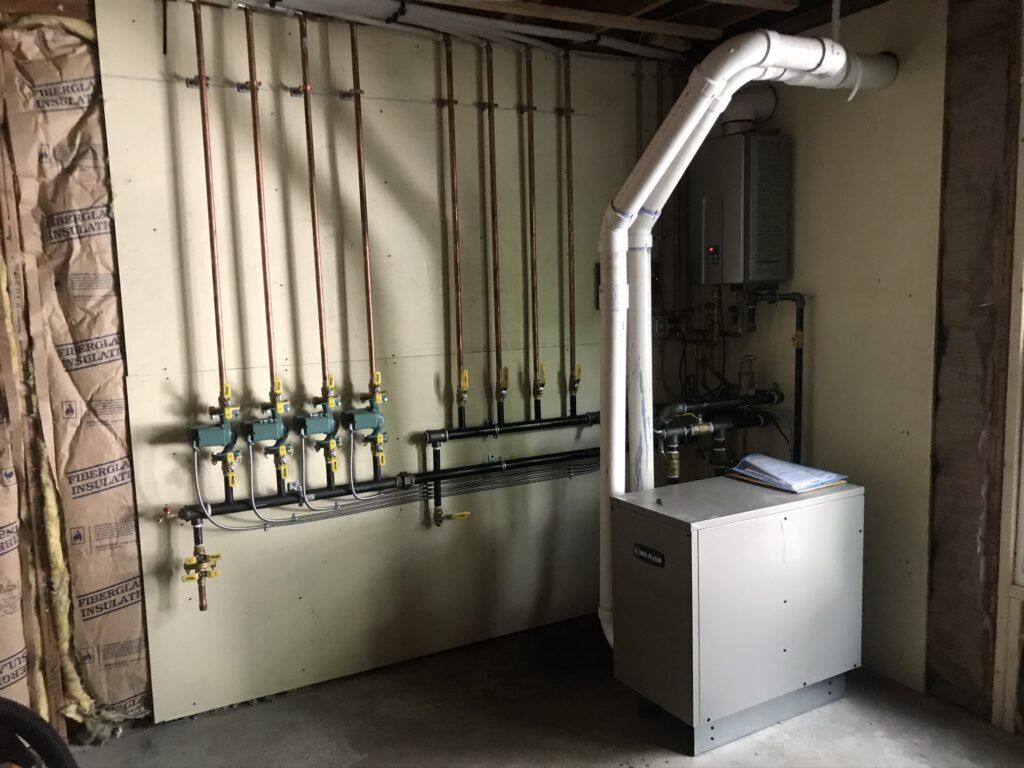 The people who came from Huckleberry's were on time both days. Worked non-stop and diligently to get the new furnace installed and working along with the on-demand hot water heater. It was a pleasure to have them here working on this project. Our thanks to Doug and Andy. I am pleased to say that the hot water is terrific. For the first time no one is being scalded while taking a shower or washing dishes which is not the way it was before. We haven't needed the furnace in the hot weather but we know it works because we tested it. Only needed one thermostat replaced. The old furnace is gone and despite all my cleaning effort it doesn't look very nice in there but the laundry room is three times the size it once was. It will be redone at some point but I know it is clean for now. I plan to at least paint the floor which will make it look a lot better.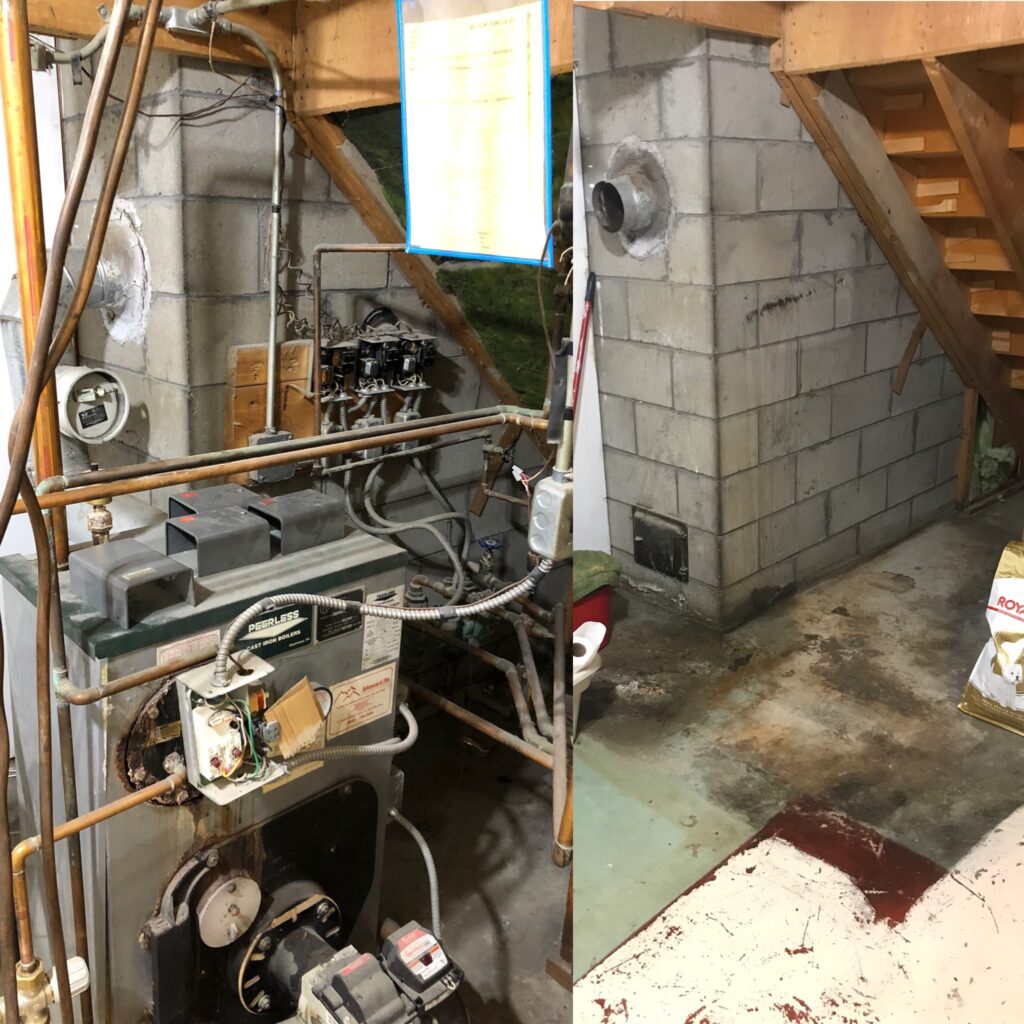 Jenny Lane Update #3- New Garage/Bonus Room Windows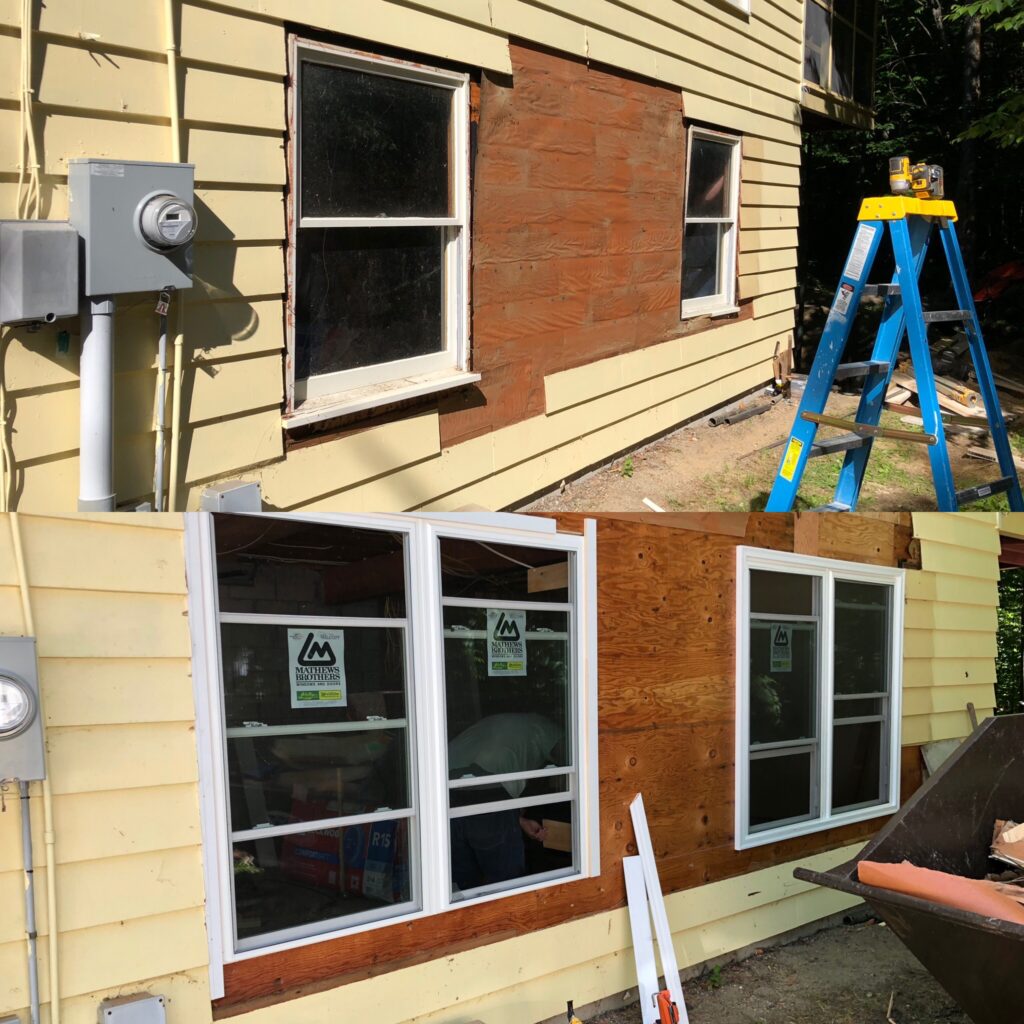 These are the windows that were delivered back in March that were the wrong size. We got our two for the price of one and we now have lovely big windows in the former garage soon to be bonus room. What a tremendous difference they make already. So much more light and, as the others do, they open and let in fresh air. The old windows will be recycled into the new store room that is going to be at the back of the old garage that is also the foundation for the four-season porch that will one day be built above it. It seems we have a lot of projects going on simultaneously and I am having trouble keeping track of them all right now. You just go with the flow at this point.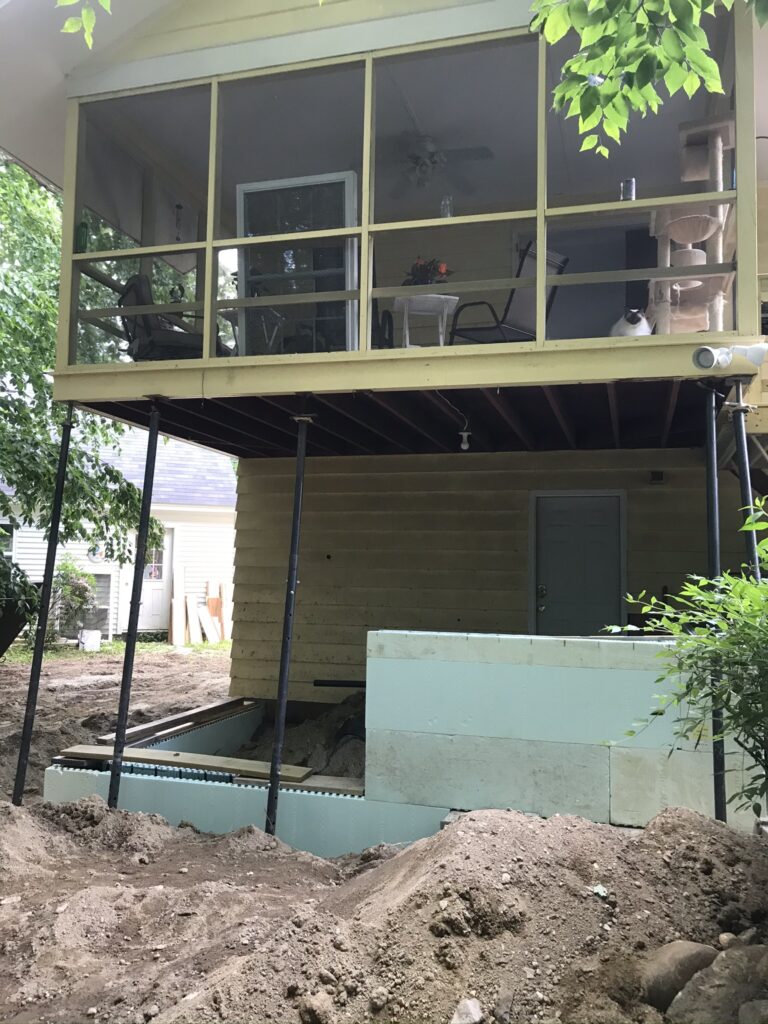 Jenny Lane Update #4- Pouring Foundation Cement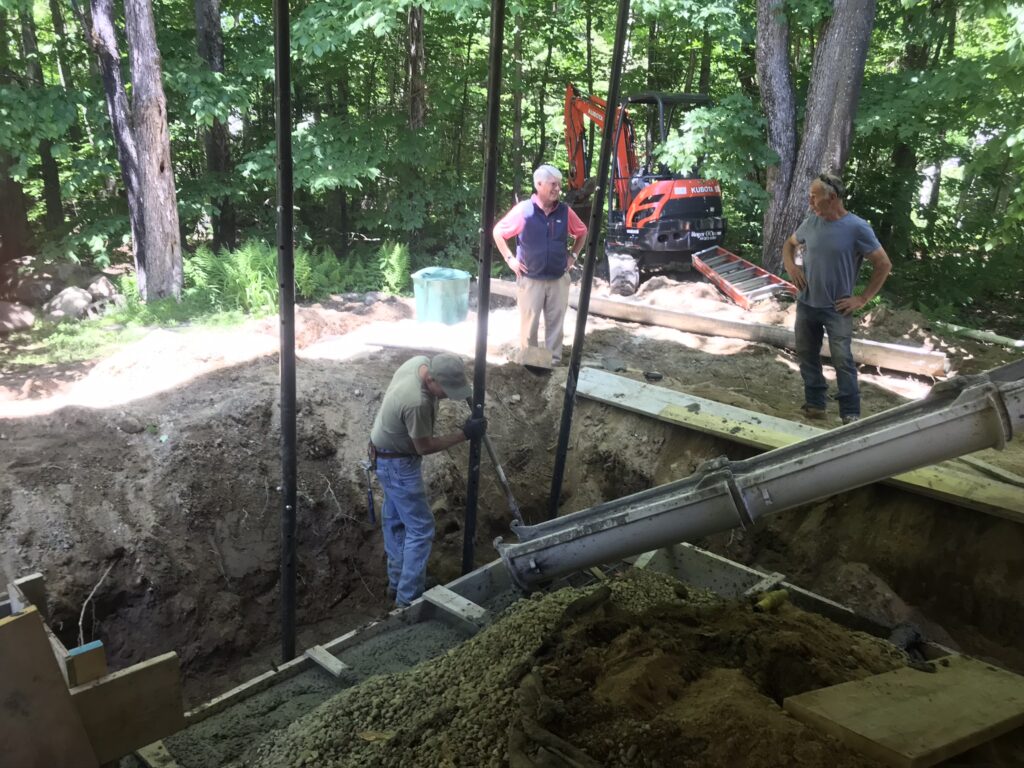 This project took on a life of its own. I had pictured simple footings for the new posts. Little did I know that we were not only getting footings but also walls and a cement floor. I suppose in the long run it will be much better than what I had thought we were doing but it is a little overwhelming to see what is being created underneath the current screen porch. I am pretty darn sure that the porch will not, under any circumstances, fall down which is not something I could say before.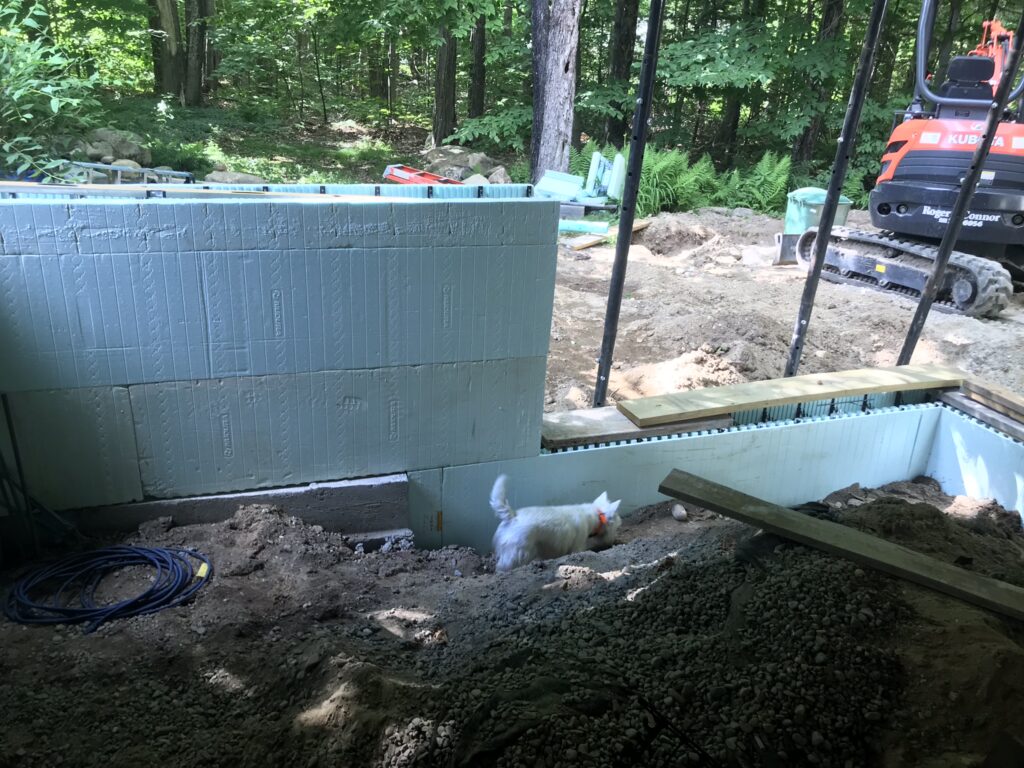 Anniversary #51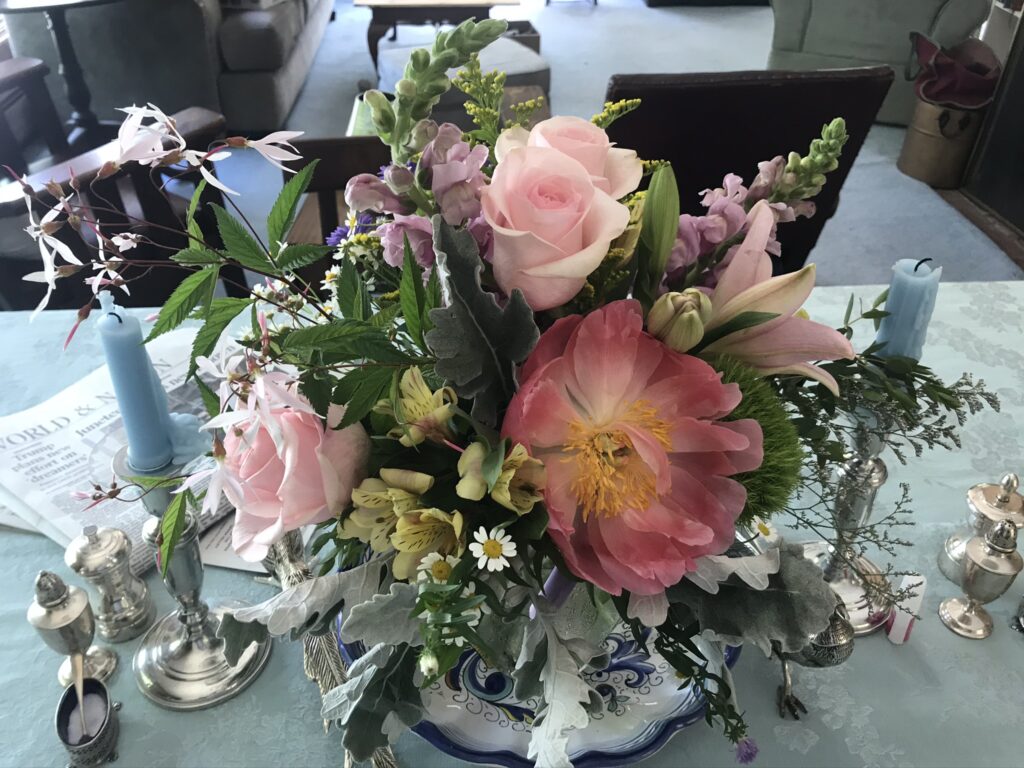 June 21st is our Anniversary and this year we celebrate 51 years. I really cannot believe we have been married for this long. It seems such a short time and yet it also seems like eons. We were so young when we got married and I often prayed that we would make it to 50 years. That seemed the pinnacle of married association. I actually didn't know that many people who made it that far, not from divorce but rather from one or the other partner being widowed. So far so good. I won't pray for another 50 years but at least 25 would be really nice as long as we stay healthy and active. Happy Anniversary to us.
Walking in the Heat and Sunshine
It is hot here and that meant we had to go looking for a swimming hole. There are many opportunities around here and we found the perfect spot. Deep enough for a good swim, lots of running water and a sandy beach where Bean could launch herself into the water after a stick. Wyke decided he needed to roll in some lovely black soil that was destined for someone's garden. No English Cream Golden now. Bean just kept going back in the water chasing after the sticks that I threw for her. Needless to say, Wyke was sent back into the water to rinse off. I did get out and walk pretty much every day this week. New shoes seem to be making a difference in my foot. I want it to be all better immediately but it will take time. So far I am happy with the progress. No major walks because of the heat. Sometimes it is better to be smart and my foot appreciates the rest.
The Vegetable Garden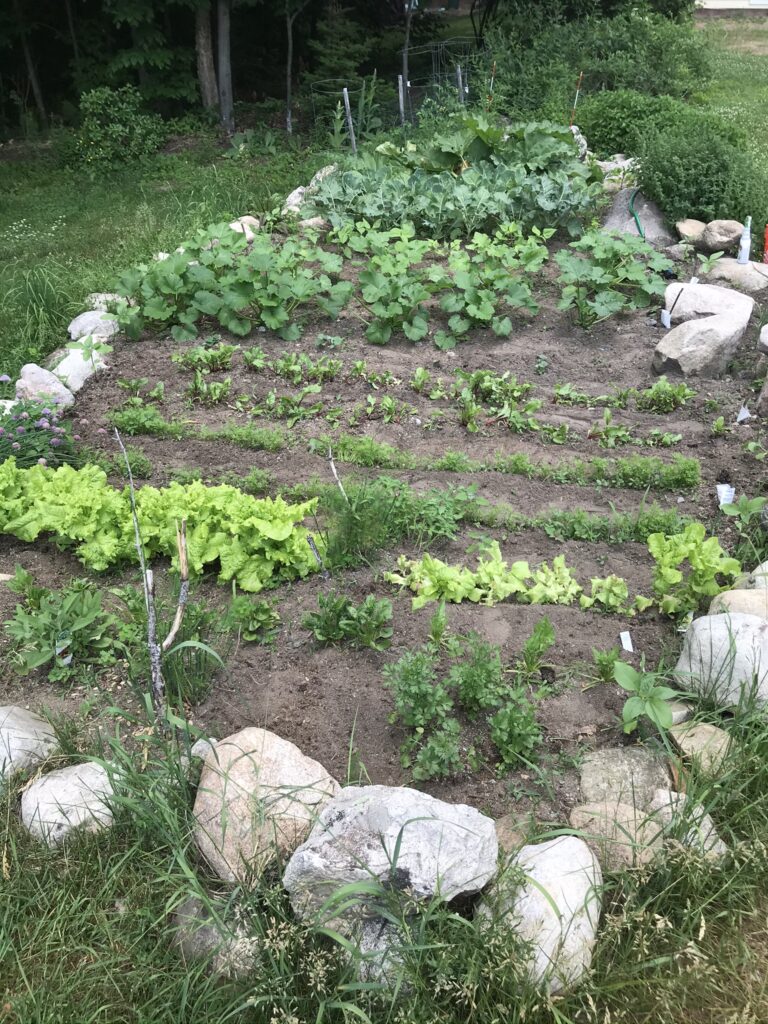 Today's vegetable garden adventure was weeding and harvesting spinach and lettuce. We have so much we can hardly eat it all. The other vegetables are growing but so far no produce. Wish I could get my basil to fill out. We all love it but my plants are really sparse and I am not sure why. The cilantro is taking over, the mint already has, the sage looks gorgeous and so does the oregano. Lavender and Rosemary are doing just fine. Tomatoes are full of blooms and when the squash comes in, oh boy. The brussels sprouts and broccoli look very healthy too. Beets and carrots are coming along very nicely as well. I made a lovely salad with beet greens, lettuce, tomatoes, beets and cucumbers for lunch today. Some of it purchased and some home grown. Pretty soon it will all be home grown.
Roasted Beet Hummus from Blue Zones
INGREDIENTS
2 medium or 1 large beet
1 (16 oz.) can chickpeas, unsalted
¼ cup lemon juice
3 cloves garlic, minced
3 tablespoons tahini
¼ cup olive oil
sea salt and pepper to taste
DIRECTIONS
Rub beets with a small amount of olive oil, wrap in foil, and roast at 375°F until very soft.
When cooled, slice beet and add to a food processor and blend to desired texture.
Add the remaining ingredients and blend to desired texture.
Serve drizzled with remaining olive oil.