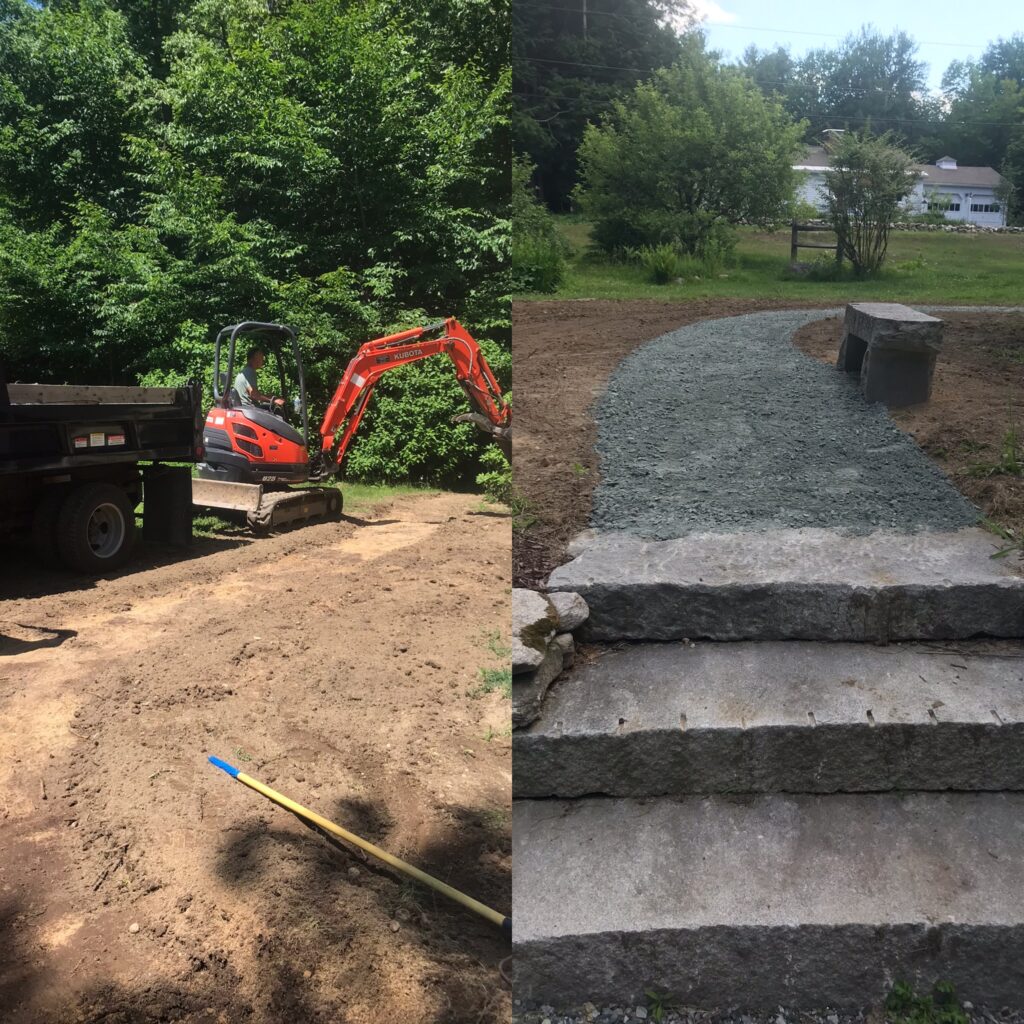 The Path
This was a very big week on the home front. We returned from our trip to meet Edie and after a slow start got back into the groove of living and renovating Jenny Lane. While we were away we had hoped that Roger, the man with the digger, was going to be able to put the front yard back together again after it was torn up last fall. However, the weather did not cooperate while we were gone and he only got a little bit done. It turned out to be fine as he needed input from us anyway. We had decided to put in a path from the front of the house around the side to the back patio. It was all torn up from the digging around the foundation in the fall so this seemed like a good time to do this project. Roger was able to use his little red digger machine to put the path in and then spread the blue stone as the topper. He takes great pride and joy in putting something like this together. We had numerous conversations about the flow of the path and where to put the granite bench that he insisted we needed to have. The man loves his granite – you might have noticed the granite steps at the front of the house and the granite steps at the back off the patio. All Roger's own granite.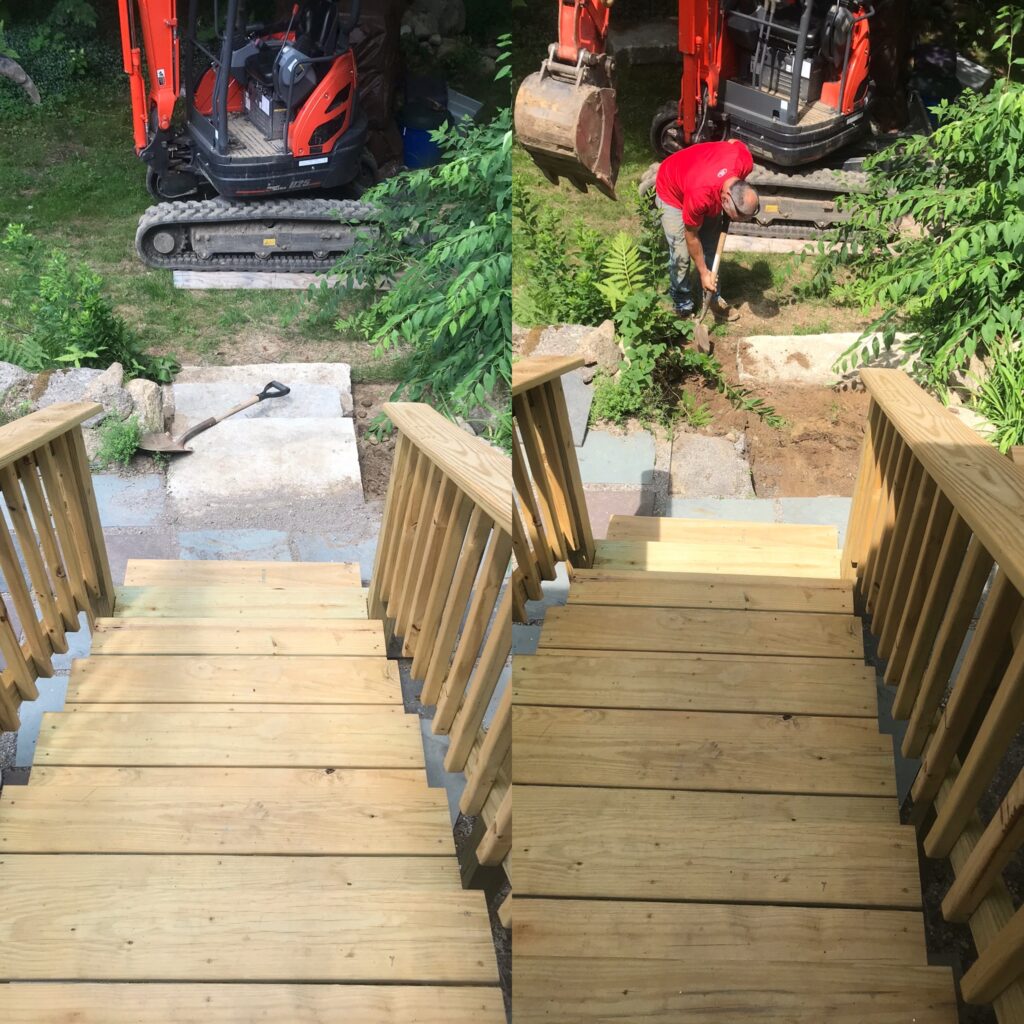 The Back Yard
Next came the back yard project. Again, it was cleaning up after another project was completed. We had to bury the propane tank which meant digging a large hole in the back yard for it. Also digging a trench for the line to the house. Then we had the shoring up of the screen porch which turned into a cement floor and walls and what now looks like it will be another room. This also entailed a lot of digging and making a mess which then needed to be put back together again. Once Roger finished with the path and the front yard, he moved to the back. However, while he was there he noticed a problem. The beautiful wooden stairs that are the exit from the house via the screen porch, were built in March and they didn't line up with his beautiful granite steps that he had put in when he rebuilt the patio after digging for the drains around the foundation. He was not happy and said "no charge to you but I would like to move those steps so they line up." I, of course, said "go for it".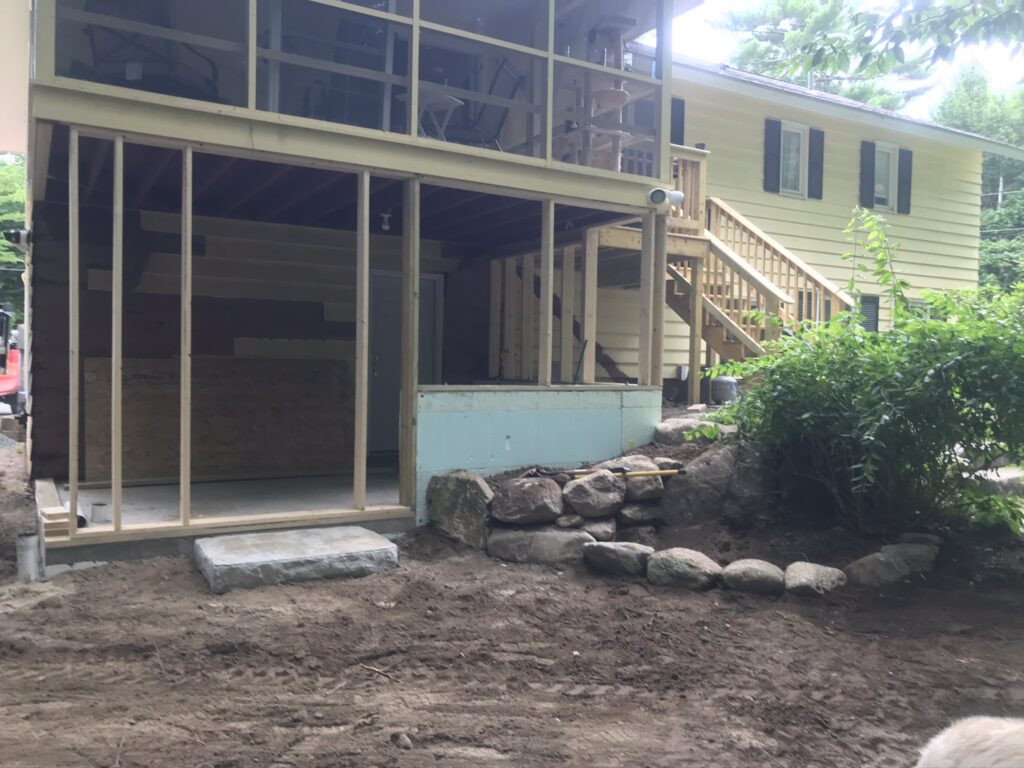 There is much more to be done to create a nice look around the foundation to the screen porch but it is already looking better. We were able to utilize a large cement base that was supposed to be for the stairs but was not needed due to the different design. It is now the step for when you are leaving the new who knows what room to go into the back yard. One project just flows into another. Keeping track is fascinating.
The Third Window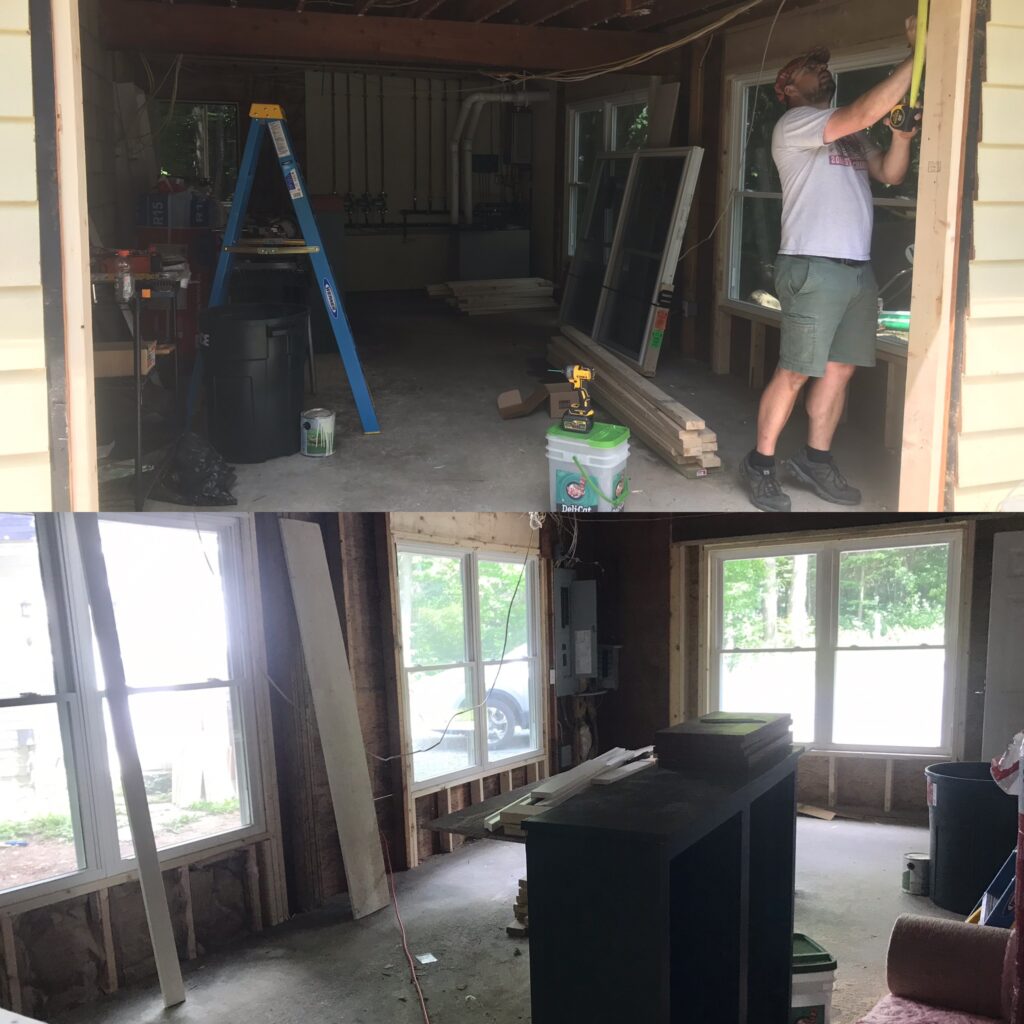 The next major update was precipitated by the arrival of the third window. We installed the two windows that were delivered and were the wrong size, the ones we got the two for one price on in the old garage now known as the bonus room. We then ordered a third window to match to replace the garage door. The window arrived and our mighty team of Les and Chris showed up the next day. They were determined to remove the garage door and build a wall to install the third window.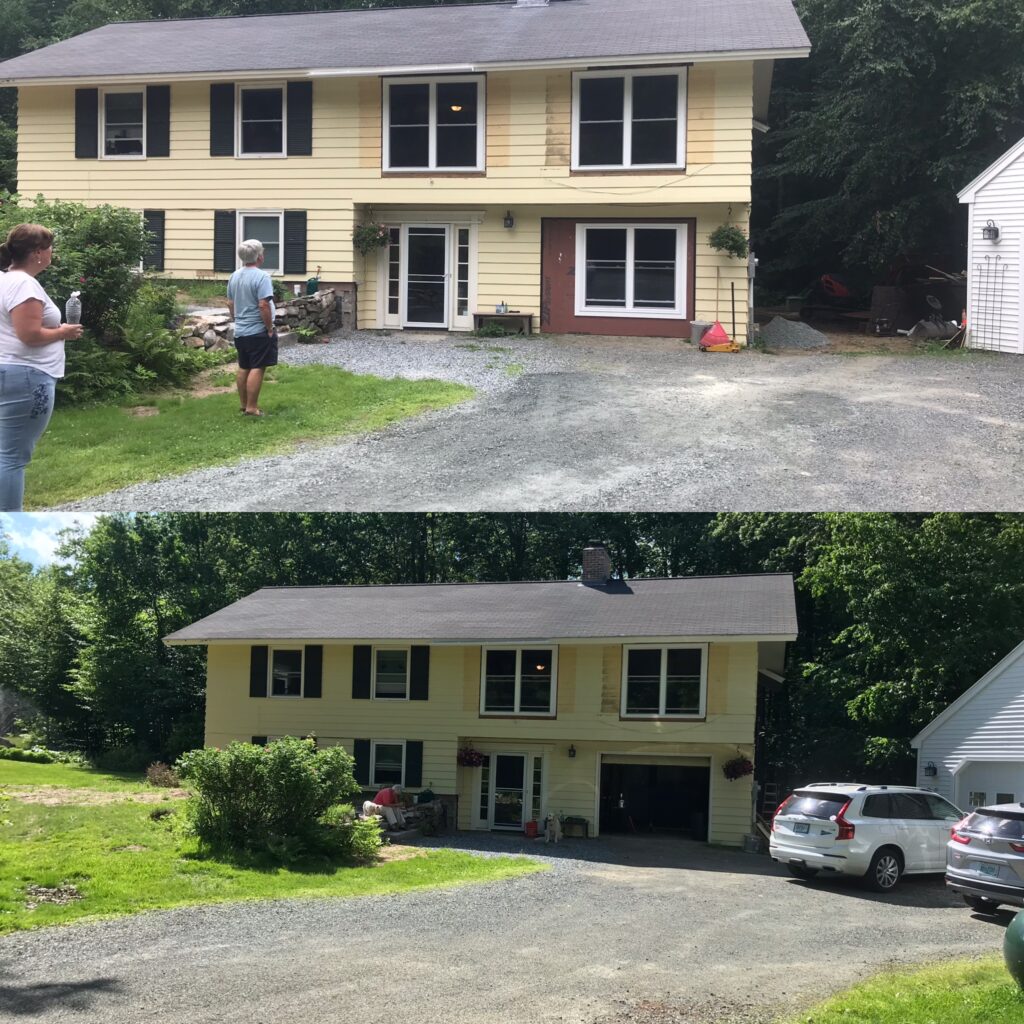 It was feverish activity because we couldn't leave it open with Tropical Storm Fay on the way. When they put their minds to it they can do anything. Mr. Optimistic and Mr. Reality but it works. By 3pm we had a new wall with a beautiful window installed. As we said at the time, this was transformational. It looks the way it is supposed to look. Our vision is slowly coming to fruition.
The Front Hall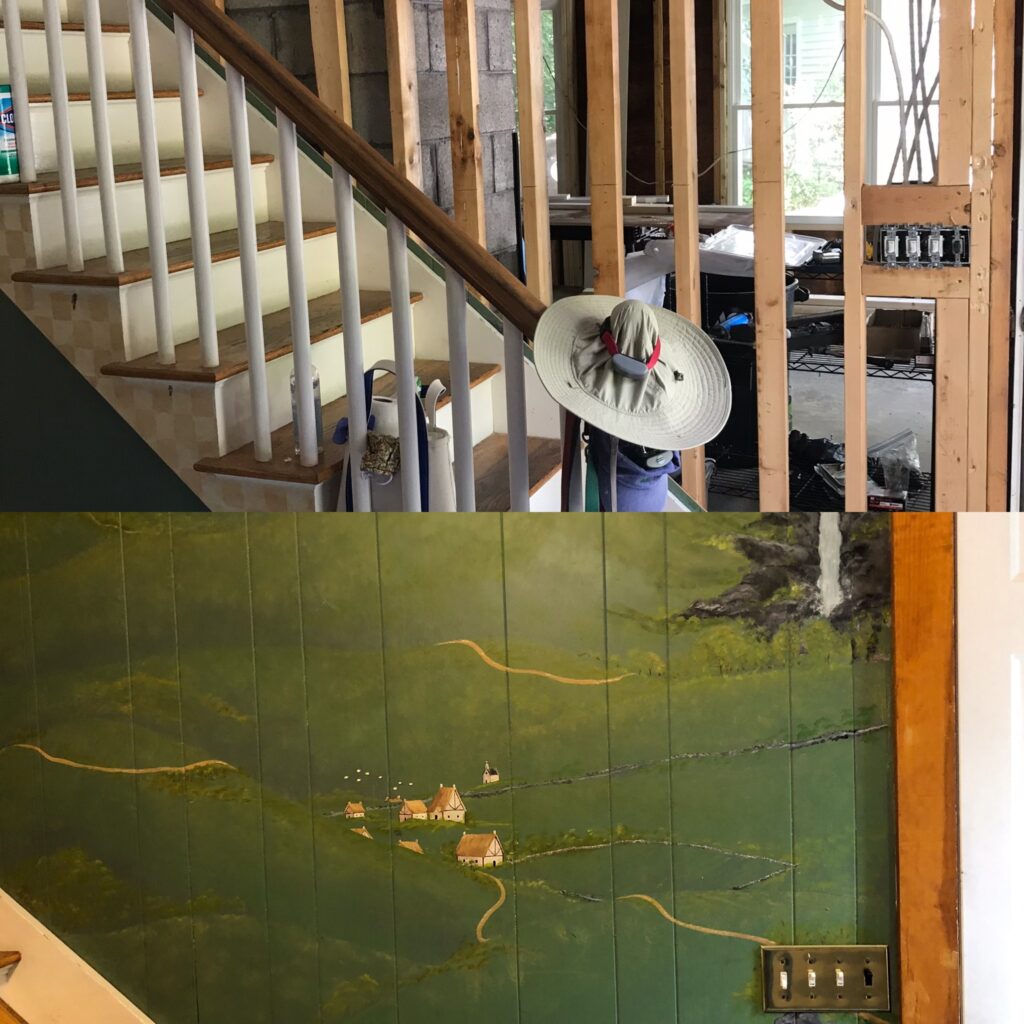 That's not the only big thing. In preparation for the new floor in the front hall there is a lot of preparation work to be done. This is John's area of expertise and he loves demolition. First the hall was emptied and then he went to town taking down the trim and the walls. It is all that same paneling that is throughout the house and he loves to just take it down. It is a mess right now and will be for quite awhile. This week the old tile will come up and hopefully some new walls will be put up. Electrician needs to come and then the insulation guy and then the sheet rock and the ceiling guy and eventually we will get to the paint piece of it. Thanks to the pandemic and self-isolation we have plenty of time on our hands and we need projects.
Strawberry Jam – It's What You Do When It is 90 degrees Outside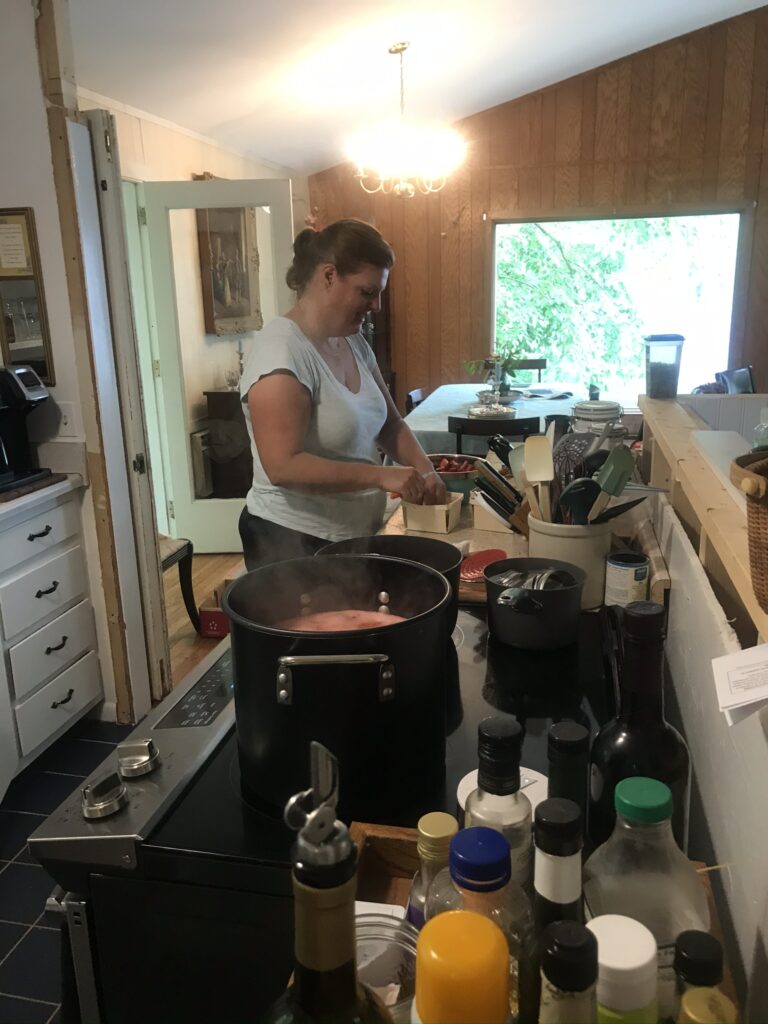 Every year for as long as I can remember my mother and then my mother and sister made strawberry jam towards the end of June or beginning of July. Last summer my sister, Katie and I got together in North Hatley and made Gran's recipe. It was the hottest day of the summer. Well not be to outdone we decided that we needed to refill the jam coffers and we set to making a New Hampshire version. I ordered the strawberries from our local vegetable stand and we got right to it Saturday morning. We didn't need to make as much as we did last year because it is just for us but we ended up with 12 quarts of jam. Not to be outdone, my sister who was on FaceTime with us, decided she had better make some jam too. She made about the same amount. We still sort of did it together but in two different countries this time. The jam is delicious and we survived.
Walking This Week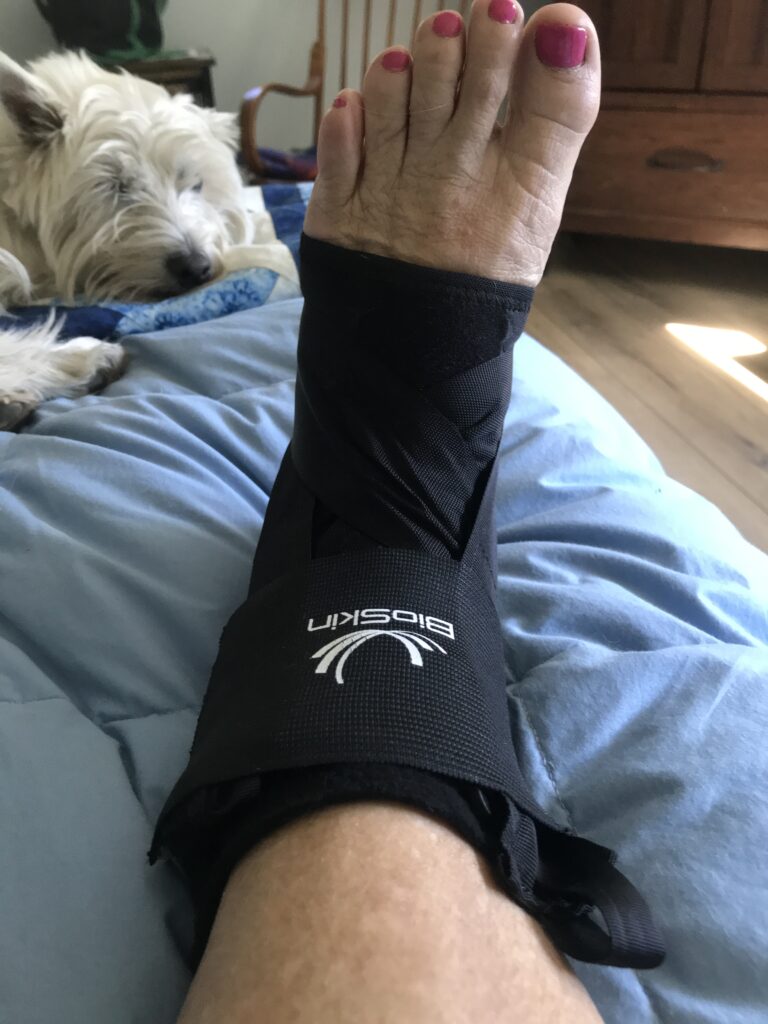 Despite the heat I was able to get out and walk a few days this week. My foot is better but I am now wearing a brace which actually works really well. It has allowed me to walk with very little pain in my heel I just have to remember to wear it whenever I am on my feet for any length of time. The dogs and I enjoyed a couple of nice long walks on the Northern Rail Trail. I chose that one because it was so hot this week and they needed to be able to swim. We did a couple of walks in our neighborhood but I am now absolutely not going into the woods. The bears are all around all the time. Katie looked out her window and saw two of them walk up our road and proceed to sit on the stone wall across from our driveway. Couldn't care less about all of us. I think the dogs treed one when we tried a woods walk earlier in the week but I turned around and headed for home rather than investigate. The rail trail is flat which is probably better for my foot at this point anyway. It also allows the dogs to have a really good run and as I said before they also get to go for a couple of swims.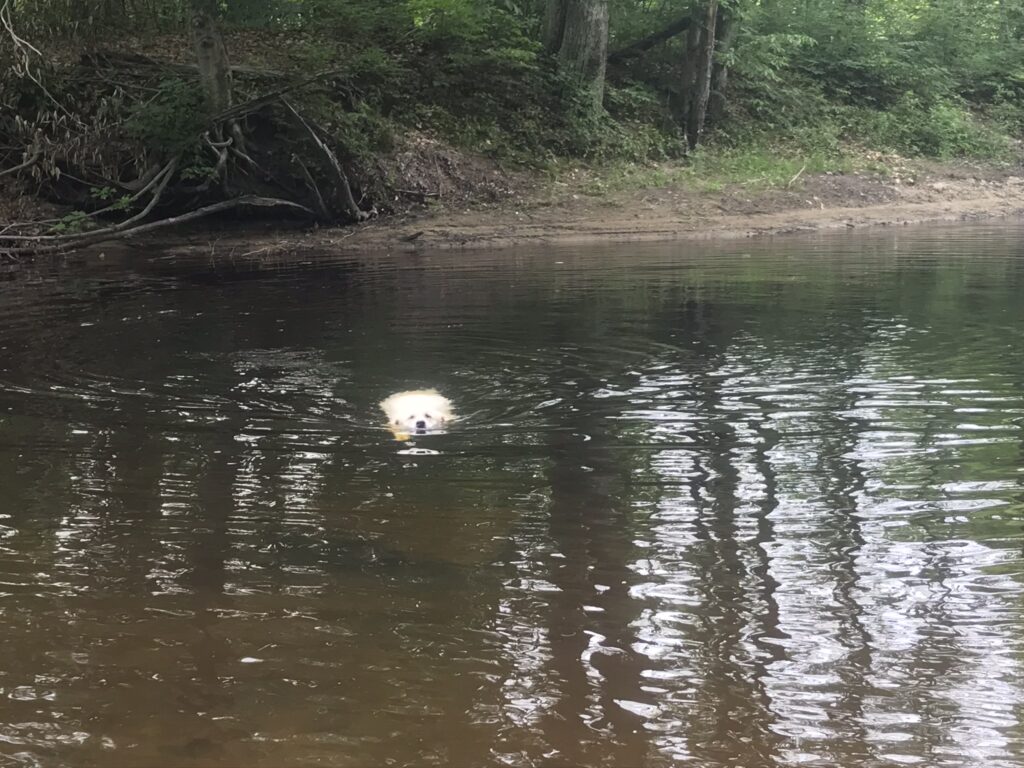 A Recipe For You
Broccoli Salad from one of my favorite bloggers Kristina's Kitchen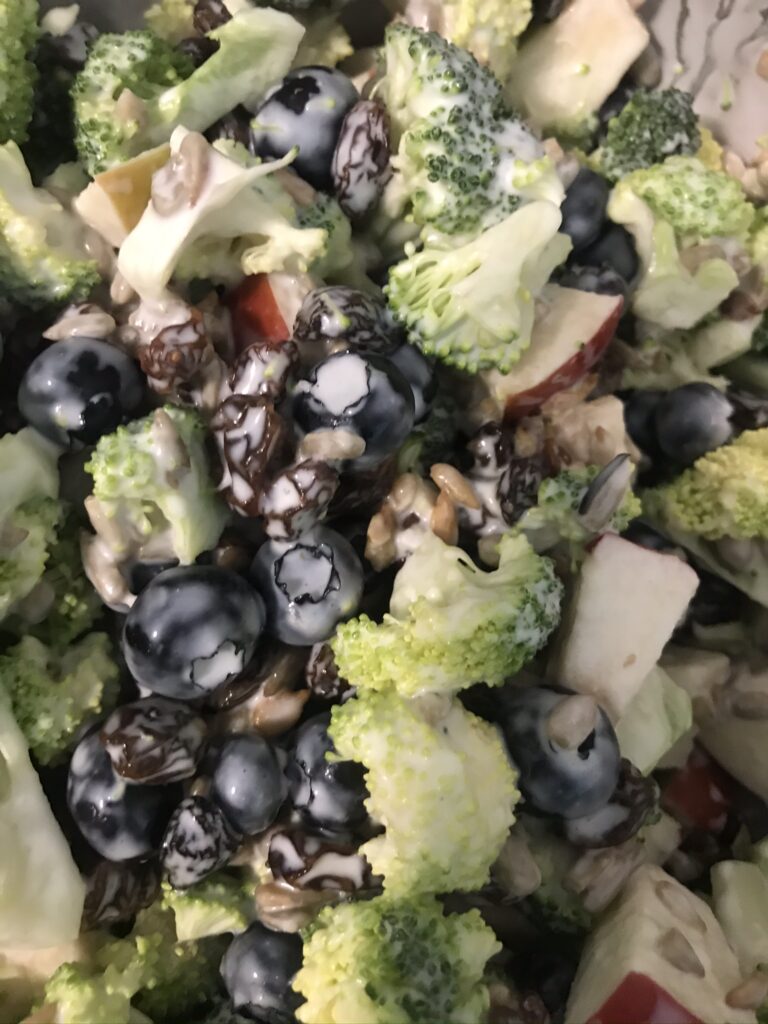 So easy. We made it this week and it was delicious. Here you go.
Ingredients
1 ½ pounds fresh broccoli cut into bite-size pieces
1 cup fresh blueberries
¼ cup finely chopped red onion (I forgot the onion)
½ cup dried cranberries
¼ cup sunflower seeds
1 large apple chopped into bite-size pieces
1 tablespoon lemon juice
For the homemade dressing:
1 cup plain Greek yogurt (I used 3/4 cup and 1/4 cup mayo)
¼ cup honey
1 tablespoon lemon juice
2 teaspoons apple cider vinegar
1 tablespoon poppy seeds (I left these out)
Instructions
Place broccoli, blueberries, red onion, cranberries, and sunflower seeds in a large bowl. In a small bowl, toss apple with 1 tablespoon lemon juice. Add to the big bowl with the salad.
In a small bowl, whisk together all dressing ingredients. Pour dressing over the salad and toss gently to combine. Salad may be served immediately or refrigerated until serving. It will last for 2-3 days in the refrigerator.