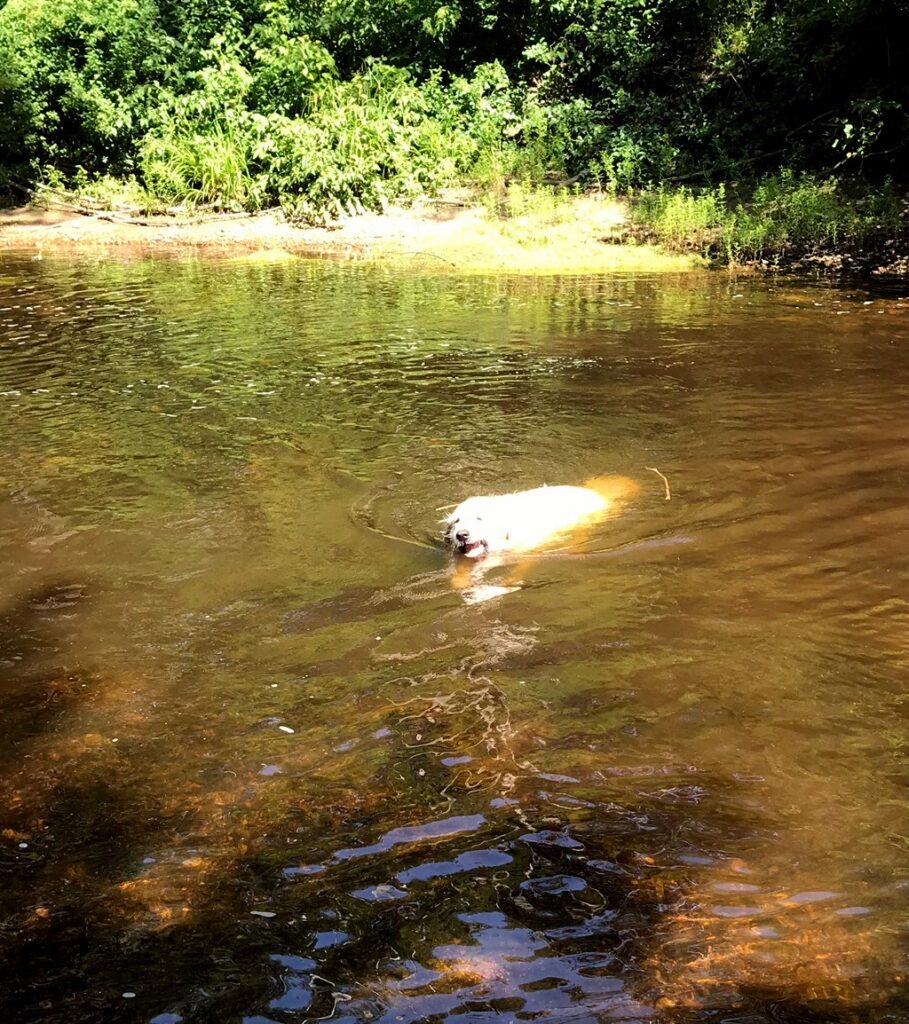 After a slow start for walking this week I ended up having three really great days with the dogs out on the trail. My favorite was a walk we found along the Blackwater River that runs through the property owned by Proctor Academy. I often walk it on the rail trail side but this time I crossed over the trail and walked through the fields. The dogs were ecstatic. You can always tell when they are happy because they start to tease each other and run in circles. They kept jumping into the river to swim or get a drink and then they would come out and run around chasing each other again. At one point, Wyke, just stayed in the river and swam along following me as I walked up on the track through the field. He could see me and I could see him but he was just happy to stay in the water. I think he is smiling in the above picture.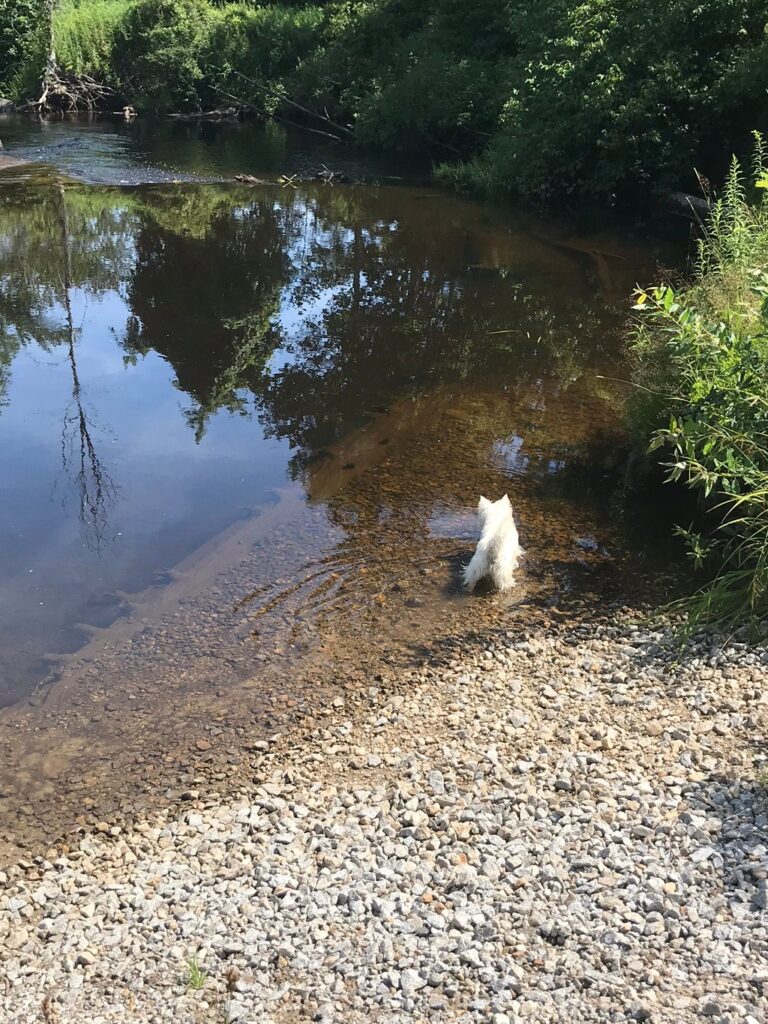 Update on Jenny Lane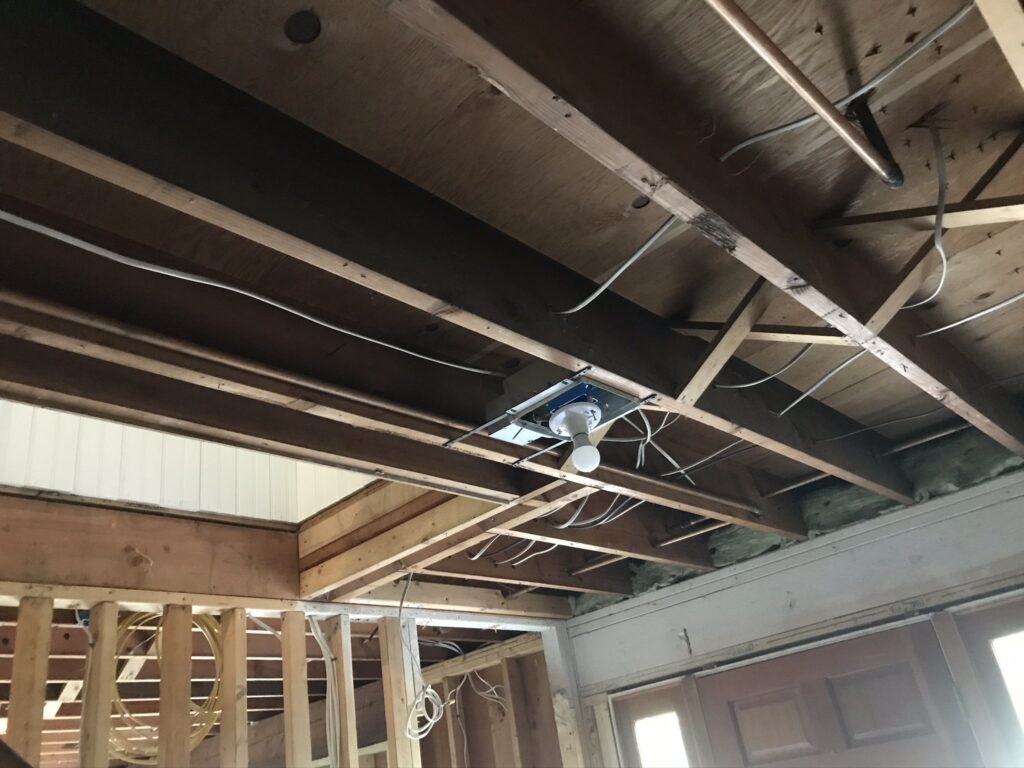 The electrician came with his team of workers to put in the wiring in the soon to be bonus room, formerly the under house garage. It was without a doubt the noisiest day we have had through this whole renovation project. Must have been the drills they were using to put holes in the 2 x 4's to pull the wiring. The room is reminiscent of our bedroom a few months ago with wires coming out of the ceiling, no insulation just bare walls, cement flooring but beautiful windows. It really is quite amazing the process of going from one room to another. We are at least familiar with the steps to take now and really the process is the same. Strip the room down to the bare studs, including the ceiling, rip out the old insulation, put up any new walls you might need or move doors, bring in the electrician, bring in the insulation guys and then start putting things back together again. We did, however, add an additional big demo job. While here the electrician asked John to take down the ceiling in the front hall so that he could more easily pull wire that will go to the rest of the house. You should have seen John's face. Anyway, he did it and it only took him about an hour. Great job John. Now we have a front hall that looks very bare but it will get better. I keep saying that.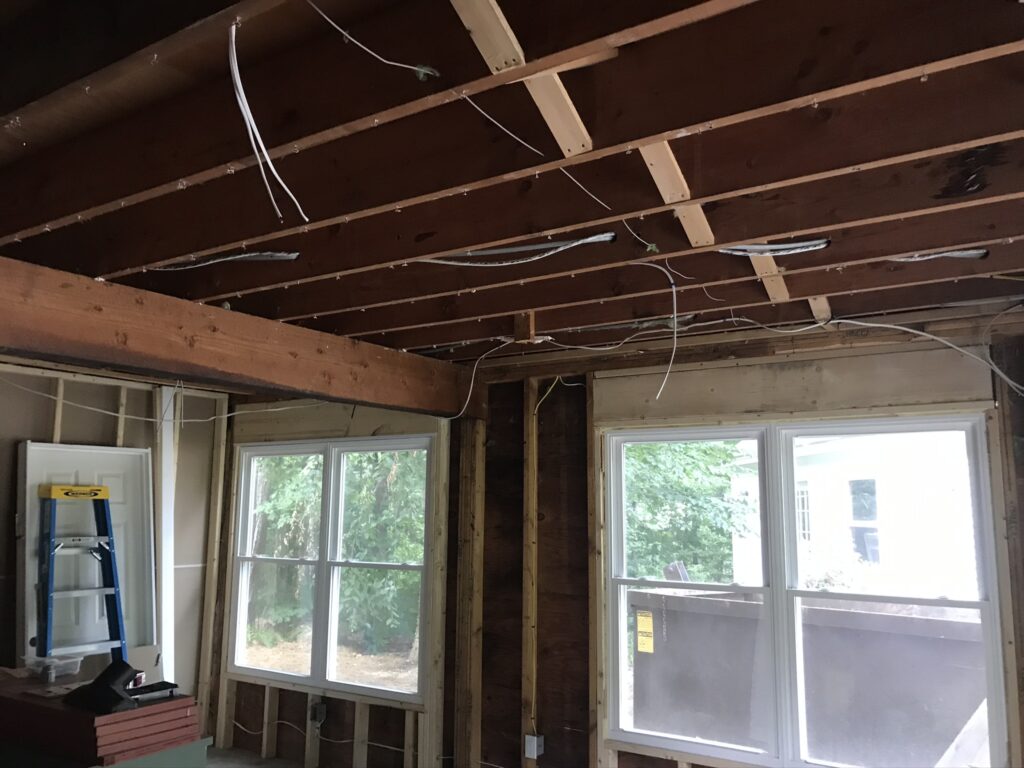 Garden Bounty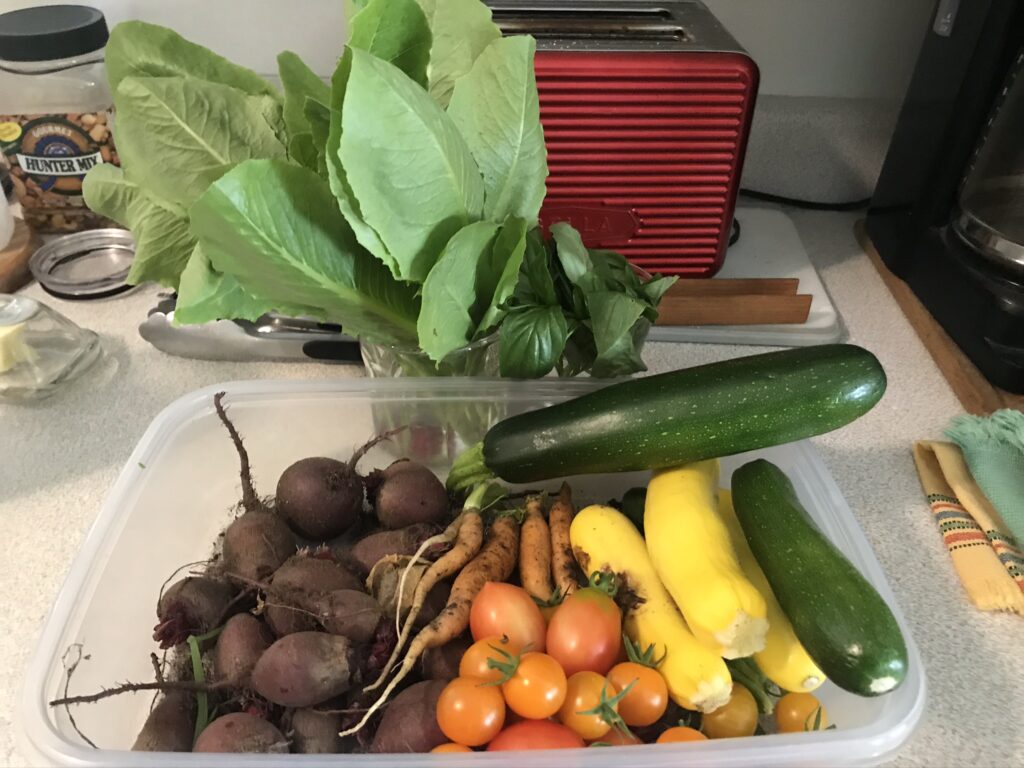 Today's harvest was especially good. I am trying to grab the zucchini and yellow squash before it gets too big, same with the beets. This was our first gathering of carrots and they are getting to be a good size and taste very sweet as do the tomatoes. This was also my first cutting of the Romaine lettuce I planted a couple of weeks ago. The basil is now doing well since I moved it to a friendlier spot in the garden. I think it was being choked out where I had it before. We are having a little problem with the squash plants as some of them are starting to rot. Am wondering if we planted them too close together not realizing they needed more space for air to circulate and sunshine to get to them. We are certainly learning as we go with this project that some are calling a Victory Garden. One thing we just realized is that we didn't manage to get any full size tomatoes but plenty of the little ones and most of them are the orange ones. Not sure how that happened. It certainly is fun to go out there to see what is happening as much changes overnight thanks to the heat and the watering. Libby even took some with her on an overnight visit to her friend's house.
A Couple of Recipes to Try
Zucchini Bits from Easy Low Carb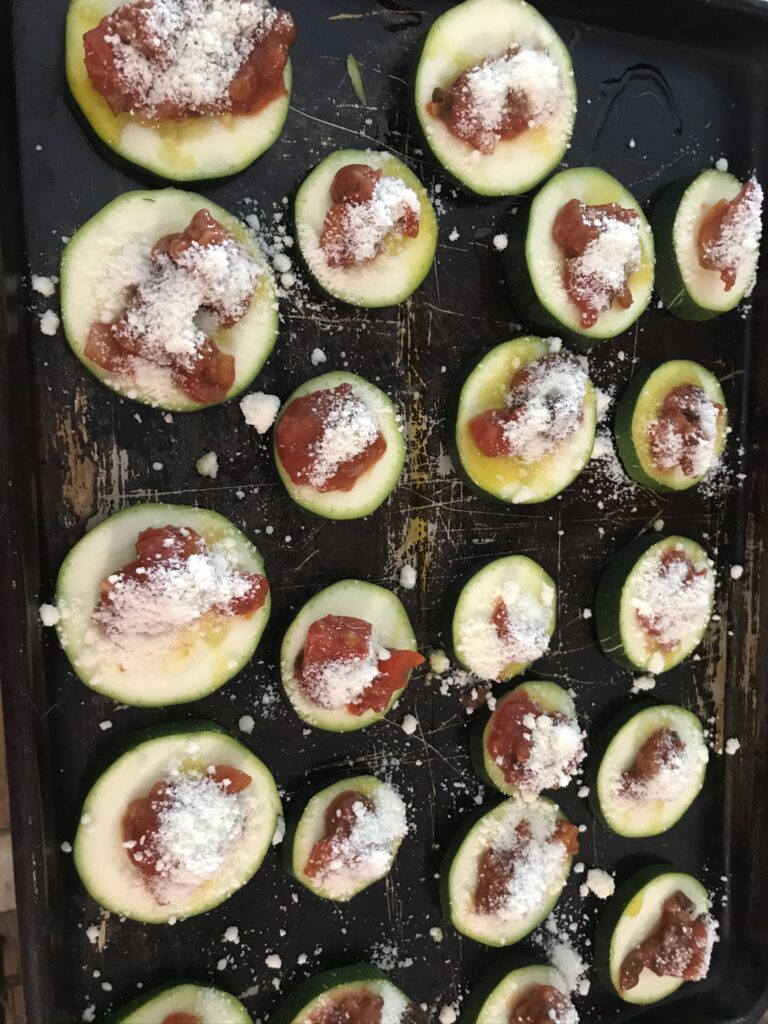 I did not follow the recipe but made up my own. In this case, I sliced the zucchini, drizzled EVO, added a dollop of John's homemade spaghetti sauce, sprinkled heavily with parmesan cheese and then put them on the grill for about 20 minutes. We had to change out the gas tank in the middle of it all but it didn't make any difference.
I used one of our larger zucchinis and served as an hors d'oeuvres. The big challenge in the recipe was the need to bake them in an oven. For over three weeks now we have not had an oven so we have had to get creative with many of our recipes. I put these on a cookie sheet and baked them in the gas grill at 400 degrees which seems to be the most consistent temperature. It worked beautifully. Who needs an oven anyway. By the way this is a brand new stove that has gone on the fritz so it is covered under warranty but because of the Covid situation you can't get a repair easily and they only come to our area one day a week. That made it complicated. However we are supposed to get it repaired this week. Fingers crossed. By the way, these were very tasty.
What To Do With The Beets — Roasted Beets with Balsamic from The Cleveland Clinic
I am going to try a roasted beet salad once again using the grill to bake the beets. Once they are baked I will skin them and slice them into a bowl with a little red onion, balsamic vinegar, EVO, and salt and pepper. Garnish with some chives and parsley and voila a tasty dish to go with whatever we grill for supper.
Couldn't Resist This Poster