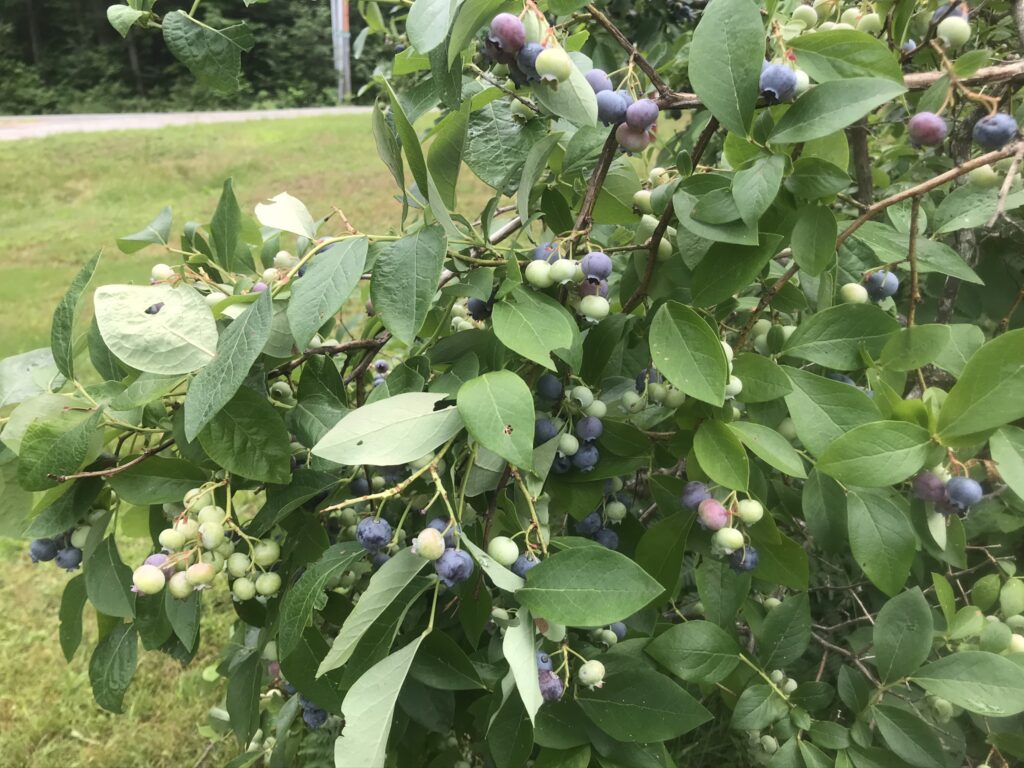 We have had a wonderful week of harvest from the vegetable garden. The squash and tomatoes are just perfect. Bonus of the week is that the multiple blueberry bushes are ripening at a faster clip than we can pick. We knew we had the bushes on the property but we didn't know just how abundant they were. We have been out there at least three times this week to pick blueberries and there are still so many more. We don't even mind the birds coming to eat them. There is a rumour around the neighborhood that the bear has been known to come and just sit there eating them right off the bush. We haven't seen him or her yet but we are keeping our eyes open for any sightings. Now we struggle with what to do with all the berries. We have frozen quite a lot of them as I eat them almost every day for breakfast and have done so for years. Having my own blueberries is such a treat. Those of us who eat pancakes have made blueberry pancakes and we have eaten them right off the bush. We took a gift supply to our neighbor who is recovering from surgery. I am now thinking about maybe making some blueberry jam. It can't be that hard, can it? After all we made strawberry jam and that turned out perfectly.
Update on Jenny Lane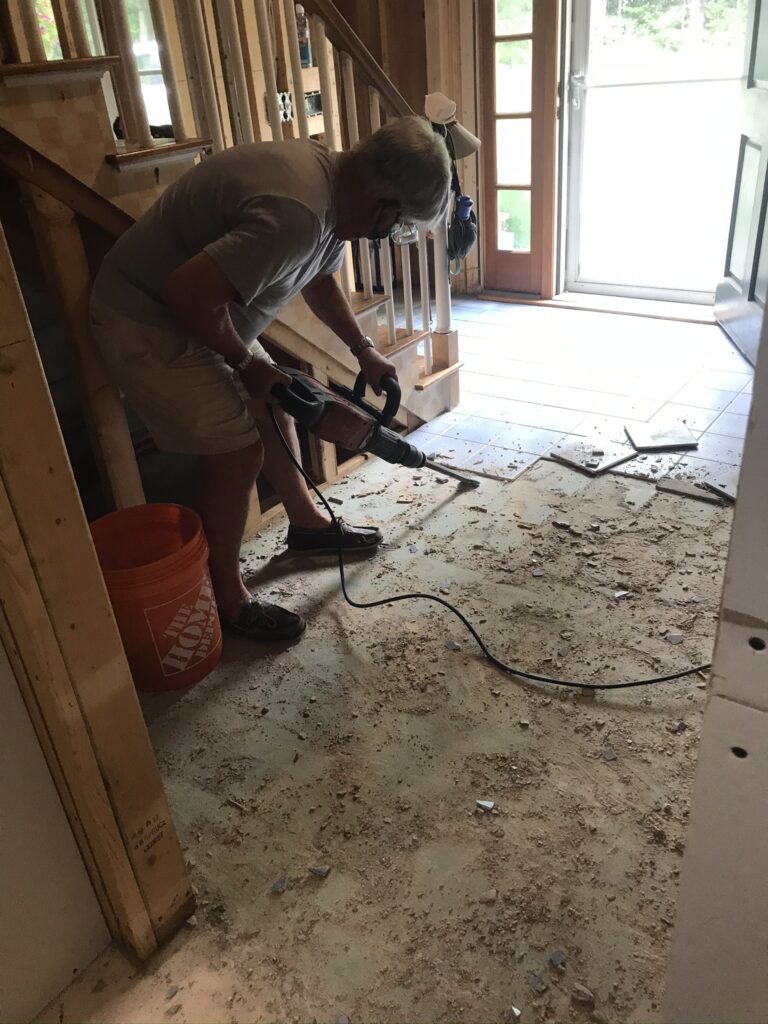 John had the unenviable job of having to remove the tile from the front hall in preparation for the new tile to be installed. We are down to the bare bones in the front hall, the bonus room and the small hallway to our bedroom with no ceilings, no walls and no floors. Pretty dismal but also an opportunity to build it back up knowing that everything will be the way it is supposed to be. I believe this was one of the hardest home makeover jobs that John has had to do yet. The machine he used must have weighed close to 50 pounds and the noise it made was terrible. He did manage to get it all done within a day but boy was he tired at the end of it all. He definitely earned his cocktail. The new tile is going in rather sooner than we had thought but we have to jog on this one. Getting an installer and a time to coordinate is not an easy task so we are taking what we were given. We will have to cover the tile with protective something or other when they guys come in to do the insulation and the sheet rock but I think we can live with that. We are all excited to think that we might actually be building back up what has been torn down starting in the next little while.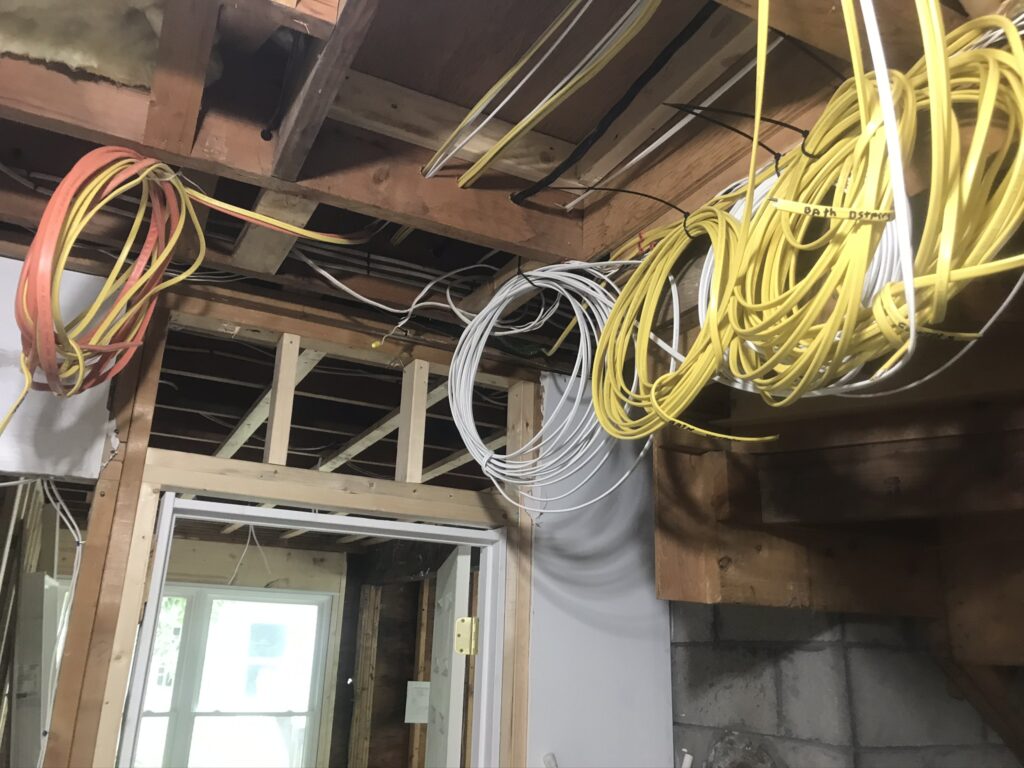 The electrician came back and spent another full day finishing pulling wires to the rest of the house since we will be closing things up with the insulation and walls within the next couple of weeks. We don't need him punching holes in new walls to pull wire that is for sure. Because we discovered the whole house was wired with outdated aluminum wire we have to replace all of it. These coils are for when we go upstairs. The feeds have gone to the rooms we are working on now. Our room was rewired as was what is now our office. The bonus room and the bonus plus room are easy because they are currently without walls or ceilings. I have to be honest, I just didn't get this part at all but I am beginning to understand. This is not just a reno project it is almost a total rebuild – yup – that's what it is alright.
Walking By the River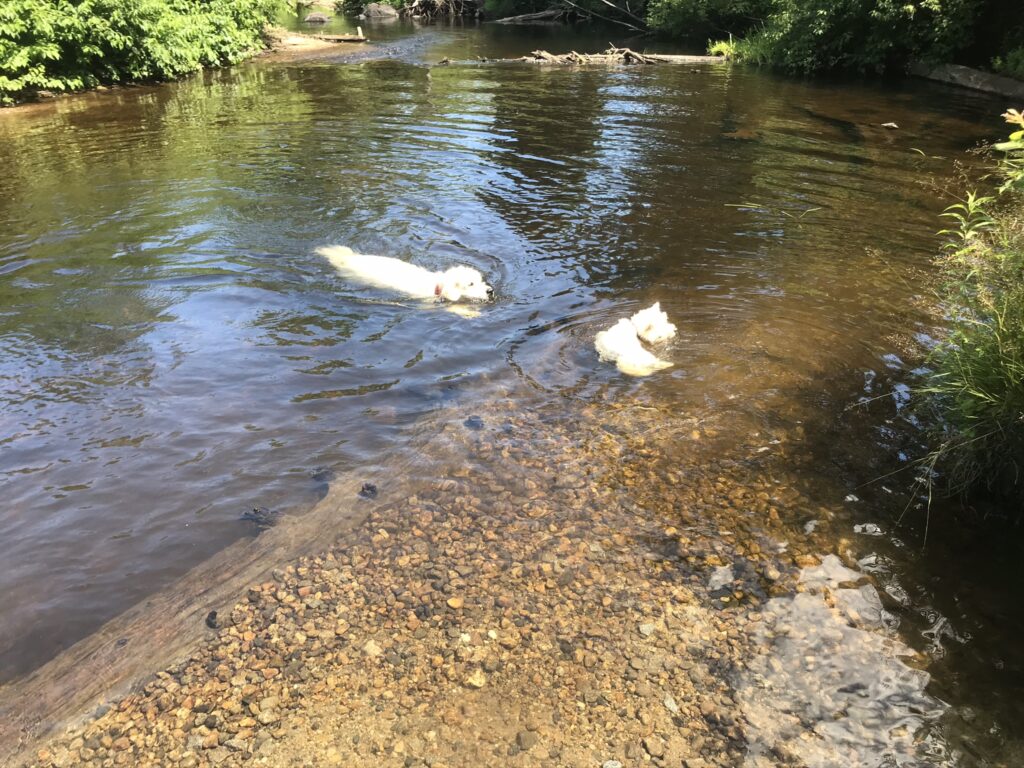 It was a warm week which meant we got out a bit earlier in the day for our walks. We had some really good days out there. I decided that I would keep to trails that were near water so the dogs could get a drink or go for a swim when they got too hot. At one point I even put my hat in the water and then back on my head to cool myself off. It worked. We walked through the Proctor grounds and varied the way we went each day. We ran into a few other walkers with their dogs so there was some good play time too and I got to have a chat with some folks that I hadn't met before. My foot is much better especially if I behave myself and wear the brace. I'm still slower than I want to be but at least I am able to get out there. Not able to do the miles that I have been doing but I'm still making the effort. If I walk for two days and take a day off and then walk for two days it seems to be pretty much pain free. This sure is going to take a long time to get better but I'm determined it will. My mental health as well as physical health relies too much on the exercise to not do it. Recently I have been listening to short audio books when I walk and just finished the Alex Trebek "The Answer Is" which I enjoyed very much. If you are a fan of Jeopardy you might enjoy it too. The audio is read by Alex and Ken Jennings (the overall champion).
Healthy Hint about Apples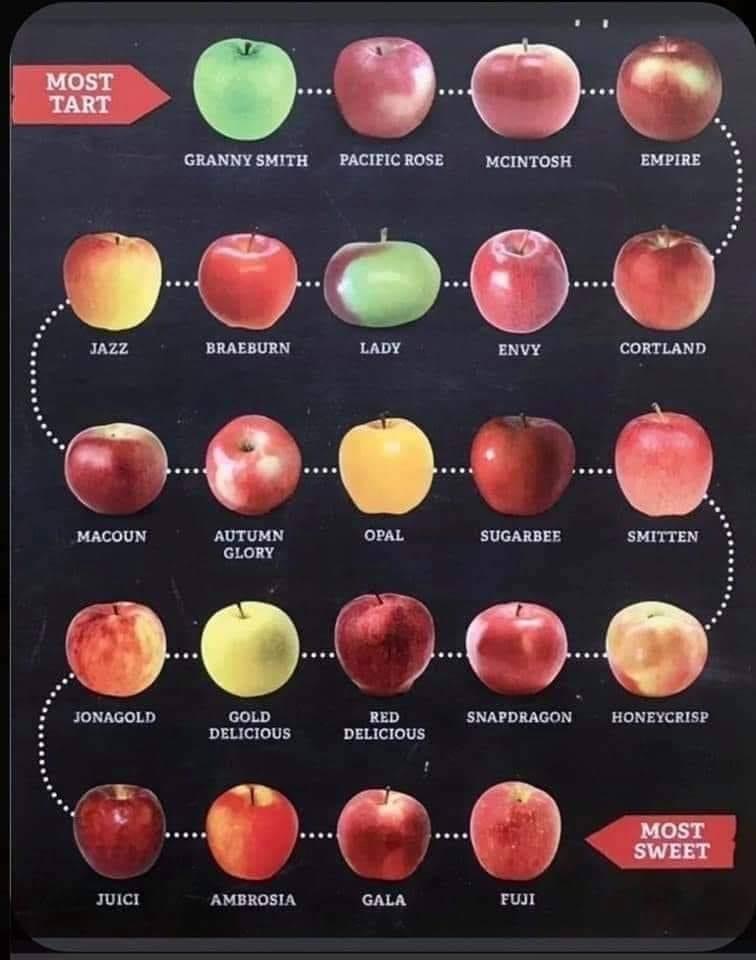 I found this graphic while reading this week and thought I would share it with you. Apple season is coming soon and this is a pretty simple guide to apples by sweetness level. I prefer the sour ones and have kept Granny Smith on hand forever. According to Eating Well Magazine some benefits from adding apples to your diet are protecting your heart, boosting brain health, may help with weight loss, help lower your risk of Type 2 Diabetes and may lower your risk of cancer. Always adding more fruits and vegetables to your diet will help and apples are an easy way to add a serving to your daily intake. Try some of the ones suggested above until you find the perfect one for your taste.
Green or Red Peppers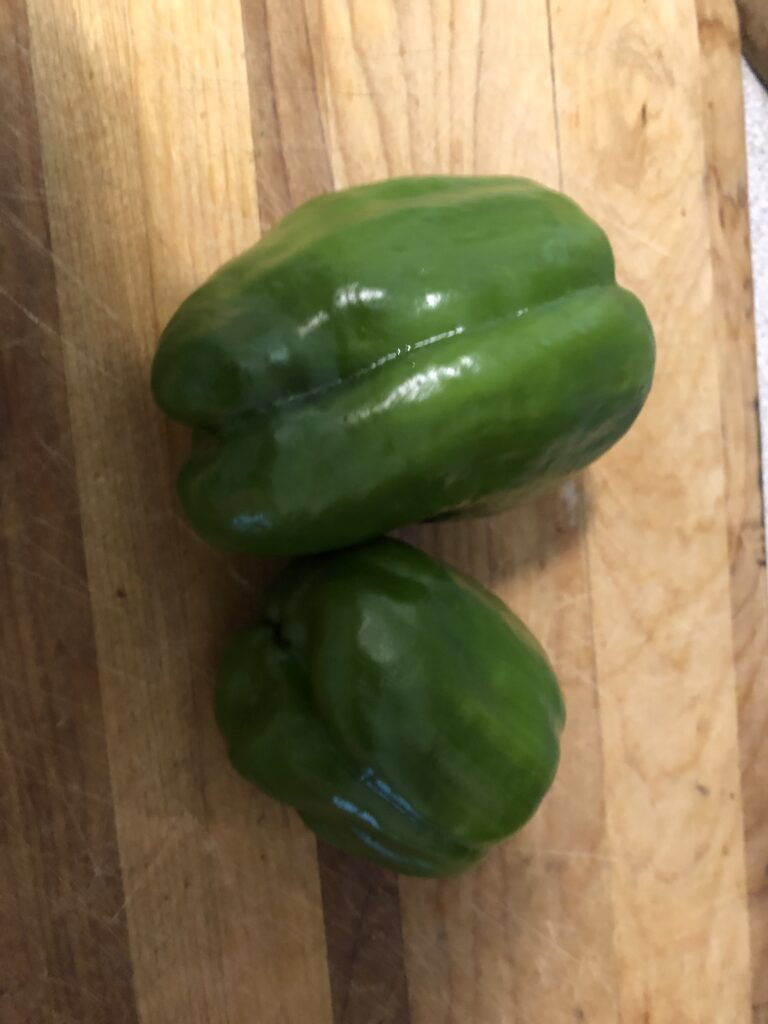 Makes 2 Servings
1/2 cup Brown rice
1/2 Yellow onion
2 Roma tomato
1 clove Garlic
2 tsps Olive oil
4 Kalamata olives
1/4 cupNo-salt canned kidney beans
1 tsp + 1 pinch Dried oregano
1/4 tsp Dried basil
2 Red pepper
1 cup Marinara
Optional
Salt & pepper to taste
Directions
Cook the rice. Add the dry rice to a pot. You will need 2.5 times as much water as rice. Add water to the pot, cover, and bring to a boil over medium-high heat. Reduce heat to low and simmer for 35-45 minutes or until the water is absorbed and the rice is soft. Check on the rice periodically to prevent any sticking or burning on the bottom. Remove from the heat, fluff with a fork, and enjoy! Looking for a faster option? Cook in a rice cooker or just use pre-cooked/frozen rice.
Produce Prep- Peel and chop the onion. Chop the roma tomato. Peel and mince the garlic. Chop the olives.

Slice the stem and the very tops off the peppers. Remove and discard the seeds and inner membranes with a small spoon without breaking through. Warm the oil in a small skillet set over medium heat. Add the onion and cook stirring often, until softened but not browned, about 2 minutes. Transfer to a large bowl; cool for 5 minutes.

Stir in the rice, tomatoes, kidney beans, olives, garlic, oregano, and basil until well combined. Loosely pack into the prepared peppers.
Prepare the tomato sauce by combining 1/3 of the marinara sauce with water. You will need a 2:1 ratio of marinara sauce to water. If you use 1/2 cup marinara, use 1/4 cup water. Or 1 Tablespoon of marinara to 1/2 Tablespoon water. Pour the thinned sauce into a large pot or Dutch oven. Set the peppers stuffing-side up in the pot, side by side but not too tight. Pour the remaining marinara sauce over the peppers top each with non-dairy cheese (if using).

Set the pot over medium-high heat and bring to a simmer. Cover tightly, reduce the heat to low, and simmer slowly until the peppers are tender, about 45 minutes. Cool for 5 minutes before serving in bowls with the sauce in the pot spooned around the peppers.