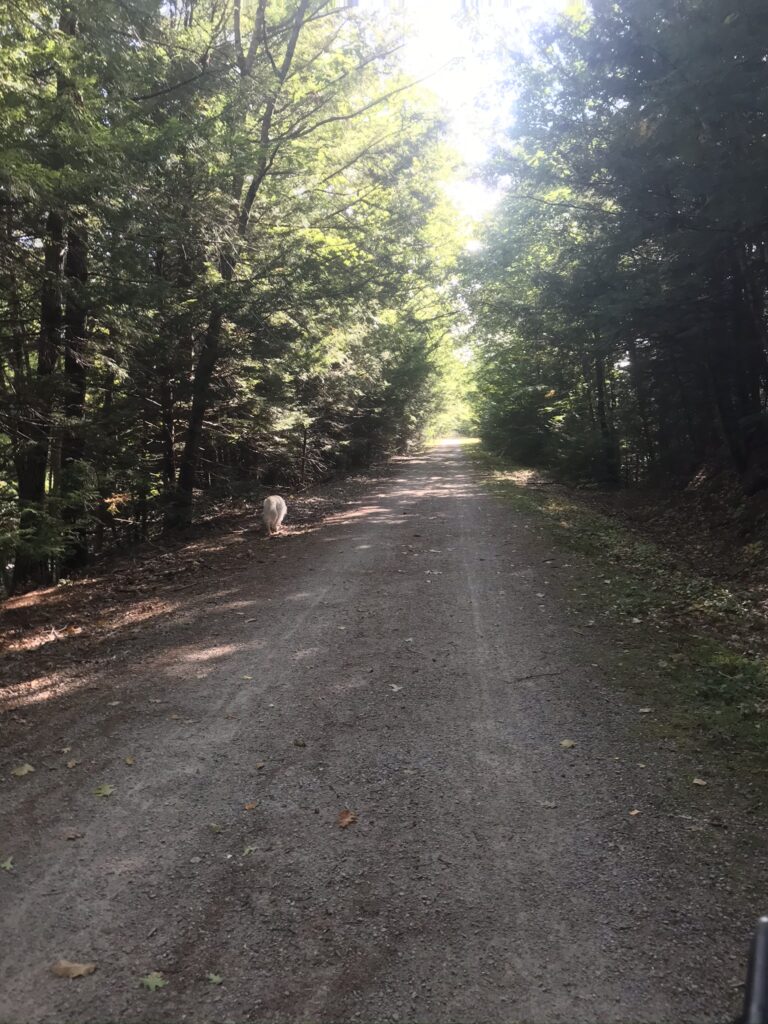 As I write this my grand daughter is finally back at her school after a period of waiting that was almost excruciating for her and for her family. The school is doing its best but they sort of forgot about the day students and what it would be like for them to be left out of, even the most minor, activities that were going on at the campus for the boarders. Pictures were posted on social media of students having dorm cookouts and hikes on their beautiful trails. Meanwhile, our day student was patiently sitting at home in her room waiting for the results of not only her COVID test but those of the rest of the community. There was an extra day of delay because one result couldn't be found so the entire community was put on hold. We held our breath, prayed all week that the results would all be negative and that is what happened. At noon on Saturday the school went to Phase 2 and the day students were allowed back on campus. A huge sigh of relief. There is quite the procedure with health screenings daily to deal with, temperature checks and mask wearing but they are back together for the first time in just a few days over six (6) months. Once again we hope and pray that all will continue and that there won't be any set backs.
Walking This Week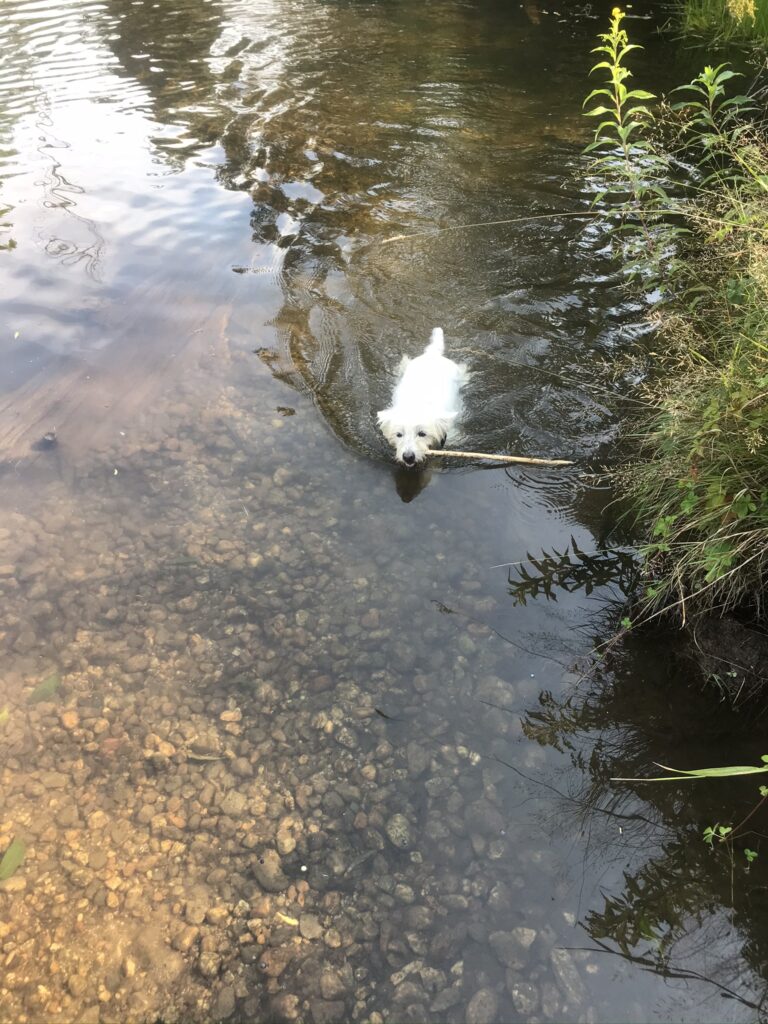 It was an excellent week of walking and hiking. I managed to get in 25.8 miles and reduced my speed time by over a minute and a half. On Friday I reached 2500 recorded walks on my Runkeeper app. Just to give you an idea what that really means, my first recorded walk was on August 25, 2012. That is eight (8) years ago. That is one statistic that really surprised me. Such a long time. During that time I broke my toe and continued to walk by cutting off the top of my shoe but other than that I have been free of any major injury. Even after my heart attack in 2015 I was out there walking again within a few days. Thank goodness not much has waylaid my devotion to the great outdoors and to walking/hiking over hill and dale whenever I can. Except maybe the bears!!!! Today my foot feels so much better and I am enjoying my walks even more. The dogs and I are very happy about all this outdoor time right now. The cooler weather has not diminished their enjoyment in the swimming holes. I love the slightly cooler temperatures and clear blue sky. We are, however, reaching the point of being in a drought. We have had very little rain and we could use some. My friends and family in California sure could use some rain too. Unfortunately it seems to be heading for Louisiana again.
Update on Jenny Lane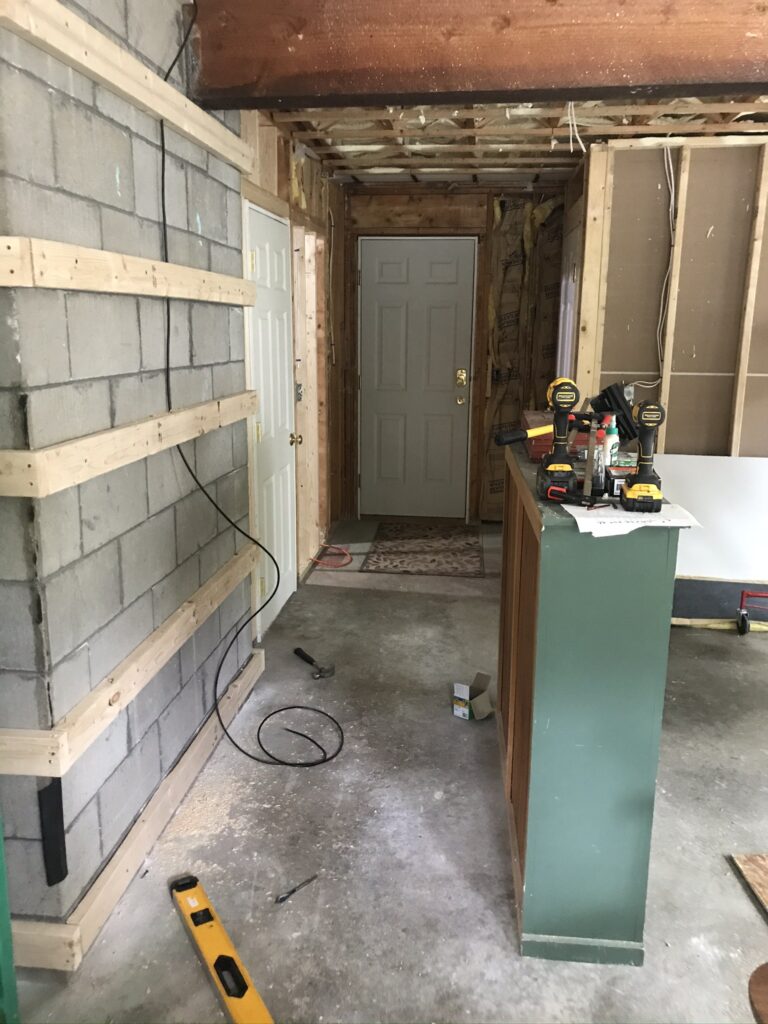 Another big week. This picture might not look like we have made progress but we certainly have. The strapping on the chimney was a huge and very noisy project. Putting nails into concrete blocks is no easy task. The wire is for a potential television in this room which is what we call the bonus room formerly known as the garage. We are getting ready for the rest of the sheet rock to go up hopefully by the end of this coming week. Also, last week we got all the sheet rock up in the front hall and John has been taping and mudding all week. A very messy but necessary job. If it gets done we might actually get to paint – yay!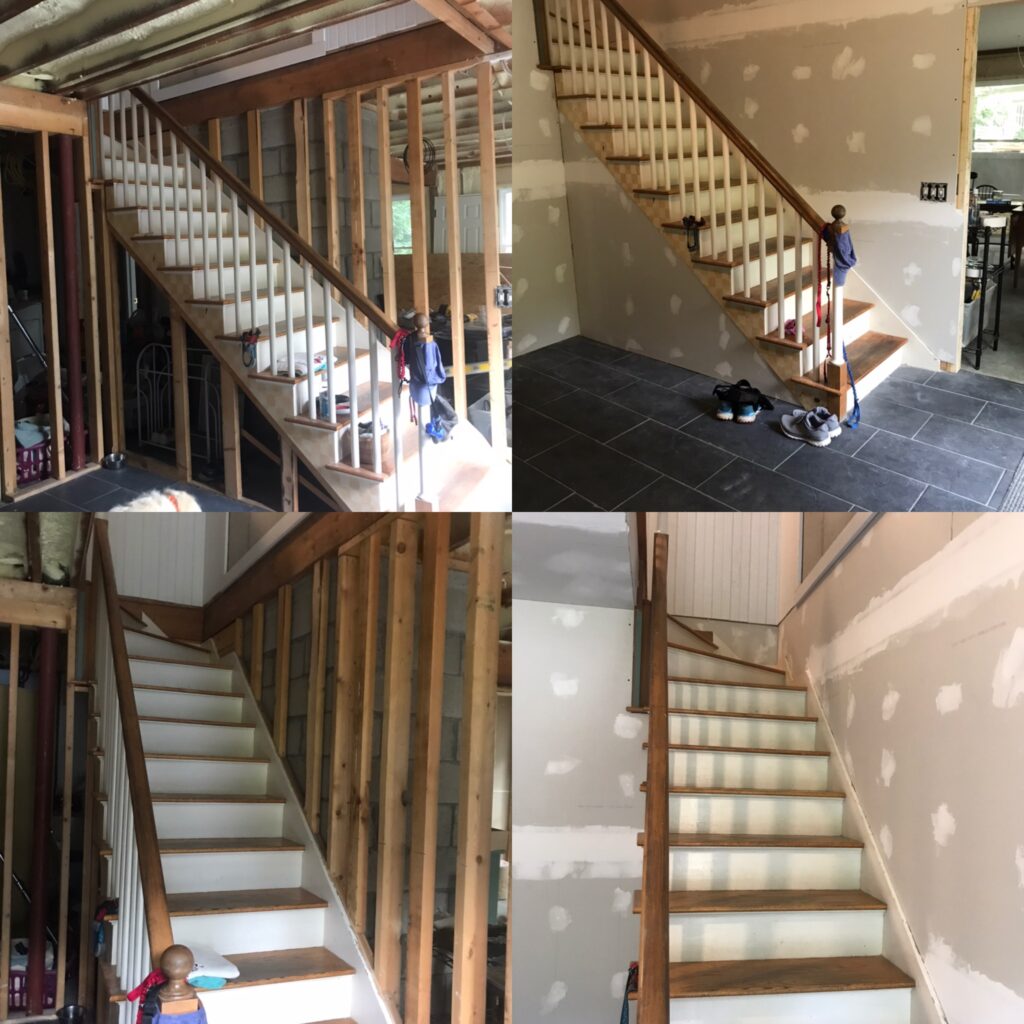 The other thing we did this week was to paint Katie's bathroom. We are just not at a point where we can renovate the bathrooms but living with something that you really don't like isn't an option either. So we got out the paint and went to it. It is a simple, quick fix, to update something that is needed regularly. We had painted the other two bathrooms in the house but we had not done anything to this one before. Once the new bath surround was put on a few weeks ago we decided it was now time to pretty it up a little.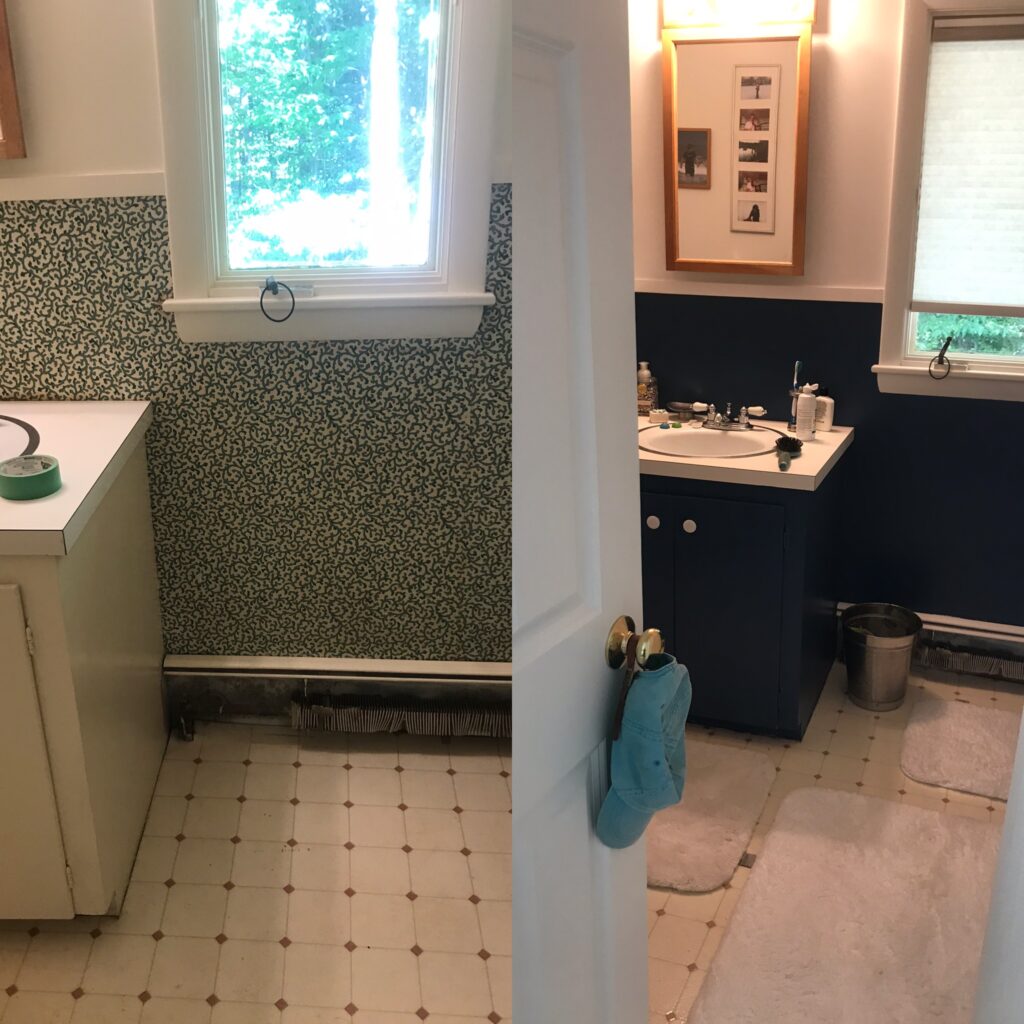 Cooking This Week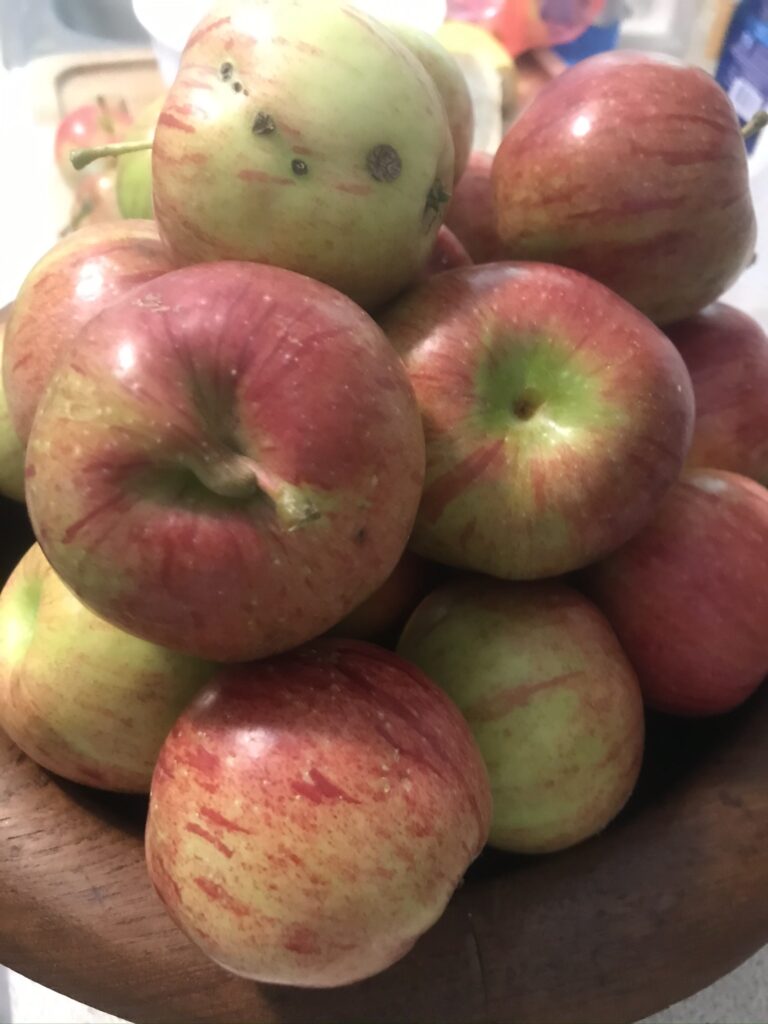 We have three apple trees on the property and were actually surprised to see some decent looking apples after we didn't think there had been many blossoms in the spring. Guess there were more than we thought. Anyway, we picked the apples and I decided to make my mother's apple crisp for dessert and to make applesauce. Not sure if it was a big fail or not but all of us had nightmares and weird dreams so maybe they were magic apples. We haven't dared eat the applesauce. So I won't share that recipe. The kid actually did some stress baking while waiting to go back to school but that was cupcakes with chocolate icing – so not on my healthy diet and John made chocolate chip cookies. So no great successes this week at all. Time to make soup again. So let's try a new Vegetarian Chili recipe. Now that football is back – with canned crowd cheers no less – this should fit the bill.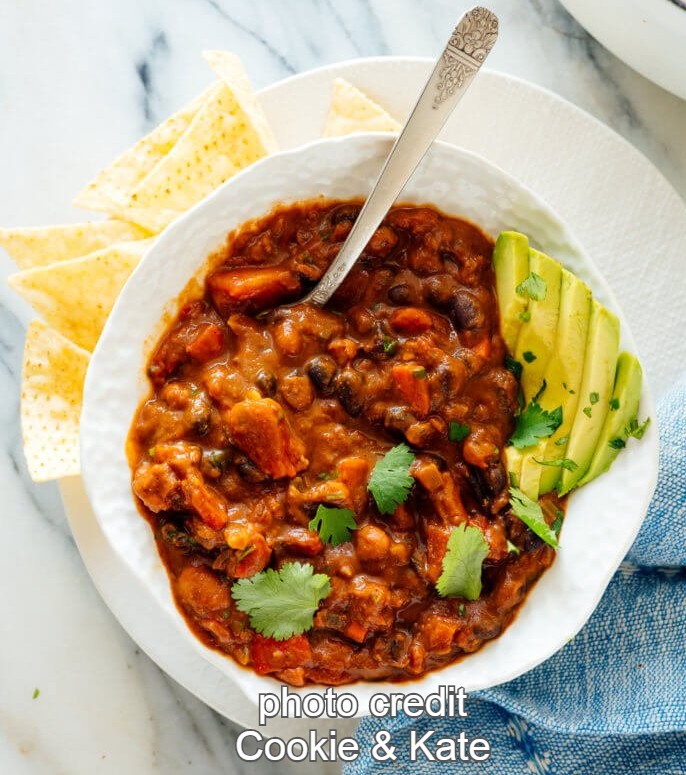 INGREDIENTS
2 tablespoons extra-virgin olive oil
1 medium red onion, chopped
1 large red bell pepper, chopped
2 medium carrots, chopped
2 ribs celery, chopped
½ teaspoon salt, divided
4 cloves garlic, pressed or minced
2 tablespoons chili powder*
2 teaspoons ground cumin
1 ½ teaspoons smoked paprika*
1 teaspoon dried oregano
1 large can (28 ounces) or 2 small cans (15 ounces each) diced tomatoes**, with their juices
2 cans (15 ounces each) black beans, rinsed and drained
1 can (15 ounces) pinto beans, rinsed and drained
2 cups vegetable broth or water
1 bay leaf
2 tablespoons chopped fresh cilantro, plus more for garnishing
1 to 2 teaspoons sherry vinegar or red wine vinegar or lime juice, to taste
Garnishes: chopped cilantro, sliced avocado, tortilla chips, sour cream or crème fraîche, grated cheddar cheese, etc.
INSTRUCTIONS
In a large Dutch oven or heavy-bottomed pot over medium heat, warm the olive oil until shimmering. Add the chopped onion, bell pepper, carrot, celery and ¼ teaspoon of the salt. Stir to combine and cook, stirring occasionally, until the vegetables are tender and the onion is translucent, about 7 to 10 minutes.
Add the garlic, chili powder, cumin, smoked paprika and oregano. Cook until fragrant while stirring constantly, about 1 minute.
Add the diced tomatoes and their juices, the drained black beans and pinto beans, vegetable broth and bay leaf. Stir to combine and let the mixture come to a simmer. Continue cooking, stirring occasionally and reducing heat as necessary to maintain a gentle simmer, for 30 minutes.
Remove the chili from the heat and discard the bay leaf. For the best texture and flavor, transfer 1 ½ cups of the chili to a blender, making sure to get some of the liquid portion. Securely fasten the lid and blend until smooth (watch out for hot steam), then pour the blended mixture back into the pot. (Or, you can blend the chili briefly with an immersion blender, or mash the chili with a potato masher until it reaches a thicker, more chili-like consistency.)
Add the chopped cilantro, stir to combine, and then mix in the vinegar, to taste. Add salt to taste, too—I added ¼ teaspoon more at this point. Divide the mixture into individual bowls and serve with garnishes of your choice. This chili will keep well in the refrigerator for about 4 days or you can freeze it for longer-term storage.