Update on Jenny Lane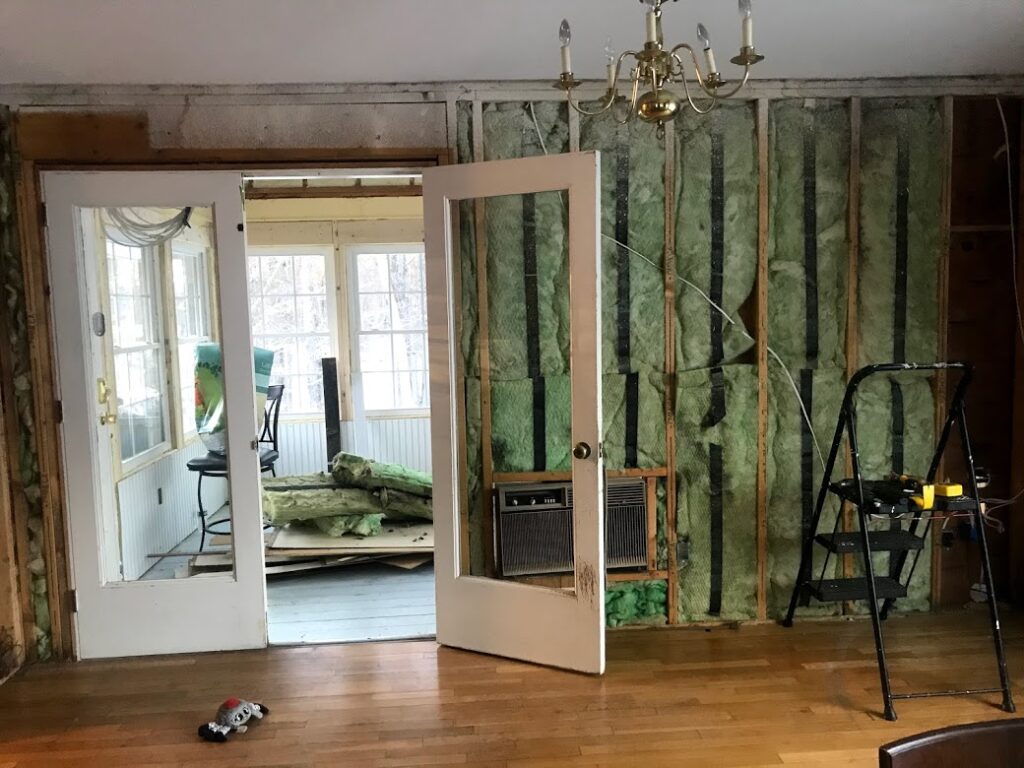 We are once again launching into our Jenny Lane renovation. We took quite a break over the holidays and now the noises of hammers and saws has returned. Part of me is sad to have the peace and quiet of the holidays over but another part is excited about getting things going again. Once we took down the decorations we started to move the furniture out of the sun room in preparation for this week's projects. We had a meeting with our contractors and have decided to go full speed ahead on the upstairs part of the renovation. We had thought we would move to the laundry and bath complex on the first floor but realized that the plumbing and the wiring for the kitchen above was all exposed in the laundry room ceiling thus making it more efficient to do the kitchen before the laundry. This was a big switch to us but the contractors agreed we were on the right track. So, we will work from the sunroom as it shares a wall with the living room dining area and slowly make our way from there. John has already started taking down the wall that separates the two spaces. It's a mess and we don't have the dumpster back yet. Oh well.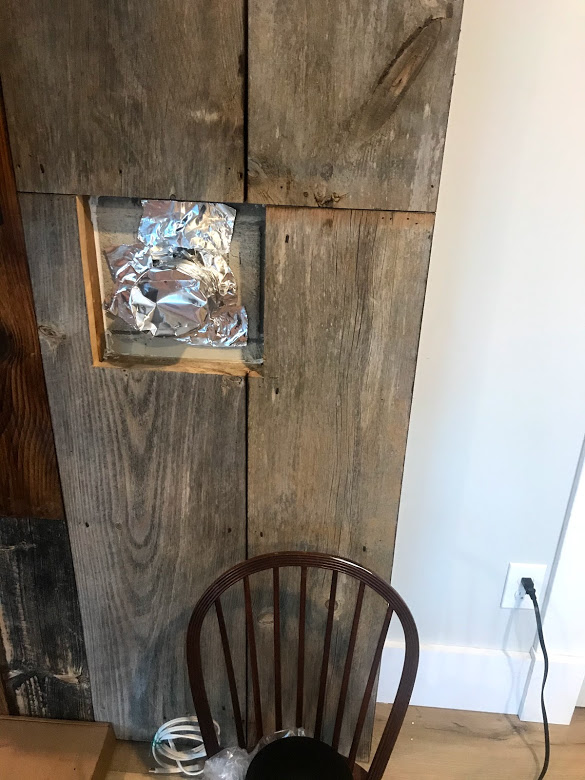 What did get accomplished this week was a lot of finishing up small projects to get them out of the way before we started the bigger stuff. Closet doors on the hall closet were installed and a temporary shelf and pole to hang coats put up. The difference it made to the front hall was amazing. Something so simple made such a change. It looks like a real front hall. The little door glides for the barn door were put in so now the door slides without swinging. The cover door for the electric panel closet was installed and it is a beautiful piece of barnboard that matches the chimney cover.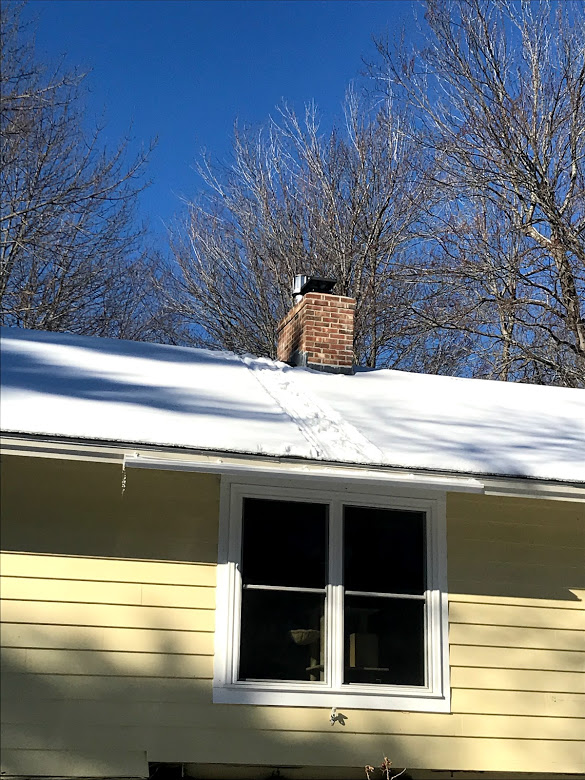 This coming week the gas fireplace is scheduled to be installed in the bonus room so I confirmed with the stove company at the beginning of the week. However, we hadn't seen the man with the chimney liner so we weren't sure when that would happen. Just as I got off the phone with the stove company, lo and behold, the chimney guy arrived. We had had no contact from him since well before Christmas. There he was. We were amazed at how quickly he worked. The cap is on the chimney and the liner goes all the way down to where the thimble is in the bonus room. We also had to have the old hole in the chimney that was for the oil furnace bricked and plastered up. So that got done this week too. Now we won't get any fumes in the laundry room from the fireplace. Things are coming together bit by bit.
The Big Walking Challenge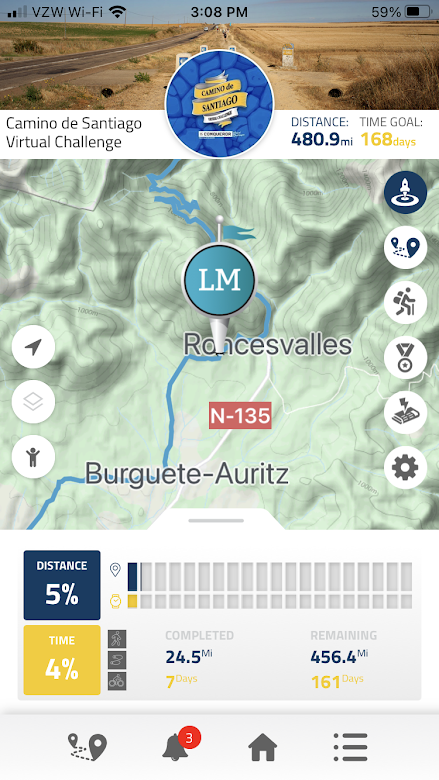 I started the  Conqueror Virtual Fitness Camino Challenge this week. What a motivation to get out when I didn't really want to. It is hard to walk in January in New Hampshire but I am determined. It was a good week and the weather was very cooperative. My sister calls days like this the beautiful Bluebird sky when she goes skiing on a perfect sunny January day. That is what we have had this week. The temperatures have been in the high 20's and low 30's without wind which has made it quite comfortable.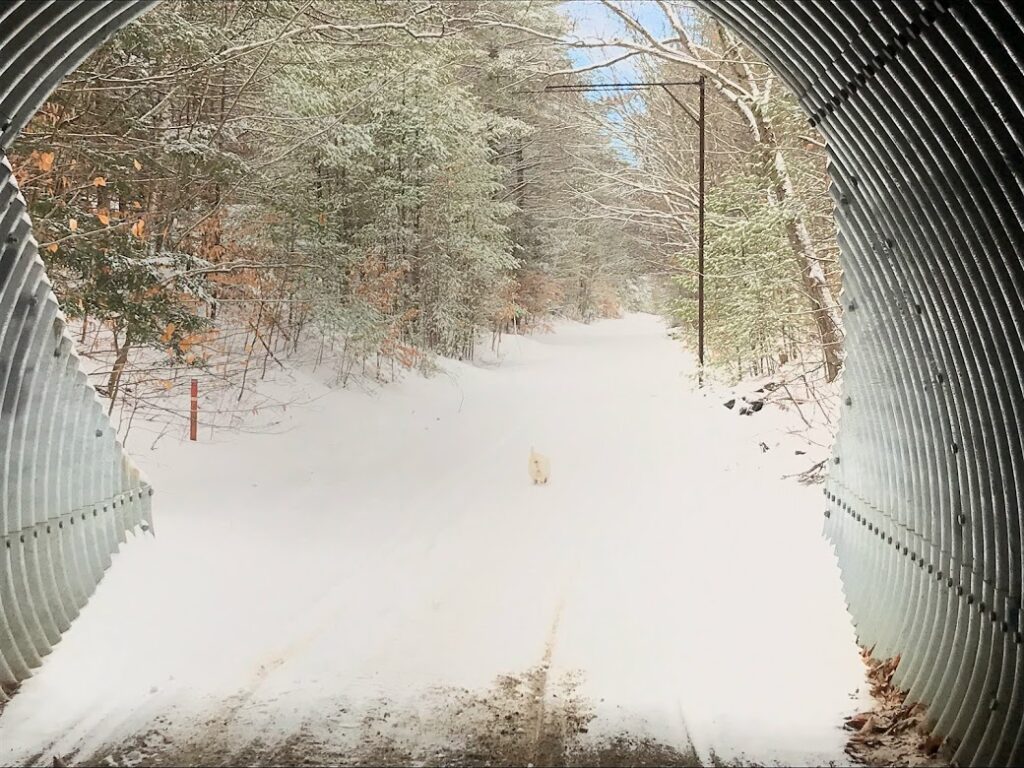 The dogs and I have been walking on the Northern Rail Trail from Potter Place after we discovered that it has been groomed. Today I learned why, one word, snowmobiles. However they were very considerate and appreciated that I was able to get the dogs off to the side and keep them there while they wizzed by me. I wasn't sure how they would react to the machines but it didn't seem to both either of them at all. We managed to get in 21.2 miles of Nordic Walking this week and so far a total of 24.5 for the month. I love following on the app where I am walking. Seems I can get the Google street view and actually see what I would see if I was there. If I want I could see other people who are walking the route too. As I go along I understand that at certain goals I will get to plant a tree. It's all rather fun and different but as I said, very motivating.
Food, Sleep and Anxiety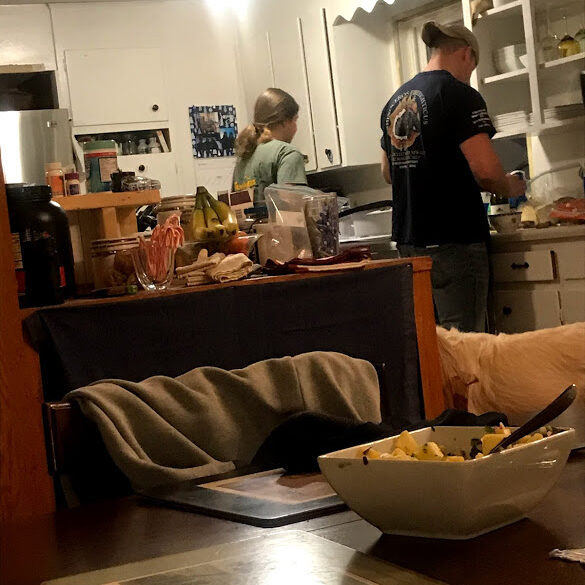 We have eaten well this week with everyone taking part in the cooking. That will change shortly as both Libby and Jack head back to school and college but it has certainly been fun. We had some very creative meals that were put together by Jack and Libby along with some new ones by Katie. Katie is keeping us on track by putting together menus at the beginning of the week and then, hopefully, getting the shopping done so we don't have to go to the grocery store more than once a week. So far no luck as we have either run out of something or have needed a special ingredient for whatever was being cooked. But we are trying.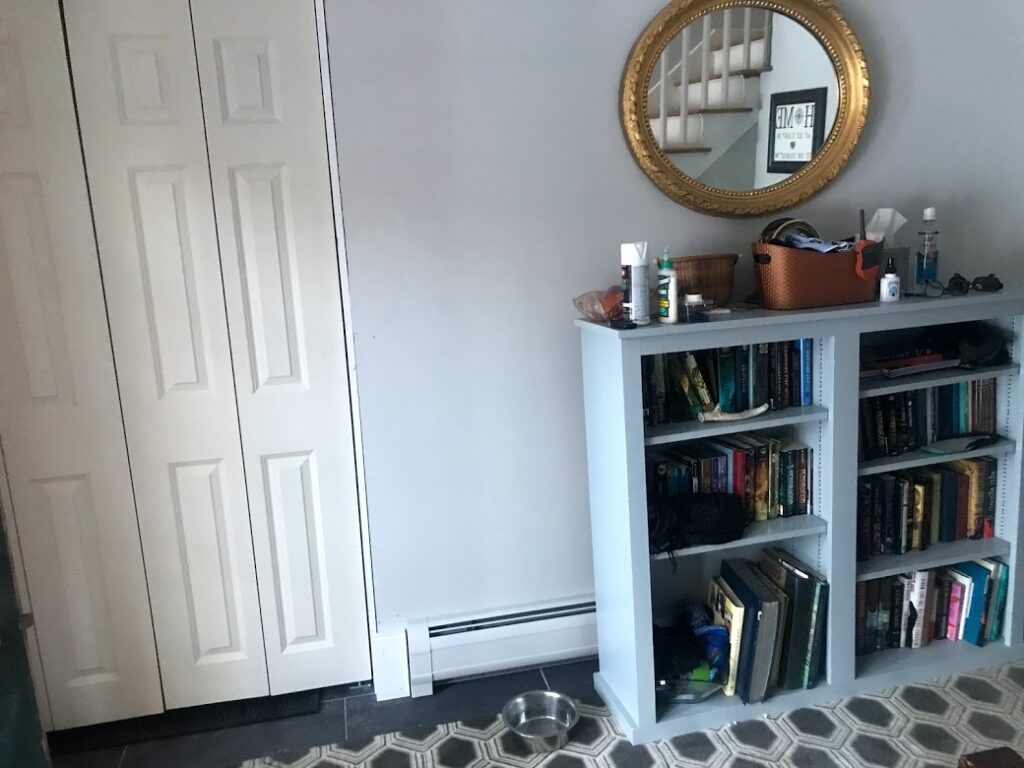 As the pandemic continues we are trying to stay safer at home except for our outdoor activities. Thank goodness for Zoom so we are able to be in touch with family and friends and also participate in our volunteer boards and now church. Our grand daughter in Asheville was exposed to someone with Covid at her daycare this week. It is causing some anxiety on all our parts as she and her family could not get tested until at least five days had passed and now they wait for the results. Her moms have to wear a mask when they are around her and follow protocols as if she had covid until her test results come back. So far no symptoms. It is a confusing time and, yes, stressful.
I also signed up this week for Dr. Mark Hyman's Longevity Roadmap Series. If you are interested you can check it out here Longevity Series. It is a series of free on-line lectures from January 13th through January 20th. As always I am determined to learn as much as I can about healthy eating and things that I can do to keep myself healthy and doing all the things I enjoy for as long as I can.
Chalking the Door in Epiphany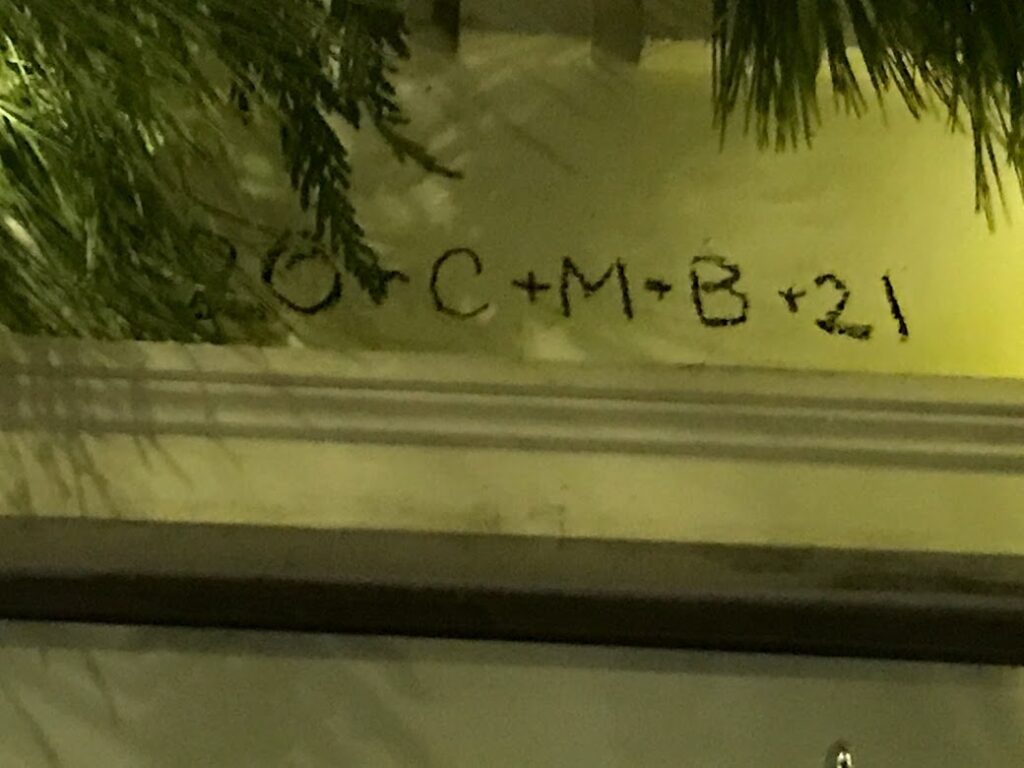 On Wednesday, during one of the most difficult of days, we blessed our house. It was Epiphany and in the Christian church a day of celebration. So we all gathered, humans and fur crowd and while Libby chalked the lintel over the front door (it was her chalk) we said a little prayer for all of us who live here as well as others. It was something so simple yet so profoundly comforting and a sign of hope.
A Recipe to Share
Sheet pan lemon rosemary dijon chicken and potatoes with feta goddess sauce. This recipe is from Half Baked Harvest a wonderful website full of different ideas. Libby and Katie made this one for us and while I forgot to take a picture of our version, their picture is much better. The best part is that it is all cooked in one pan.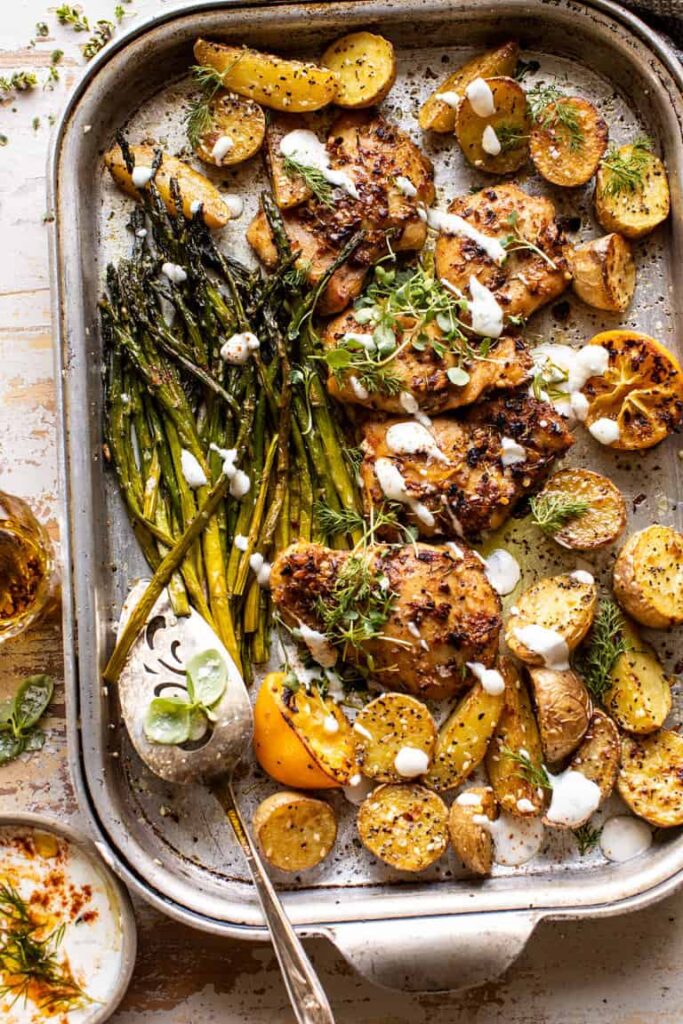 INGREDIENTS
6 tablespoons extra virgin olive oil, plus more for serving
2 tablespoons Dijon mustard
4 cloves garlic, minced or grated (or 1 teaspoon garlic powder)
1 medium shallot, finely chopped (or 1 teaspoon onion powder)
2 tablespoons chopped fresh rosemary (or 1 tablespoon dried rosemary)
1 teaspoon smoked paprika
juice and zest of 1 lemon
kosher salt and black pepper
2 pounds boneless chicken breasts or thighs
3-4 medium russet potatoes, cut into 2 inch pieces
1 tablespoon raw sesame seeds
kosher salt and black pepper
1 small bunch asparagus, ends trimmed

FETA SAUCE *(this is yummy)
4-6 ounces feta cheese
1/4 cup plain Greek yogurt
1 clove garlic grated
juice from 1 lemon
1/4 cup chopped fresh tender herbs, such as dill, basil, or parsley (or 2 tablespoons dried herbs)
1/4 teaspoon smoked paprika
1 pinch crushed red pepper flakes

INSTRUCTIONS
Preheat oven to 425 degrees F. In a medium bowl, combine the remaining 4 tablespoons olive oil, the mustard, garlic, shallot, rosemary, paprika, lemon zest, lemon juice, and a pinch each of salt and pepper. Add the chicken and toss well to combine. Let sit 15-20 minutes.
On a rimmed baking sheet, toss the potatoes with 2 tablespoons olive oil and the sesame seeds. Season with salt and black pepper. Roast for 20 minutes, or until tender.
Remove the potatoes from the oven and push them to one side of the pan. Put the chicken on the other side. Arrange asparagus around the chicken. Drizzle over 1 tablespoon olive oil, season with salt and pepper. Return the pan to oven and roast for 20-25 minutes more, until the chicken is cooked through.
Meanwhile, make the feta. Combine the feta, yogurt, garlic, and lemon juice in a blender and blend until smooth and creamy. Stir in the herbs, paprika, and a pinch of red pepper flakes. If desired, thin with additional lemon juice.
To serve, divide the chicken, potatoes, and asparagus between plates. Spoon the feta sauce over the chicken. Eat and enjoy!