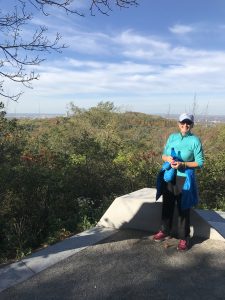 I am a health advocate, coach and blogger.  Starting in 2012 when I discovered, much to my horror that I was 50 pounds overweight and starting a slippery slope to being very unhealthy, I have turned my life around.  Despite having a major set back when I suffered a mild heart attack caused by a blockage in my right coronary artery in 2015, I have continued my journey to being as healthy as I can be and aging in a dynamic fashion.  I will talk a little about the heart issue.  In my case I have inherited a gene from my father who died at the age of 55 from a heart attack.  This gene is unavoidable but it is not unbeatable.  I was lucky.  I started my journey to health in the spring of 2012 and by the time of my heart attack was 50 pounds lighter and eating a very clean and healthy diet.  I knew myself well enough to know that something wasn't right and I went to the hospital.  They fixed me up with a stent and sent me home.  I was also given a diet sheet and was told to join the heart patient recovery program.  I threw out the sheet for the simple reason that they recommended sugar free jello and diet coke, two things that are an anathema to me.  I knew that wasn't going to help me at all.  The exercise part I knew I could handle.  After all, I am a walker, I dance in Zumba and I am an avid Yoga participant.  My cardiologist, a really good guy, approved of my plan to rehab myself and to follow the diet, exercise and yoga that I had been doing all along.
Now six years later, my journey has taken me to the Institute for Integrative Nutrition where I earned my Integrative Health Coach certificate.  I worked as a personal coach for a year and discovered that while I was good at it and loved my clients it didn't work with my retirement goals.  The blog seemed the best way to coach and fit it into my life.  I started my blog when I started IIN in January of 2015 and I have continued writing it every week, including the week I had the heart attack, without missing a beat.  My passions have not changed but they have developed.  I have a passion for good, healthy, clean food.  I have a passion for exercise that is fun and sustainable and now includes races.  I have a passion for friendships and nurturing them.  I have a passion for animals and meditation.  And yes, I have a passion for good wine.
Come and join me on this journey.  Enjoy my blogs each week and try some new recipes or even some new games.  That smile on my face is real.