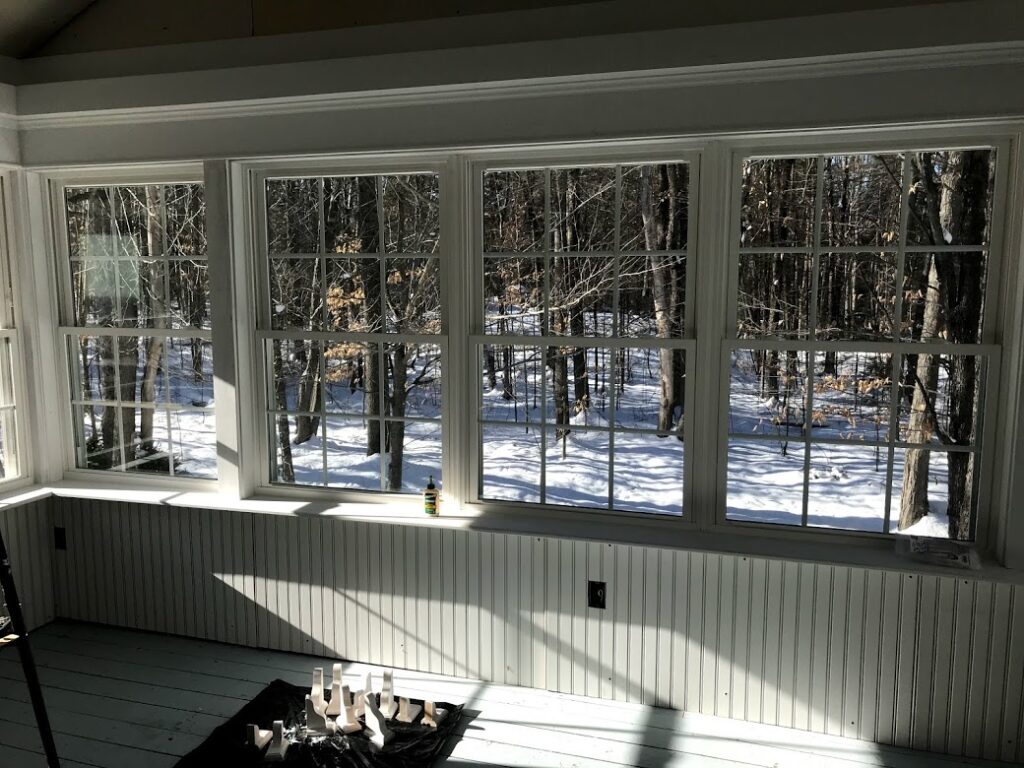 Update on Jenny Lane
A very quiet week on the renovation front. We had such a busy week last week I guess we needed a little time off this week. Les did come on Friday afternoon and finished the trim work in the sunroom. The big ticket item was making sure the space for the lighting that will go around the top of the windows was to the electrician's specifications. Once that was solved then the trim could be finished. It looks wonderful. Now it is up to us to do some painting which John started today. We have a bathroom project that is on-going so we picked out the tile for that room and once ordered John will begin to demo the bathroom. The new vanity and sink have been ordered but there is quite a delay in getting cabinets at least 6-8 weeks out. Everyone is doing reno jobs since they are all staying home. We also need to order flooring for the living room and the sun room. Again, this will take quite awhile to get here but we have to first order it. We are going to do hardwood and I think will have it go into the sunroom as well. The sunroom is more of a part of the living room even though it is somewhat separated. So this week and next are mostly planning and ordering. Following that, the work will start up again. I like it when the guys are here and things get done but I also really like it when they are not because it is a lot more peaceful. No saws and hammers going and people running up and down the stairs (outside stairs). Our neighbors had a big renovation done on their family room and porch and then decided to build a huge studio in front of their house. They have a mighty team of contractors that roll in every day, often on the weekends too, without fail. I think they took off Christmas Day and New Year's Day but that is it. The steady stream of trucks goes by every morning at the same time and it is often 7 or 8 trucks and cars. I would be very tired of that very quickly.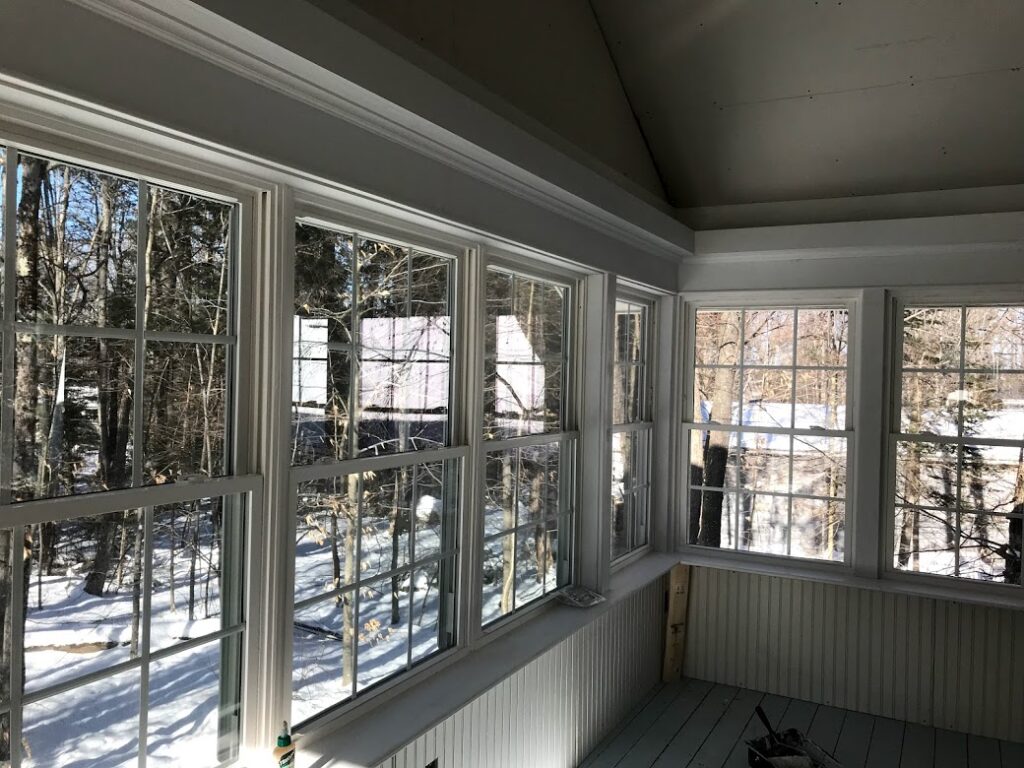 Exercise Takes A New Twist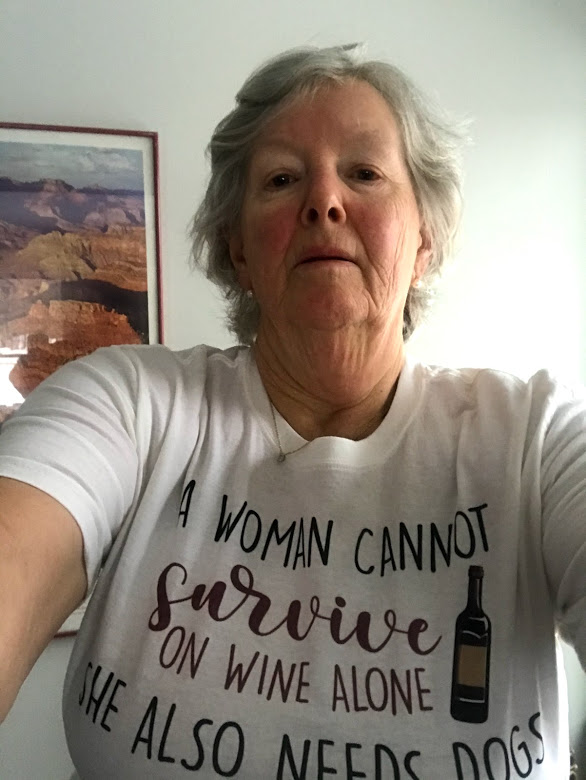 This was my first day on the new exercise bike. I made a decision a little while ago that I needed another exercise besides walking to use different muscles and to up my game so to speak. Since we have a number of days that are not ideal for walking for two hours outside, I figured an exercise bike would be the perfect alternative as well as a good addition. So I researched the bikes, asked for advice from friends in the Conqueror community on-line and ended up with a really inexpensive but thoroughly adequate bike. It does all I need it to do. It tracks my time and distance and speed, has an odometer for total miles biked and even tracks pulse rate. I didn't miss a day and managed to start at 5 miles on the first day ending up at 9.1 miles by the end of the week. I ride for about 35 minutes first thing in the morning instead of staying in bed. Frankly, this is the best workout I have been able to get since I stopped going to Zumba. Wonder of wonders, John has joined me and he has been faithful all week too. I am very proud of him.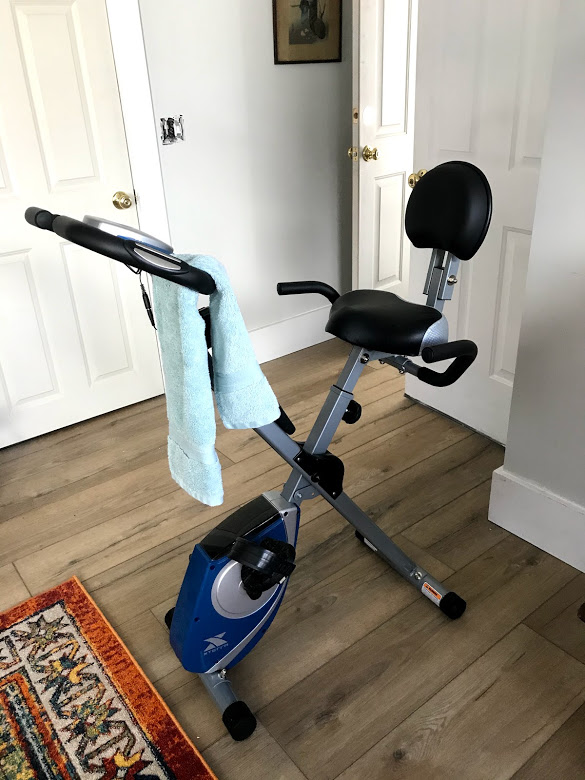 The dogs and I walked on the rail trail on Monday, Tuesday, Thursday and Friday. I biked all those days too and then biked only on Wednesday and Saturday. Also added Restorative Yoga to the routine. It was a big week and I feel better for it.
Conqueror Challenge Update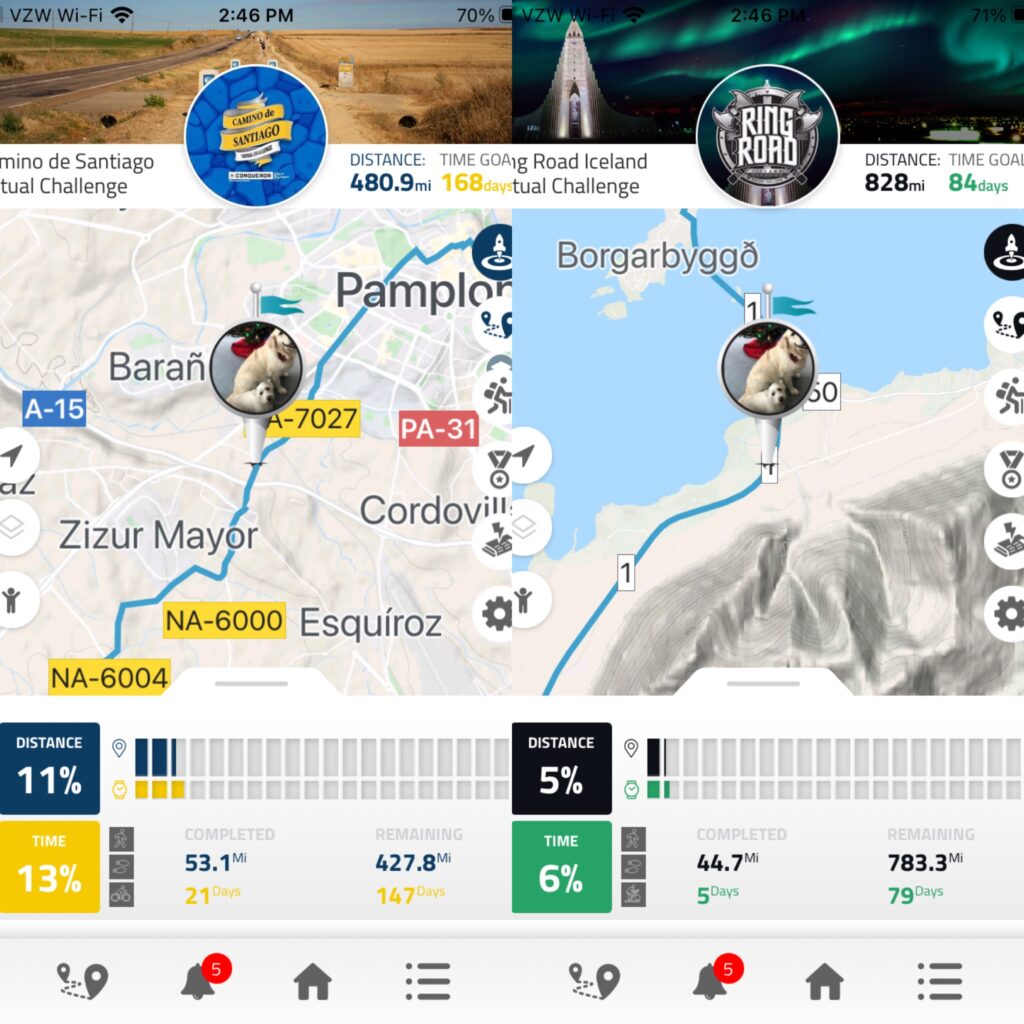 I added the Ring Road in Iceland to my challenges this week. I probably could have added the mileage on the bike to my Camino Challenge but I wanted to keep it for walking. So, I added the Ring Road Challenge and it is for my biking. It is very satisfying to see that little man progress along the route.
Nooming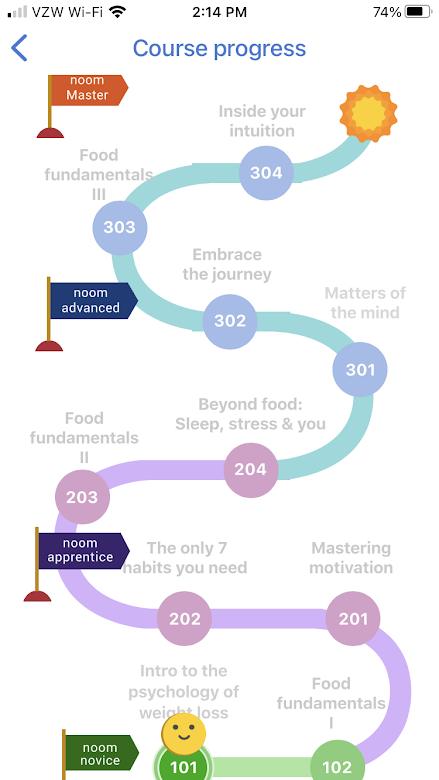 The other experiment of this week was I joined NOOM. I have been reading about it and, of course, kept seeing ads on Facebook. From one of the many blogs I read there was a link for a free 2-week trial. I thought I would give it a try. I'd like to give you an honest reaction. I love gimmicks. Anything that helps to motivate you/one to get back on track and attain the goals that we set out for ourselves. This one is full of gimmicks. The app has places to log your weight, your food, you blood pressure, your blood sugar (if you test), the water you drink, your exercise and your steps. You can link it to a number of different apps that record some of those things. For instance, I linked it to Runkeeper to record my walks. It reminds me of the olden days of Weight Watchers when you were encouraged to log everything *on paper*. That, for me, was over 30 years ago. I liked food logging because it is very helpful to see the calorie intake by portion size. It is full of tips and tricks and encouraging posts. This is something that I needed to be reminded of. For a long time I could eat what volume I wanted of the good foods and never had a weight change. I was in balance. I have not been for some months now and this little app has helped, a lot. I am not sure I will keep going after the two free weeks are up but it was just the boost I needed.
Vaccinations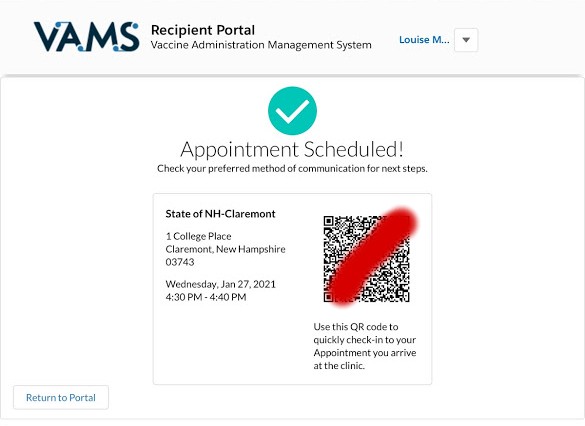 Like many folks throughout the country and the world, vaccine distribution started this week for those in Phase 1b. Here in New Hampshire that includes folks 65 and over. The registration opened at 8:00am on January 22nd. I tried going directly to the website and then remembered I was registered with Dartmouth so I went there. I discovered they did not have vaccines but their link went to the registration site and I went right through the process without issue. By 9:33 that night I had an email from the CDC with a link to go to the VAMS site to get an appointment. It is a little bit bulky and frankly, you need to have some level of techno savyness to figure it out. I think I was darn lucky. John had more trouble and had to register a second time and finally on Saturday night got his CDC email to go to VAMS. His appointment isn't until March. However, I believe I can take him with me on Wednesday and that he can get a vaccine then too. We called the 211 number and were told this would be very likely. Stay tuned. Many of my friends in South Carolina had appointments and they got cancelled because there was not enough vaccine. On the good news side, our grandson Jack was vaccinated this week as he is a firefighter with the Sewanee Fire Department.
Eating Healthy and Feeling Good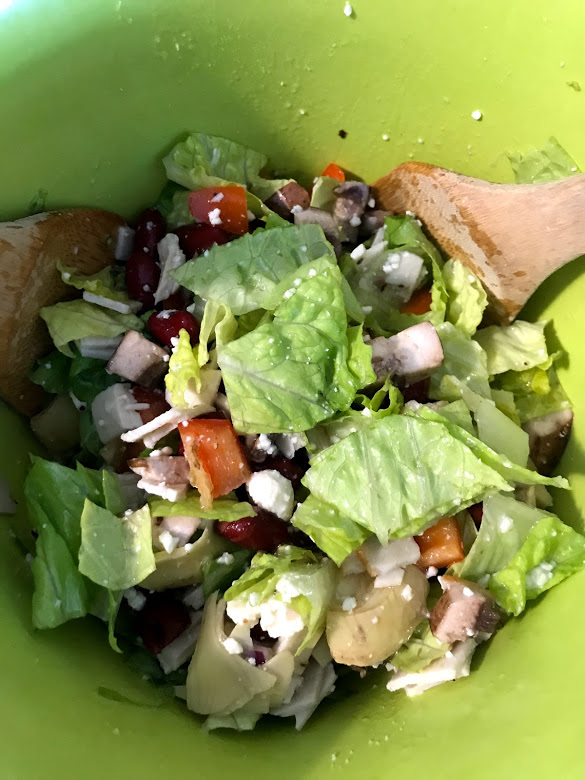 Every day I have logged the food I eat, including my wine in the evening, and so far seem to be just about 1200 calories. Blueberries, yogurt and granola with green tea for breakfast (measured quantities), a big salad for lunch, and whatever the family eats for dinner. No hors d'oeuvres for me. We ate well, had our fish meal which we added to the menu before Christmas, hamburgers using grass fed beef that I get from a local supplier, chicken and pork. Lots of vegetables and often a bit of rice or potato. Seems to be working. Week two starts tomorrow. The most important thing is I feel better, have more energy and have actually started sleeping better (there could be another reason for that too).
A Recipe to Share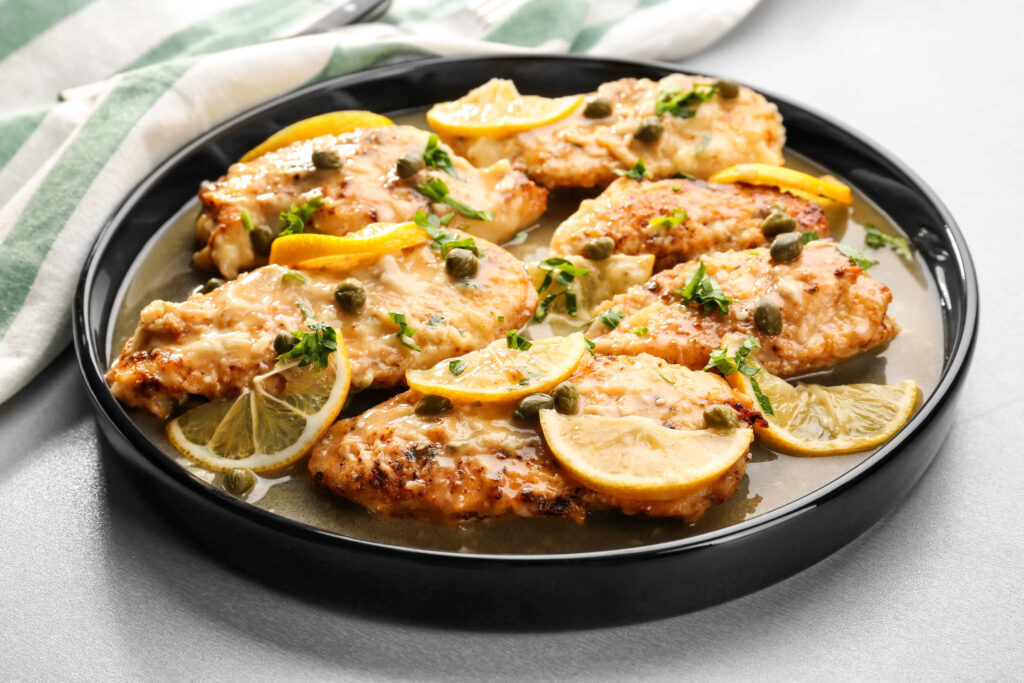 Lemon Chicken Piccata from Cooking Professionally
Ingredients
• 3 large skinless, boneless chicken breast halves—cut
• salt and pepper, to taste
• ½ cup all-purpose flour
• 2 tablespoons vegetable oil, or as needed
• 1 clove garlic, minced
• 1 cup low sodium chicken broth
• ½ lemon, thinly sliced
• ¼ cup fresh lemon juice
• 2 tablespoons capers, drained and rinsed
• 3 tablespoons butter
• 2 tablespoons minced Italian (flat-leaf) parsley
Directions
Step 1
Preheat oven to 200 degrees F. Place a serving platter into the oven to warm.
Step 2
Season the chicken breast pieces with salt and pepper and dredge them in flour. Shake off excess flour. Heat the vegetable oil in a skillet; pan-fry the chicken until golden brown on both sides, about 3 minutes per side. Work in batches and do not crowd skillet, adding oil as needed. Place the chicken pieces onto the warmed platter in the oven. When finished with all the chicken, drain most of the oil from the skillet, leaving a thin coating on the surface of the pan.
Step 3
Cook and stir the minced garlic in the skillet until fragrant (about 20 seconds). Pour in the chicken broth. Scrape and dissolve any brown bits from the bottom of the skillet. Stir in the lemon slices and bring the mixture to a boil. Let cook, stirring occasionally, until the sauce reduces to about 2/3 cup (5 to 8 minutes). Add the lemon juice and capers; simmer until the sauce is reduced and slightly thickened, about 5 minutes more. Drop the butter into the skillet and swirl it into the sauce by tilting the skillet until the butter is melted and incorporated. Add the parsley; remove from heat and set aside.
Step 4
Arrange the chicken on serving plates and spoon sauce over each portion to serve.