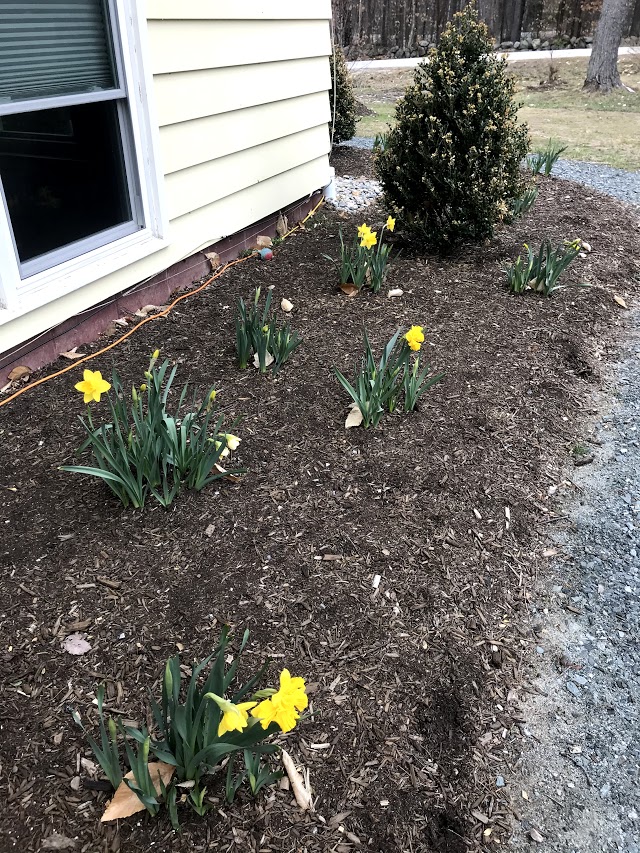 We have just finished a wonderful stretch of lovely sunny warm weather. The last little piece of snow is gone and the daffodils we planted last fall are blooming. It seemed to happen so fast. The trees have big buds on them and I suspect it won't be long before we begin to see green in the woods. One outside job we wanted done was to have our very overgrown apple trees trimmed. They hadn't been done in a very long time and were full of suckers that shouldn't have been there. Our young helper, Cody, who is going to landscape school, offered to come and do the job for us. Here he is up in one of the bigger trees.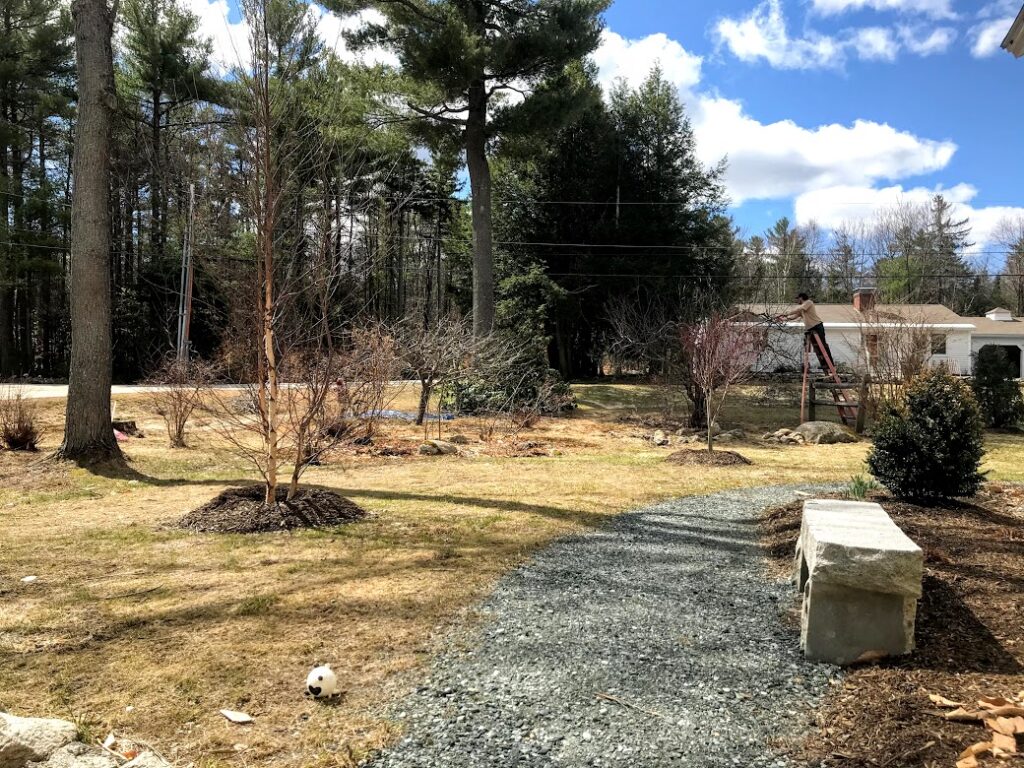 They look a little funny but they are definitely going to be healthier and, with luck, we might get some better quality apples. Maybe not this year but perhaps in a year or two. Cody planted the bushes around the foundation as well as the clump birch and a red maple and the three sisters that are slowly going to provide a little barrier to the road. Here are the trees finished.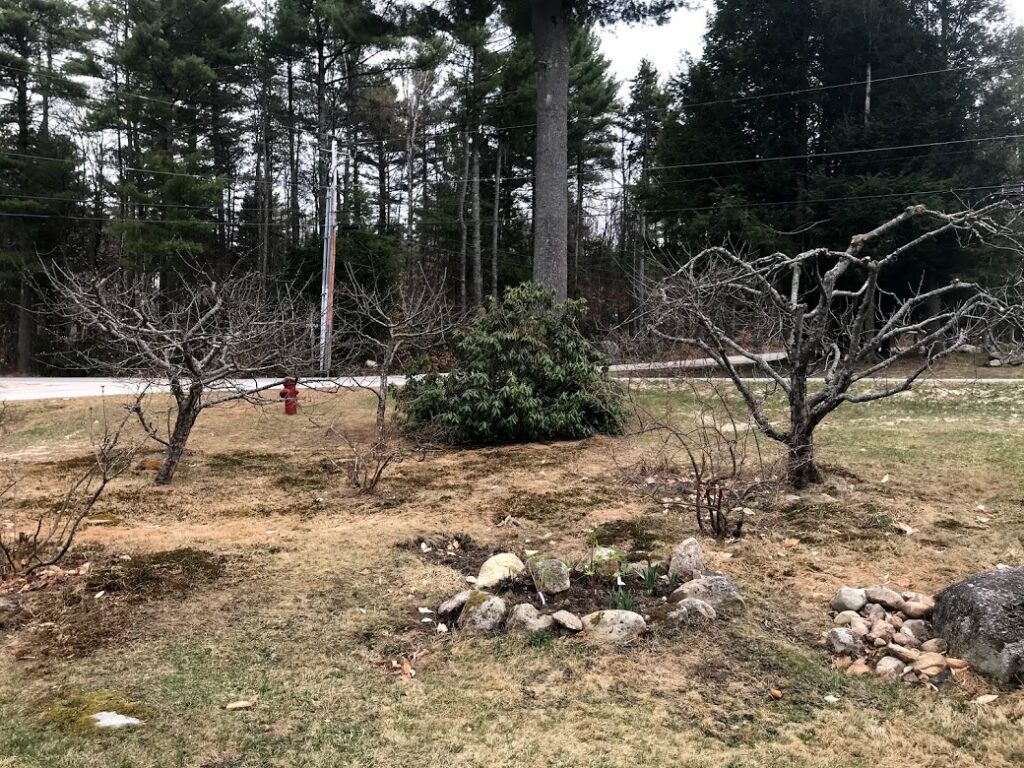 Update on Jenny Lane
Things slowed down this week dramatically. After all the work that was done to get the bathroom finished it was actually rather nice to have a bit of a quiet week. We have two big jobs coming up. On Monday Eric who is the wall finisher will come and start the mudding and taping of the living room and the hall and the sun porch. It is a huge job and one we just don't have the expertise to do. A lot of it is up high especially in the sun room and Katie and I have decided we don't do ceilings any more. Following Eric we hope Joe will show up and actually paint the ceilings for us and at least prime the walls. At this point I actually think I want them to paint the walls too and just leave the trim for us to do. John painted the door to the bathroom and the trim in the bathroom this week so we did accomplish quite a bit.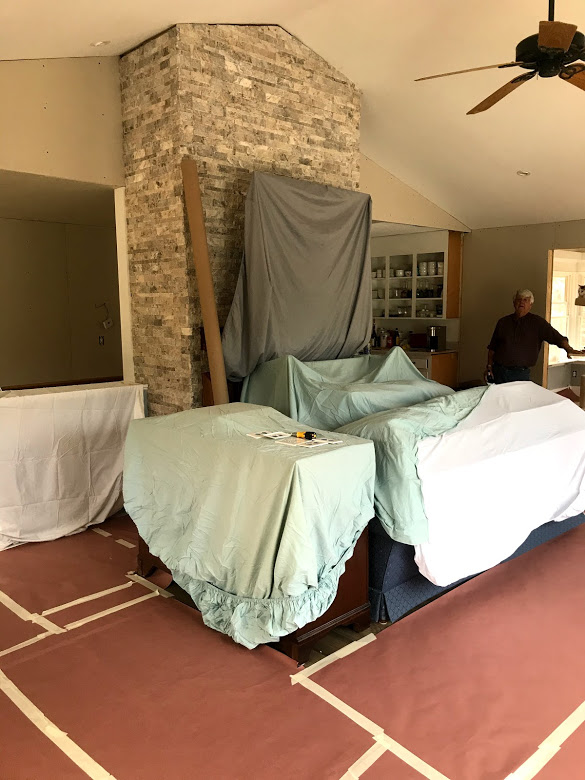 To get ready for this phase we had to move as much of the furniture, plants, knick knacks etc. out of the sunroom and the living room. What we couldn't move we piled in front of the fireplace and covered it with protective sheets. Then we had to put down paper to cover the new floors. We don't need those being covered with spackle or paint thank you very much. Some of the furniture left on Friday as it is being reupholstered including all the dining chairs. That helped quite a bit. The rest we moved into the bonus room and Katie's office. We have two pieces that we need to get out of there but they are a bit too heavy for us. Hoping for some helpers.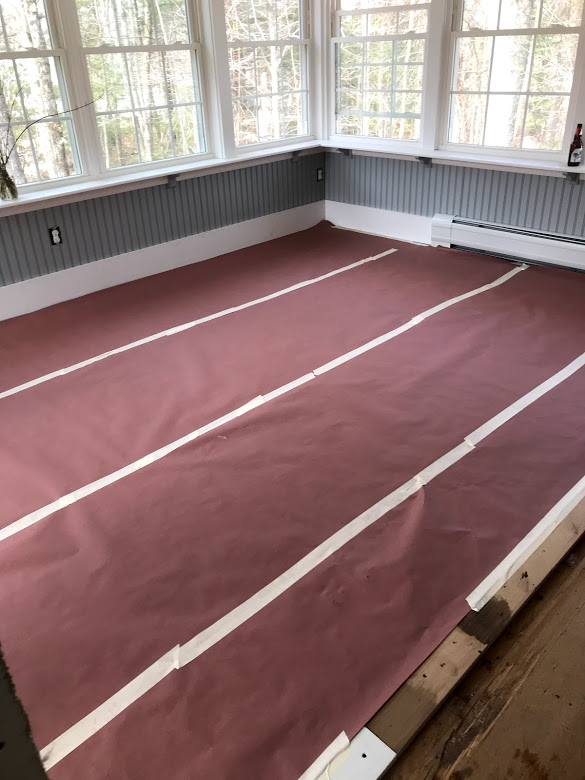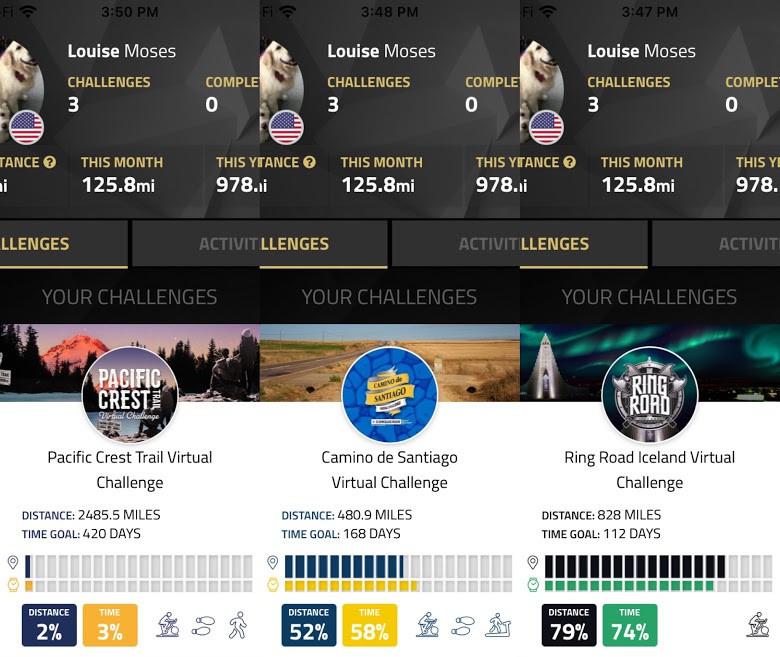 I am now doing three (3) challenges. For some reason I thought I should add in The Pacific Crest. As I am now over 50% done on the Camino and almost 80% on the Ring Road it seemed to make sense to me. I love the group on Facebook and they are so very encouraging. I even have a buddy in England who sends me encouraging texts every so often. The challenges are not all as long as the ones I started with and again I don't know why I did that but it made sense at the time. These are my motivation when I really would rather stay in bed reading. I get up and ride my indoor bike and then head off with the dogs for a good walk in the woods. This week was perfect. The dogs were so excited to be back swimming again. Even Bean wanted me to throw her a stick so she could go in and get it. She is a much better retriever than Wyke.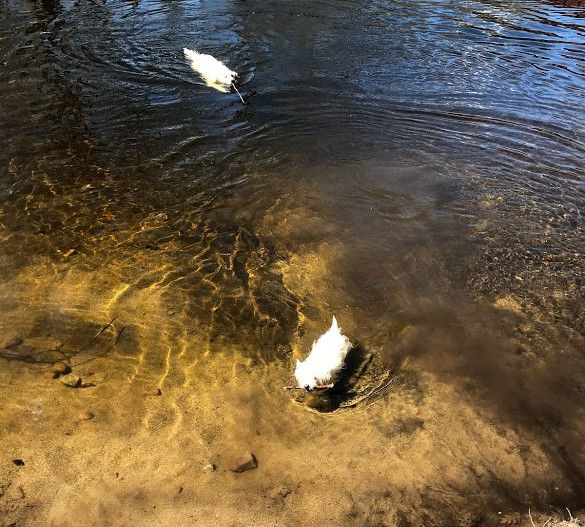 Things are Changing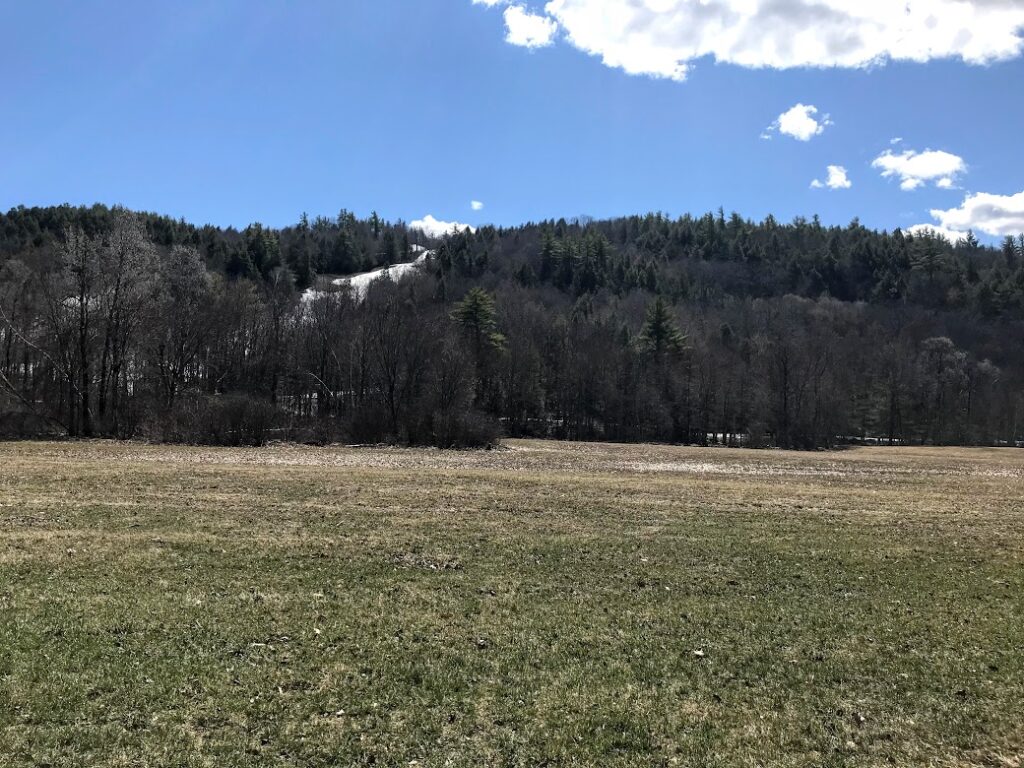 This week along with the work on the house we will have to adjust to having Katie return to the road. She is traveling for work for the first time in almost 14 months. A little nervous but she is fully vaccinated and is also very careful so she should be just fine. When she returns on Friday John and I will leave and head to South Carolina. What a different feeling it is this year versus last year. We were in South Carolina and not sure how we were going to get home or even when. Now, thanks to vaccines, we are feeling a little better about making the trip. More than 80% of the people who live in our community there are vaccinated so things are beginning to open up quite a bit. We hope to get in a little golf and to see some friends. I am a little nervous about it all but also excited. We will get a chance to visit with Edie and her mums at the end of the month and then will head for home hopefully to a painted living room and sun room.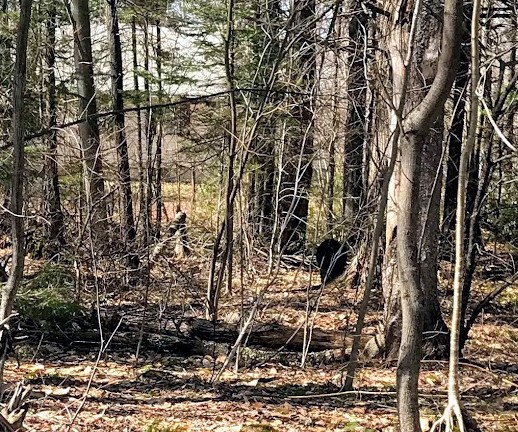 When I returned on Thursday from a great walk with the dogs I opened the back of the car as I usually do and both dogs took off at a fast clip into the woods barking their heads off. I had the beeper in my hand and as soon as I saw Bean had treed a bear, right in our backyard, I beeped them both and got them in the house. This is the third time he has come to visit us in the last two weeks. I bet he has come more than that but we haven't seen him. He doesn't seem to come really close to the house but he definitely has a defined route that he follows. Oh what fun spring is in New Hampshire.
A Recipe to Try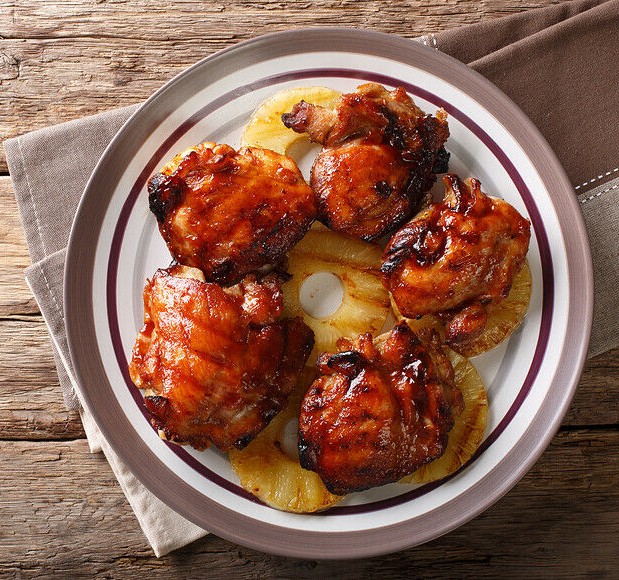 This recipe came by my desk and I think I will have to give it a try. Who can resist something that has the word Hawaiian in it. Finger licking good! It low carb and now that the warmer weather is here time to get grilling.
Hawaiian Chicken from Cooking Professionally
Ingredients
• 1/3 cup ketchup
• 1/3 cup low-sodium soy sauce
• 1/3 cup packed light brown sugar
• 2 tablespoons rice vinegar
• 1 tablespoon sriracha (optional)
• 1 tablespoon Worcestershire sauce
• 1 teaspoon sesame oil, or more to taste
• 1 1/2 tablespoons minced garlic
• 1 1/2 tablespoons peeled and minced fresh ginger
• 3 pounds boneless skinless chicken thighs, trimmed of visible fat (about 9 pieces)
Directions
Step 1
To make the marinade, combine ketchup, soy sauce, brown sugar, rice vinegar, sriracha, Worcestershire, sesame oil, garlic, and ginger in a medium to large mixing bowl. Add 1/4 cup to a smaller bowl and refrigerate for later.
Step 2
Add chicken to the remaining marinade and toss to coat all of the chicken in the marinade.
Step 3
Cover and refrigerate for 2-8 hours.
Step 4
Once you're ready to cook the chicken, preheat the grill to medium heat.
Step 5
While grilling the chicken, baste with the separated 1/4 cup of marinade. Grill for about 15 minutes or until the chicken is fully cooked.