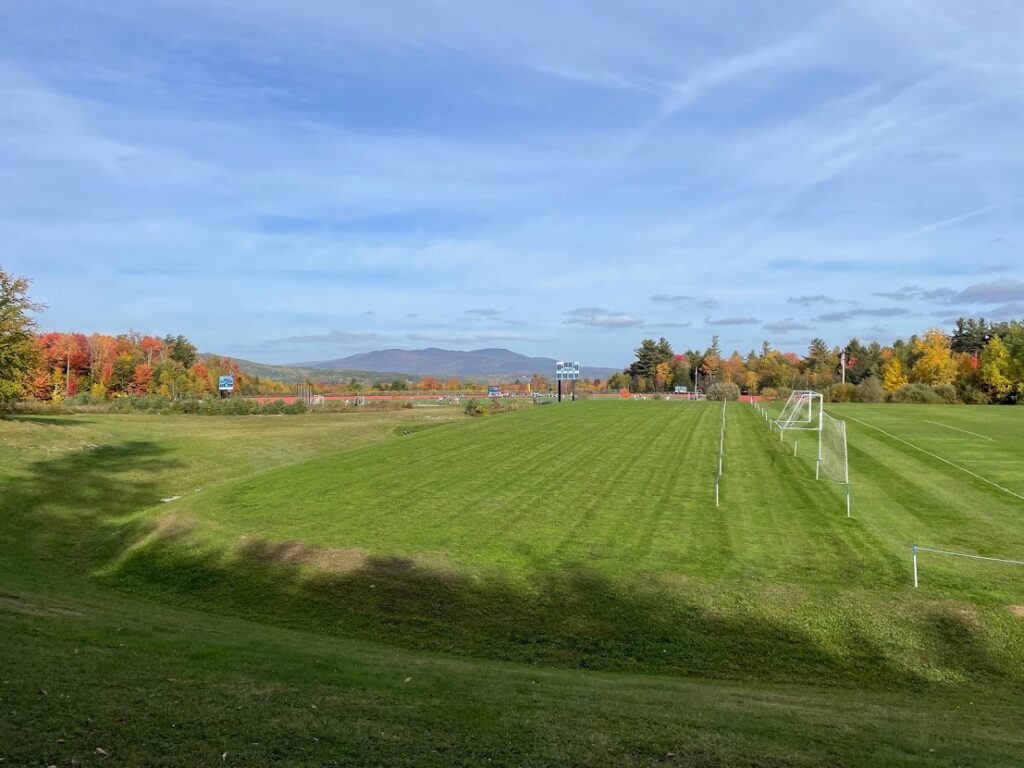 Fall in New England. Is there a more beautiful spot at this time of the year? We have had such gorgeous weather all week that we have taken as much advantage of being outdoors as we could make possible. Wonderful walks and fun bike rides until the pedal fell off John's bike. Otherwise it has been a terrific week.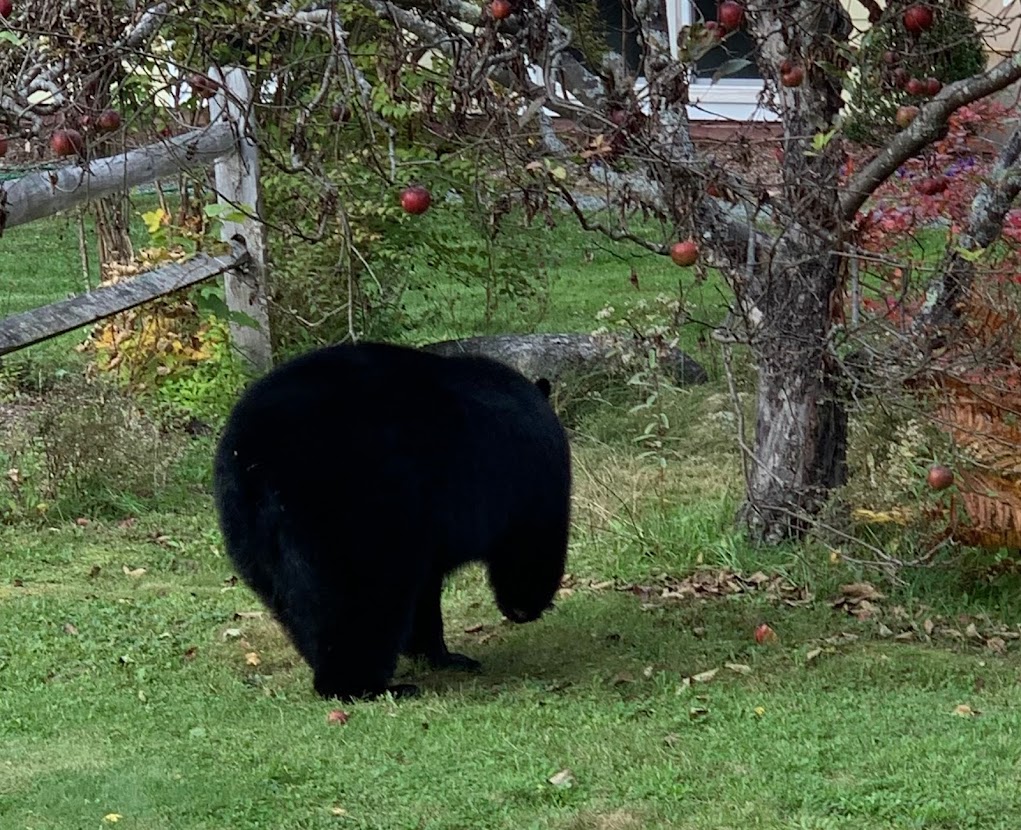 I began the week with a walk on the Morris Trail at Colby-Sawyer. There were games going on and the loudspeaker was blaring with music and announcements. It had been some time since I had been over there. My caution was regarding the bear and my feeling of invading his territory but I felt sure with the noise and the resurgence of activity at the College that the bear would be far away and not interested in being around. The dogs and I had a wonderful walk through the woods. They were happy to be back and interested in all the smells that dogs are interested in when walking in the trees. Just as we were about to come out of the woods back up to the fields both dogs starting barking. I looked off to my left and there was our friend "the bear" just sitting there staring at us. I called the dogs off and told them to leave him alone and then apologized to him and said we would be out of his way shortly. He didn't move and he didn't bother us. The dogs behaved and off we went. I was quite proud of them actually. Once home we had a small commotion in the back of the house and there was Mr. Bear checking out our backyard. I am just not sure whether it is the same bear or not but I believe it was. My neighbor caught a picture of him sitting under our apple trees having a delicious treat. I wish I had seen that.
A Road Trip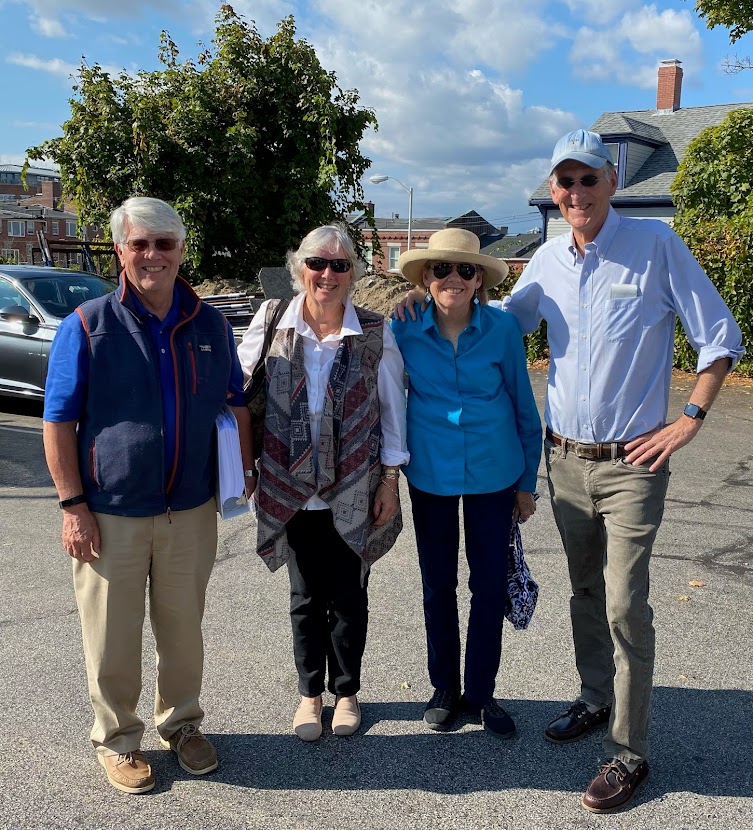 We took a little road trip this week to catch up with dear friends from North Hatley. They were visiting in Maine and Portsmouth, New Hampshire turned out to be about half way for both of us. We met in downtown and enjoyed a wonderful lunch right on the river at The Oar House. The sun was warm and we were happy to have the awning over us while we ate. Lots of activity on the river with sightseeing boats and tugboats moving around. John and I lived near there 40 some years ago and we always love to go back whenever we get a chance. Of course we had to have a lobster roll it is Maine/New Hampshire after all.
Jenny Lane Update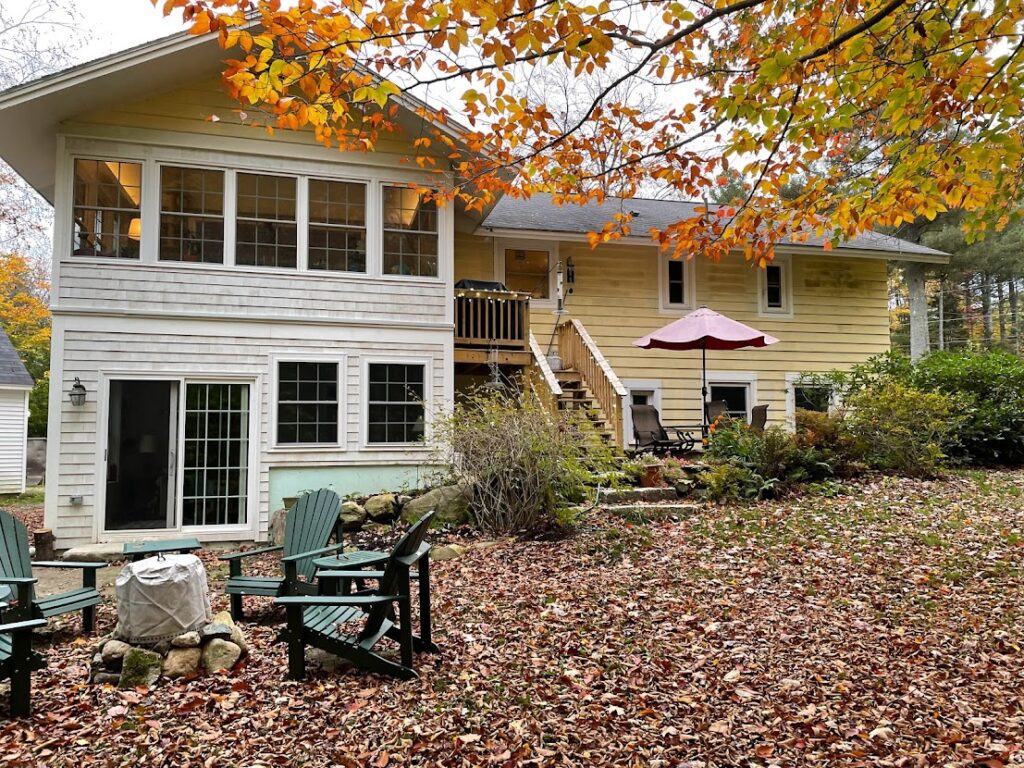 The woodshed was finished this week and had the shingles put on the roof. Whether I get it painted before winter is a big question but it is certainly about as weather proof as it will get for now. We moved in to the house two years ago on the 23rd of October. We have spent quite a bit of time this week reminiscing about where we were and how far we have come in two years. A good friend of Katie's showed up this weekend for a visit. She had been here before we moved in two years ago. I remember her clearly saying how she felt the house was a happy house and that it would be a good place for us. Her expressions when she walked in the house this time I cannot repeat but "Holy —-" I cannot believe this is the same house" pretty much sums it up. Oh how it made us all feel we really had accomplished something amazing in the past two years. We are slowly putting together the plans for the last phase of the renovation. It will take some clever ideas and a creative use of how to make it happen. Two bathrooms and the laundry room. Pretty important stuff. In the meantime, more finish work and trim work will be done. We want the outside secure before winter and then I think it will be painted in the spring. Not enough time before winter comes to do it this fall.
Biking This Week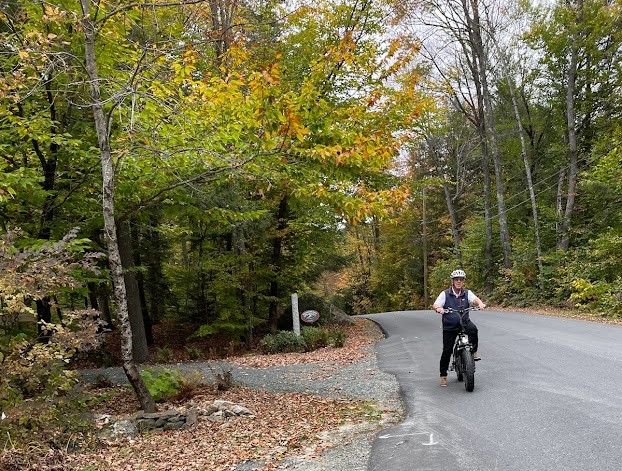 I have been around Pleasant Lake three times now. I finally got John to go with me which was a big accomplishment. It is 7.3 miles round trip from our house and has a few challenges such as hills along the way. He loved it. We were cruising along really enjoying being outside and in the sunshine. At one point he lagged behind me so I stopped to make sure he was fine which he was and he just went tootling on by me. I hopped back on my bike and when I got to the corner he was off the road and walking back towards me. The pedal had come off his bike and he couldn't get it back on. Now what? As it turns out there is an option on these bikes to use the motor and no pedals so he just put it in gear and off he went, no pedaling necessary. It was a good thing because I couldn't get started on the steep part of the hill so I did the same thing. These bikes really are fun for us old folks. New pedals on the way.
Hints for the Kitchen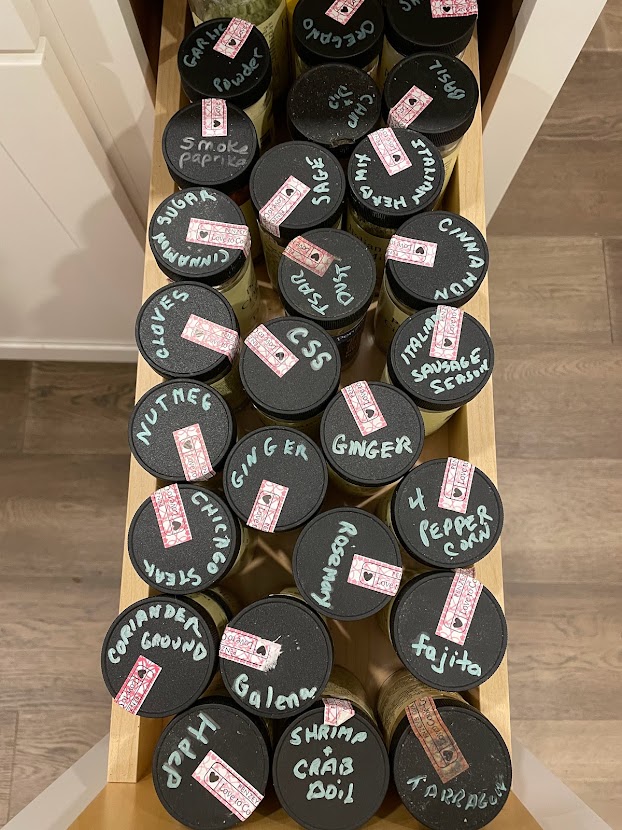 We love Penzey's Spices and work hard to keep our supply in good shape. However I have one beef with them. Because of the way our spice rack works we can only see the tops and it is a pain to constantly have to pick up the spices when looking for a specific one we need. Finally we came up with the idea of using a wine glass pen to write the names of the spice on the top of the jar so we could see at a glance what was on the shelf. This works great for the top shelf for sure. Give them a try if you haven't already. Their spices are great and they always have a little something extra to throw into your order. I sent this picture to them asking if they might consider putting the name of the spice on the top or at least sending along a little label. We shall see if I get a response.
A Recipe to Try
Coconut Rice with Shrimp from The New York Times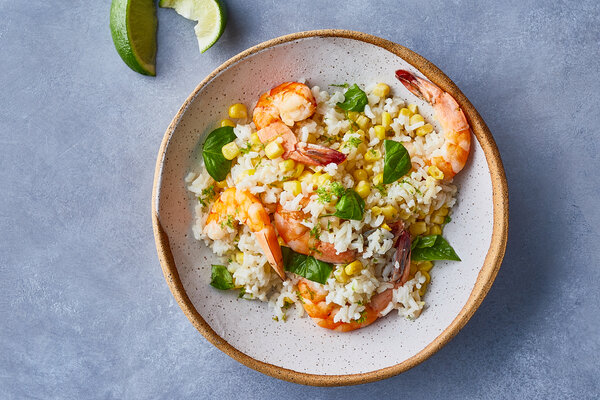 INGREDIENTS
2 tablespoons coconut oil
1 small yellow onion, finely chopped
2 tablespoons peeled and finely chopped fresh ginger
1 small jalapeño, seeded and finely chopped 
¾ teaspoon kosher salt, plus more to taste
1 ½ cups jasmine rice
1 (14-ounce) can full-fat coconut milk
1 pound peeled and deveined large shrimp
1 ½ cups corn kernels, fresh (from 2 cobs) or frozen
1 lime, zested, then sliced into wedges
1 cup fresh basil leaves, torn, plus more for serving
PREPARATION
In a large, heavy pot, heat coconut oil over medium. Add the onion, ginger and jalapeño and season with the 3/4 teaspoon salt. Cook, stirring, until the onion is soft and translucent, about 6 minutes.
Add the rice and sauté for another minute. Then stir in the coconut milk and 1 1/4 cups water. Bring to a simmer, reduce the heat to medium-low, cover, and cook for 10 minutes, adjusting the heat as needed to maintain a gentle simmer but avoid scorching.
Stir in the shrimp and corn, cover again, and cook, stirring occasionally, until the shrimp is cooked through and the rice is tender, 10 to 15 minutes. (Add more water by 1/2 cups throughout cooking as needed if the water has been absorbed, but the rice is still too firm.) 
Remove from the heat and stir in the lime zest and basil; season to taste with salt. Serve immediately with lime wedges and topped with more basil.