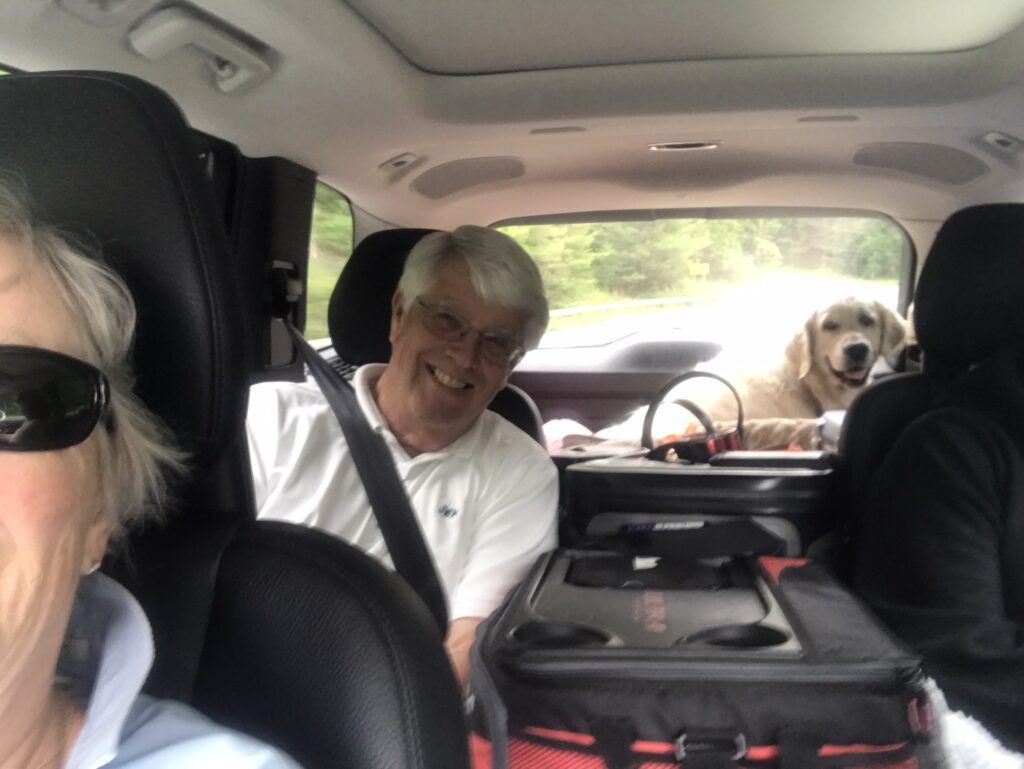 We are home again after a wonderful week of vacation. We are also back into quarantine as we were out of the New England area and visiting in North Carolina. Our hope is that we can get tested and if the results tell us that we are negative that we can go about as we did before we left. We left early on Saturday morning and drove the most Western of routes in order to avoid any cities or heavy traffic. Our departure was a little delayed while John and Katie fought with closing the Thule box which is very finicky. At one point we were going to abandon the box and take two cars but they figured it out and we were off. We went through Vermont on the back roads, took a quick trip around Albany and headed west to Binghamton, NY. From there we took 81 south. We did the same on the return. The road is good and very little traffic. The first rest stop we went to was in Vermont and we discovered right then that things were a little different. The welcome center building was closed by order of the governor and the only bathrooms were port-o-lets. Not to worry. I had my big bottle of disinfectant spray and took care of those immediately. Since the building was closed there were only a couple of cars in the large parking lot. The dogs were able to get a good run. We had our hand sanitizer, wipes, gloves, masks and the ever present large bottle of disinfectant spray always at the ready.
Getting Food On The Road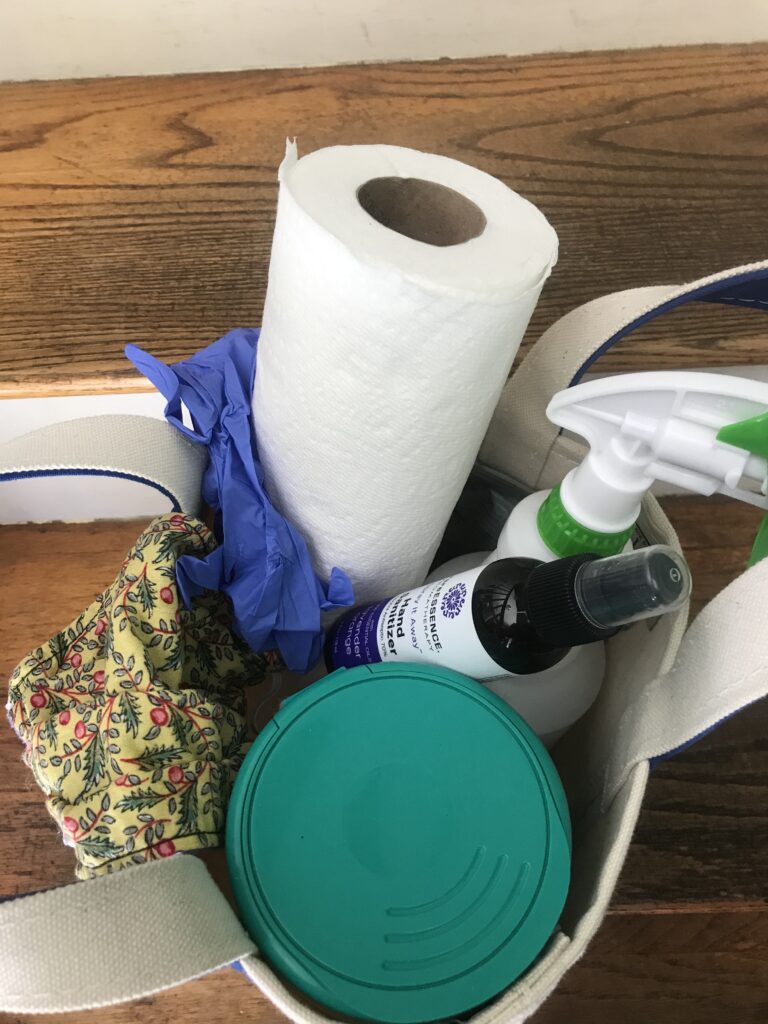 Drive through restaurants are our friends. We found that we could pre-order our breakfast at Starbucks and pick it up at the drive through window. We did rapid pick-up at Panera Bread and we had pizza delivered to our hotel on the two nights that we stopped on the way to North Carolina and back. It was efficient and worked well for all of us. We used the apps on our phones to place the orders and never had to deal with money. I am pretty sure this is how things are going to continue to go in our future as we go to a touchless society. Every restaurant that we stopped at had their employees wearing masks. Every restaurant was happy to see us and thanked us for using their service. Even little notes on the bill attached to the outside of the bag.
Getting There and Back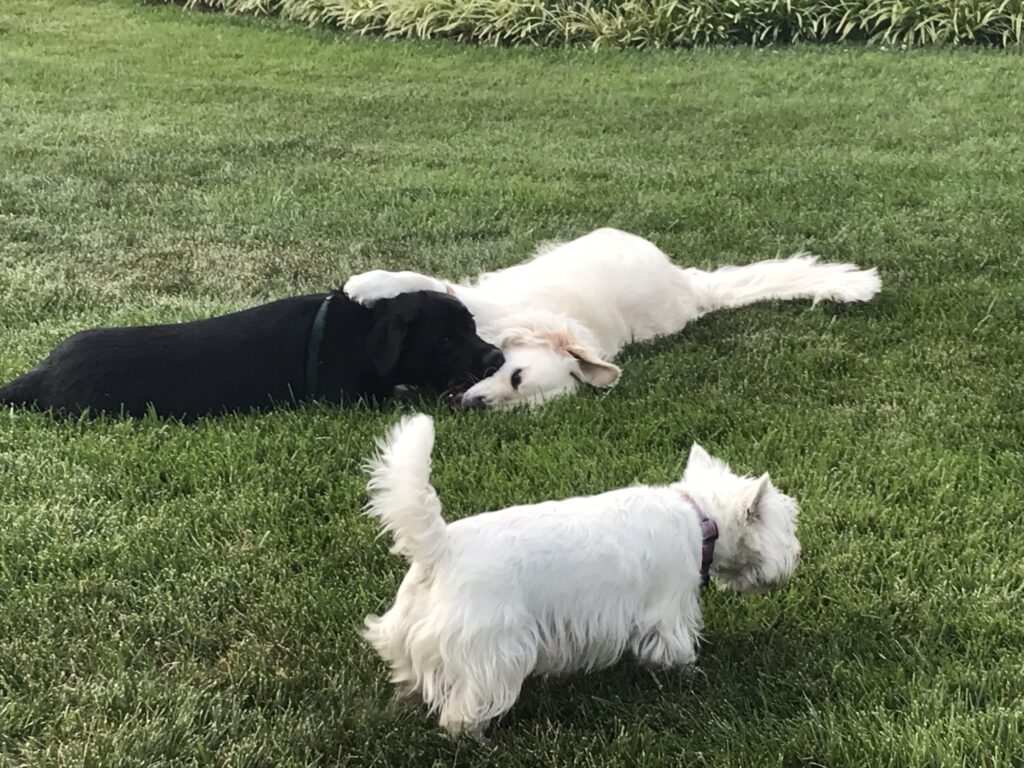 We had pushed ourselves the first day of the trip to get as far along as we could possible go making it to Harrisonburg, VA where we stayed in a wonderful hotel, The Hotel Madison. The rooms were spotless but we cleaned the often used surfaces with the ever present disinfectant any way. We sat outside where the dogs could run around and play. We met some other travelers heading for New England who had a dog, Ink, that was a great playmate. We socially distanced with a glass of wine at a separate picnic table with her owners and generally relaxed. We ate our pizza outside too. The only bad part of the trip were the torrential rains we encountered that caused us to have to pull-over at one point and to drive with flashers on. Coming home was much better. Staying in hotels is certainly a different experience than what it used to be. Again, everyone was wearing a mask and was very welcoming to us. They, too, are taking it very seriously.
Our Week in Cashiers, NC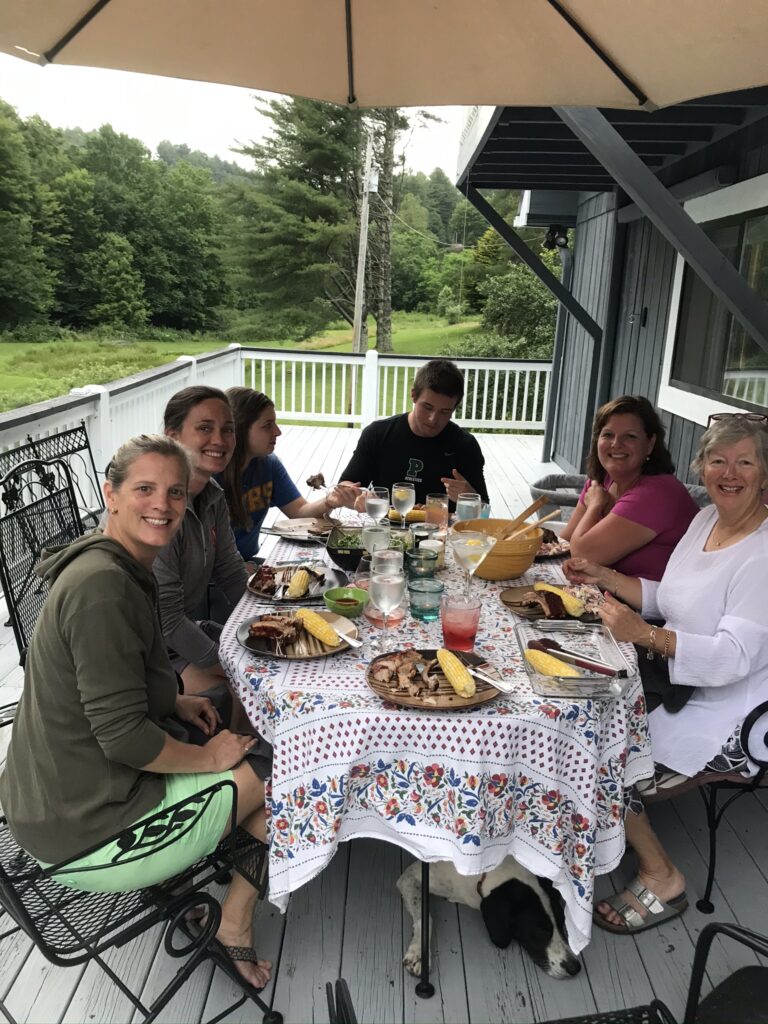 What can I say about this past week? We just reveled in being together. We all arrived within minutes of each other at our AirB&B. Margot, Hadley and Edie in Margot's new Volvo XC90 and Jack in the Subaru with the canoe on top of it and the four of us in our car. Let us not forget the two dogs in our car and Brewer with Jack. We were reluctant at first to hug each other. We danced around it which was really strange. I think we just didn't know the protocol for meeting a brand new baby after traveling. Once we got into the house and did our cleaning routine, we washed our hands and gave out some hugs. The baby was happy and curious. She is six weeks old and just beginning to smile and be really aware of her surroundings. We couldn't get enough of her. Each day it got much easier to be normal around each other. We went for a few hikes, rented a boat (again, cleaned it when we got on it) and relaxed. We did two 1000 piece puzzles, sat on the beautiful deck, played with the dogs in the stream and ate really good food. We tried to keep trips to the store at a minimum and only one or two people went. It was a little bit of heaven in the midst of this awful pandemic.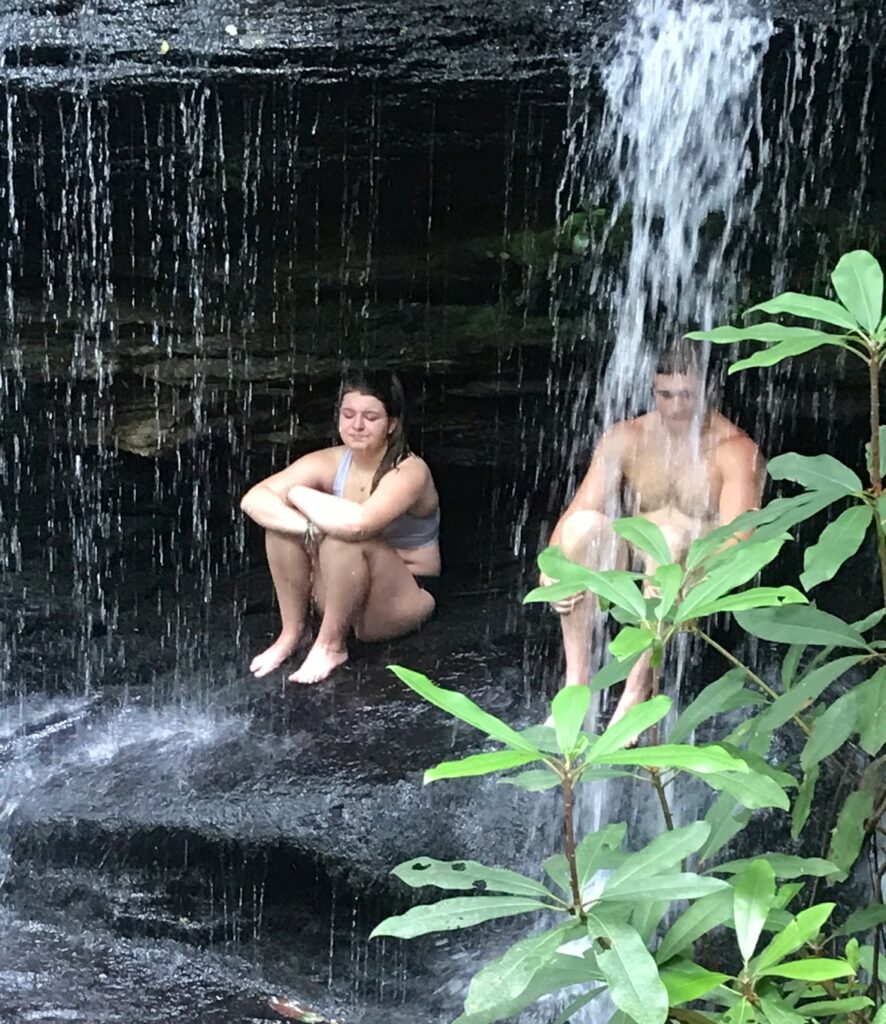 Happy Birthday Margot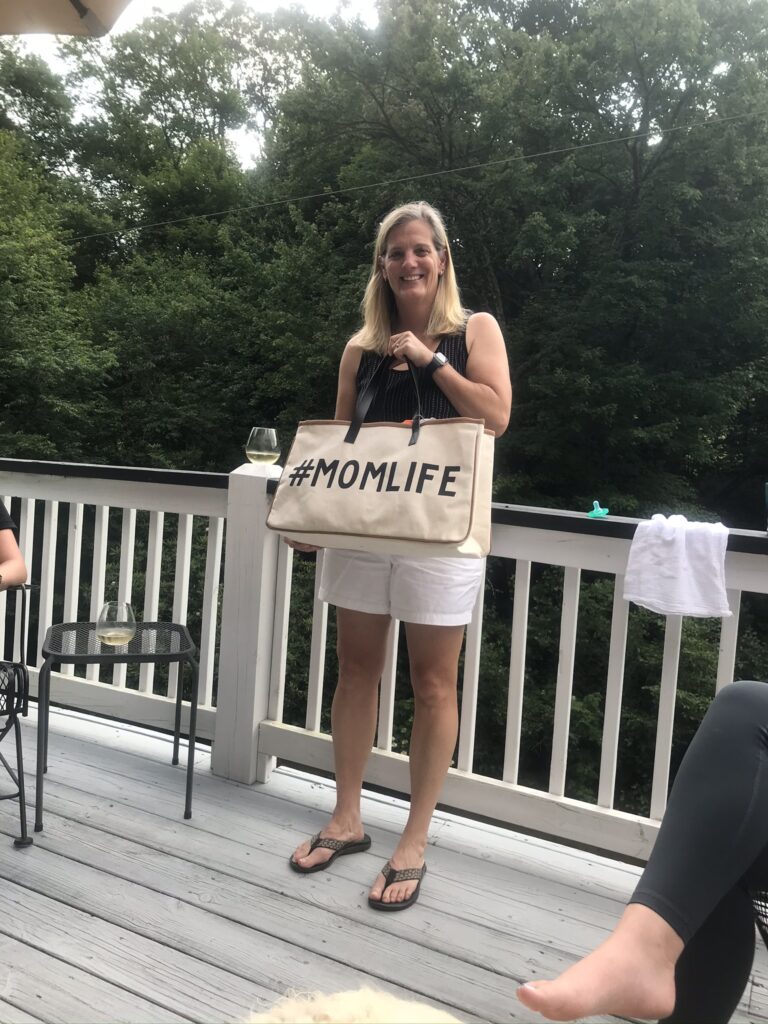 Best birthday ever. We were lucky enough to celebrate with Margot for her birthday. No present could come close to her gift of Edie but we tried. A great meal, some champagne and just being together on the deck for dinner. It was wonderful.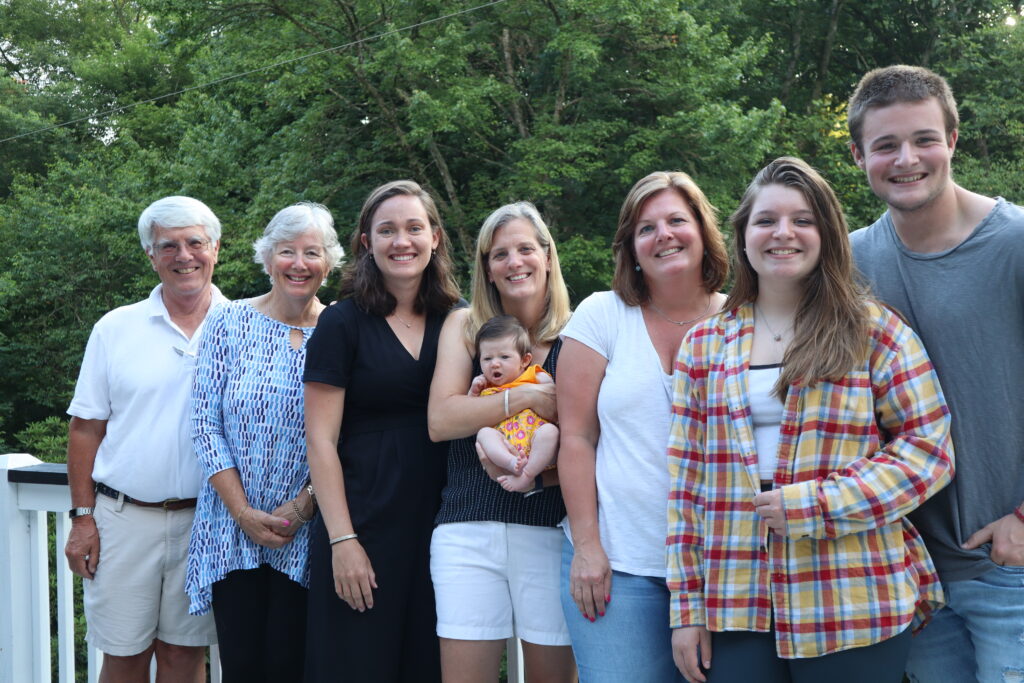 We were so sad to leave but our hearts are full. These times are very precious and we are so, so happy we made the trip. With luck and good health, we will get to be together again before Edie is all grown up. Jack will stay in Asheville and hope to go back to school in early August. Who knows what the future has in store for our schools and colleges. On the home front our vegetable garden is in desperate need of a good weeding after a week with lots of rain. We do have little squashes, lots of tomatoes, some peppers and beets and carrots all coming along. It was surprising how much everything grew in one week. Not much was done at Jenny Lane except for the start of the landscaping repair that was scheduled last fall. It was good for all of us to have a week off.
PS: Watch Hamilton, it is wonderful. We saw it live in Chicago but this broadway original is exceptional.