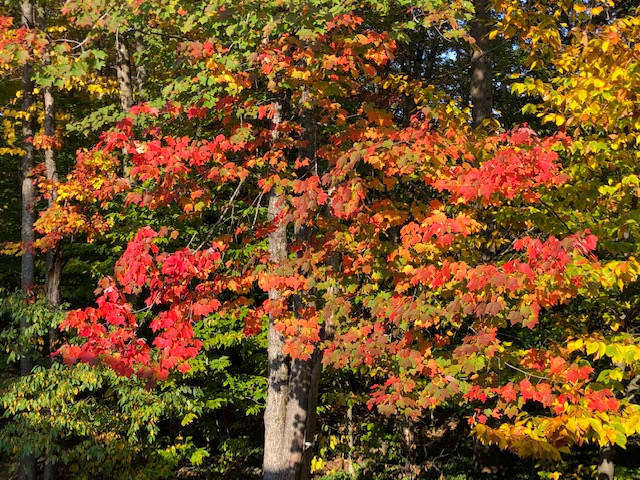 Fall has arrived in all its glory this past week. The trees in New Hampshire are absolutely gorgeous this year. It may be the result of the drought. It may be because we have already had a frost. I don't know but what I do know is they are brilliant, vivid reminders of the glory of fall in New England.
Update on Jenny Lane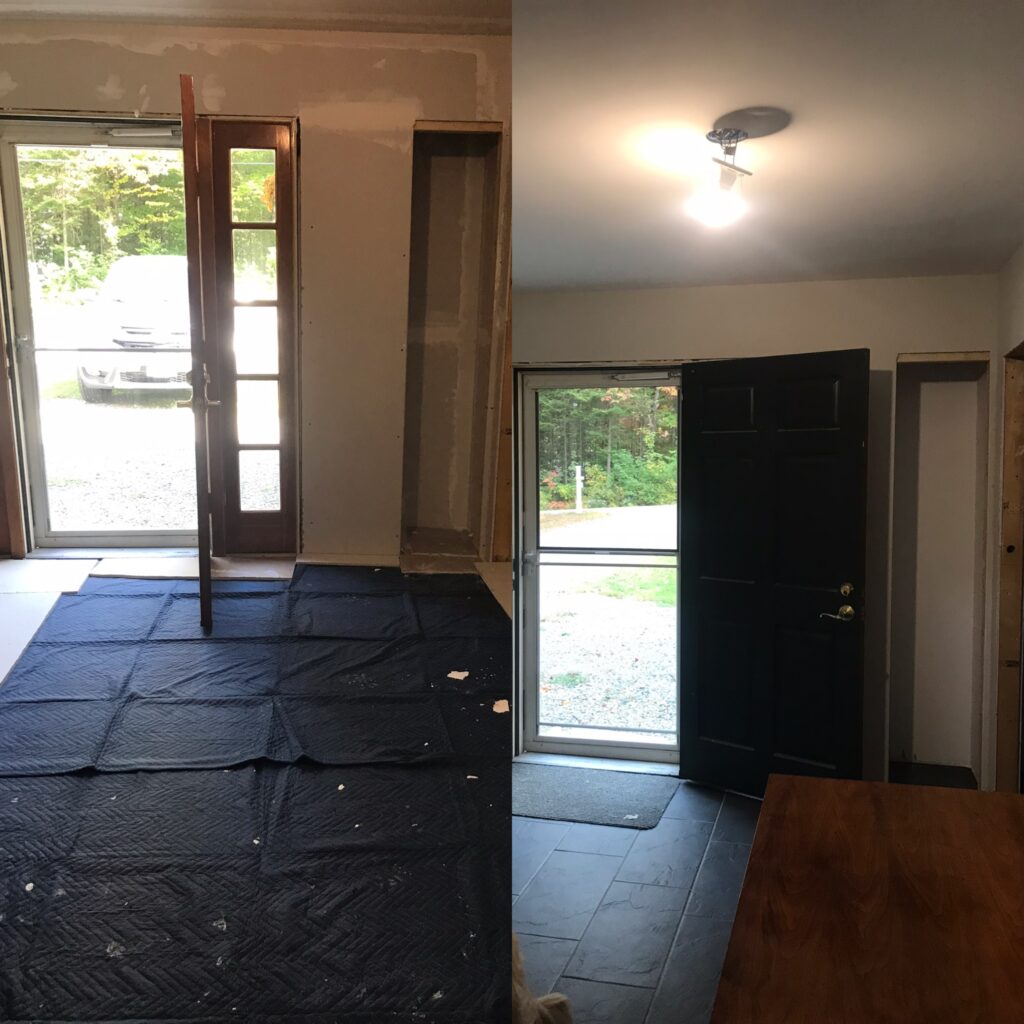 It was a really good week. We accomplished with fearless Eric, the mudding and taping of the bonus room, bonus+ room and the front hall. Our homework was to get the front hall primed and painted before Eric came back to do the other two rooms. He uses a spray paint and he couldn't do that in the front hall so he left it to us. Taking on the task with enthusiasm, Katie and I primed the front hall on Saturday and painted it on Sunday. Such satisfaction. We have another room mostly of done. The front hall is now primed and painted with two coats of a soft gray called Gray Owl and the ceiling is painted with a nice flat white. The floor was put in a few weeks ago and while we covered it carefully we still had some cleanup to do. This is such a huge milestone for us. We are moving the bar upwards now. There is, of course, more to destroy and rebuild but we have made a giant leap forward and we are basking in that glory for a few minutes.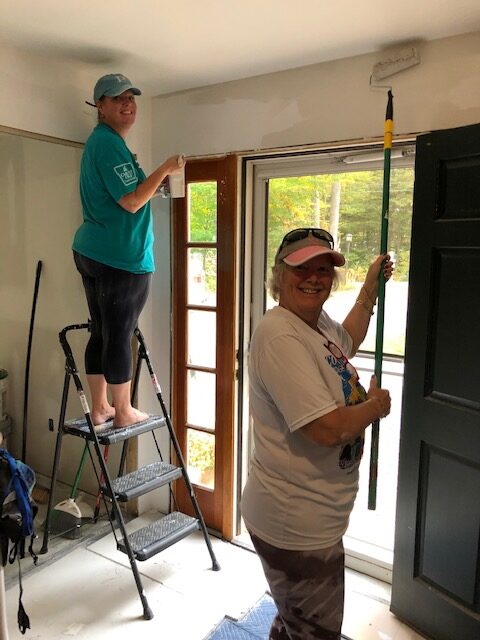 Walking Couldn't Be Better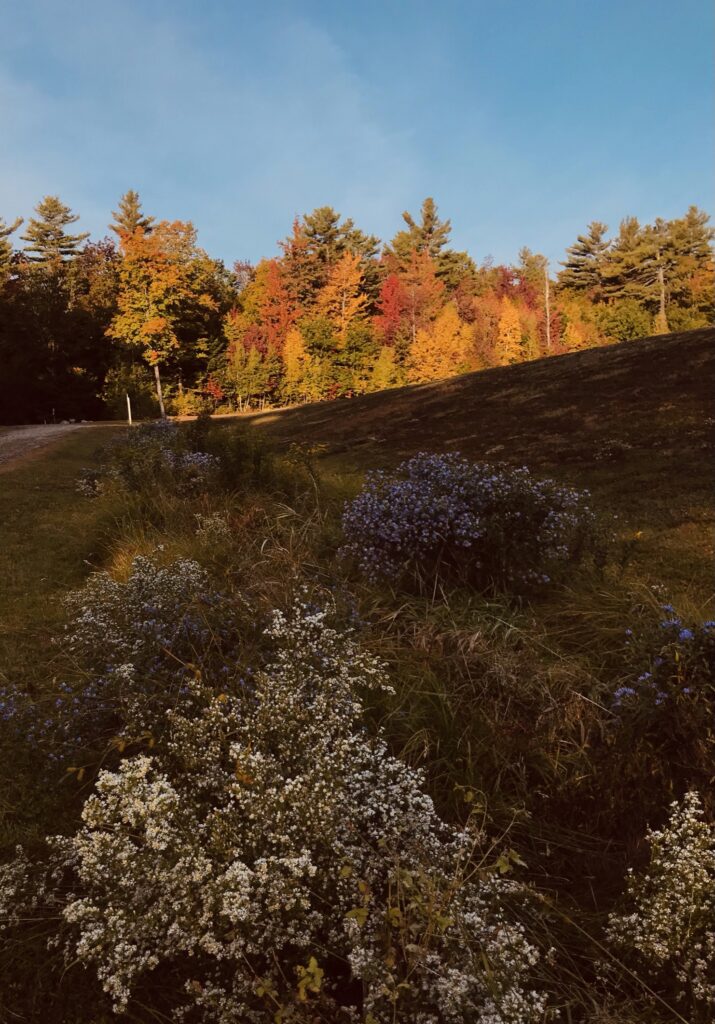 Every day was perfect this week. We logged 29.9 miles for the week and loved every minute of it. The weather was perfect, the trees are beautiful and the dogs and I were out there every day. Except. John and I took off for a brief break from house project and went to visit good friends in Saratoga Springs. Our friend had a bad accident a few months back and is now recovering well but we needed to see with our own eyes that he was doing well. I made a batch of Big Batch Adventist Soup and we took along a loaf of bread and joined them for a wonderful, socially distanced outdoors on their deck lunch. It felt almost normal. We then went to Manchester, VT to a favorite Inn and had a delightful dinner, outside by a fountain with a lovely heater to ward off the chill. Just the mini-break we needed. Driving through the mountains from our place to there and back was spectacular and well worth the drive.
A Repeat Recipe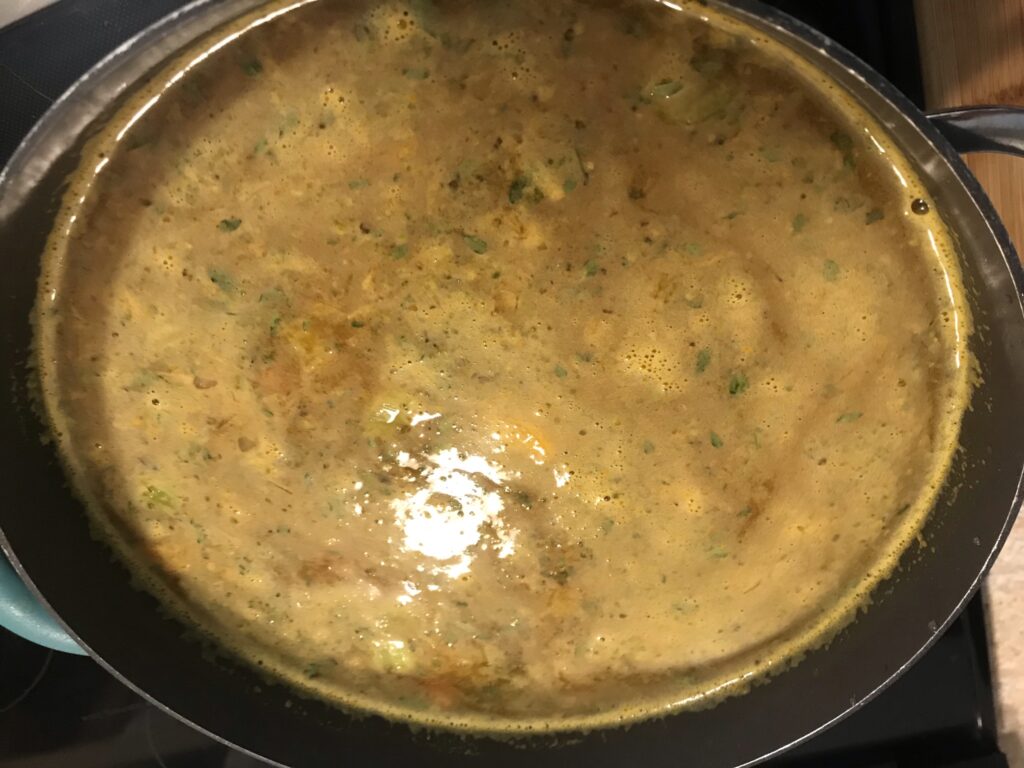 This week's recipe is one I have shared a few times before but is well worth sharing again. As the days get shorter and the air a little chillier, a nice cup or bowl of hot nourishing soup with some homemade bread is a wonderful meal. Enjoy!
Big Batch Adventist Soup from Blue Zones
INGREDIENTS
4 carrots, diced
4-6 stalks celery, diced
1 big handful diced shallots
½ cup of sliced peppers (red, yellow)
2 tablespoons olive oil
4 potatoes, large dice
4 sprigs thyme
4 sprigs oregano
1 teaspoon of Better than Bouillon vegetable base
½ cup of carrot juice
12 cups vegetable broth (We recommend Imagine Vegetable Broth)
Large handful of lentils and/or brown rice
2- 3 dollops of white, rose wine or bourbon (optional)
1 tangerine or small orange (1/2 zest, and all juice)
Handful chopped flat leaf parsley (optional)
DIRECTIONS
*Saute carrots, celery, shallots, and peppers in 2 tablespoons of olive oil for about 3 minutes.
*Add broth and all other ingredients except for citrus and parsley.
*Turn up heat to boil and turn down to low-med to simmer.
*Simmer for 45-50 minutes.
*Finish by squeezing in citrus juice and zest and parsley (if using).
NB: The citrus juice really adds something special to the taste.