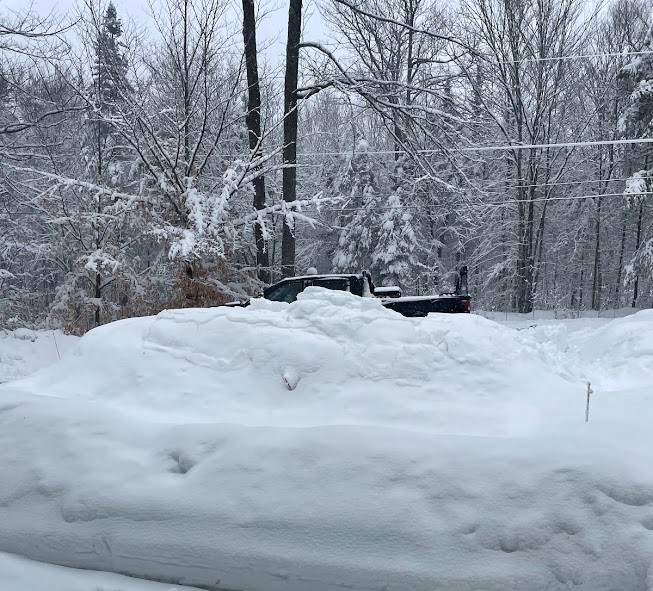 Last week I was certainly feeling optimistic regarding spring. The daffodil and crocus bulbs were forcing their way up through the melting snow and the birds were singing their springtime songs. Then Monday night to Wednesday morning happened. We received between 19 inches and 24 inches of snow depending on who you talked to and any change, however minor, in elevation. Our wonderful Mr. Snow (yes that is really his name) who plows us out after each storm, was pretty much at his limit to where he could actually put the snow in our driveway. He and John worked out some sort of compromise and he got it about as clear as he could. I could hardly see his truck for the piles in the driveway.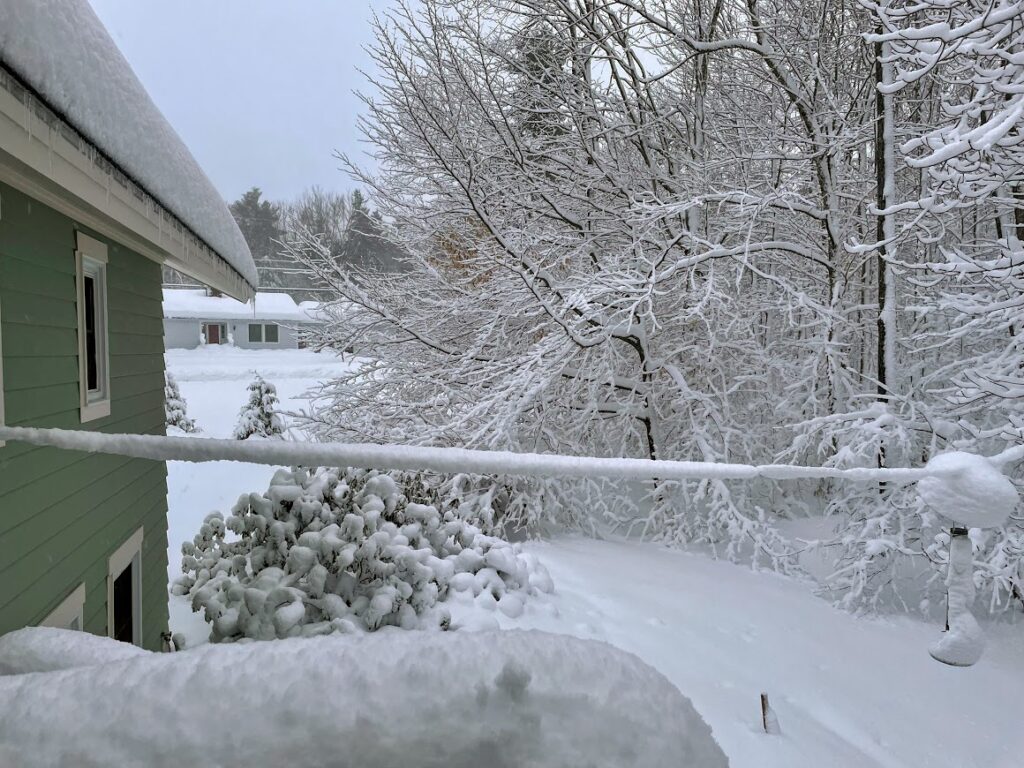 This picture was taken out the sun porch looking into the backyard at the bird feeder. Somewhere out there is a grill and a patio with chairs and tables. It was heavy, wet snow which was actually very hard to move. We were lucky that none of our trees came down despite the heavy snow weighing down their branches. We did have some electricity issues but they didn't last more than a few seconds at a time. Just enough to interfere with a Zoom meeting that John was trying to attend. He ended up using his phone which wasn't perfect but at least he was able to stay on the call.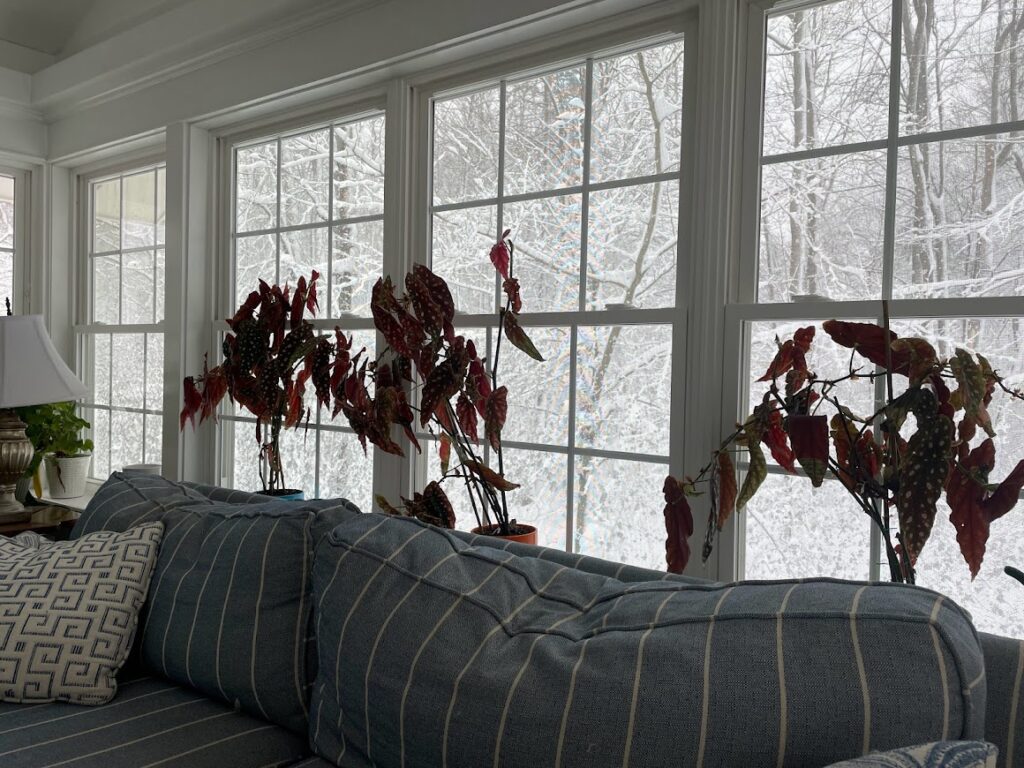 We have a little color in the sun room thanks to the Angel Wing Begonias in the windows and Christmas Cactus that is now an Easter Cactus as it is blooming once again. I guess it likes where it lives. After six years, Libby decided it was time to repot the Peace Lily that my mother, Gran, had sent to Katie, Libby and Jack when they moved into their home in Newbury after 17 years on Blueberry Lane. The lily has moved with them from Newbury to the farmhouse on Kearsarge Mountain and finally to Jenny Lane. It deserved a little love I think and now that Libby is our family botanist, she undertook the job. So far it is still alive and thriving.
Walking and More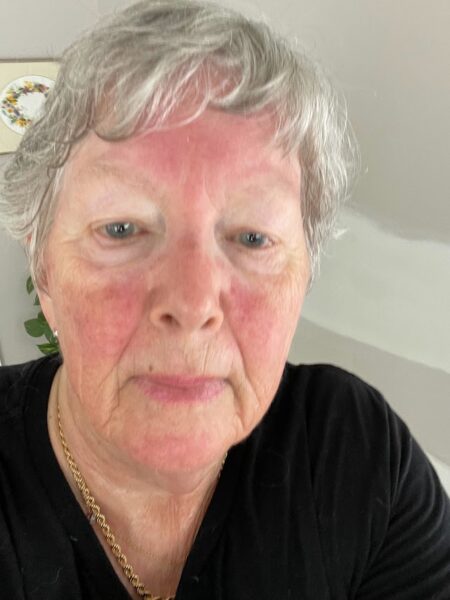 A terrible photo but an honest one. I had five incredible days on the treadmill this week. Each seemed to be better than the one before. Mixing up the instructors and the music I found it was much more enjoyable. It is always a good workout but I don't actually look happy in this picture. Might have been at the end of an hour. By the weekend I was so ready to get outside. Since we had so much snow I took my snowshoes and the dogs and headed for the rail trail Saturday morning.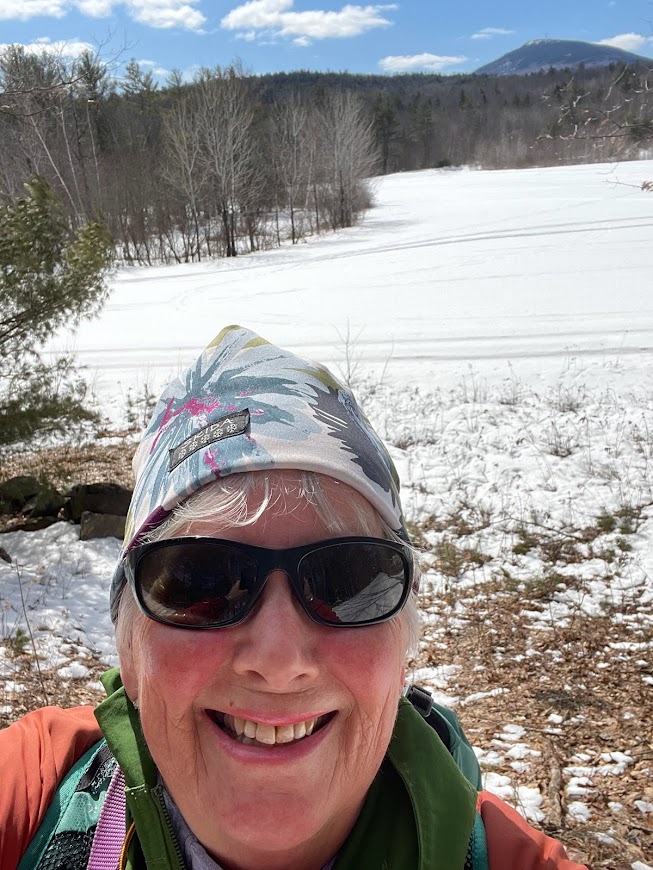 It was a beautiful day and we were all excited to be outside. The trail was pretty beaten up by the snowmobiles and was turning quite slushy but we soldiered on with me wearing my snowshoes and the dogs their bright orange jackets so the snowmobilers could see them against all that white snow. It worked well. I could tell that they could see the dogs from a little further away which is a good thing. Both dogs are very good at coming right to me when the machines come by but still I don't want to surprise anyone unnecessarily. Once I got to the Proctor Ski Area there wasn't much snow on the road there so I took off my snowshoes and carried them. It actually seemed to be easier walking than snowshoeing so I didn't put them back on. Once back at the car I discovered to my dismay that I had lost the beeper that is used to signal to the dogs to come back to me (which I hardly ever use). Now what? I had passed some folks on the trail so I got in my car and headed to the covered bridge where I caught up with them and asked if they had seen it which they had not. I realized that at one point four snowmobiles had come by us and I had gotten off to the side of the trail with the dogs to get out of their way. Seeing how good the dogs were being I decided to give them each a treat but the treats were in my backpack. I undid the backpack and swung it off my back so I could get the treats – the beeper was clipped to the waist band of the backpack so I figured that was the most logical time it could have come off. Unfortunately I had to slog my way through another half mile to where that spot was and I was already tired after 3 1/2 miles of slushy snowshoeing and hiking. Luckily the beeper was right there where I had hoped to find it. Then I slogged the half mile back to the car. The dogs didn't move for the next few hours and neither did I.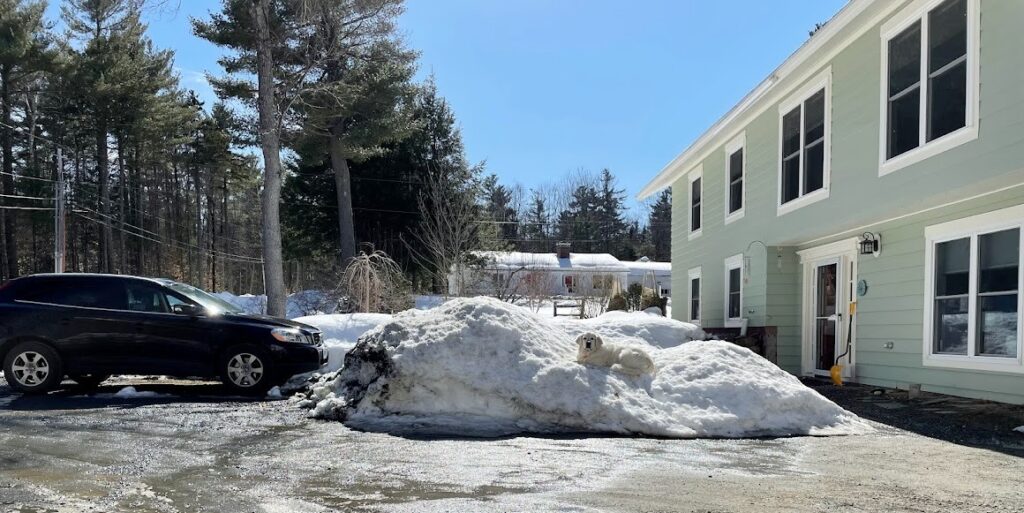 It was such a gorgeous afternoon that as soon as I got home I moved my chairs and bench in front of the garage doors and we sunbathed for a couple of hours. I even have white around my eyes from my sunglasses but lots of good vitamin D. Wyke is protecting his snow pile as it melts. That is one good thing about spring snow storms they don't stay around all that long. However, mud season is coming up fast.
Cooking This Week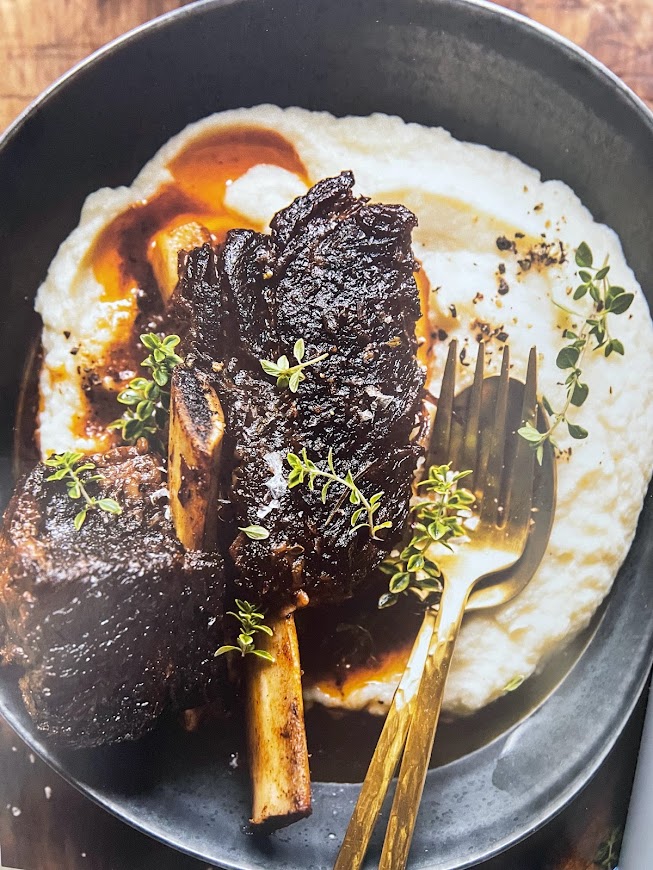 John made one of our most favorite dishes to cheer us up during the storm. It is from Half Baked Harvest. The recipe is in her book "EveryDay" and not on-line but I found one from her website that is almost identical. Red Wine Cranberry Braised Short Ribs. The difference in the on-line version is the addition of two cups of cranberries. So your choice. John cooked this in the slow cooker all afternoon. The house smelled wonderful. Below I copied the recipe out of the book.
Red Wine Braised Short Ribs with Whipped Provolone Cauliflower
(from Half Baked Harvest Every Day)
SHORT RIBS
5 pounds bone-in beef short ribs
Fine pink Himalayan salt and freshly
ground pepper
1 medium yellow onion, thinly sliced
2 shallots, thinly sliced
2 cups dry red wine, such as Cabernet Sauvignon
2 cups low-sodium beef broth
2 tablespoons tomato paste
4 sprigs of fresh thyme plus more for serving
2 sprigs of fresh rosemary
2 bay leaves
1 head of garlic, unpeeled and halved crosswise
CAULIFLOWER
Pink Himalayan salt
2 large heads of cauliflower, cored and separated into florets (about 6 cups)
4 garlic cloves, smashed
½ cup shredded provolone cheese
4 tablespoons (2 stick) salted butter
OVEN METHOD (COOK 3 HOURS)
Preheat the oven to 325°F.
MAKE THE SHORT RIBS. Season the short ribs with salt and pepper.
Place them in a Dutch oven over medium-high heat and cook until just browned, 3 to 5 minutes per side. Transfer the ribs to a plate.
Add the onion and shallots to the Dutch oven. Cook, stirring, until the onion begins to soften, about 5 minutes. Return the short ribs to the pan. Add the wine, broth, tomato paste, thyme, rosemary, and bay leaves. Season with salt and pepper and gently stir to combine. Add the garlic.
Cover and roast until the short ribs are tender and falling off the bone, 22 to 3 hours. Discard the thyme, rosemary, bay leaves, and garlic.
up with whipped
MAKE THE CAULIFLOWER. Bring a large pot of salted water to a boil. Add the cauliflower and cook until tender, about 10 minutes. Drain, pat dry, and then return to the pot.
Add the garlic to the cauliflower. Using an immersion blender, blend the mixture until smooth and creamy, about 1 minute. (Alternatively, transfer the cauliflower to a food processor, add the garlic, and process until combined.) Add the provolone and butter. Taste and season with salt and pepper. Blend until the cheese has melted.
Spoon the whipped cauliflower onto plates and add the ribs on top. Drizzle with the pan sauce, top with fresh thyme, and serve.