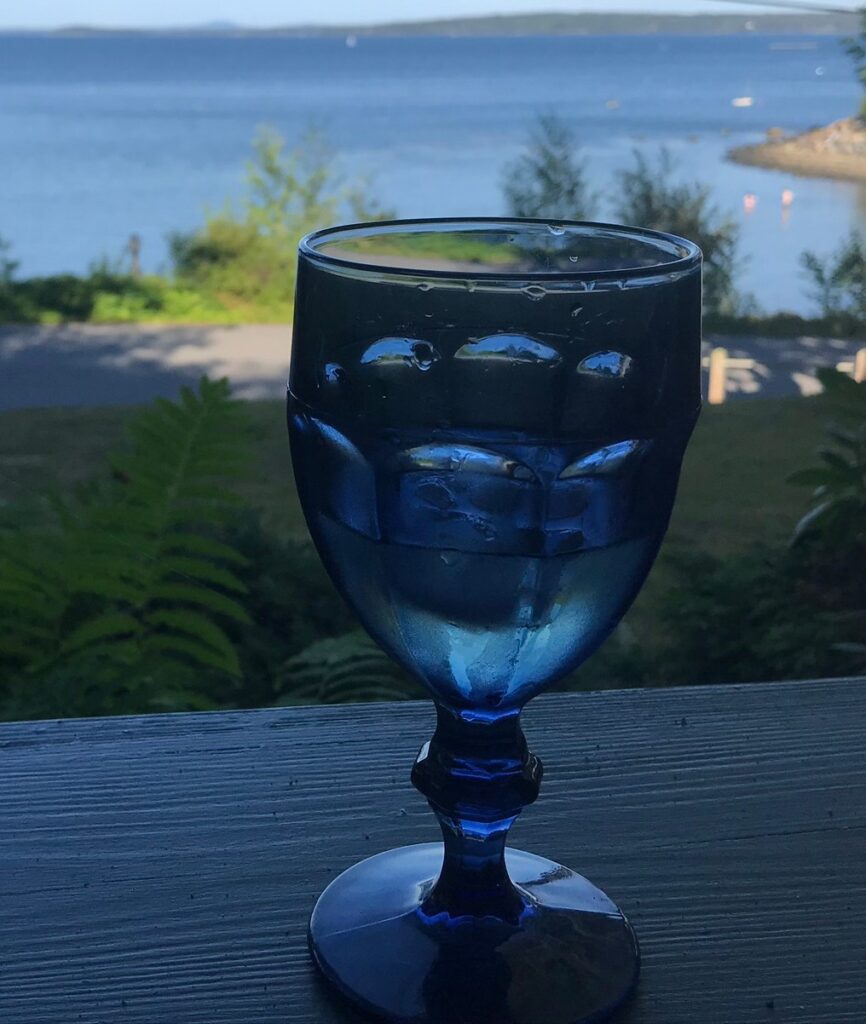 We are off on a little vacation to renew ourselves. We have been living a very different summer, as has pretty much everyone, and we needed a little pick-me-up to get us through the home stretch. Not only living with a pandemic all around us but we are living through what I now believe is a total rebuild of the house on Jenny Lane. The last few weeks have been full of tearing down walls and ceilings to aid in the installation of the electrical infrastructure which is being totally redone. Tired of the dirt and the grit and the noise, we are seeking a little sanctuary on the coast of Maine. We brought along a friend of Libby's to keep her company and they have already been in the ocean. Good for them, it is rather cold.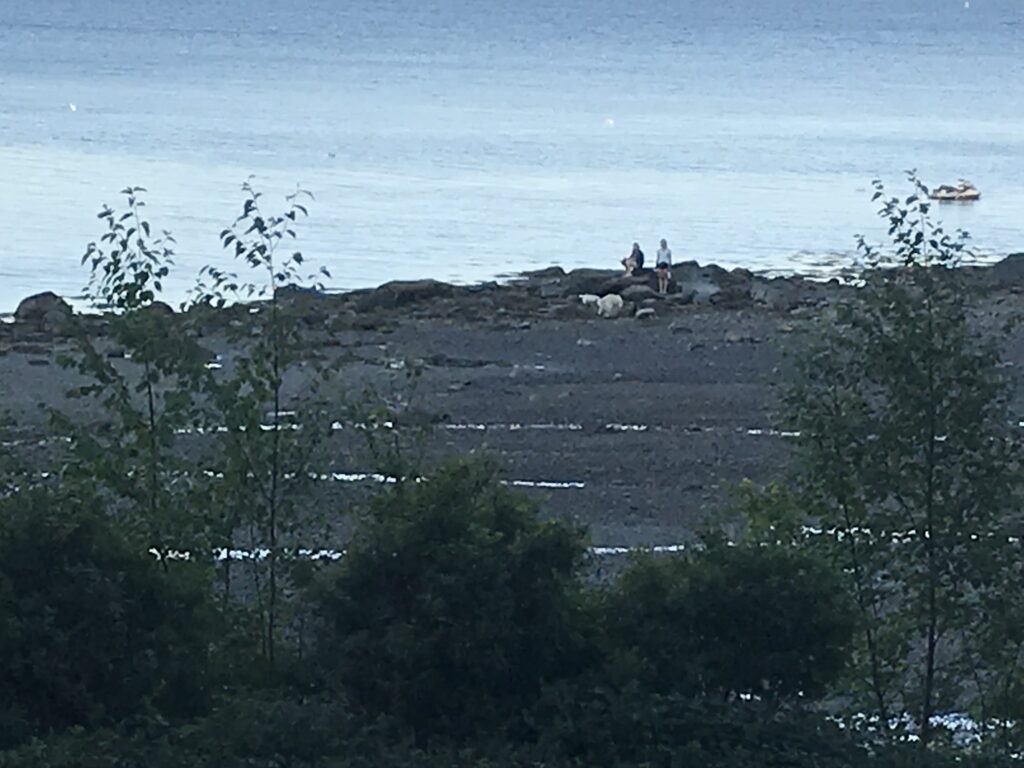 The Rebuild Continues
The first step going in the right direction happened this week. We had the front hall flooring installed. John had worked hard to get it ready for the installers and they complimented him on how great a job he had done when they arrived. He was worried that it needed more prep work but they assured him that it was perfect. We are very, very pleased with the end result. It felt like a huge leap forward in building things back up again. We needed that. While we are away the insulation will be blown in the ceilings and the walls in the hallway and the new bonus room. We spent a lot of time getting that room ready too. The wiring was done a couple of weeks ago and new cable was pulled so we eventually can hook up a television wherever we want one. Once the insulation is in then the rooms can be sheetrocked. That will be huge progress. We also received the tile that will be used to recoat the fireplace chimney. Our contractor, Chris, can hardly wait to begin that process. Who knows what we will find when we return.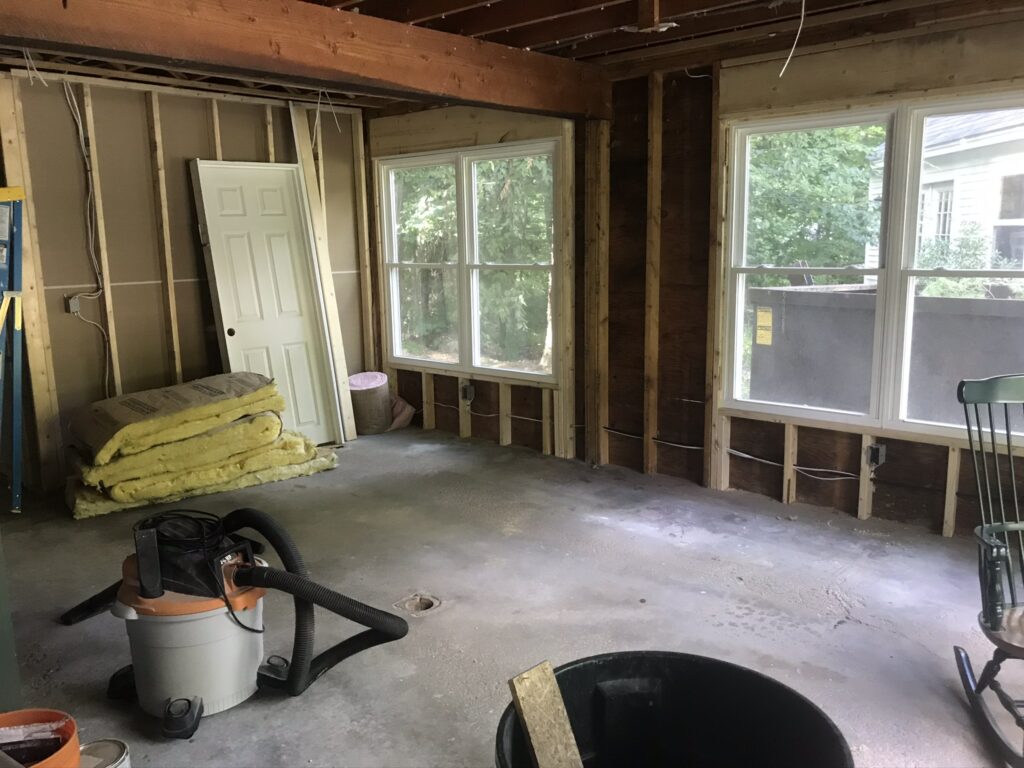 Bountiful Harvest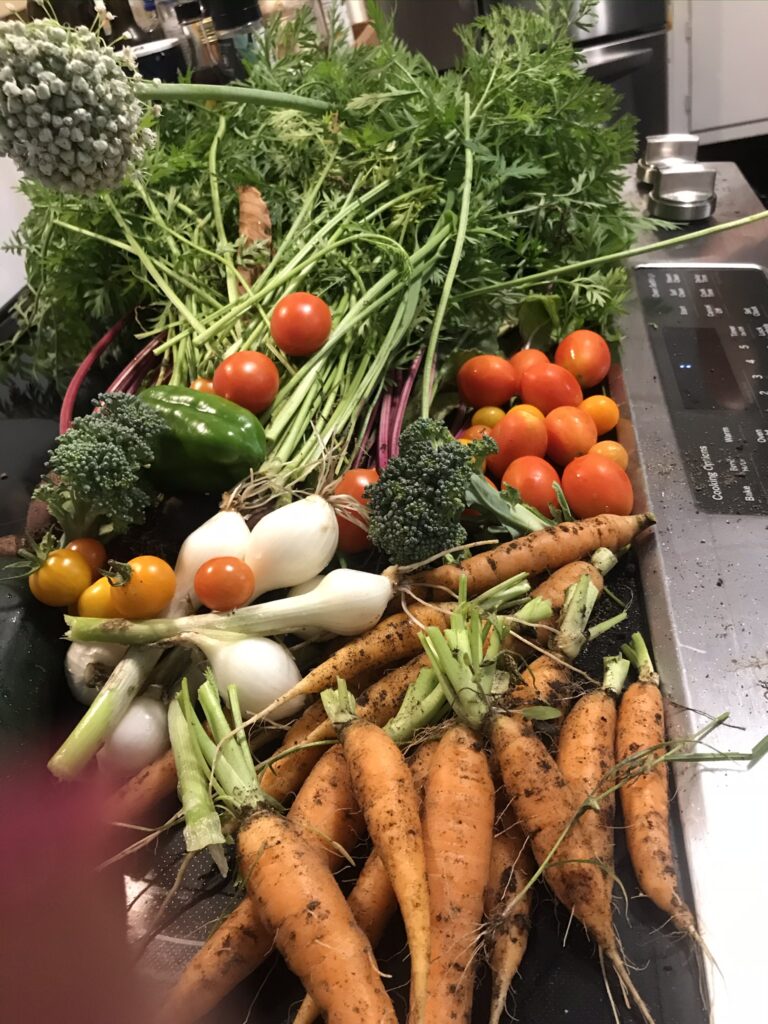 The vegetable garden has been producing loads of fresh vegetables for us and we had a couple of big harvests this past week. The beets and carrots have grown to a very reasonable size and the cherry tomatoes are so sweet you can just eat them like candy right off the plant. Our first meal in Maine we had a super dinner with roasted vegetables that were absolutely delicious. We did a major harvest the day before we left so that we had lots of vegetables to bring with us. Good thing too because the zucchini was just right and had we left it we would have had baseball bats when we returned. Since we intend on being pretty careful while we are here we brought all our food with us hoping that we won't have to go into any stores. Maine requires quarantine for visitors from states other than New England but it's the honor system and as we have seen not all people are honorable. So we are careful.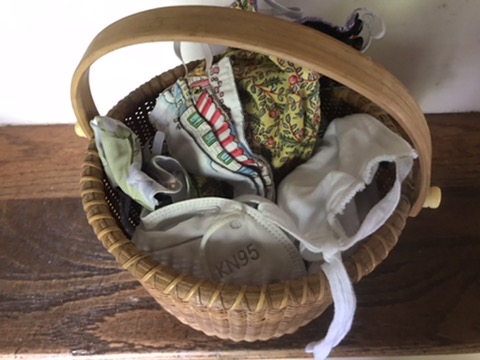 We have a basket of masks at the ready and hand sanitizer everywhere. Any workers that come into our home are asked to comply, especially with the hand sanitizer. So far all have been willing to help protect us and them.
Walking Improving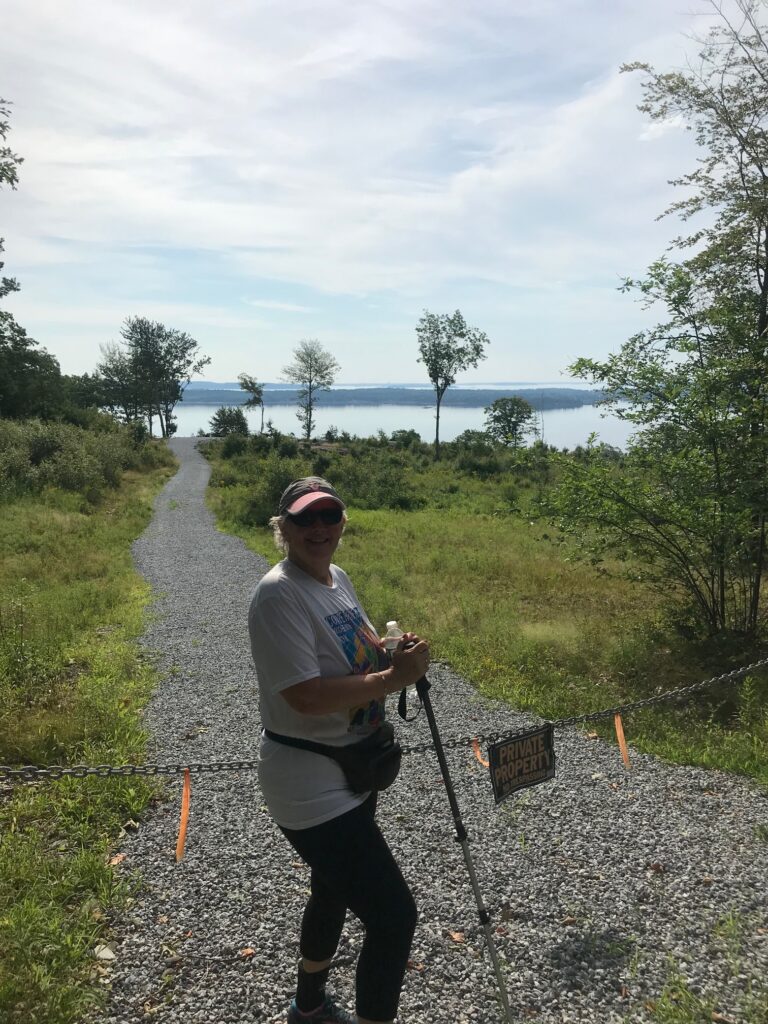 The dogs and I did more walking this week than we have for sometime. 23.3 miles was the total. It has been quite awhile since I have made that milestone. I set my goal to 75 miles for this month and am already almost 1/3 there. My foot is getting better so we have increased our distance and only took two days off. One for the day the hurricane came through New Hampshire and one for the day we traveled to Maine. Today's morning walk was with Katie for the first time in a number of weeks and it was a doozy. We don't do hills at home that are anything like what we found here. A 5 1/2 mile hike that includes quite the climb. My time was the best in months. Not quite as fast as Katie when she is on her own but it was several minutes faster than I normally am. Mostly because we left the dogs behind to go to the beach. The views were spectacular. If the weather keeps up, this could be a really good week. The dogs can easily go with us. Very little traffic and a lot of dirt road where they could be off leash. Not sure which they would prefer more. Bean has become quite the swimmer and doesn't even hesitate to go in the water without any coaxing. She swam across the Blackwater on her own while Wyke was cruising around looking for ducks. Don't worry, it's not that wide. I was a little concerned about what to do if she wouldn't come back to the side I was on but when I called her she just jumped right back in and swam across. She also didn't hesitate to go in the ocean.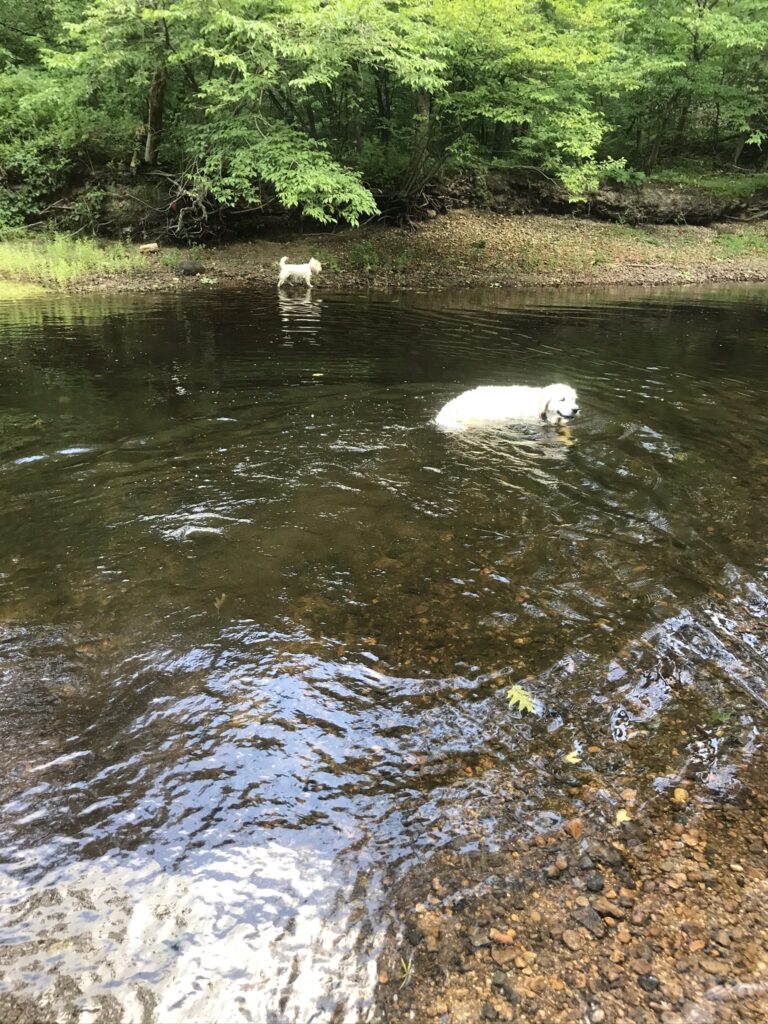 A Recipe For You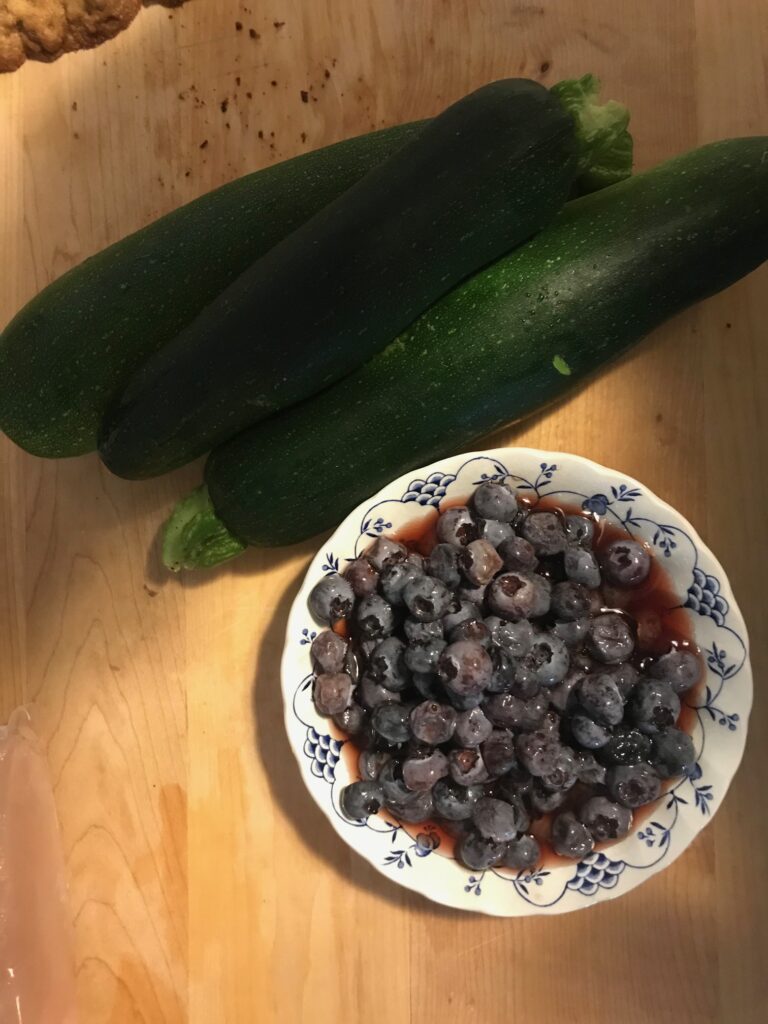 Blueberry Zucchini Muffins from All-Recipes
What else are you going to make when you have a surplus of both blueberries and zucchini. We have a working oven here so we are going to give these a try.
Ingredients
1 ½ cups all-purpose flour
½ cup white sugar
¼ cup brown sugar
1 teaspoon baking soda
1 teaspoon ground cinnamon
½ teaspoon salt
½ cup olive oil
¼ cup milk
1 egg
1 ½ teaspoons vanilla extract
1 cup shredded zucchini
½ cup fresh blueberries
½ cup chopped pecans (if you enjoy them)
Instructions
Step 1 Preheat oven to 350 degrees F (175 degrees C). Grease 12 muffin cups or line with paper liners.
Step 2 Combine flour, white sugar, brown sugar, baking soda, cinnamon, and salt together in a bowl. Whisk olive oil, milk, egg, and vanilla extract in a separate bowl until smooth; stir into flour mixture until batter is just moistened. Fold zucchini, blueberries, and pecans into batter. Fill prepared muffin cups 2/3 full with batter.
Step 3 Bake in preheated oven until a toothpick inserted into the center of a muffin comes out clean, 20 to 25 minutes.