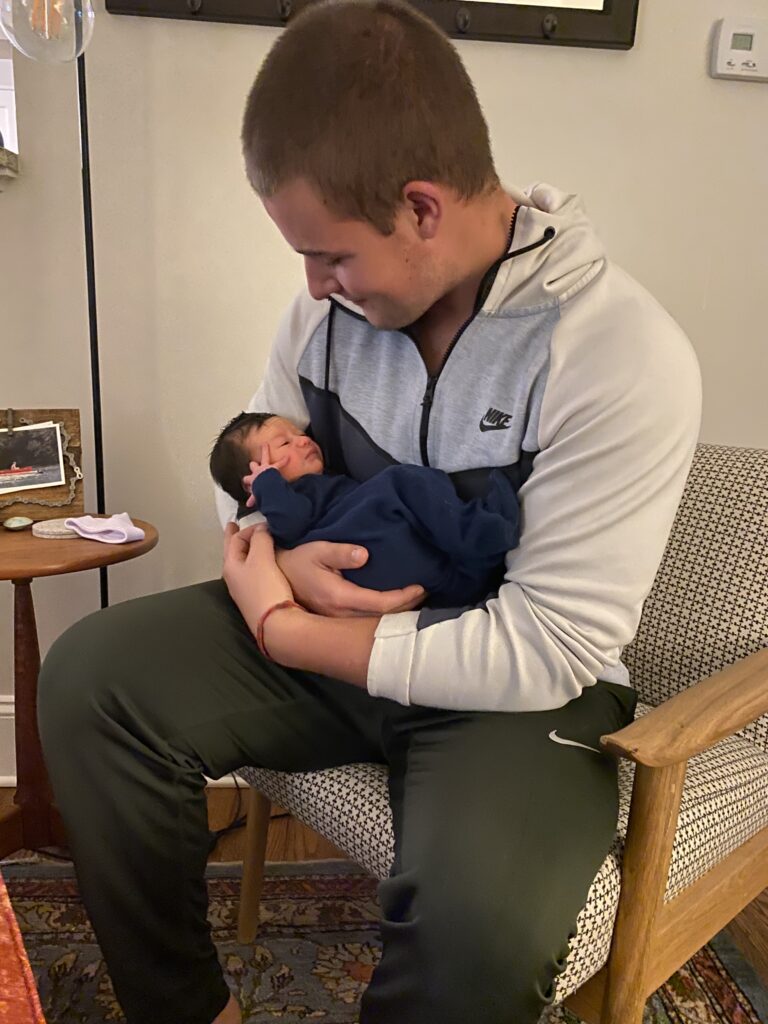 The really big news of the week is the safe arrival of Edith (Edie) Bergh Moses on Wednesday, the 20th. She is healthy, calm, content and so amazingly loved by both her mothers and her greater family. We visit every day via FaceTime (I am so grateful for this modern technology). I could stare at her for hours. Maybe I could be the granny cam or something like that. The first, and so far only, person to meet her from the family is her cousin Jack who is affectionately known as Uncle Bug. He is totally smitten. We could not be happier and can hardly wait to meet her in person.
Cooking This Week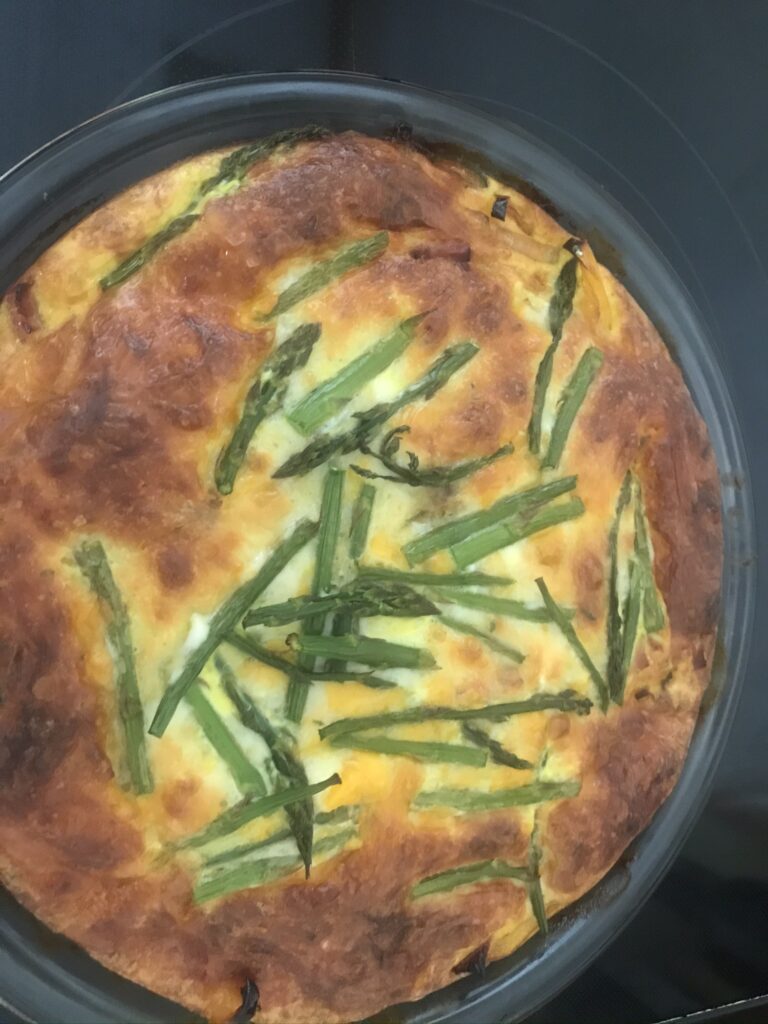 This has been quite a week. It has been more full of accomplishments while patiently waiting for our new grand child to arrive. After I wrote last week about having a lot of rhubarb and not knowing what to do with it I was pleased to have a few friends write with their favorite recipes. Thank you Helen, Morgan and Darlene. Since I had time on my hands I decided to try some of them. This weekend we ate a crustless quiche made with home grown asparagus and served with our homemade rhubarb relish. The next day we had breakfast where we each tried some homemade strawberry jam as well as John's home grown and homemade kumquat marmalade. I mentioned that we were turning into quite the back to nature family. The only thing we were missing was the homemade toast from bread that we made ourselves. Why, because we ran out of flour and the new order has not come yet. If it's not toilet paper it's flour.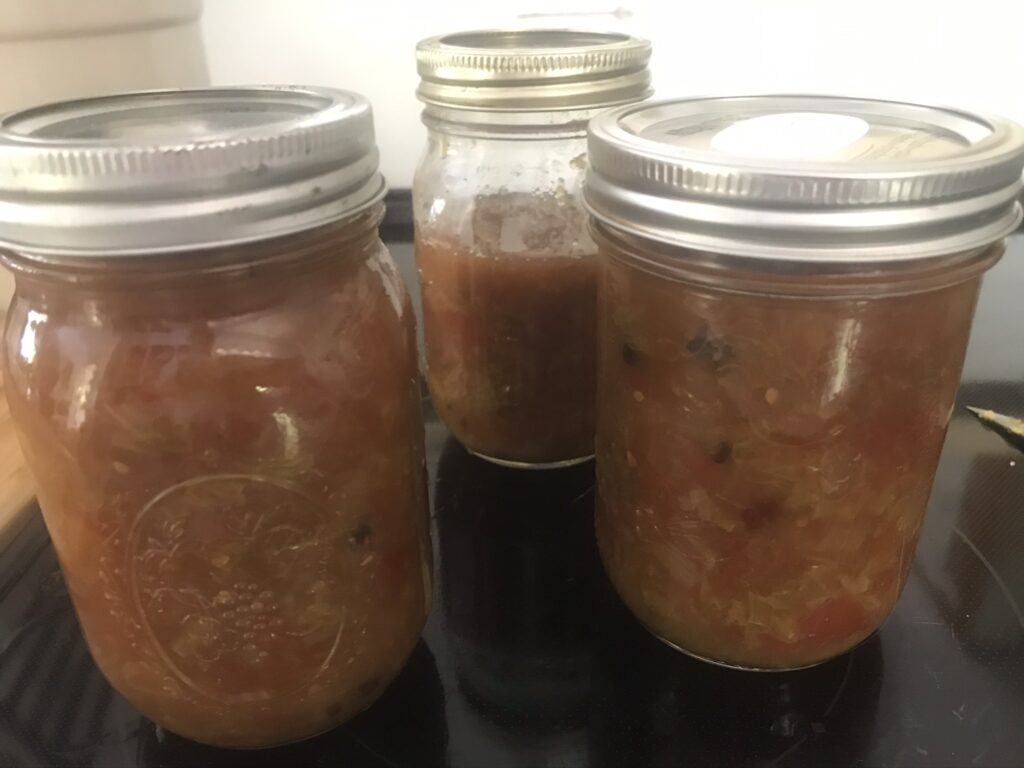 One of our favorite items that we tried this week was a Strawberry – Rhubarb Crisp for dessert. I have made apple crisp before a number of times but this was my first time trying this recipe. I actually didn't even know how to harvest the rhubarb but I figured it out and I knew not to eat or use the leaves because they are poisoness. We all were really pleased at how the dessert turned out. I was surprised at how much it shrunk in the baking dish but that didn't affect the taste at all. I really nice mix of tart and sweet for after dinner. My next foray was to try making the relish. Once again, it was pretty simple to follow the directions. Lucky we had an abundance of rhubarb but also that we had tomatoes on hand. I have decided this is the kind of cooking I really enjoy.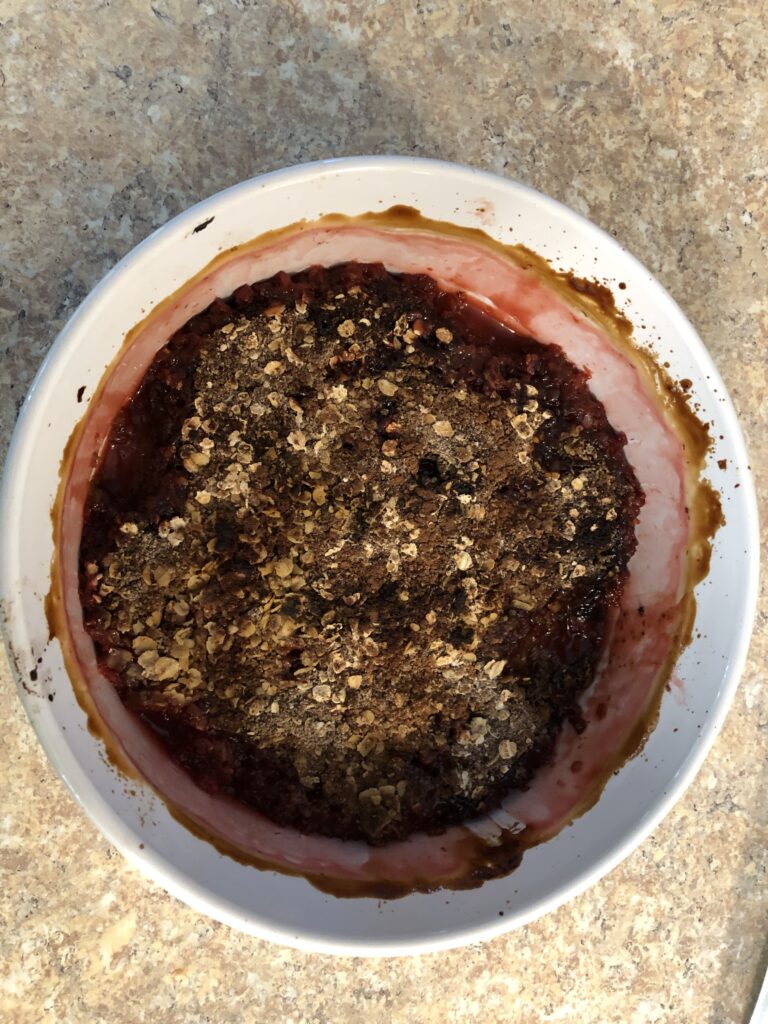 The Garden Grows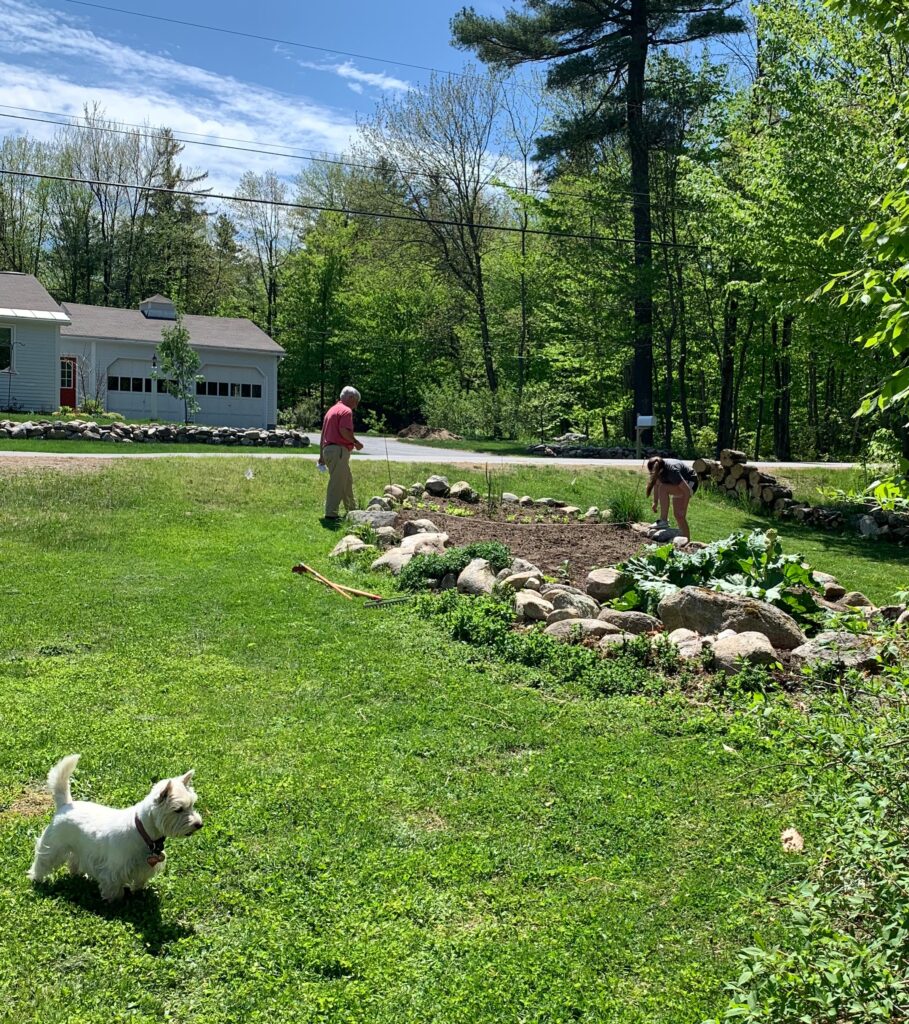 More planting was done this week by John and Libby. They are very methodical in how they put things in the garden and what is there does seem to be thriving. The little lettuces and spinach are doing well as are the tomato plants. The put string up to keep the rows straight while they planted the beets, the carrots, the summer squash and bush beans. Those are from seed so we wait patiently for them to sprout. We ended up having to buy a hose and sprinkler for the garden this week as we haven't had a lot of rain and things were wilting a little bit. The watering brought them right back. They also planted potatoes in another side garden and they will be adding onions to that garden this week. There are some onions in the big garden but not that many. We also want to plant garlic and we need to up the herbs. Lots of mint, way too much mint but it smells really good. We have thyme and lots of it and I think we have oregano but am not too sure. We will add basil as we use a lot of that in our cooking and who doesn't enjoy fresh tomatoes and basil and balsamic vinegar for a Caprese Salad.
The Rest of the Week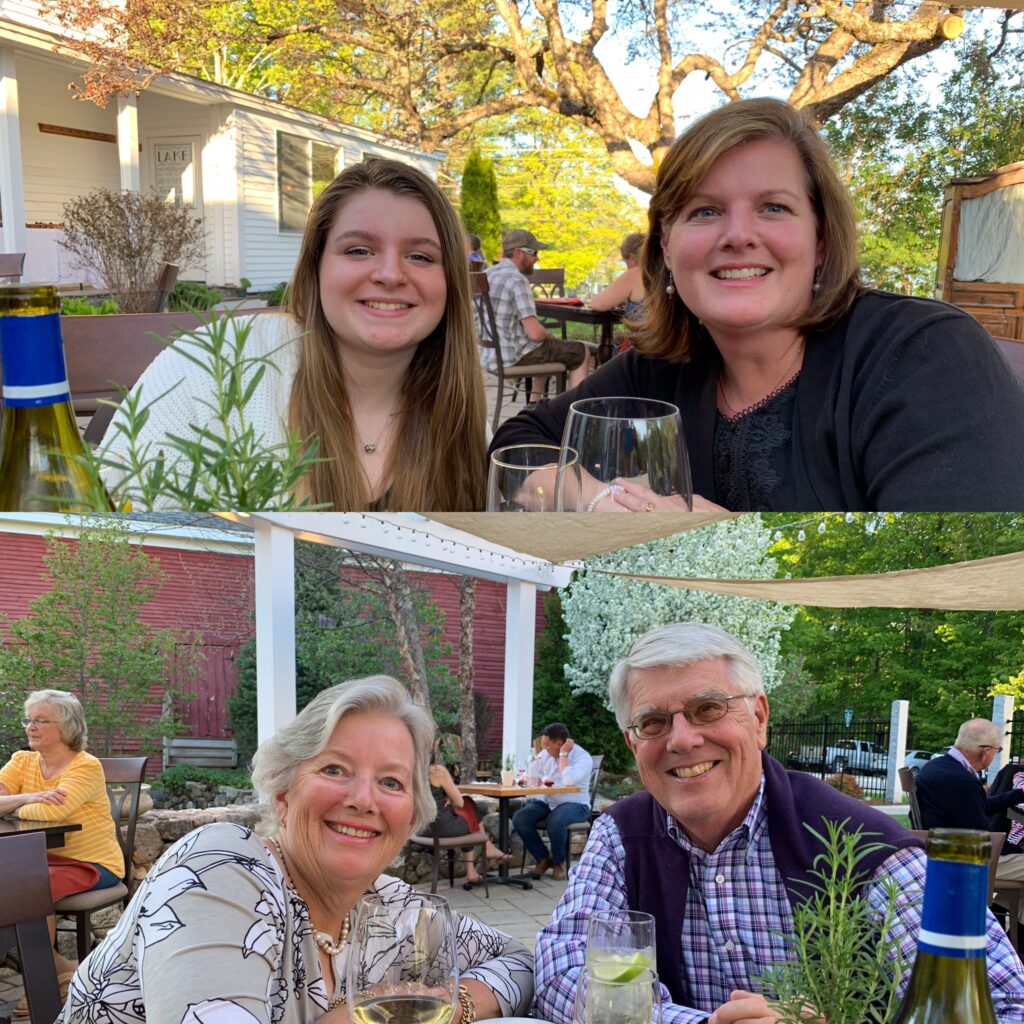 Since it was my birthday we decided to brave the outside world and try dining out. One of our local, very fine restaurants, instituted outdoor patio dining as soon as the governor gave the okay. They have the perfect spot, overlooking the lake and surrounded by beautiful trees and gardens. The tables were at least 10 feet, if not more, apart and most tables were of two with ours being one of the two tables of four. The wait staff were all wearing masks and I noted that if a guest left to use the facilities they put on a mask to go into the building. We were served the most delicious food, drank wonderful wine and generally basked in the glow of being in a new environment and being spoiled for the first time since early March. Almost three months that seem as if they were six. It was certainly a special birthday and of course the best birthday present was Edie. I loved that we four were together. I also love that Jack is in Asheville and somehow that helps to bind us all even more closely together. We are so lucky.
Walking This Week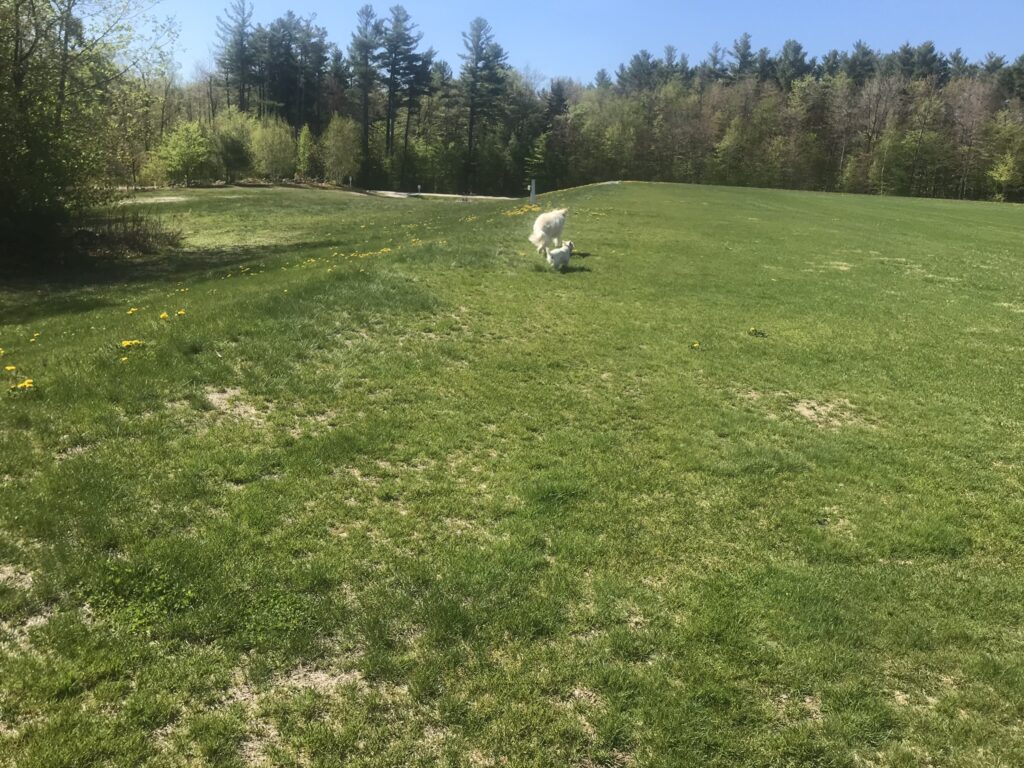 Last week was a big week for walking with over 30 miles put in. This week we took a bit of a break. Instead we gardened which is a different kind of exercise and very satisfying but it means the miles didn't add up quite the same way. However, I did get out with the dogs for a couple of good woods walks and I did walk to town and back one day without the dogs. I actually was able to get my nails done as the salon we go to is a one person, by appointment only, spot. I have never felt so pampered. It does seem frivolous in some ways but it also, for a brief time, felt normal even with a mask on and a shield between the technician/owner and me. It is the new normal and it feels alright.
Update on Jenny Lane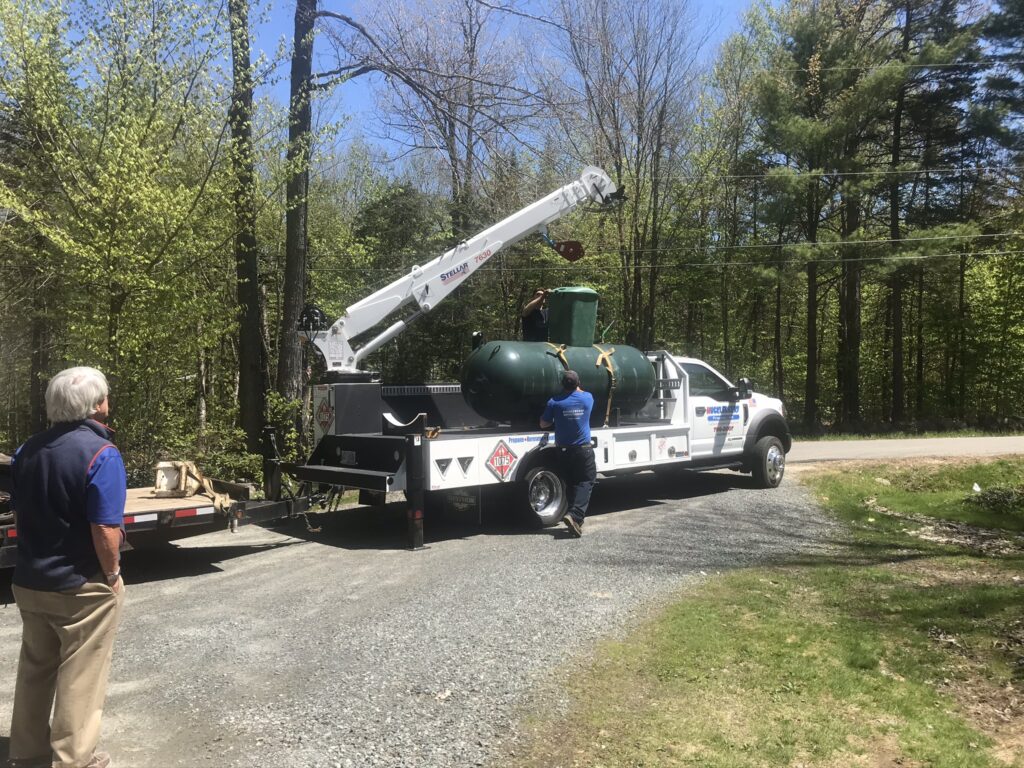 We made the big decision to replace the furnace with a new propane furnace and instant recovery hot water system. There are so many steps to this project it makes my head spin. Step one was the decision. Step two was to order the propane tank which will need to be buried 12 feet from the house in the woods. Well, to do that you have to get someone to bury the big green thing that looks like a submarine. We do have Roger, you might remember from the fall when we had to have new drains put in around the house. He has the equipment and has agreed to do it. But, we have another project that we need him here for so its a chicken and egg thing. We can't have the furnace installed until we take out the old oil tank because the new furnace is going in the spot where the oil tank now resides. We need the tank removed, a wall built to separate the furnace room from the rest of the space, old insulation removed and new insulation blown in and it just goes on and on and on. The good news is we don't really need the furnace now that the nice weather has returned so if we can solve the hot water problem we can probably survive while the furnace work is done. I'll keep you posted, things are going to get interesting.
A Really Simple Recipe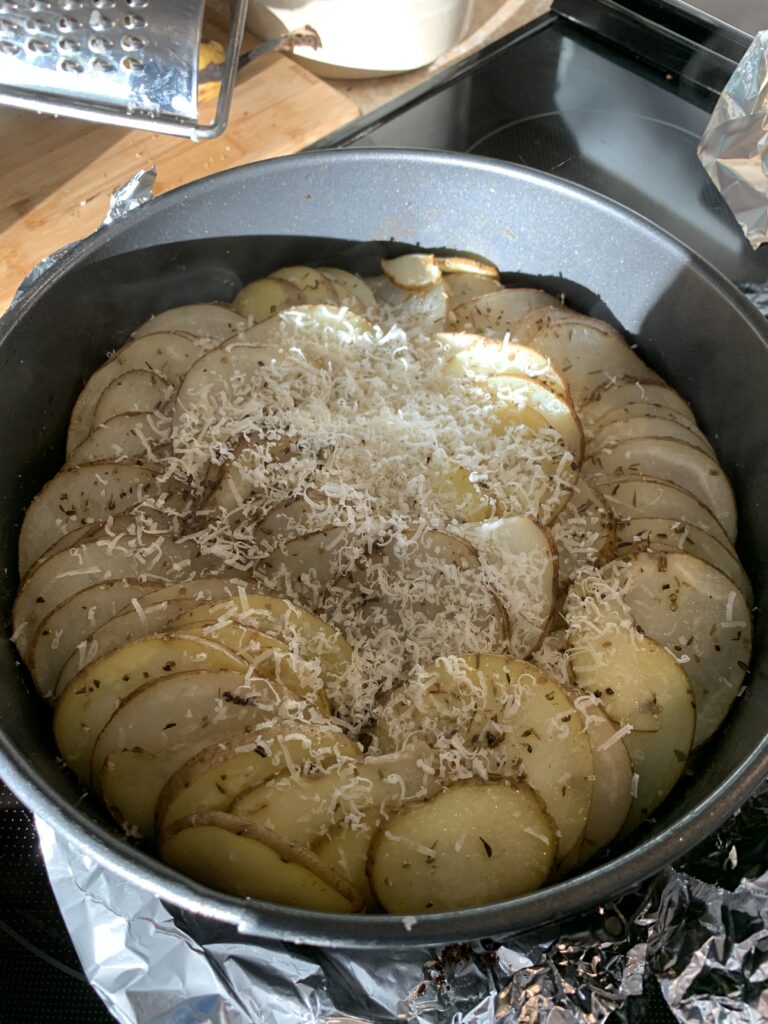 Libby and I made this simple potato recipe to go with dinner one night. Hope you like it and give it a try.
Sliced Potatoes with Parmesan and Roasted Garlic
Oil the bottom of a baking dish or cast iron skillet, we used a baking dish
Sliced potatoes with skin on as thinly as you can and arranged the potatoes vertically in the prepared dish.
Sprinkle garlic and Italian seasoning on top of the potatoes and dot with butter. Libby melted the butter and brushed it on top of the potatoes.
Cover the skillet or dish with foil and bake at 375 for about an hour, until potatoes are tender.
Remove foil, sprinkle with Parmesan cheese and bake for another 15-20 minutes until crisp.
They are delicious.