Monday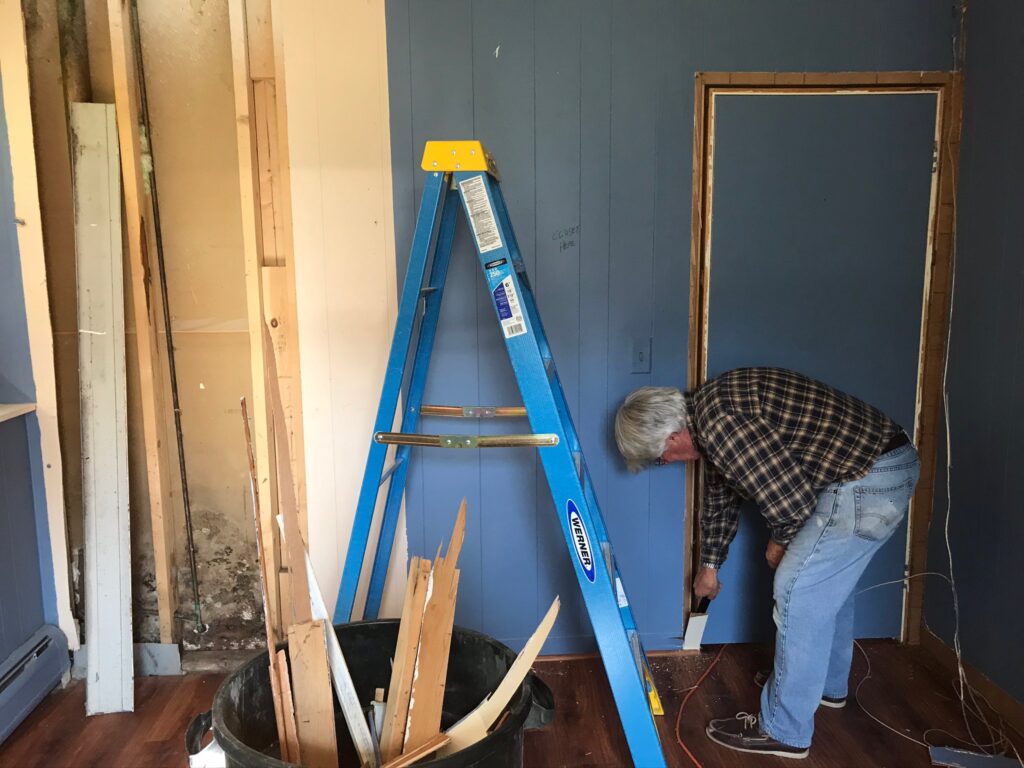 Every week is a big week in the remaking of Jenny Lane.  This week is no exception.  John continued with the destruction of the upstairs bedrooms removing walls in the hall, door frames and remaining trim work.  Katie and I finished up painting the kitchen and cleaning out drawers.  I put new door knobs on the cupboards in the kitchen. You have to take the small victories when you can. Well they do look snazzy sort of.    John started demolishing Jacks bedroom. Taking down the exterior walls of painted blue paneling.  I did second coat of white paint in Libby's bathroom.  The dogs and I took a mental break and walked in the woods. All in a days work.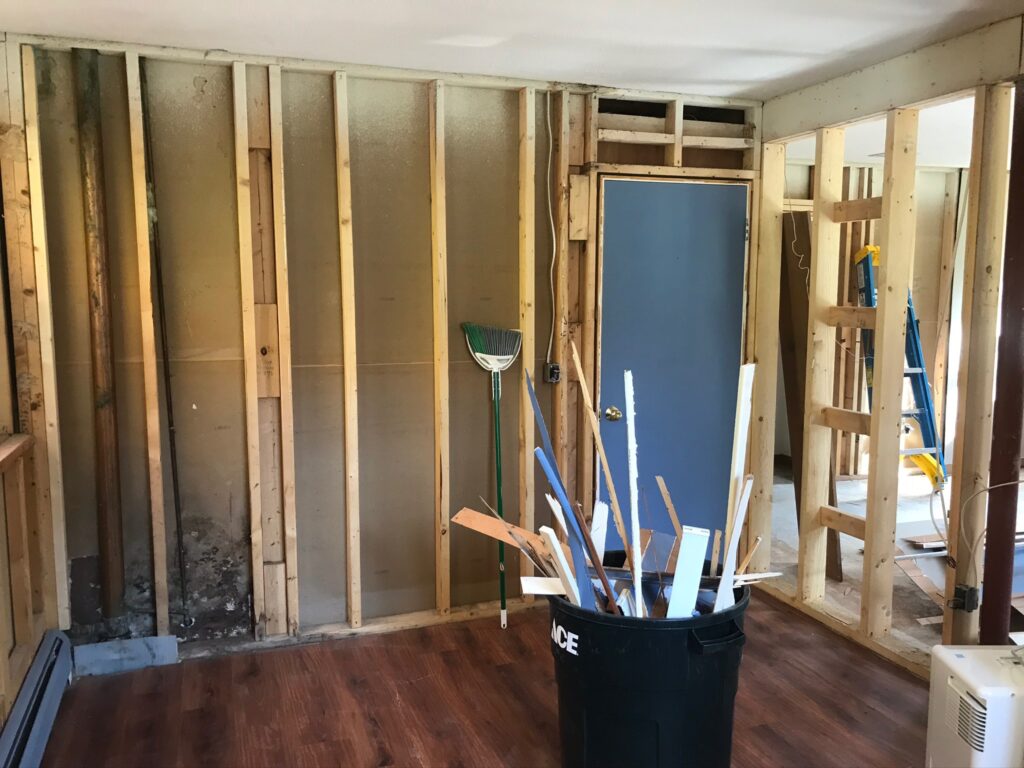 Eric the super ceiling guy showed up to skim coat the popcorn ceiling in Katie and Libby's bedrooms and Katie's bathroom. The hunt is on for a plumber and an electrician.  It is not easy to find in our area they are all so busy.
Tuesday I am fighting a cold.  Not fun but holding my own so far. Lots of fluids and vitamin C. My weakness is sinus infections and they aren't fun but I usually can fight it off. Might have to bring out the GOOT.
Wednesday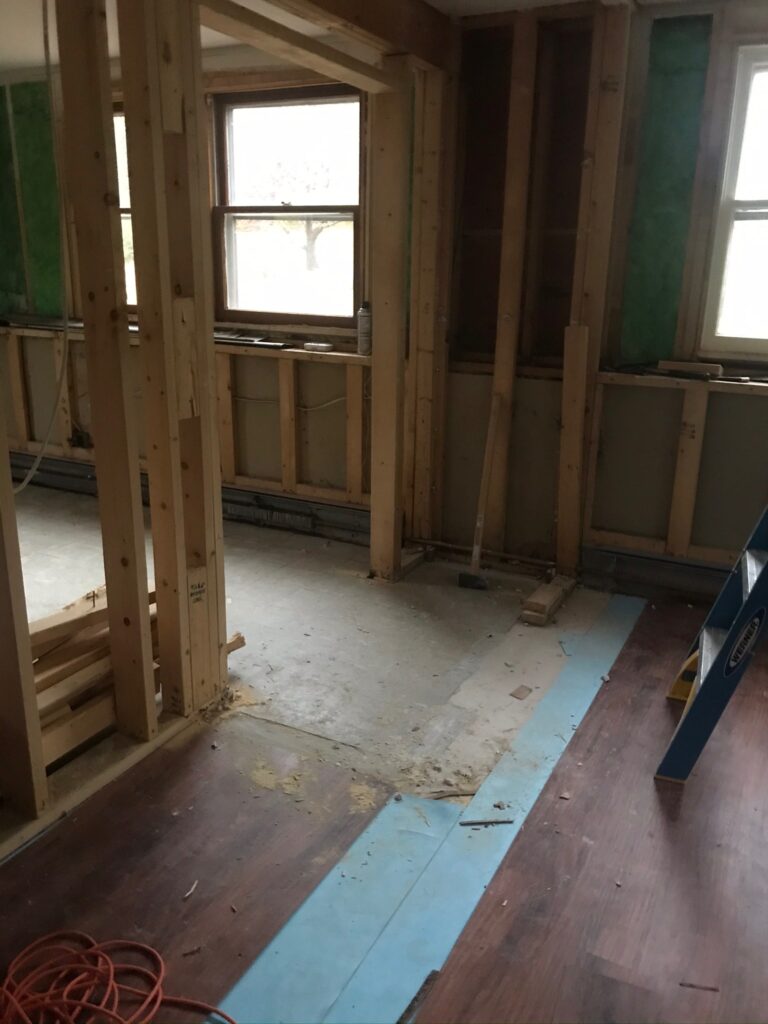 The closet was destructed in Jacks room. Now everything is wide open.  Flooring is also gone.  Luckily the floor in Jacks room had the tile removed and then it was painted with a sealer before the next floor was put in.  Our room had yucky blue carpet over tile.  It was very wet in certain parts when we took it up.  Must be a water problem somewhere. Hoping it's a minor leaky pipe or something.  Tile must be removed before a new floor can go in.  Still hoping to find a plumber and electrician.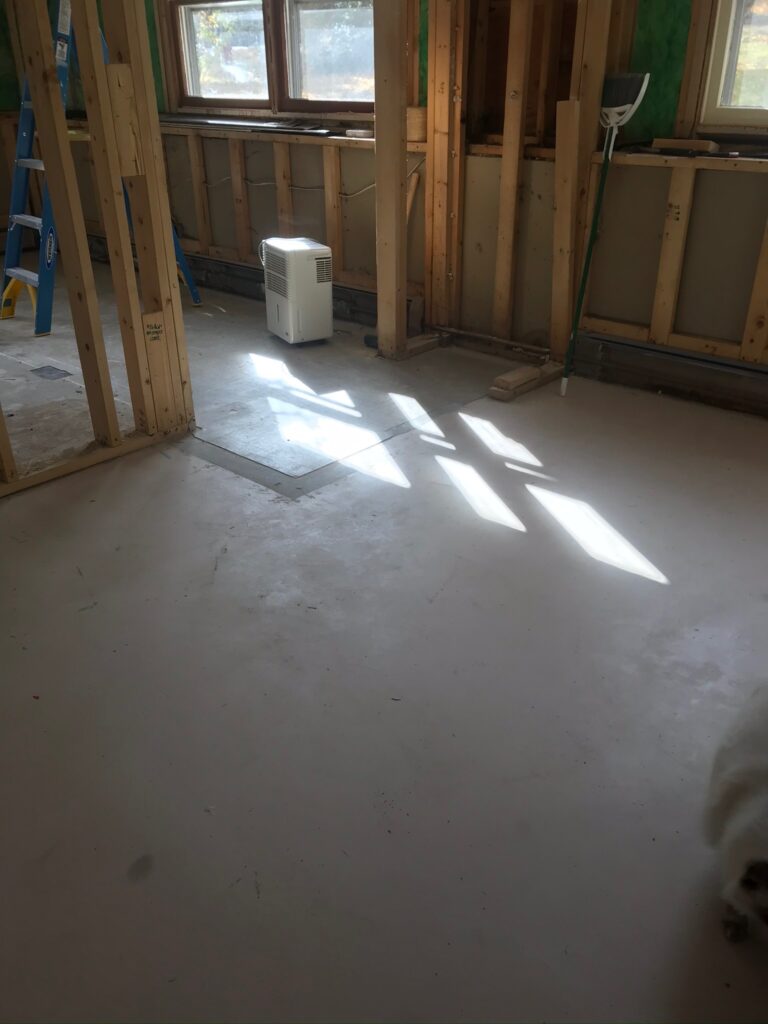 Heating consultants in to give us estimates on upgrading current system or replacement. Numbers all over the place. Looking at propane versus oil versus a split system which is a heating and cooling system. Not sure where we are leaning on this one.
Thursday
Today was the first major rain day we have had since getting down here. And we discovered the source of the water in the basement. Puddles on the floor in our room obviously from outside and coming through foundation. How could the former owners not have known? Maybe just too much clutter to see it. Still no plumber but one did return John's call. Maybe he will show up.
Friday
We have a plumber. Mason showed up as we were eating lunch. He must have thought we were nuts. He was greeted with such appreciation. Everything we showed him he was positive he could fix easily. The best part was he was able to take out the propane driven Renai heater so John could finish the demolition of the walls in our room. It's hard to be held up by something you can't do yourself. Mason will return next Monday to fix the other items that need immediate attention.
While he was there he also tested the heat in our room and Jacks. He became a human thermostat. John has disconnected the thermostat from the wall and Mason joined the two wires together and Lo and behold the furnace went on and hot water went through the pipes. So we at least have heat if we need it.
Saturday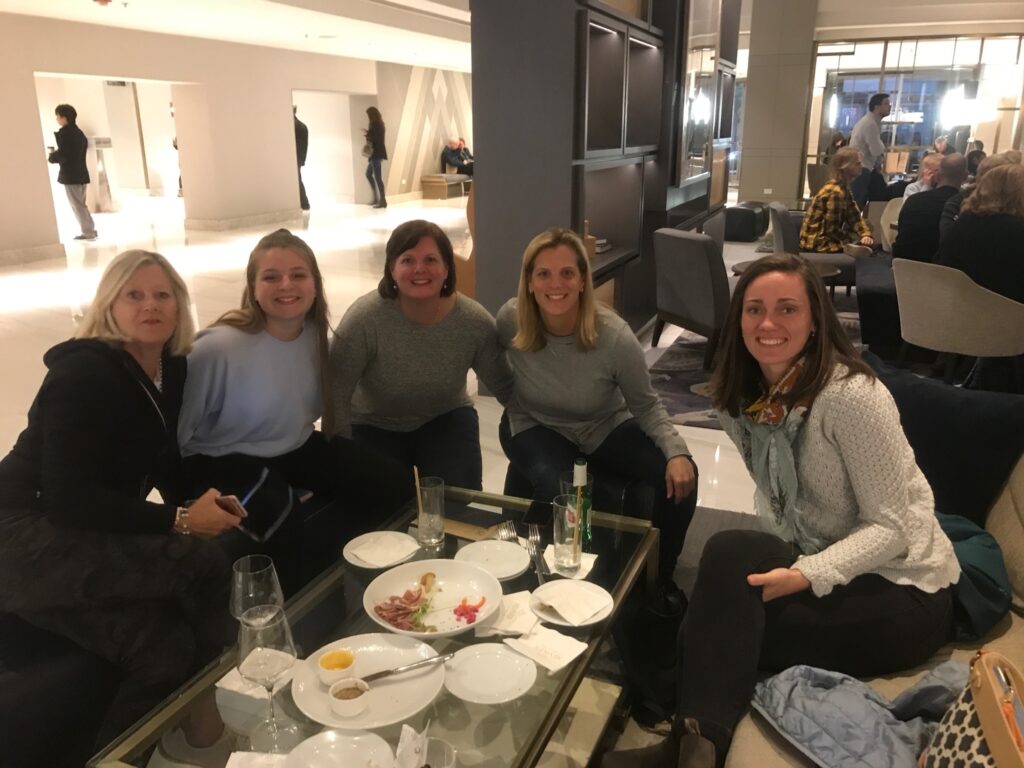 Katie, Libby and I are off to Chicago to meet my sister and Margot and Hadley to attend Hamilton. My 70th birthday present from them all. A very good get away. We left John in charge of everything. Doubts come creeping in but we soldier on. The cats had a jail break out Katie's open window but were waiting on the front step for him Sunday morning. So glad no wild beasts were around.
We have a man with a digger coming to out in drains around the house and are working on gutters. Windows and doors coming soon. Moving day is this Thursday. Not sure what condition we will be in but guess we have to try.
Longevity Minestrone Soup (I need this) from Blue Zones
INGREDIENTS
1/2 cup dried peeled fava beans
½ cup dried cranberry beans
1⁄3 cup dried chickpeas
7 tablespoons extra-virgin olive oil
1 medium yellow or white onion, chopped (about 1 cup)
2 medium carrots, peeled and chopped (about 2⁄3 cup)
2 medium celery stalks, chopped (about ½ cup)
2 teaspoons minced garlic
1 (28-ounce) can crushed tomatoes (about 3½ cups)
3 medium yellow potatoes, peeled and diced (about 1½ cups)
1½ cups chopped fennel
¼ cup loosely packed fresh Italian flat-leaf parsley leaves, chopped
2 tablespoons chopped fresh basil leaves
2⁄3 cup of Sardinian fregula, Israeli couscous, or acini di pepe pasta
½ teaspoon salt
½ teaspoon freshly ground black pepper
¼ cup finely grated pecorino Romano (about 2 ounces, optional)
DIRECTIONS
Soak the fava beans, cranberry beans, and chickpeas in a large bowl of water for at least 8 hours or up to 16 hours (that is, overnight). Drain in a colander set in the sink. Rinse well.
Warm 3 tablespoons of the olive oil in a large soup pot or Dutch oven set over medium-high heat. Add the onion, carrots, and celery; cook, stirring often, until soft but not browned, about 5 minutes. Add the garlic and cook until fragrant, about 20 seconds.
Stir in the tomatoes, potatoes, fennel, parsley, and basil, as well as the drained beans and chickpeas. Add enough water (6 to 8 cups) so that everything is submerged by 1 inch.
Raise the heat to high and bring to a full boil. Reduce the heat to low and simmer slowly, uncovered, until the beans are tender, adding more water as necessary if the mixture gets too thick, about 1½ hours.
Stir in the pasta, salt, and pepper. Add up to 2 cups water if the soup seems too dry. Continue simmering, uncovered, until the pasta is tender, about 10 minutes.
Pour 1 tablespoon of olive oil into each of four serving bowls. Divide the soup among them and top each with 1 tablespoon of the grated cheese, if using.
Tip: You can vary the beans in the minestrone: pinto beans make a good substitute for cranberry beans; great northern or cannellini beans, for the favas.
Tip: Use the stalks and fronds that come off a fennel bulb for the most intense flavor. No feathery fronds on the bulb? Add a teaspoon of fennel seeds to the aromatic vegetables you sauté to begin the dish.
Tip: Add other fresh vegetables from the garden or market, such as zucchini, cabbage, green beans, and cauliflower or broccoli florets.
Tip: Want a stronger tomato taste? Stir in a tablespoon or two of tomato paste. You get the idea!