Update on Jenny Lane

This was quite a big week for our reno project. The work began in earnest on Monday with the guys taking down the rest of the wall between the dining room and the sun porch. #1 the guys are standing in the old doorway leading to the sunporch. #2 the wall is gone and the new wall to the left is going up. # 3 was where we ended up at the end of the week. The window trim is all done and the shelf is in. The doorway is secure. It is dramatically different and has enlarged the living space as well as increased the view.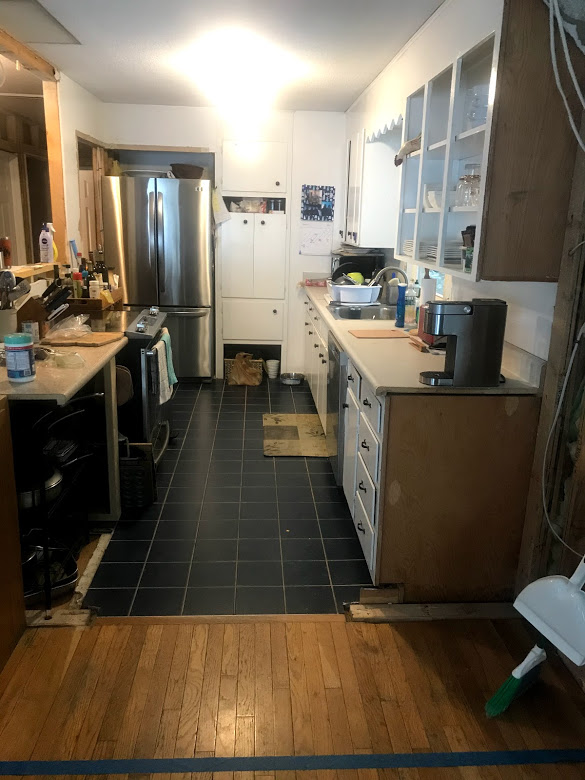 Another step on the kitchen renovation was to get rid of the end wall by the old cabinets. The kitchen will actually come out to where the blue tape is on the floor which will add about 2 1/2 – 3 feet to the kitchen. We can't widen it but we could make it longer. The kitchen designer is working on the plans right now and we can't wait to see what she comes up with.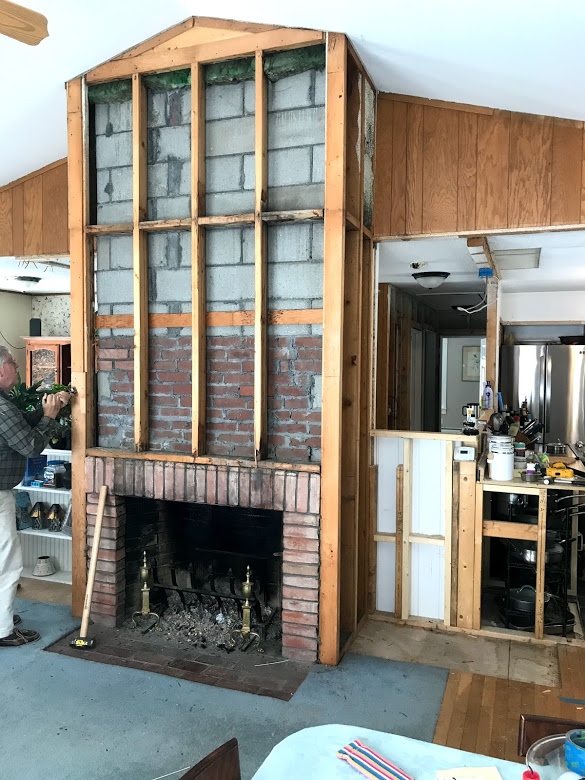 John's big project was to remove the paneling from the fireplace to get it ready for the installation of the stone that will cover it. My how he loves to demo any and everything. I was permitted to help him!!! He also removed the cupboard that was to the right of the fireplace. That space will be for a counter and stools as part of the new kitchen. This is one ugly picture.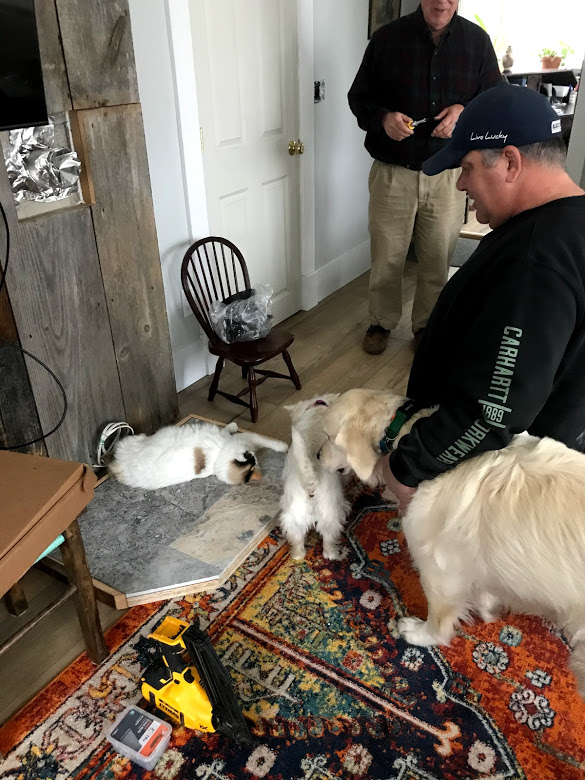 As part of the installation of the gas fireplace, Chris, seen here, built a small hearth using the leftovers of stone and barnboard. He put it down on the floor and Cleo immediately decided it was where she wanted to be. Lucky for us our guys like our fur crowd.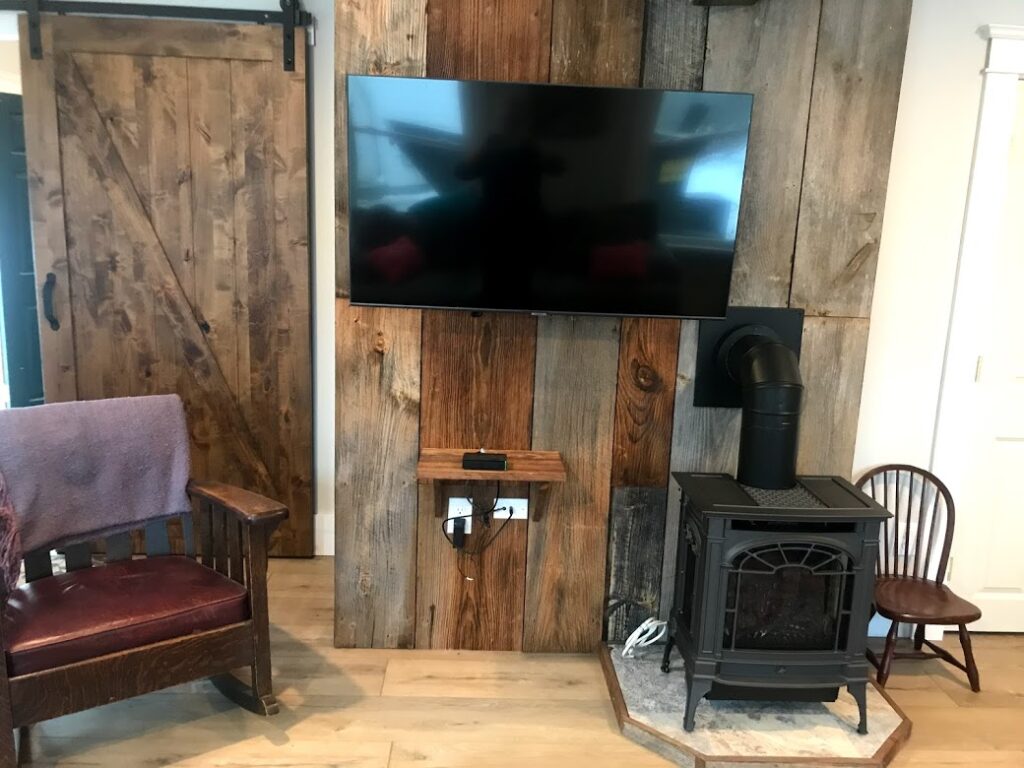 It is nice to share a "finish" picture with you. We are thrilled with how this came out and the hearth looks great with the fireplace on it. Unfortunately we couldn't get the gas hooked up because the plumber came down with Covid and is out for the next few weeks. Luckily for us he hasn't been here in months. Our other guys get tested every week and their wives and girlfriends are in the medical profession and have had round one of the vaccine. John and I are on the short list so hope that happens soon. Anyway, we finally have a room that is 90% finished and we love it.
Healthy Hints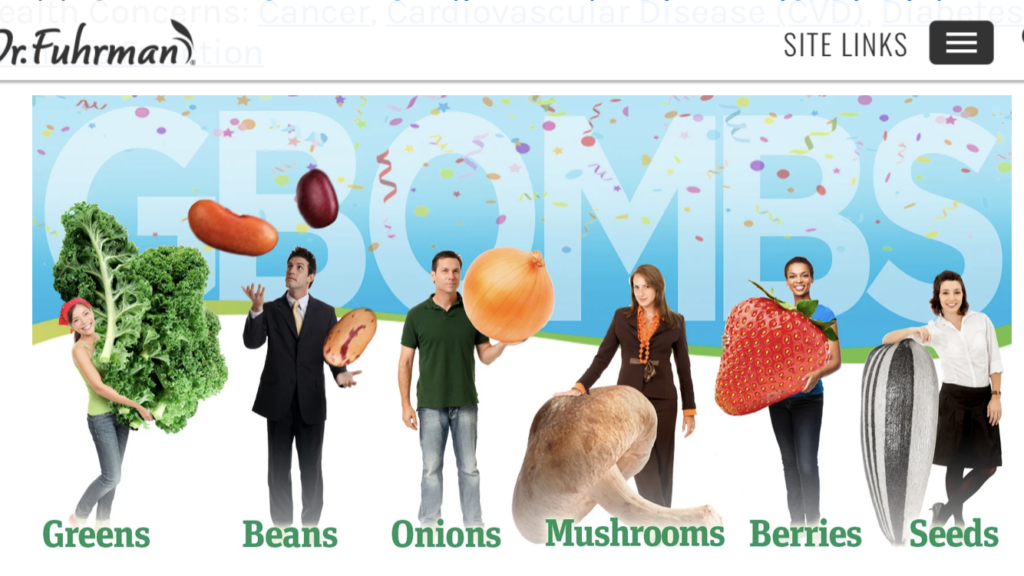 I was reminded this week of some more of my healthy habits. For some reason these things get buried in the back of my mind when I don't want to pay them any attention. I have been watching Dr. Mark Hyman's Longevity Series and the one on heart health really brought me up short once again. I had been so good for over six years and this past year I've just tried to get by without thinking about it. Who knows what is going to happen so might as well live large! Right? Not really. So back to cleaning up my act. One of the first things is to go back to one basic. GBOMBS is an acronym for a selection of healthy foods that can help you fight against all those things you don't want and maintain feeling good. Now back to committing to adding these into my diet. I remember some years ago when I first started this journey that trying to get all the good things into my daily diet that I wanted to eat and felt that I should eat was a real challenge. I made up meals that would include the foods here. My breakfast is almost always blueberries with plain Greek yoghurt and John's Maple Granola (it has lots of seeds in it like Chia, Sesame, Flax) and nuts (almonds and walnuts) so that took care of berries and seeds for the day. Then I would put together a Salad in a Jar with lots of greens, mushrooms, maybe some onions and often I would add some hummus (beans) or kidney beans or black beans. I was always full and absolutely didn't get the cravings that lead me down the garden path to sweets. It occurred to me that it would serve me well to read some of my older blogs as reminders!!!
Walking The Virtual Camino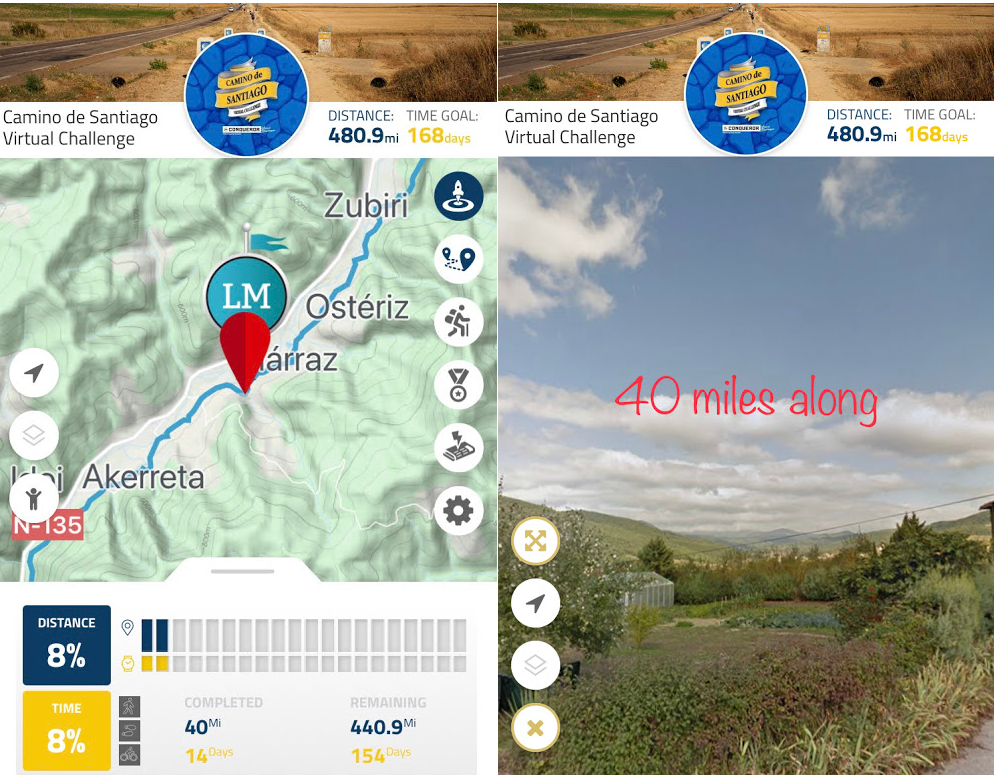 We had a pretty good week. The dogs and I did three really good long hikes on the rail trail. The weather was good and again thanks to the snowmobiles the walking was pretty easy. We ran into a few of their fur friends so they got in a good romp along the way. I am well into another Agatha Christie which, when walking alone, provides me with some amusement. My view is not what you see above but it is nice to see what I would be seeing if I was actually there. I joined the Facebook community and have enjoyed reading about others and their various Conqueror challenges. Most started with slightly shorter walks but that obviously was not where I started. I did order an exercise bike for indoor exercise since there are days that I just do not want to go outside. If I can figure out how to put it together I might actually use it. In addition I have found a wonderful Restorative Yoga video and I started that this week too. It's is great to have a place to do all this is our wonderful new bonus room. Only problem, Bean wants to join me on the floor!!!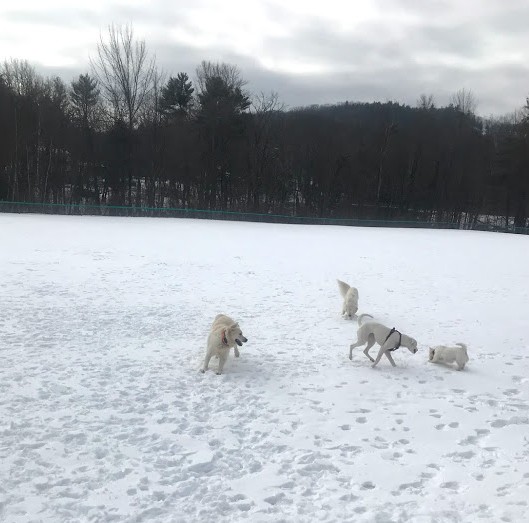 Saying Goodbye to Jack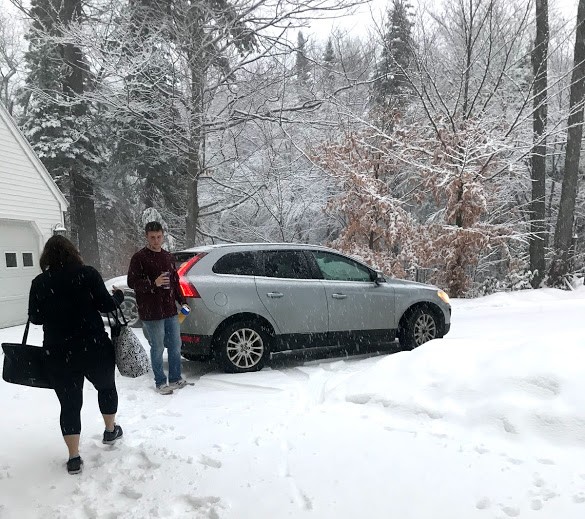 We were so lucky to have Jack home from college for two months. He brings a sparkle to our household with his amazing sense of humor, his constant teasing of his sister, his mountains of laundry, his determination to work out every chance he gets and his quiet calm manner around us old folks. His grandfather will miss having another man in the house. We all look forward to having him come back to visit again soon. He and his mother left to drive back to Tennessee in the middle of a big snowstorm here. He is now back on "the mountain" and his mum is flying home.
A Recipe To Share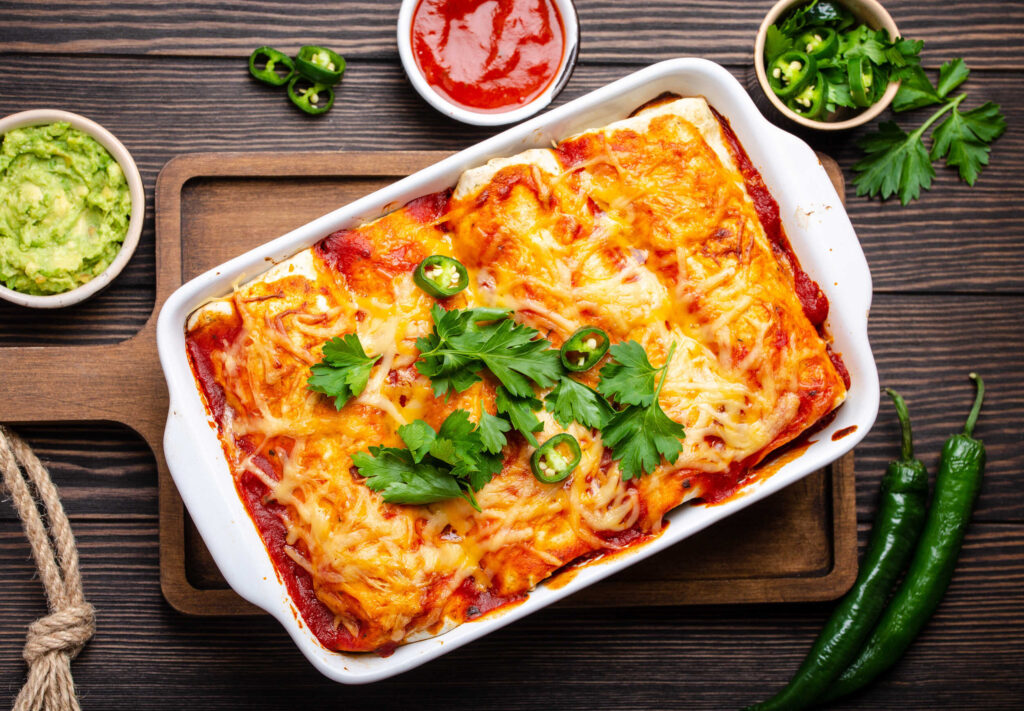 Classic Chicken Enchiladas from Cooking Professionally
Ingredients
• 2 tablespoons olive or avocado oil
• 1 small white onion, peeled and diced
• 1 1/2 pounds boneless skinless chicken breasts, cut into small 1/2-inch pieces
• 1 (4-ounce) can diced green chiles, optional
• Sea salt and freshly-cracked black pepper
• 1 (15-ounce) can black beans, rinsed and drained
• 8 large flour tortillas
• 3 cups Mexican-blend shredded cheese
• 1 batch homemade red enchilada sauce, or 1 1/2 cup store-bought
• Optional toppings: fresh cilantro, chopped red onions, diced avocado, avocado, and sour cream
Directions
Step 1
Preheat oven to 350 degrees F.
Step 2
Prepare your enchilada sauce, if making from scratch.
Step 3
In a large sauté pan, heat oil over medium-high heat. Add onion and sauté for 3 minutes, stirring occasionally. Add diced chicken and green chiles (if using), and season with a generous pinch of salt and pepper. Sauté the mixture for 6-8 minutes, stirring occasionally, or until the chicken is cooked through. Add in the beans and stir until evenly combined. Remove pan from heat and set aside.
Step 4
To assemble the enchiladas, set up an assembly line including tortillas, enchilada sauce, chicken mixture, and cheese. Lay out a tortilla, and spread two tablespoons of sauce over the surface of the tortilla. Add a generous spoonful of the chicken mixture in a line down the center of the tortilla, then sprinkle with 1/3 cup cheese. Roll up tortilla and place in a greased 9×13-inch baking dish.
Step 5
Assemble the remaining enchiladas. Then spread any remaining sauce evenly over the top of the enchiladas, followed by any extra cheese.
Step 6
Bake uncovered for 20 minutes until the enchiladas are cooked through and the tortillas are slightly crispy on the outside. Garnish with desired toppings.