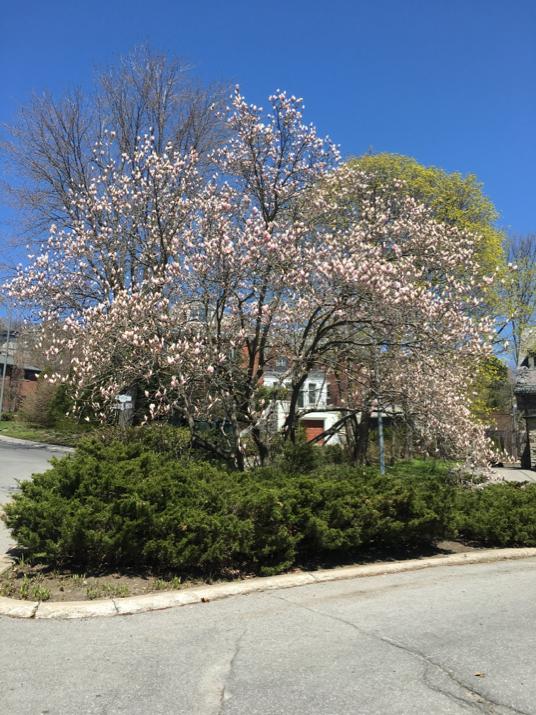 Our 14 days of self-isolation is complete today. To be honest, that is the fastest 14 days I have ever experienced. At the outset it seemed that it would be forever. The days flew by with lovely long, walks with the dogs in the woods or with Katie on the back roads. Rarely seeing another person. There always seems to be something that needs to be done in a house where four people are living. I pretty much leave the kitchen to my daughter Katie and my husband John and grand daughter Libby. However, I do manage to do the clean-up after one of their delicious meals. Katie has been doing the shopping early in the morning on Sunday which is when the store is the least crowded. There is still a shortage of items such as toilet paper and flour but otherwise she is finding most of what she has on her list or is able to substitute items. Her point was that it is hard to make a menu up for the week and go shopping and not be able to find the items that you need for the meals you want to make. This is why I clean. Funny how I really enjoy doing that. Never thought I was that interested but for the last few months I have taken great pleasure in cleaning the houses that I have been in, whether it was here or in South Carolina. There is something very satisfying about sitting down with a glass of wine after a productive day of cleaning the house. Yes, those words did come from me.
Update on Jenny Lane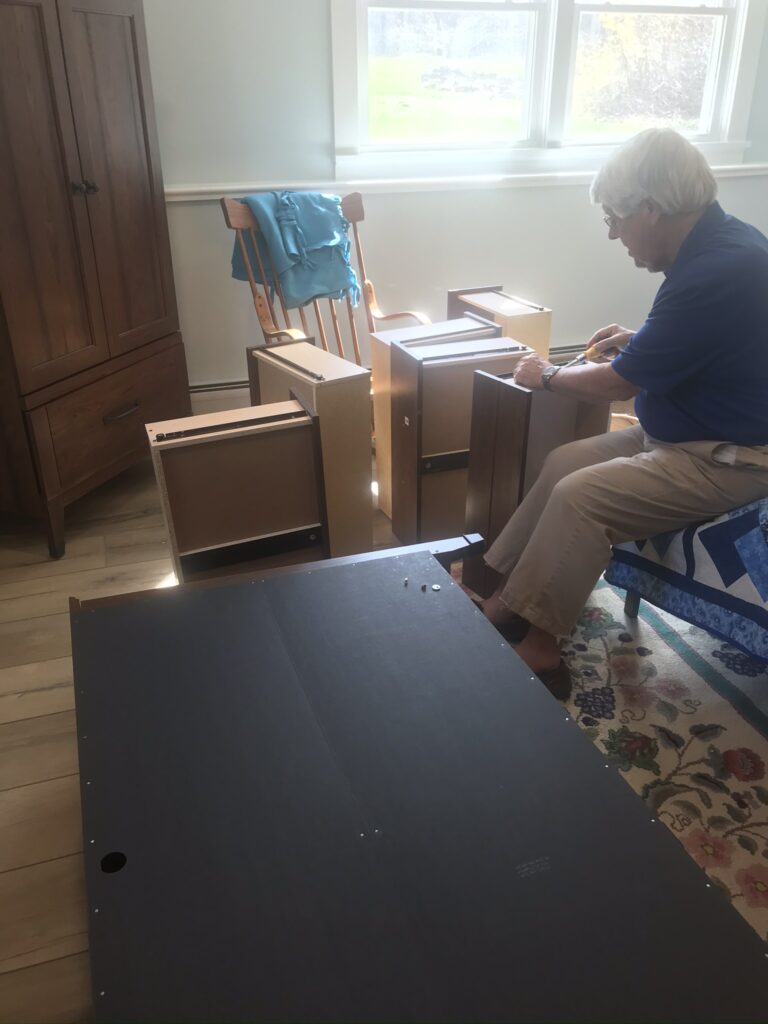 Major accomplishment this week happened when John decided to construct the furniture for our room. He bought it with some assembly required. Well, it was more than some. There were pieces everywhere. The boxes were so heavy that even with two people to move them it was very hard. The first piece he did was the armoire. I wasn't even sure I wanted one but it was what he got me. Once he got it put together I realized that I actually liked it and it wasn't as big as I thought it was going to be. We put it in the corner which, again, I like. It took him a full day to put it together. Then he tackled the bureau which was in many ways much more complicated because it has six drawers. Despite the fact that he put a couple of the drawers together backwards (he fixed and laughed at himself) he was able to finish the bureau satisfactorily. For the first time in our 51 years of being married we have furniture that actually matches. The bedside tables match too and were the first part of the equation a week ago. It is a strange thing for me to see. However, I eagerly set to work after his effort and started to sort clothes out of bins and into drawers. I can actually, for the first time since last September, go to a drawer and find clothes to wear. Suitcases and bins have been retired. Amazing the joy this has brought me in week #2.
Friendly Visitor at Cocktail Time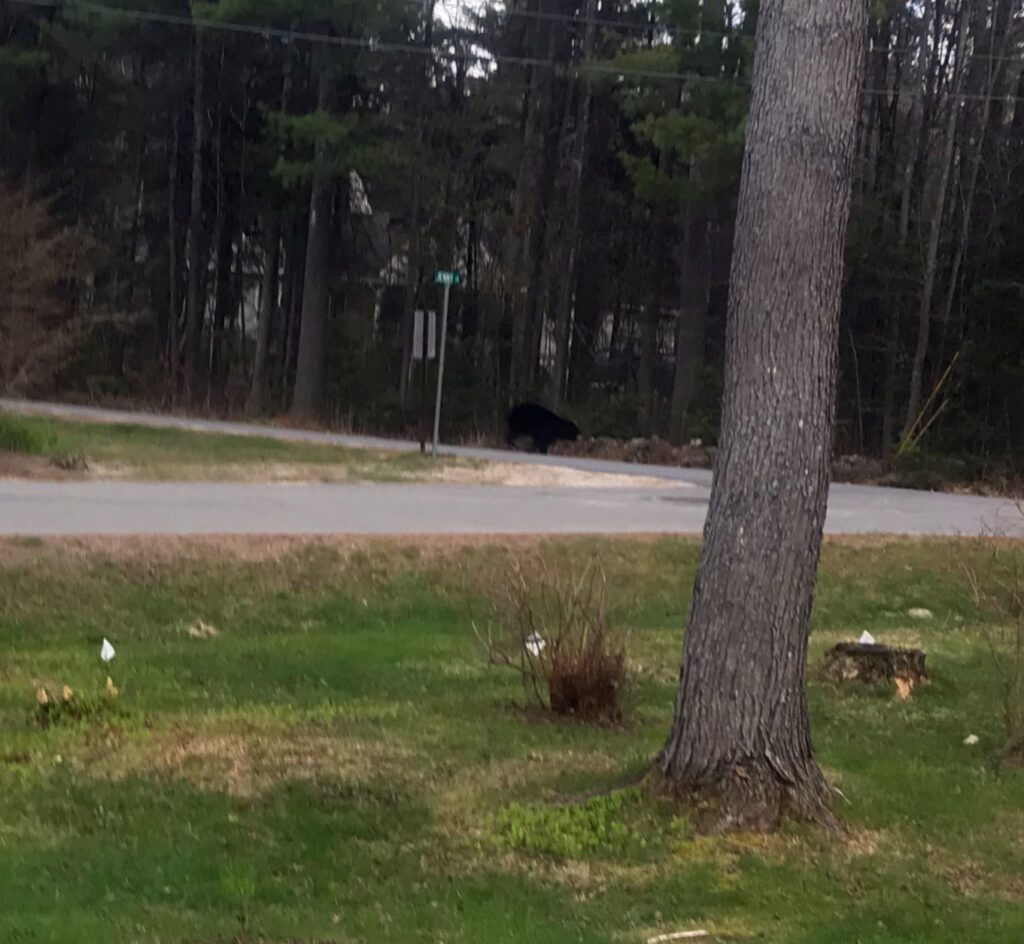 I keep reading about the animals taking back their habitat. We have bears. Yes, more than one. They don't seem to be that interested in us but they do appear at the oddest times. This one came right down the street and wandered around the intersection and then once he/she saw that we were outside taking pictures, decided to run off into the woods. I have a feeling that my journeys into the woods are about to be cut short. I really don't want to run into one on the trails. Already did that and didn't like it. However, I am pretty sure they are going to head deep into the woods soon to get away from the heat. Bird feeders come in at night and will probably be suspended for the rest of the summer. The hummingbirds are back and I prefer to see them anyway.
The Summer Garden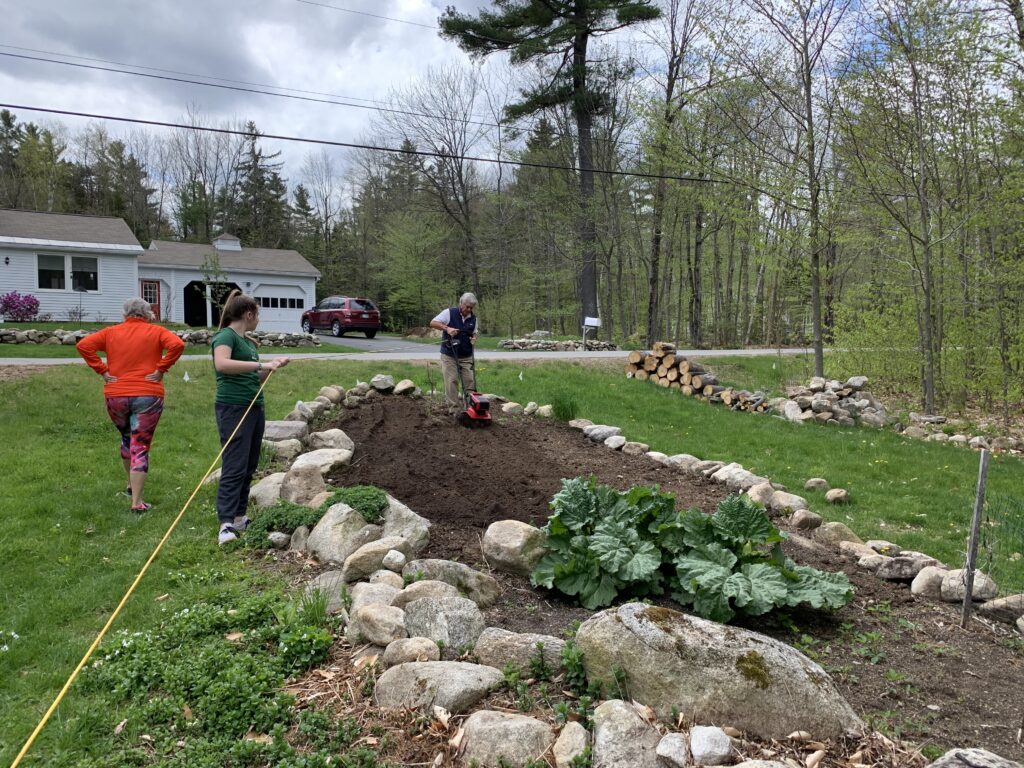 John and Libby are working on their vegetable garden. They ordered a mini-rototiller which arrived and, of course, some assembly required. However, John put it together and today they roto-tilled the garden and actually did some planting. I am pretty sure the first thing John planted was peas. They are his favorite vegetable. I am not sure what else they have planted but I think tomatoes are in there somewhere. Oh, and strawberries. The asparagus that was already there has come up and I think it is ready to eat from the looks of it. Also the rhubarb although I know nothing about rhubarb so couldn't tell if it was ready or not and then what do you actually do with it. I guess I am about to find out.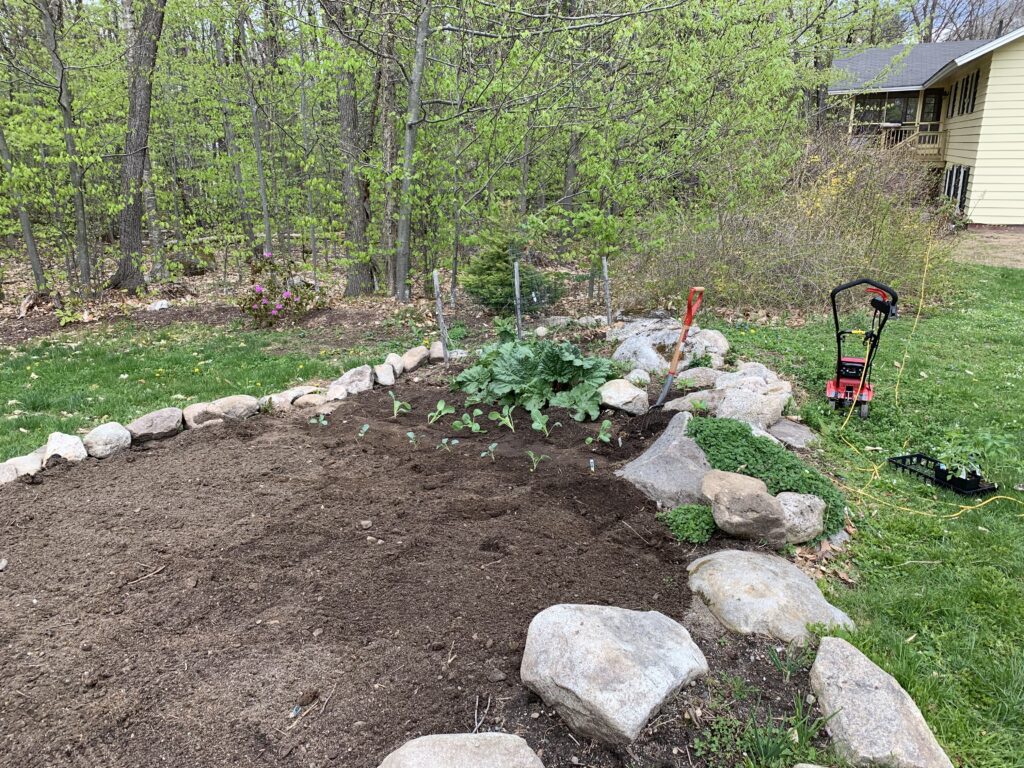 Birthday Week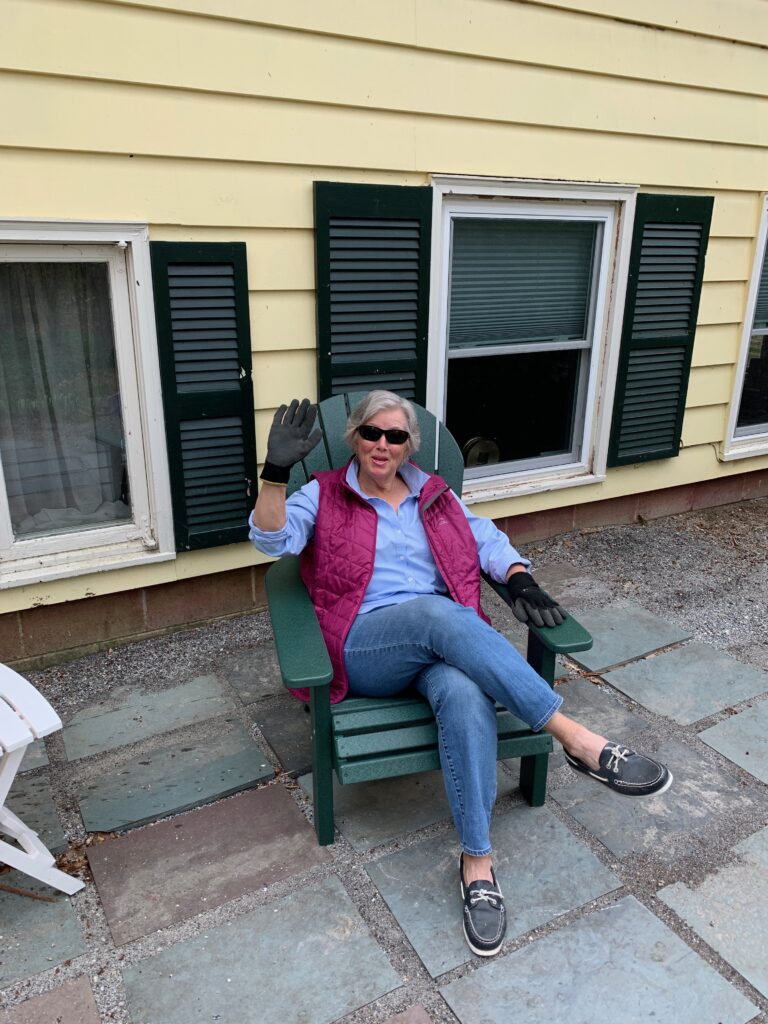 This is my birthday week and I hope the birthday week of our new grand baby who is scheduled to arrive sometime soon. Fingers crossed. Anyway, my girls bought me an outside chair for the patio. I have always wanted one of the indestructible ones that wind and weather will not hurt and the sun will not fade. It was delivered a bit early but just in time for a lovely wine time around the fire pit on one of the nicest days we have had so far.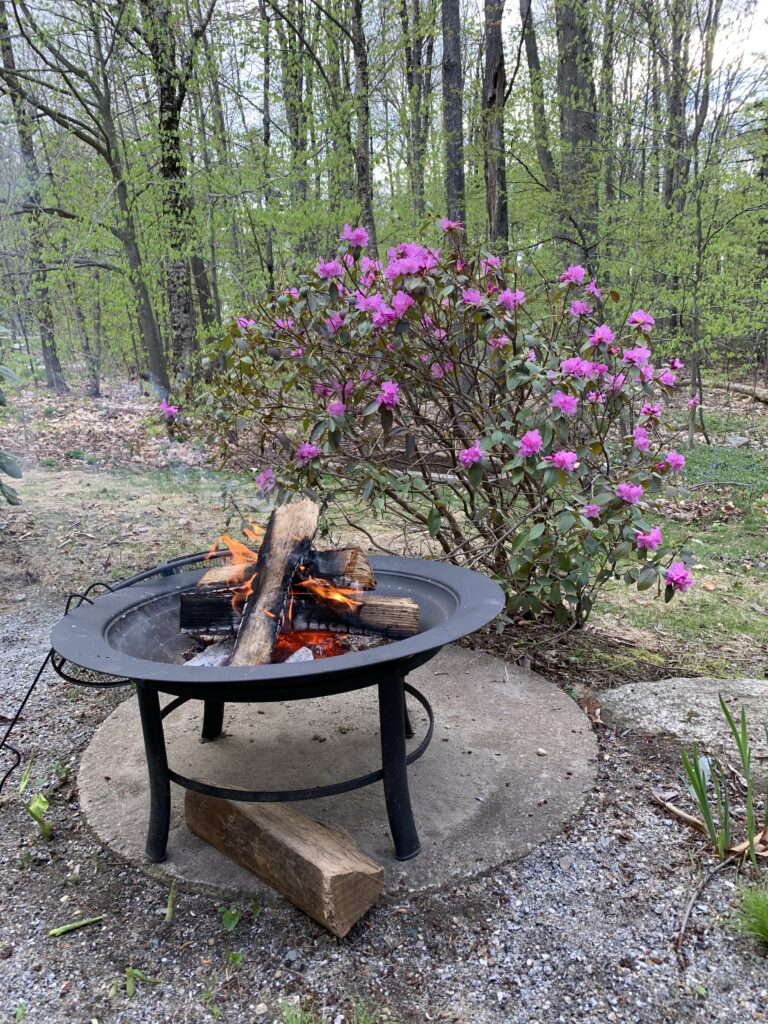 Have a wonderful week and stay healthy. Wear a mask when you go out and wash your hands.
Love Louise