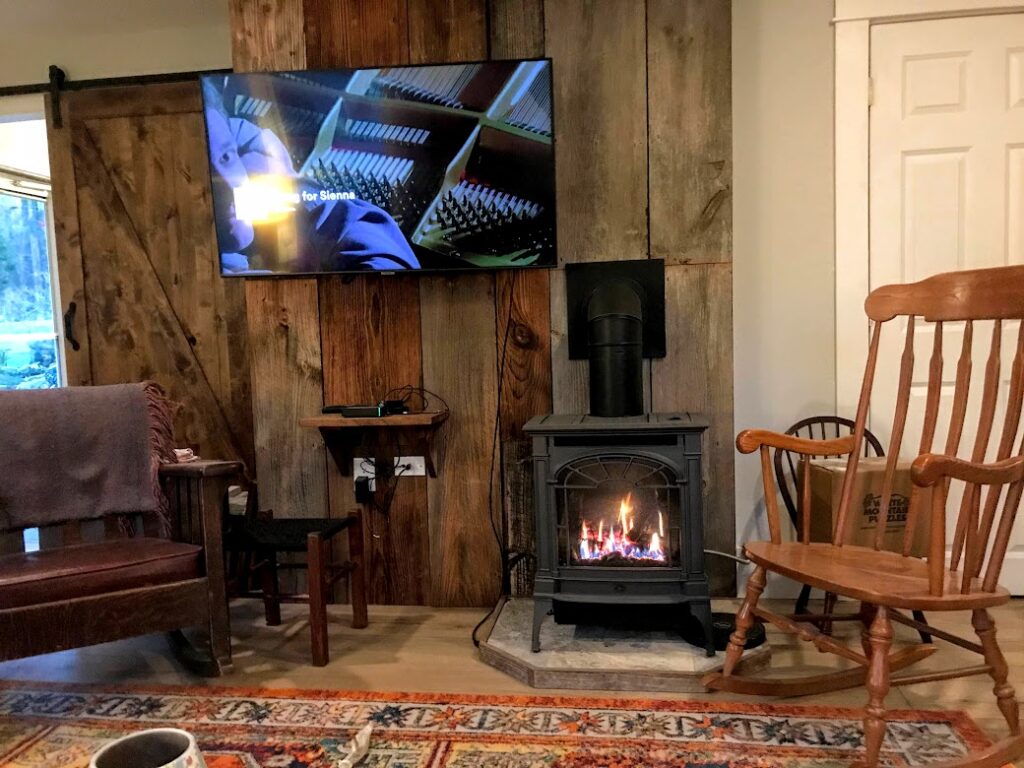 We are back in New Hampshire after a whirlwind two week trip to South Carolina and North Carolina. Travel this year is quite different from what we encountered last year on our return exactly one year later. Lots more traffic, more people in the rest stops (most wearing masks) and general moving around. Our goal was to list our home in South Carolina for sale which we did. The market is quite good right now and we are very hopeful that the house will sell quickly. We had a wonderful time visiting friends and we ate out every meal except for two.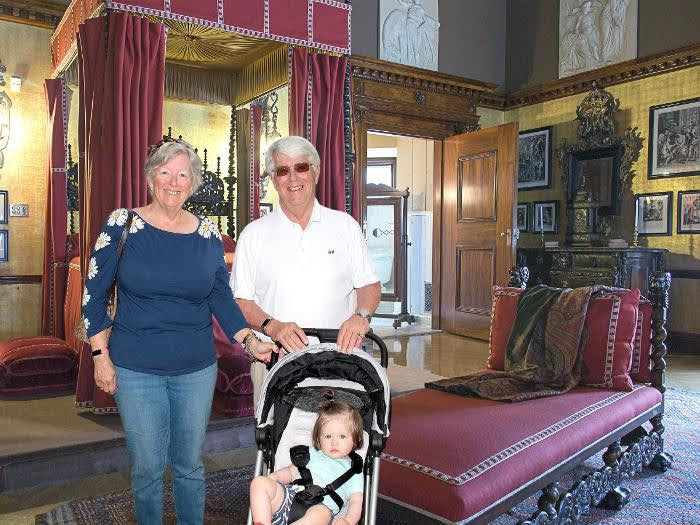 We headed up to see our grand daughter and her mothers on Monday. It was a very special visit as we were left with Edie for a few hours every day all by ourselves. We took her to The Biltmore Estate and to The North Carolina Arboretum. In the picture above we were not in the house but rather outside and the photographer digitally put us inside the house. They are not doing the inside pictures because of crowd control which was fine with us. We actually did not go inside the house this time but rather walked and walked around the gardens. We went down to Antler Village and had lunch at Cedric's Tavern, one of our favorite spots. Edie was an angel and sat at the table with us and ate all her lunch and charmed the waitress. Her big discovery was how to dip a French fry into a dish of ketchup (my brother would be proud). By the time we got to the ice cream place she was too tired to eat more than a tiny little spoonful and then she fell asleep. A totally successful outing.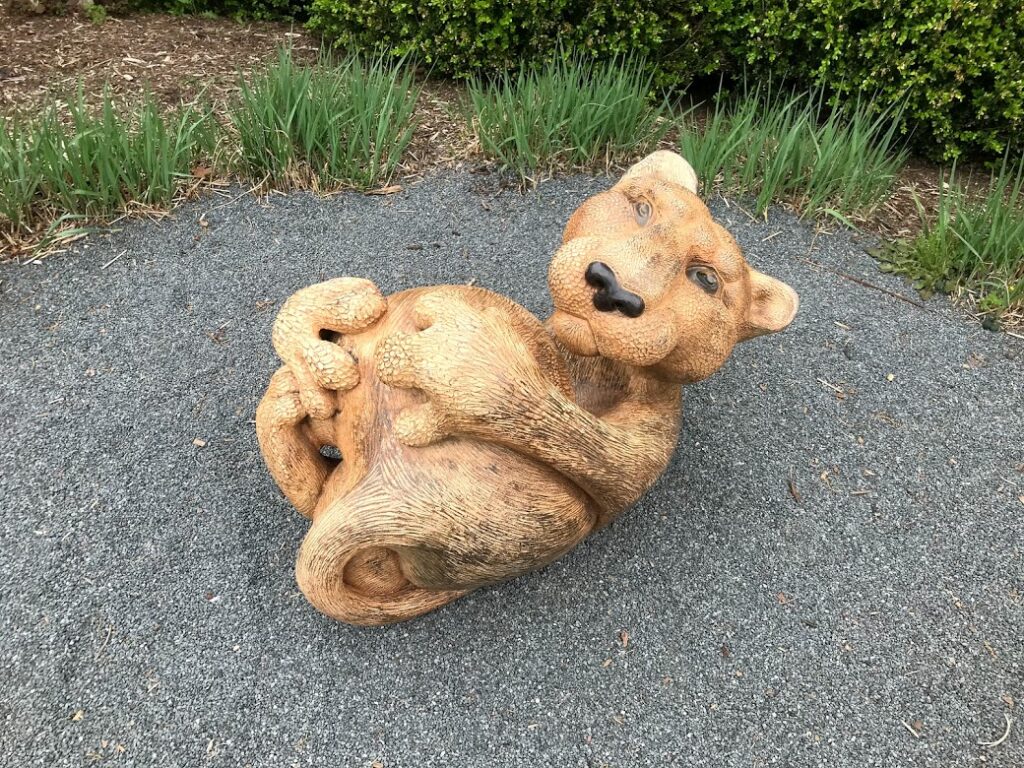 We had never visited the Arboretum before so were really happy to be able to go out there on a gorgeous day and walk for a couple of hours. There was an exhibit called Wild Art throughout the gardens and we thoroughly enjoyed wandering around and looking at all of the sculptures. The one above was very cute. The sculptures were scattered throughout the gardens. If Edie had been a bit older we would have had fun getting her to try and find them but as it was she was just happy to be pushed around the paths. I have a feeling the next time we go we will be chasing her down the paths.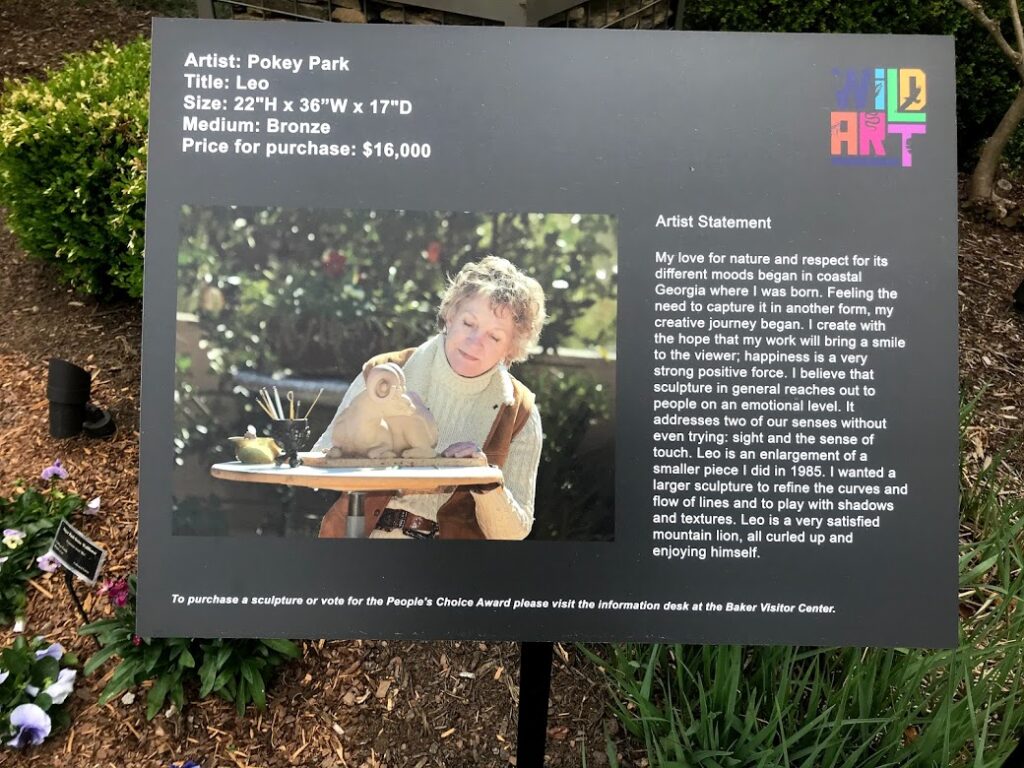 Charlottesville, VA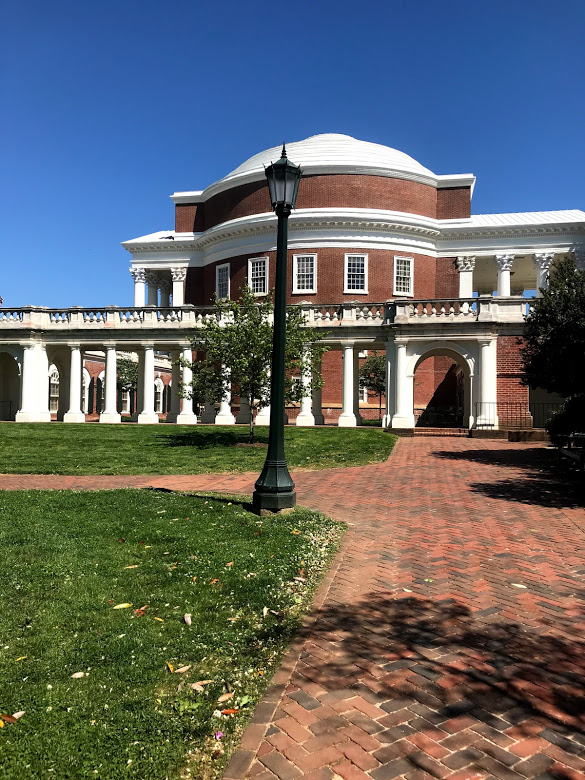 John said he had never seen The University of Virginia campus and that he would like to stop on our way home, so we did. A good friend of our friends Page & Beverly Dame, lives practically on the campus and grew up there as well as graduated from there. He offered to give us a tour and what a grand tour it was. We heard lots of stories about growing up as a child of a member of the faculty and then as a student. I don't think we could have had a better tour and we are most grateful for Tom Boyd's time and guidance. We would never have been able to figure it out on our own.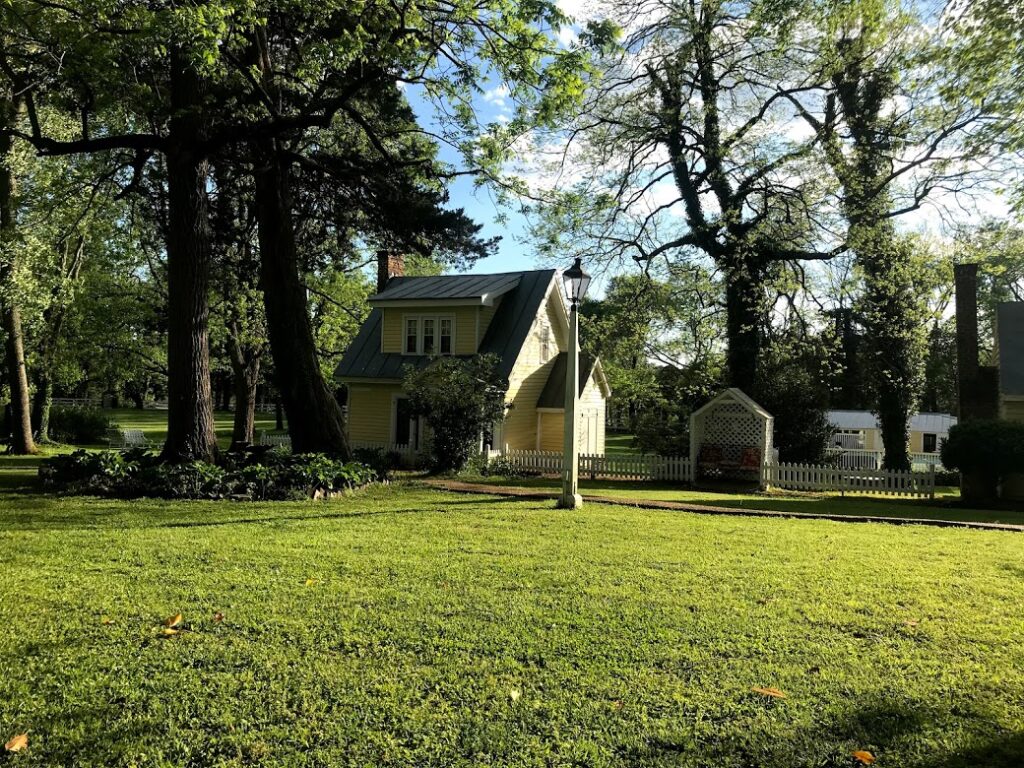 After our tour we headed to a wonderful, very old, B&B for the night. Prospect Hill B&B is old and historic. It has buildings that were built before George Washington was born. We stayed in one of the new cottages built in 1790 called Uncle Guy's Loft. Charming is almost an understatement. If you like history and you like B&B's this one should be on your list. It is quite near Charlottesville. Unfortunately their dining room is not open right now but hopefully it will be in the not too distant future. We did have a chance to have a glass of wine on the lawn and to enjoy the view.
Update on Jenny Lane

It is impossible to get a picture of what the upstairs looks like. I tried the panorama option on my phone but it isn't very good. What you should be able to see is that the walls are no longer a mess. While we were gone the mudding and taping took place and then the primer coat was put on everything. It is truly amazing. We have real walls and it looks huge. We still need to paint it with the color and then the trim needs to be put in but we are so close. Coming in the next couple of weeks will be the kitchen. The next week or so will be getting ready for that to happen. Meetings with electrician and plumber and contractors. Packing up the kitchen and then demolishing the current cabinets. All of that is coming up in the merry month of May. Katie set up a dining room for us in her office as she is going back to her official office on Monday. And as seen above we have the bonus/family room with gas fireplace where we can relax in relative comfort.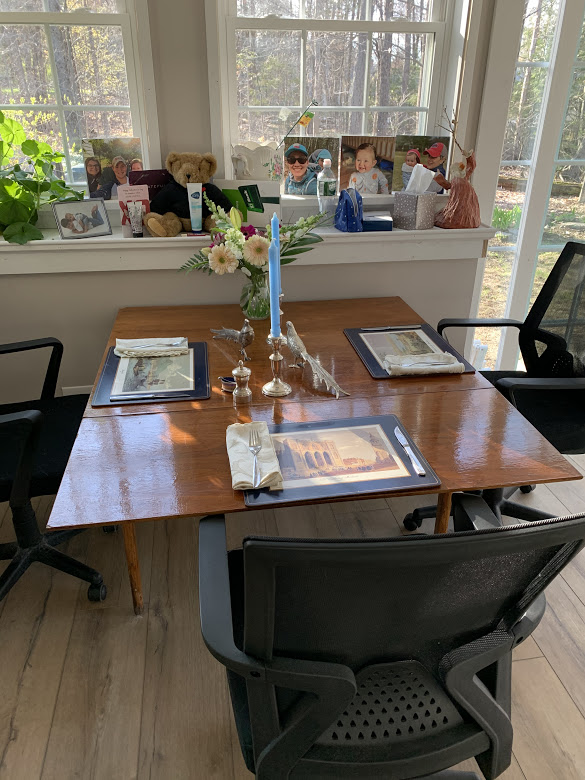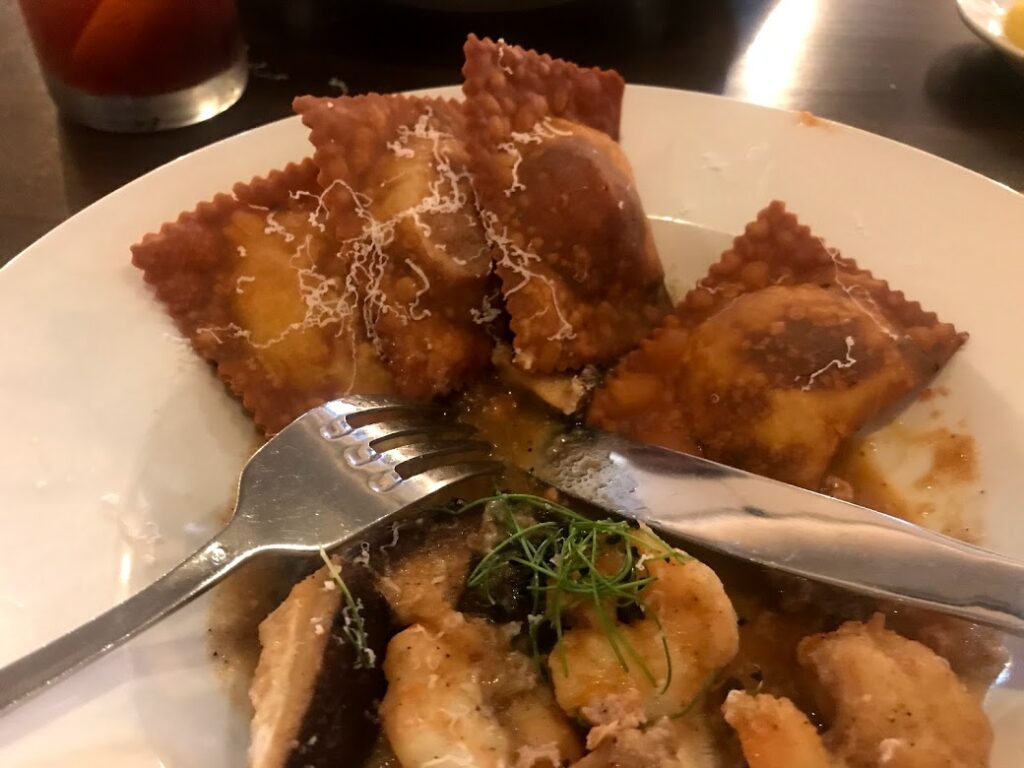 We had one evening that John and I went out for dinner by ourselves while in Asheville. Our favorite restarurant is Chiesa and we were not disappointed. Relaxing atmosphere and wonderful food. Social distancing was easy and we felt very comfortable. It is quite interesting to feel as if we are slowly getting back to normal. A little hesitant at first but eventually it felt very relaxing. I ordered the Fried Ravioli with Shrimp special and it was delicious. So I looked up a recipe for it so I can try it at home. I should have taken my knife and fork out of the picture but I forgot.
The Lazyman's Fried Ravioli from Food Network
Olive oil, for frying
1 cup buttermilk
2 cups Italian-style bread crumbs
1 box store-bought cheese ravioli (about 24 ravioli)
1/4 cup freshly grated Parmesan
1 jar store bought marinara sauce, heated, for dipping
Directions:
Pour enough olive oil into a large frying pan to reach a depth of 2 inches. Heat the oil over medium heat until a deep-fry thermometer registers 325 degrees F.

While the oil is heating, put the buttermilk and the bread crumbs in separate shallow bowls. Working in batches, dip ravioli in buttermilk to coat completely. Allow the excess buttermilk to drip back into the bowl. Dredge ravioli in the bread crumbs. Place the ravioli on a baking sheet, and continue with the remaining ravioli.

When the oil is hot, fry the ravioli in batches, turning occasionally, until golden brown, about 3 minutes. Using a slotted spoon, transfer the fried ravioli to paper towels to drain.

Sprinkle the fried ravioli with Parmesan and serve with a bowl of warmed marinara sauce for dipping.