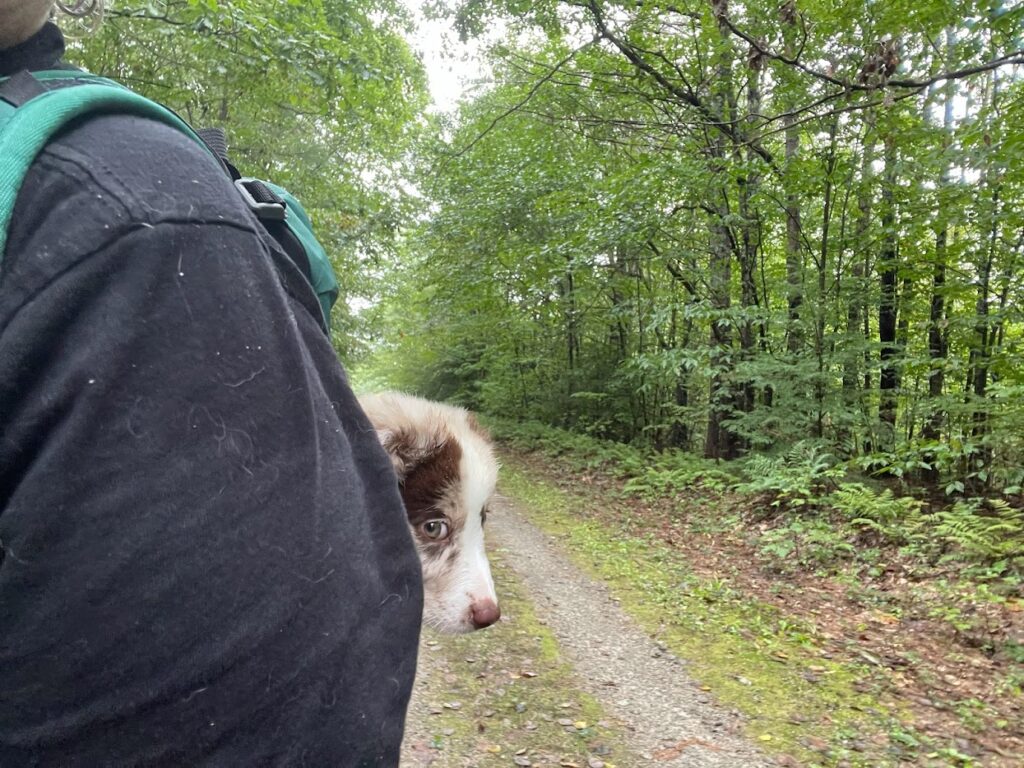 Well that was quite a week. We are now half way through the month of September and it isn't slowing down. I came back to New London last Sunday to help with the new puppy. Jack was starting a new job on Monday morning and the puppy needed someone to be with him. Still too young to be left for very long on his own. It has been awhile since I had a puppy as Wyke is now 7 and Bean is 5 1/2 but I haven't forgotten how cute they are nor how much energy they have. Luckily Percy also is a baby and he needs his naps.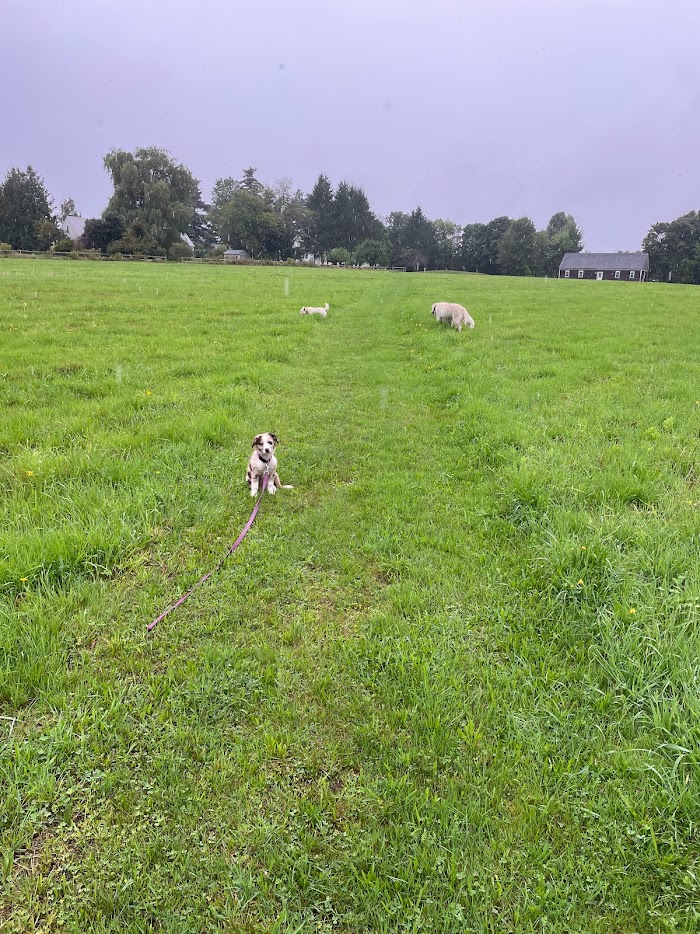 My walks have taken on a new dimension with the addition of Percy. We tried the backpack on Monday but it soon became clear he preferred to walk so we modified the distance to between two and two and half miles with lots of rest stops and he managed just fine. Most of the week was trying to get Percy and me into a routine that worked for us both. He took a nap in the morning, then we walked, then he ate lunch then he napped for a longer period in the afternoon and then he played until Jack came home. It seemed to work well for everyone. However, it doesn't really leave much room for much else.
Needlepoint

Some time ago I shared a canvas that Libby had designed and I was working in needlepoint. Well it was finished in May and then it was sent to the finisher to be made into a cushion. I told her there was no rush so it didn't get done until recently. Here is the finished project. We all had almost forgotten all about it. Anyway, we are all thrilled with the result and it now is used as a cushion on the seat of a Proctor Chair which Jack uses at the table.
When Percy met Cleo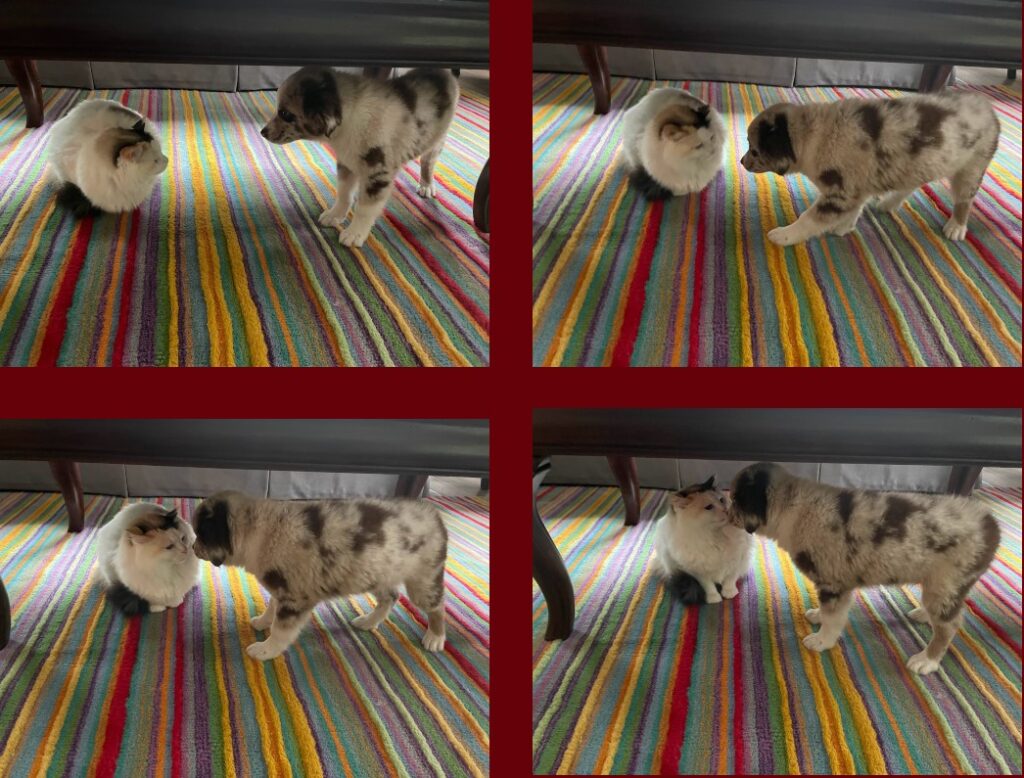 When you have never seen a cat before and you don't know quite what to make of it. The best thing is to approach slowly and cautiously until nose to nose and if you don't get swatted then you might be friends.
Recipe to Share
This will be our go to fall supper this week. Enjoy!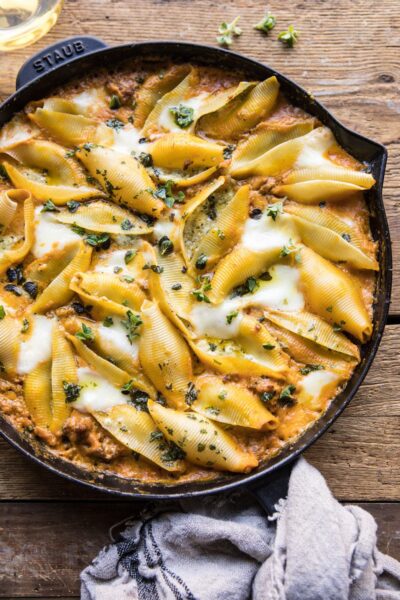 Ingredients
2 tablespoons extra virgin olive oil
1/2 pound ground spicy Italian chicken sausage
1 red bell pepper, chopped
1 cup pumpkin puree
1/2 cup vodka
1 cup whole milk
2 teaspoons dried oregano
1 pinch crushed red pepper flakes
kosher salt and pepper
1 pound jumbo shells
16 ounces (about 2 cups) whole milk ricotta cheese
2 cups shredded fontina cheese
3/4 cup basil pesto, homemade or store bought
8 ounces mozzarella, torn
fresh basil, for serving
Instructions
1. Preheat the oven to 350 degrees F. Lightly grease a 9×13 inch baking dish or dish of similar size.
2. Heat the olive oil in a large pot over high heat. When the oil shimmers, add the chicken sausage and brown all over, about 5 to 8 minutes. Reduce the heat to low, add the bell pepper, pumpkin, vodka, milk, oregano, crushed red pepper flakes, and a pinch each of salt and pepper. Simmer for 15 minutes or until the sauce thickens slightly. Taste and adjust seasonings as needed.
3. Meanwhile, bring a large pot of salted water to a boil over high heat and boil the pasta until al dente according to package directions.
4. In a medium bowl, combine the ricotta, fontina, and 1/2 cup pesto. 
5. To assemble, spoon 3/4 of the pumpkin sauce into the bottom of the prepared baking dish. Working with one pasta shell at a time, spoon about 1 tablespoon of the cheese mixture into each shell, placing the filled shell into the baking dish as you go. Spoon the remaining pumpkin sauce over top of the shells and then drizzle the remaining 1/4 cup pesto evenly over everything. Add the mozzarella.
6. Transfer the baking dish to the oven and bake 20-25 minutes or until the cheese has melted and is lightly browned on top. Cool 5 minutes before serving. Serve with fresh basil. Enjoy!
Notes from the website:
*If you'd like to make this vegetarian, no problem, just omit the chicken sausage and use a little more crushed red pepper flakes for heat, if you'd like.
*To make the pasta ahead, just do everything up until the final baking, cool, and store in the fridge until ready to serve!
Six Pumpkin Health Benefits (courtesy of the Cleveland Clinic)
Great for your eyes, heart, immune system, contains carotenoids, keeps you full and healthy seeds. It's not just for pie anymore.