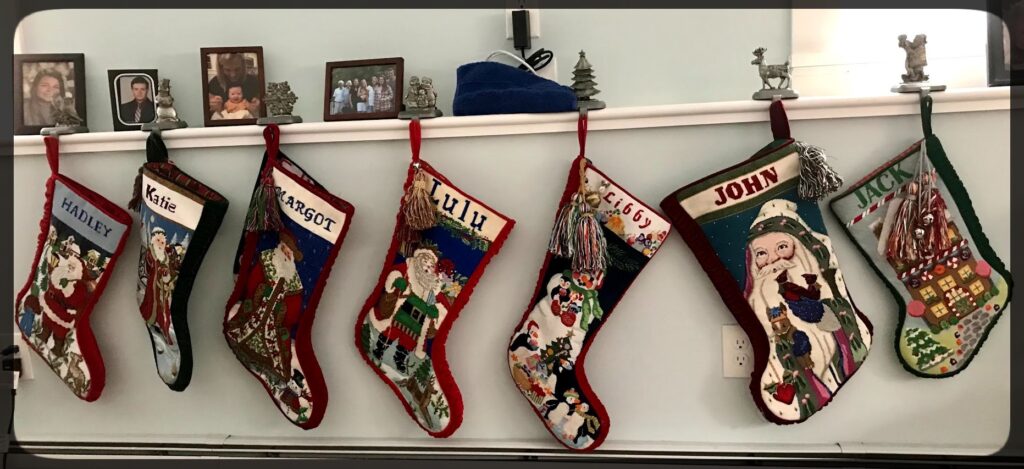 It has been a nice break for the past two weeks but now we must pull together and start another year. We took a break from any renovations on the house too which believe it or not was just what we all needed. We decorated the house including the new bonus room and the sun porch which made it feel less like a construction zone and more like a home for the holidays. We hung the needlepoint stockings in each room in preparation for Christmas morning. I have needlepointed these over the last 20 years starting with Jack's. I am currently working on one for Edie which is why hers is not hanging there. Hopefully it will be done by next year. They are all embroidered on the back or on the inside. It always makes me sad to take them down but they get put away in a good box with tissue paper and stored under the bed until they are needed again.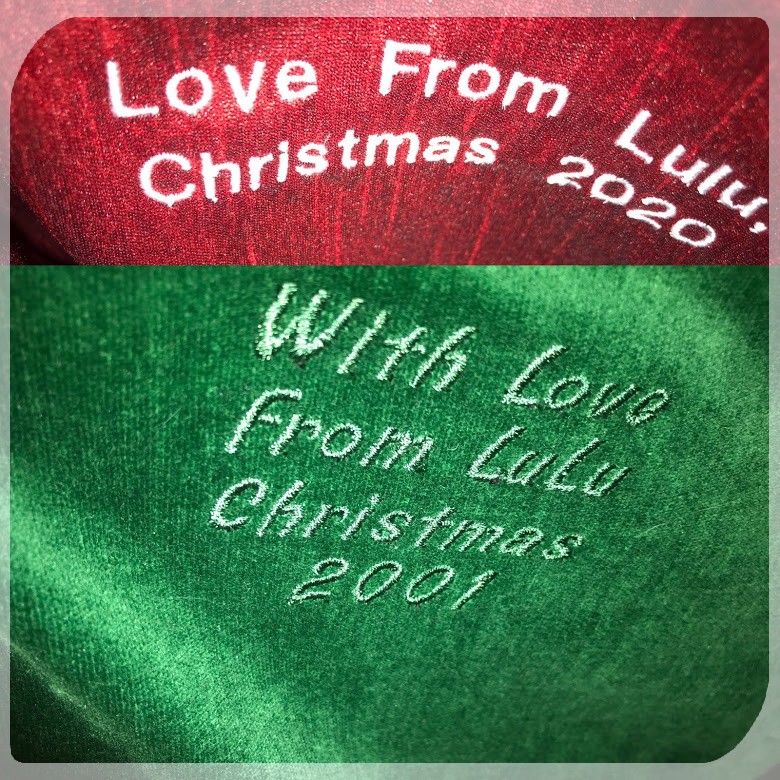 Update on Jenny Lane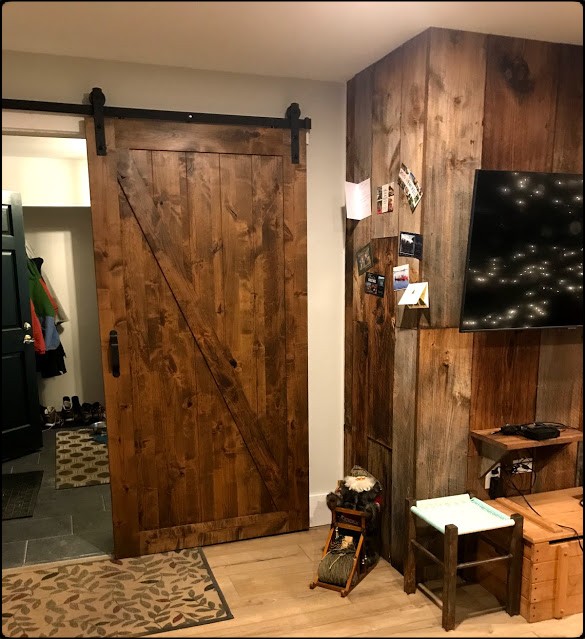 Just before we suspended work on the house for the holidays, the barn door that John had been tasked with staining was installed. John created his own stain for the door trying to match or compliment the beautiful barn board that covered the chimney. In my opinion he did a wonderful job. Seeing it installed was the highlight of our fall renovation. Slowly but surely this room is taking on a comfortable and cozy feel. We have used it constantly over the holidays before and after. The kids enjoy being able to play their games on the big t.v. and we are happy to have them in their own space. We also use it to attend Zoom church on Sundays. We project the screen on the big t.v. and feel as if we are just about there. Even enjoy coffee hour afterwards.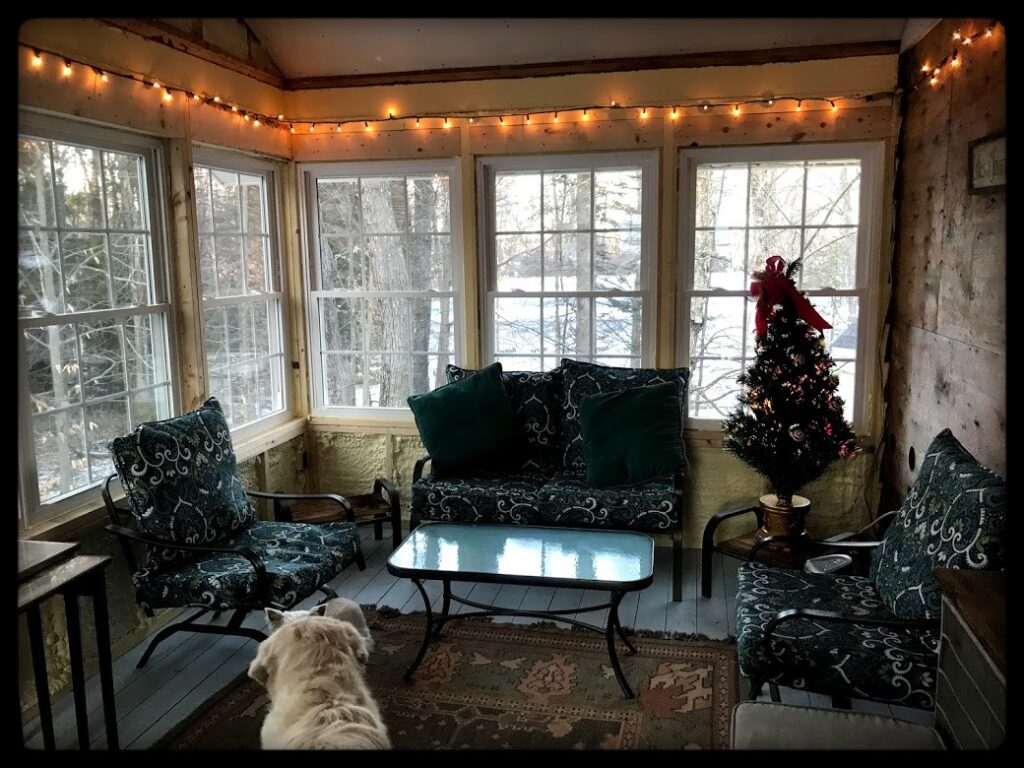 Also, prior to suspending the construction for a couple of weeks, we did get the ceiling finished in the sun room and the door and insulation around the windows installed. Once that was done we were able to actually heat the space to make it usable for over the holidays. Once finished this will be a great space that is able to be used year round. There is still a lot to do in here including moving the opening from where it is to the middle of the wall as well as finishing the interior. The electric is there but not hooked up except for one plug which at least allowed us to have some Christmas lights and a tree to enjoy. We worked a jig saw puzzle in there but quickly learned that once the sun went down there was not enough light to see what you were doing. It is a great place to sit and watch the snow fall too. The furniture in there is our porch furniture that we moved around so we had something to sit on temporarily.
Exercise? Walking or Snow Shoeing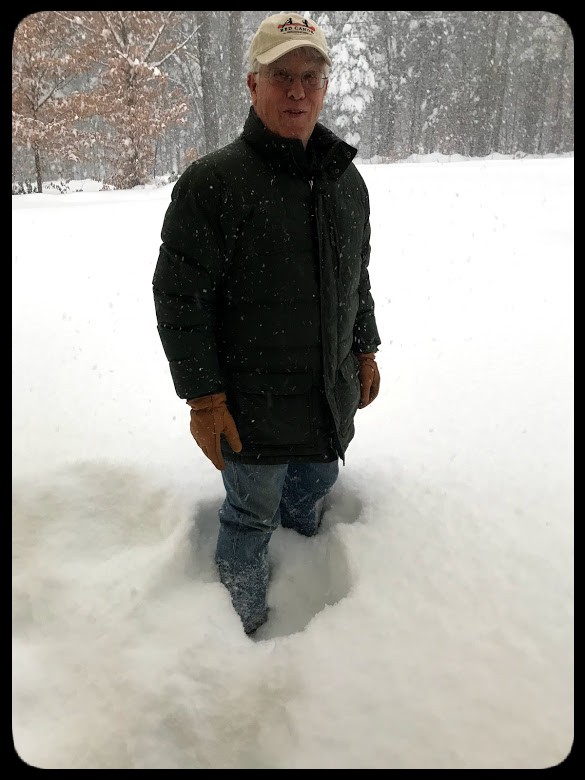 Right before Christmas we had a huge snow storm. Our area was one of the ones that saw over three feet of snow. You never really know what three feet looks like until you can't walk in it. I tried to snowshoe over a bank to get to a trail and sunk down up to my waist. A kind person in a truck stopped and with a shovel dug me out. When your foot is in a snowshoe and it is buried down three feet it is almost impossible to pull your foot out. The snow lasted until Christmas Eve when the rain came and washed a significant amount of it away. We still had a white Christmas but it was very damp.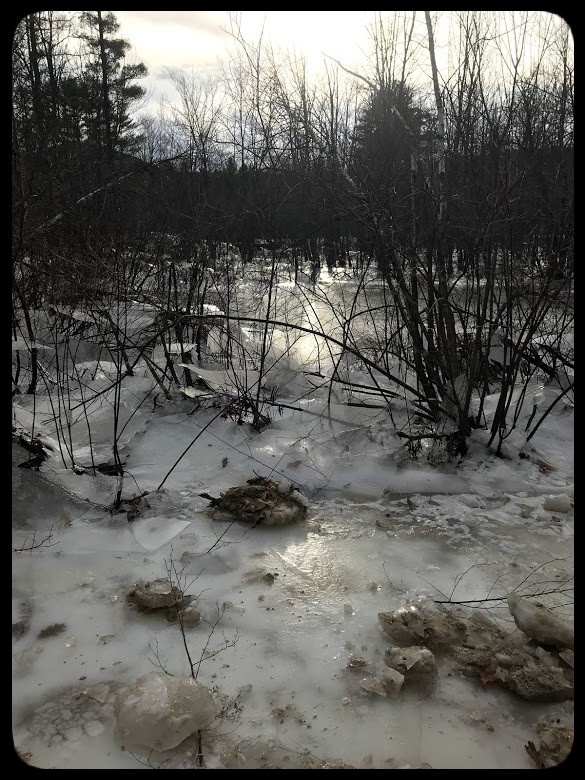 The dogs and I have walked on the rail trail a few times but it has been quite icy. I use my Yak Traks and two poles but I still am very careful. I even walked around the lake with Katie at one point but frankly don't like it much. The dogs come back absolutely filthy from the sand on the road and my shins hurt. Much happier in the woods. Since the bears are hibernating we have also taken to going out from our house into the woods and the trails that are right here. A bit more of a challenge but really quite beautiful.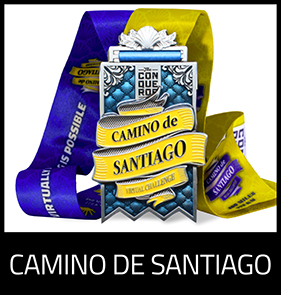 Today I signed up for one of the on-line Conqueror Virtual Fitness Events. Katie and I are both going to do the Camino Virtual Challenge. It seems to be a good motivation to get us out the door even when we don't want to. We did one in the fall but it was a race done through LL Bean. This one is a distance challenge. We both keep our miles recorded through Runkeeper so this gives us another goal to work towards. They have many different challenges with different methods for completing them. Take a look if you are interested in motivating yourself to get out walking or biking or even running. This just might be the thing that gets you off the couch this year.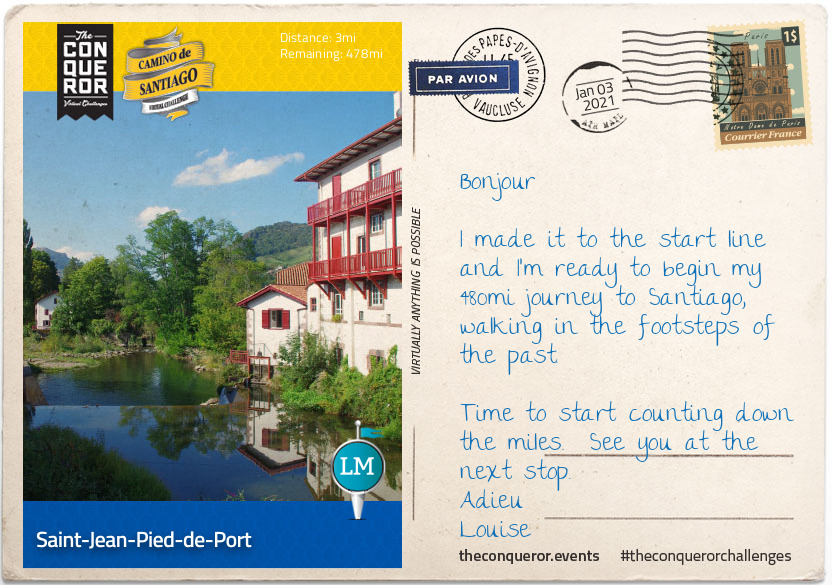 Baking and Cooking Over the Holiday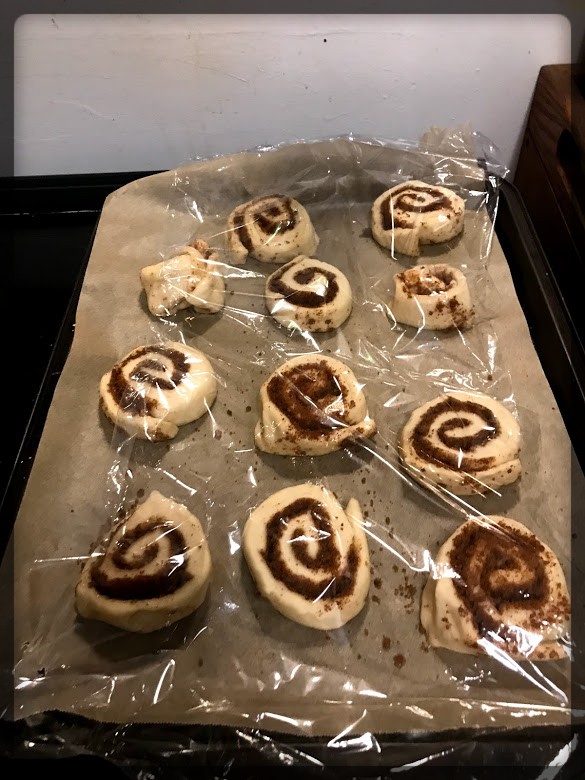 We did lots of baking and cooking over the holidays. Many loaves of bread, some of it sourdough, cinnamon raisin bread, regular loaf bread, crusty loaves and finally cinnamon buns for breakfast on Christmas Day and on New Year's Day. It has been fun to try some new recipes and also to rely on some old favorites. Everyone cooked a meal or two and all were delicious. Now to get back to a simpler way of eating for awhile. Some good soups and lots of vegetables are important. I have found another supplier for healthy meat, chicken and fish so we are on our way. Here's a recipe to help you get started.
Healthy Slow Cooker Spaghetti Sauce (the Food Charlatan)
Ingredients
2 tablespoons olive oil
1/2 pound sweet Italian sausage links
1 large onion (or 2 medium), chopped*
4-5 cloves garlic, minced
1/2 pound ground beef
1/2 cup white wine (I used cooking wine)**
2 medium carrot, peeled and roughly chopped
1 medium zucchini, roughly chopped
1 29-ounce can tomato sauce
1 6-ounce can tomato paste
2 15-ounce cans Fire-Roasted diced tomatoes
1 tablespoon dried Italian seasoning
1/4 teaspoon thyme
1/2 teaspoon basil
1/2 teaspoon oregano
2 teaspoons brown sugar
2 bay leaves
1/8 teaspoon cayenne pepper
1/2 teaspoon salt, plus more to taste
pepper to taste
fresh basil, to garnish
Instructions
In a large skillet, heat the olive oil over medium-high heat.
Remove the casings from the sausage and chop into bite-size pieces. Add to the pan and sear the sausage. Once it is brown (it doesn't need to be cooked through), lower the heat to medium.
Use a wooden spoon to move the sausage over to one side of the pan. Add the onions, garlic, and ground beef to the other side of the pan. Break up the ground beef, avoiding the sausage (you want bigger pieces of sausage).
Cook, stirring occasionally, for 6-8 minutes, until the ground beef and sausage are no longer pink and the onions are soft.
Add the wine to the pan. Cook for another 2 minutes or so until the wine has cooked down some.
Scrape everything into a large crock pot.
Meanwhile, use a food processor to chop the carrots. Get the pieces pretty small, but don't do it so much that it liquifies it.
I left the carrots in the food processor while I pulsed the zucchini as well. See photos.
Add the veggies to the crock pot, along with the tomato sauce, tomato paste, and the fire-roasted diced tomatoes.
Add the Italian seasoning, the thyme, basil, oregano, brown sugar.
Add the bay leaves, cayenne pepper, salt, and pepper to taste.
Stir everything together, put on the lid, and cook on low for 6-8 hours, or on high for 3-4 hours.
Garnish with fresh chopped basil. Makes about 9 cups.
Serve over whole wheat spaghetti and with a large side salad!
Happy New Year – 2021