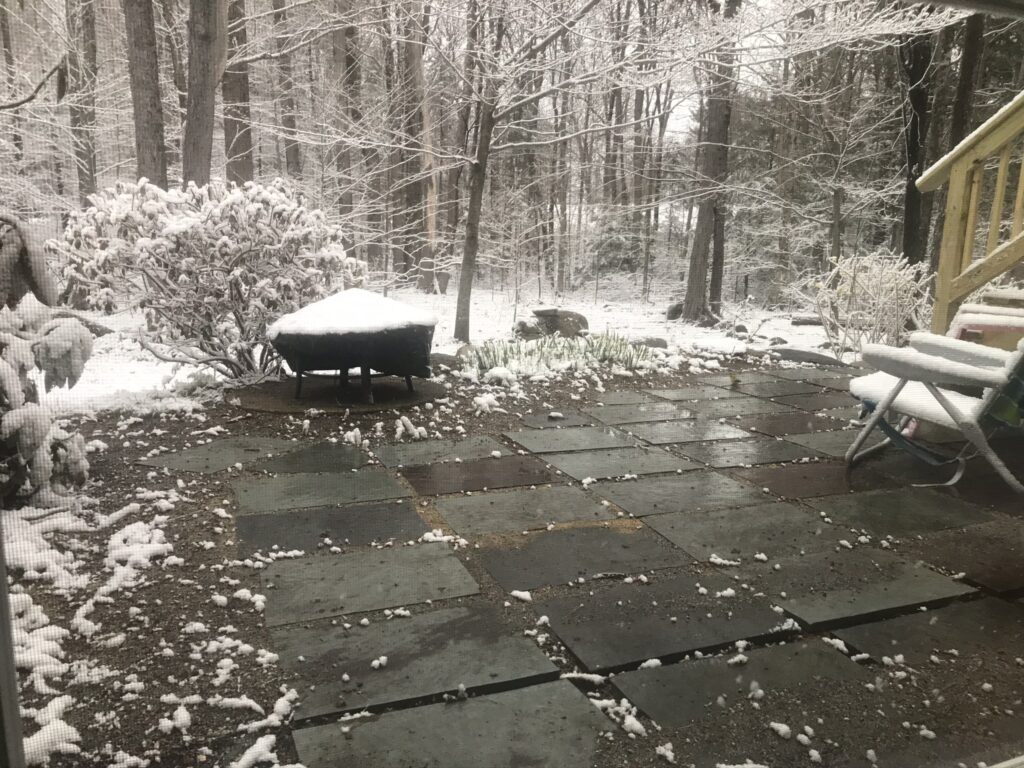 As I sit here early in the morning on Saturday, the 9th of May, I am watching the snow fall outside making everything look like Christmas again. Truly the world is a little upside down right now. Eight weeks ago, on the 4th of March, John and I left New Hampshire for a three week visit to our southern home of Dataw, South Carolina. It was strange in many ways but we definitely had no idea it was going to be as strange as it turned out to be.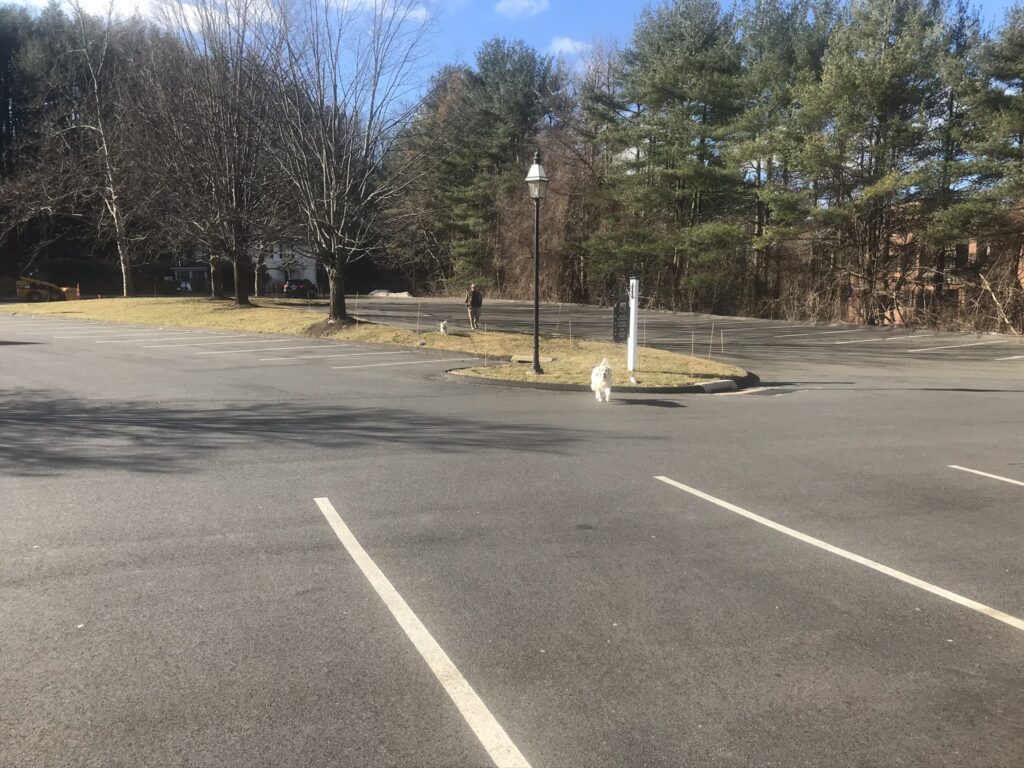 Prior to our departure we had begun to hear some rumblings about a virus that was spreading in Asia and in Europe. Very little was being said about it in the U.S. or Canada but talk of hand sanitizer and Chlorox wipes were everywhere. In preparation for our trip I went out to see if I could buy some hand sanitizer and only found some in the health food store. A really lovely smelling lavender version that has since become our constant companion. The other item that popped into our orbit was the fact that the churches were beginning to alter the way they did things. We were reading about the Anglican Church in Canada that was suspending the communion cup and our Episcopal Church had discouraged and then out right banned the passing of the peace. One church said you could dip the wafer in the wine, the other church said no you could not but you could sip the wine. It wasn't particularly frightening and frankly it is probably what we should do during a regular flu season anyway. The only other slightly weird or different thing was people were no longer shaking hands but rather bumping elbows, usually with a laugh or an awkward try to shake hands then realize that wasn't the thing and moving to the elbow bump. We noted those changes and rumblings but we weren't really concerned at all. We left midday with our grand daughter, Libby, off at her school Proctor Academy and our daughter, Katie, off at work in her office in Manchester. We had made plans to stay in Avon, Connecticut at our favorite spot, The Avon Old Farms Inn and to meet friends Ted and Vickie for dinner there. It was a pleasant day, a lovely easy drive, and we arrived in time to walk the dogs and have a few moments to settle before meeting our friends in the pub. Perfectly normal in every way.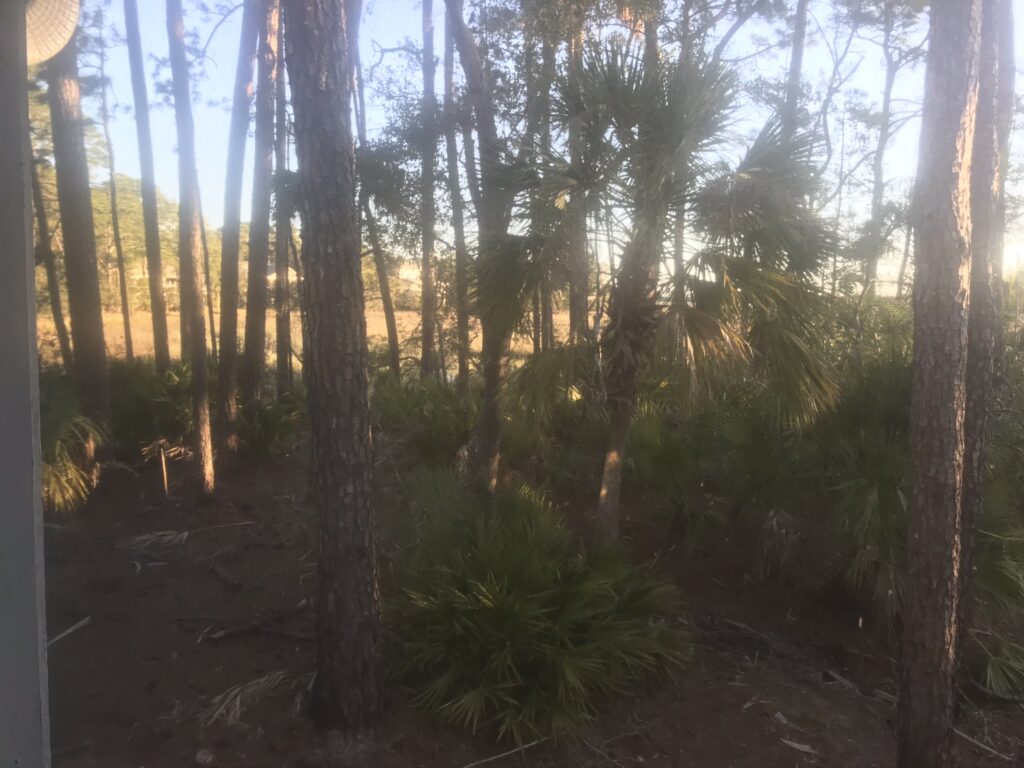 We left early the next morning and headed for Lexington, Virginia. There was traffic on the roads, fairly heavy through southern Connecticut and New Jersey and New York well into Pennsylvania but we were used to that. There is always a lot of truck traffic but it usually moves pretty quickly. Nothing new there. We arrived in Lexington, walked the dogs and went out for dinner at another favorite restaurant, Bistro on Main. We were a bit late getting there so the restaurant wasn't very busy. We were tired after the drive and I admit I was feeling a little bit anxious about our pending arrival in South Carolina. We were not going to our own home there. It has been rented to a lovely lady who we have known for many years now. She has rented from us for five months during the summer when we would head north to our home in Canada. Sandy stayed in the house when we decided to stay in New Hampshire for the year. How privileged we really are. However, because of this fact, we could not stay in our house but were given an opportunity to stay in a cousin's house but not until the 12th of March. Unfortunately a friend of ours had died and her service was scheduled for Saturday the 8th of March at our little Episcopal Church, St. Mark's in Port Royal. We were especially fond of Ginny and we really wanted to be there to pay tribute to her. To do that we had to find an interim spot until we could move over to the cousins house on Dataw. Through one of my walking pals who lives on Fripp Island, we found a house near her that was very close to the beach. I know the beach well as I walked there a great deal with the dogs. They knew and loved the freedom of the beach so I thought this would be a good compromise. Still, I was a bit nervous about being there, not being in my own home and adjusting to being in someone else's house. We attended the Memorial Service with John reading one of the lessons. I chose not to take the communion wine, just as I had done in New Hampshire. Realizing but not realizing that it was beginning to sink in that things were just a little bit different. It was wonderful to be back with our friends and our church family. They are exceptional in so many ways. We were back and we were home. The music was beautiful and the church was packed with standing room only. What a tribute to a special lady. We also attended church the following day, Sunday, and saw even more of our friends. Little did we know that this would be the last time we would gather with our friends, in our little church that we love so much, indefinitely.
The strangeness of going onto Dataw and to our house to pick up a few things was just weird. I wanted my own bed linens and towels as well as a few other items that I had left in the house when we left on May 1, 2019 believing we would be back in October of 2019 to spend the winter. That is when things really did start to change. It is a thread of the other story that is happening in the background of all of this but it is not the thread I need to write about at this point in time. I mention it because it is part of what was making things feel just a bit off for me on a personal level while things were rapidly careening out of control on a world level. More rumblings were being heard from Europe. My sister returned from many weeks in Spain and I was worried about her. She said she felt pretty safe because the cases of the virus were in the north and they had been staying in the south. She hadn't been worried about being on the plane flying home either. It was just something that kept popping up. My brother said he was still planning to go to The Netherlands in April and wasn't concerned at all. People were rumbling about cruise ships and people being sick on them but again it was off in the distance.
We moved from Fripp Island to Dataw Island on the 12th of March. Things were really starting to become apparent that they were not normal. Our church was cancelled for Sunday, gatherings were being discouraged and the news was filling up with cases being discovered in New York. Our grandson, Jack, and a friend of his were heading to Hunting Island to camp for a couple of days on the day we moved over to Dataw. He called and asked if he could stay with us for the night as they had overslept and were not going to get to their campsite in time to check in. We said of course and waited for them to show up which they did around mid-night. The next day was Friday the 13th. It was a full moon. Meanwhile back in New Hampshire things were unraveling a bit up there. Libby was on break from her school and the school was issuing some guidelines for travel during spring break. Parents needed to let the school know if their student was going to travel and where and with whom. That in and of itself was a little concerning. Libby had a trip planned to Columbus, Ohio to visit a friend and her mother was beginning to think it might not be a good idea. Libby was adamant that she be allowed to go. Tension at 11 Jenny Lane. Jack and his friend slept most of the day and then joined us at the pool for a swim before heading out to their campsite for the night. We heard from them very early on the 14th as the bugs and the noise from the trucks working on the dunes had meant they had a very unpleasant night with very little sleep. They returned to us, slept some more and then decided to go to Charleston where Jack would drop off his friend. Rumblings abounded about what the college was going to do and Jack's mother, who ultimately decided that Libby would not go to Ohio, also decided that Jack would not fly home for the balance of his spring break. Too risky. Jack instead headed to Asheville to his aunts'. He is still in Asheville eight weeks later and not leaving.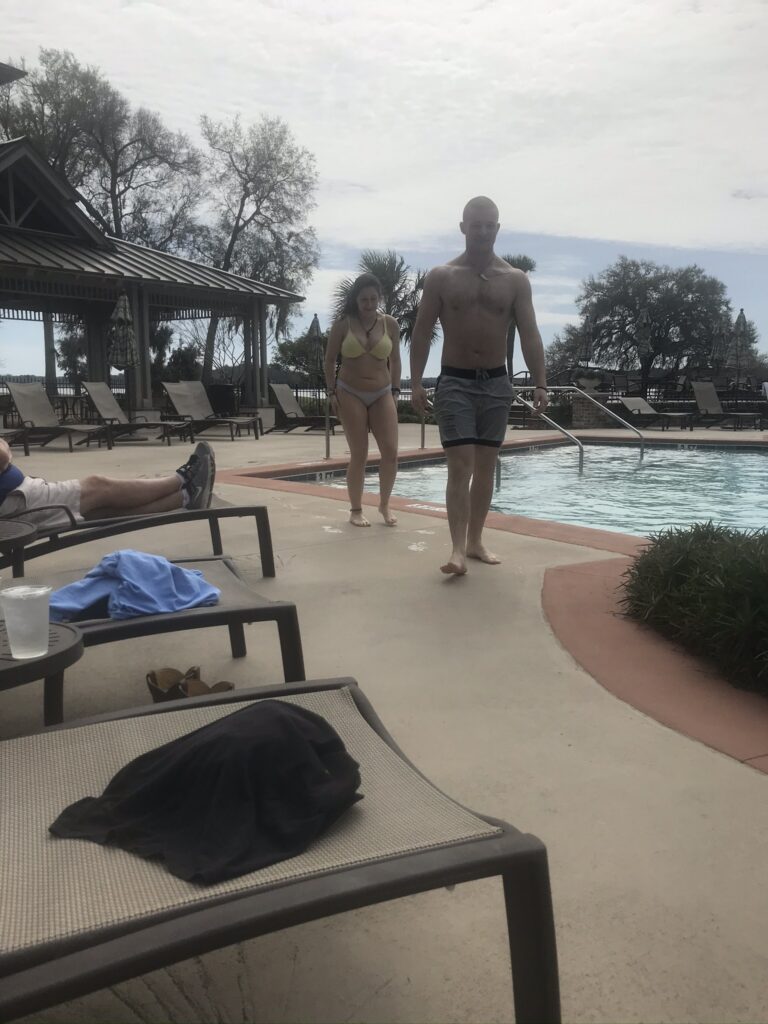 How strange was Friday the 13th. Dataw is unique in the way it runs things for the members of the club. They have seen us through some traumatic events such as Hurricane Matthew, and always taken good care of us in creative ways. This was no different. They jumped on the social distancing right away and were preparing the pub to serve meals with fewer tables and extra cleanings then the governor shut things down. We watched as they shut the pub and very quickly went to curbside pick-up and take out. The pool was open, but without a blink, all the tables and chairs disappeared outside by the pub and around the pool. By Tuesday the 17th, when I had lunch with my "lunch bunch" we could get a take out sandwich from the pool deli but there was nowhere to sit except on a wall. We were very careful to sit at least six feet apart as we had heard that was the magic number. The management decided to reopen the pool but people had to bring their own chairs and they had to sit in family groups or social distance the six feet. They even put up boards that showed us how long six feet was.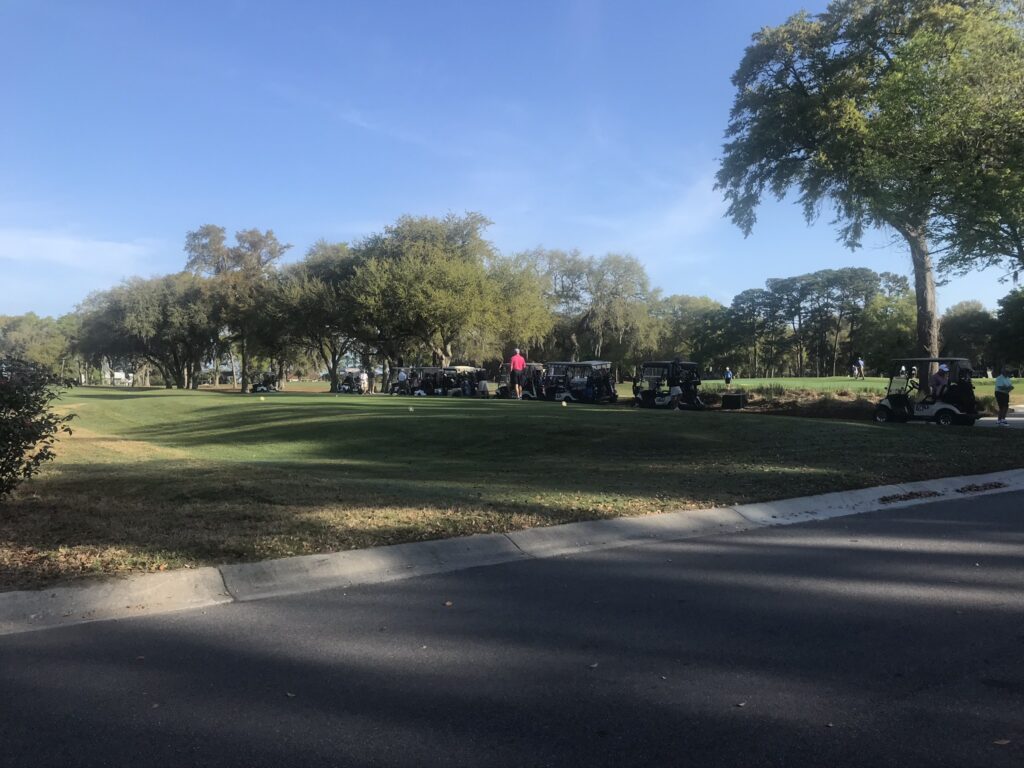 We had our best friends and fellow Newfoundland travelers staying on Dataw in a Bluff Villa for the month of March. We joined them every day for golf in the afternoon starting on the 12th of March. One day in that first week we were playing golf together, Jack landed in the bunker and asked where the rake was. I actually remember him asking if we had ever seen a bunker without a rake in it. Maybe someone had misplaced it we thought. Wrong. All the rakes had been removed from the bunkers as part of the new way of being allowed to continue to play golf. Gradually we began to see people in golf carts as singles. Something that was never done as the club was always very particular about how many golf carts were on the course. We were only allowed two golf carts per foursome. Now there were four golf carts per foursome. My husband said it looked like the little cars in the Hatley Day Parade driven by the Shriners.
The pool was closed as people just couldn't maintain the social distancing there and ultimately the Community Center was also closed. Any place where you could possibly gather in groups was being discouraged.