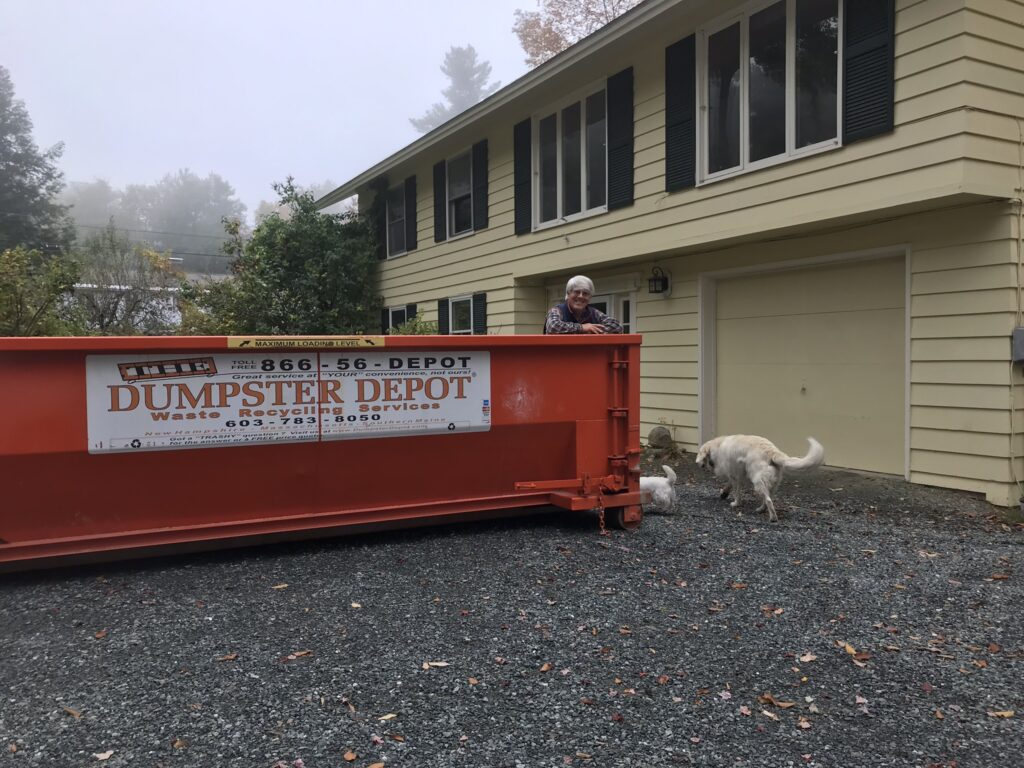 It might be Week 40 on the calendar but it is Week 1 in the renovation project and what a week it has been. We closed on the new house on Jenny Lane on Tuesday. Monday was a fantastic day of anticipation and anxious feelings as we got ourselves mentally ready to take possession of our Do-Over House. The closing itself was almost anticlimactic as it took all of 30 minutes and we felt we were in and out of there in no time. Our wonderful realtor handed John a sledge hammer with a big yellow bow as a parting gift knowing that we had plans for some major demolition at the house. We could hardly wait. Walking into the house we were immediately overwhelmed with all that had to be done. I had brought a change of clothes with me and immediately set to cleaning. Three times through on the bathrooms and I was satisfied that we could use them. People coming and going all day which seems to be the norm when you buy a do over house. The first thing delivered was the dumpster. Oh yes, it is very much in demand and after five days almost full. The other big delivery, no surprise for those who know me, was two cords of firewood. However, that could not be put under the porch because of all the stuff that was there that needed to go in the dumpster before the wood could be stacked.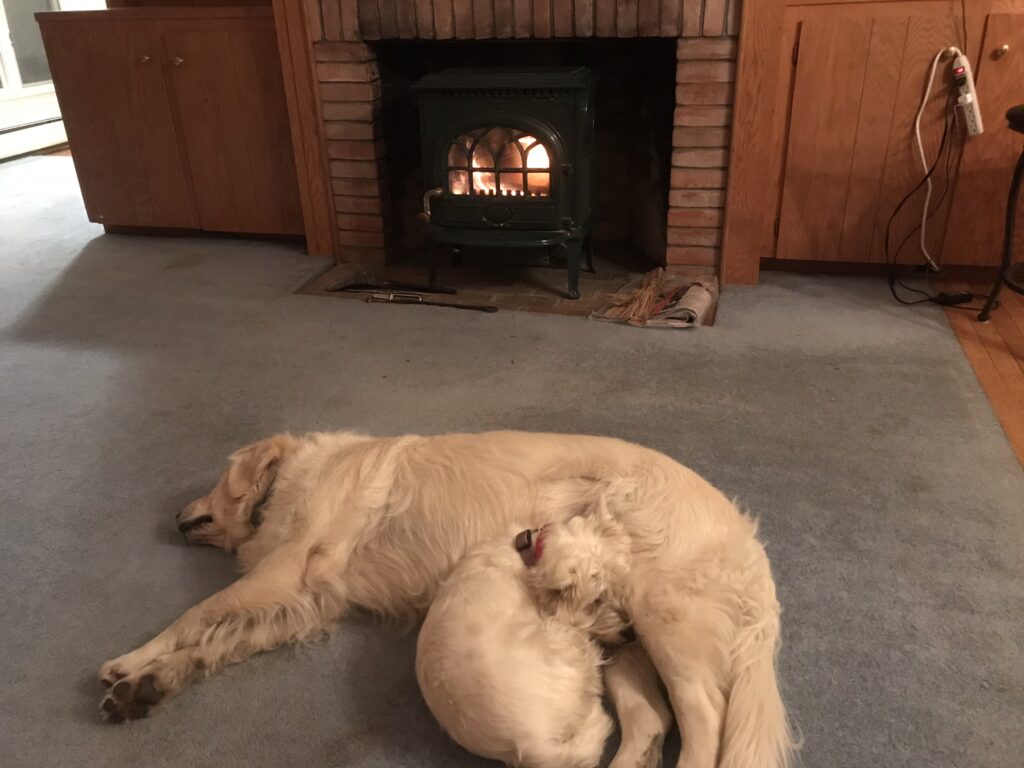 The First Glitch, Sort of
Wednesday brought another gorgeous day and meetings at the new house starting early. The owner of the Flooring America store in Manchester arrived at 8:30 and spent a lot of time measuring the rooms and talking about installation of floors throughout the top floor. On Monday Katie and I had gone to the store and picked out some flooring that we thought would work. I don't know anything about flooring but Katie does through her work with her company.
Grate Wall of Fire?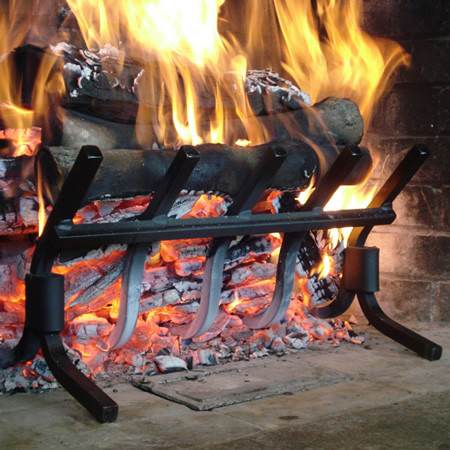 Before we went back to North Hatley to prepare that house for the winter renters, John and I had researched wood stoves as we had hoped to replace the one that was in the house when we bought it. We looked at Vermont Castings, Hampton Stoves and Woodstock Soapstone. We had Woodstock stoves in two of our other houses and really like them. Found one we liked and put a hold on it. We needed to get the chimney checked by the person who would do the installation. He came on Wednesday afternoon and didn't have good news for us. The current wood stove was installed in the old-fashioned way and not the current recommended way especially with a high efficiency wood stove such as the Woodstock Soapstone stoves are. Not good news at all. We needed a stainless steel liner that was prohibitive in cost along with the cost of the stove. Regroup. We asked what it would cost to go back to a fireplace and we were given a price that was far more acceptable. Decision made. Disappointment over. New recommendation was to look into the Grate Wall of Fire Grate that throws more heat out into the room. TBD if that works but a whole lot cheaper than a wood stove.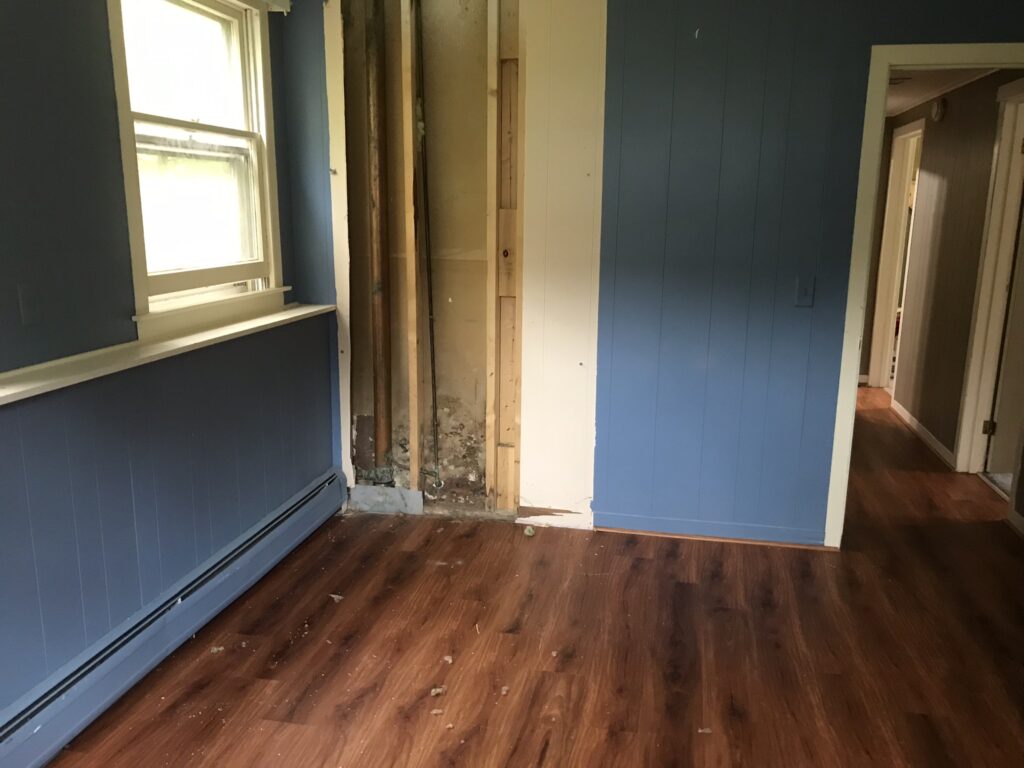 Adopted Contractors
The final meeting of the day was with Chris and Les who are contractors. They came in to see if they would be willing to help with the destruction and construction that needs to be done. After a short period of time it became obvious that we all got along really well and they adopted us and we them. Before they left we actually had torn out a wall and removed some very unpleasant insulation. This is going to be great. Dehumidifier arrived the next day. They have electricians and plumbers that they work with along with a door and window person who they came back with to get measurements on Friday. Action Plan in Motion.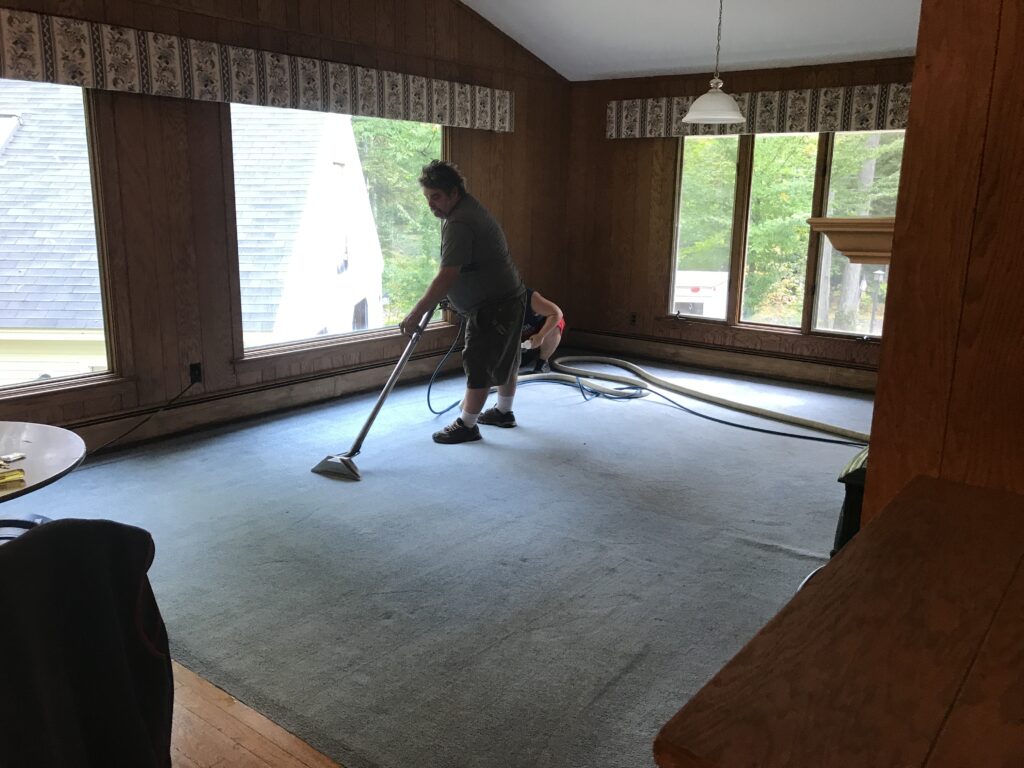 Can This Rug Be Saved?
Oh, in the meantime, Mr. Steam showed up with his side kick to look at the two rugs we thought we might be able to save on a temporary basis. They said they could clean them right then and there for a very reasonable price. So now we have machines going and fans blowing to dry the rugs. Rug #1 is not so bad, rug #2 looks just as bad as it did before but we know it is clean. My guess is rug #2 is coming out and we live with plywood for awhile. We shall see.
Every Day is a Big Day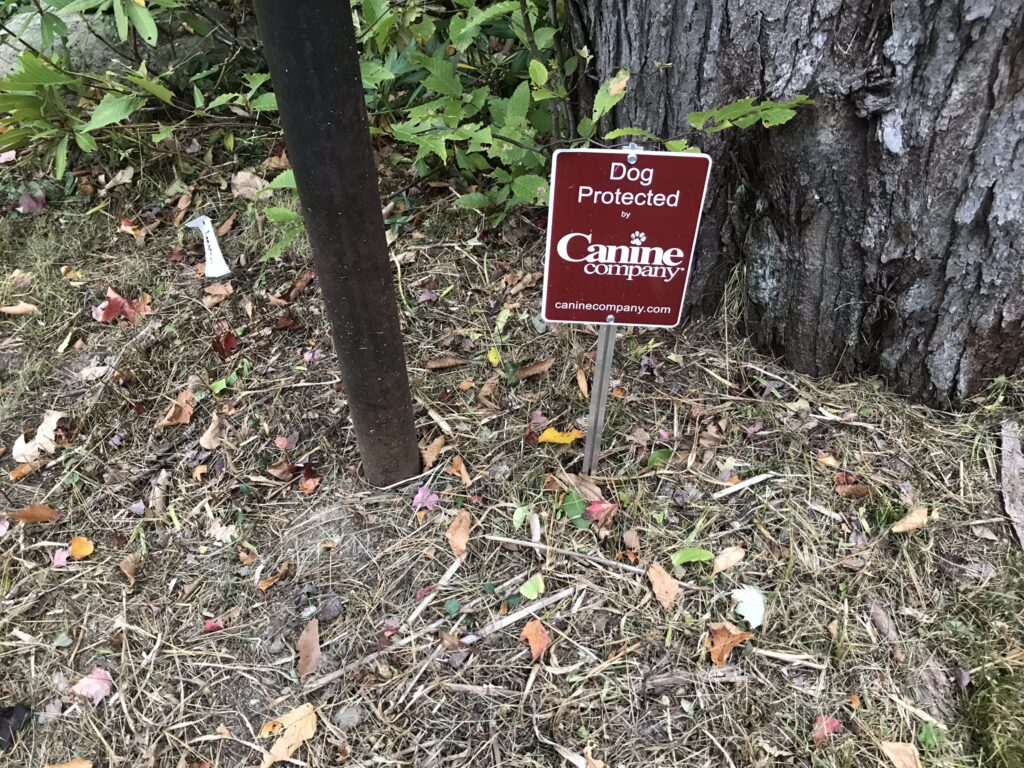 Thursday was a really big day. The Invisible Fence was installed. The dogs had been pretty good about staying around the house but at one point when I called them, Wyke was seen trotting down Birch Acres Road heading back towards our house. Not a good thing. There is very little traffic but still he shouldn't have been out there. Bean came through the woods. We were very pleased to have the fence installed and it took them less than 10 seconds to realize that total freedom meant staying on our almost one acre wooded lot not the whole neighborhood.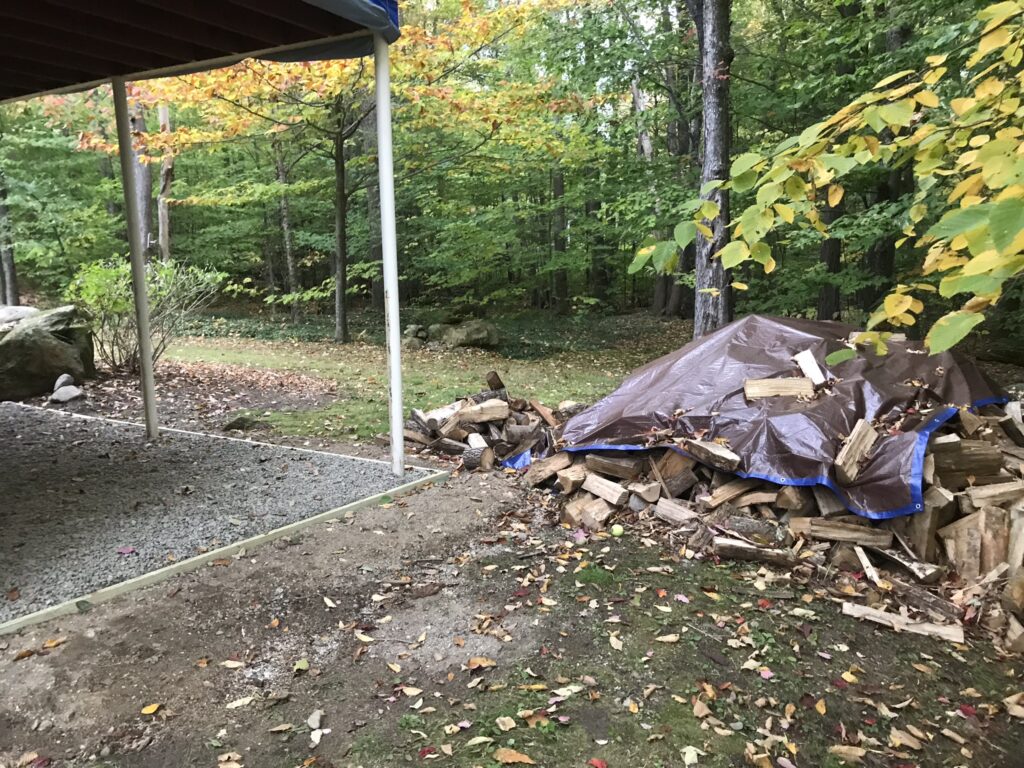 Before and After
In addition, John had hired Scott's Yard Care to come in and clean up the property. It was badly overgrown and just overwhelming to think about trying to bring it under control and work on the house at the same time. Trying to control a little bit of what was going on, he hired Scott's. They came in and cleaned out under the porch and prepared a bed of gravel for the firewood to be stacked on. Then they started on the yard work cleaning up overgrown bushes and pulling out vines. It looked like a new place when they were done. Wish the house inside would be so easy.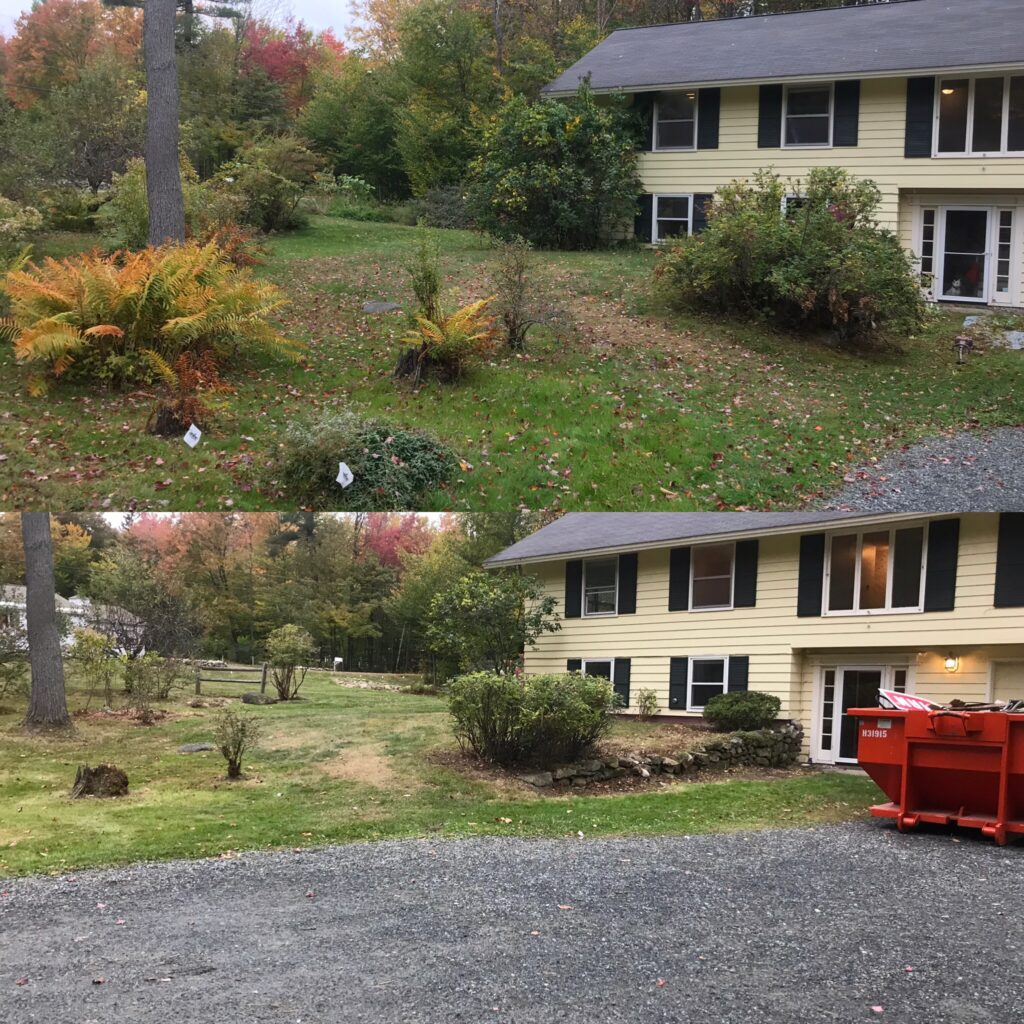 A Funny Story
This was a real accomplishment for us. We programmed the garage door openers. Sounds simple but unless you have done it before it really isn't. The sellers had no idea where the garage door openers were so we had to buy universal remotes from our best friend Amazon. With a newly purchased step ladder we were able to do the programming. Not perfect yet but we can open at least one garage door. At one point though, I had my opener opening both doors at the same time. Not ideal. We had a lot of laughs and will figure it out eventually. Two old folks trying to manage modern technology.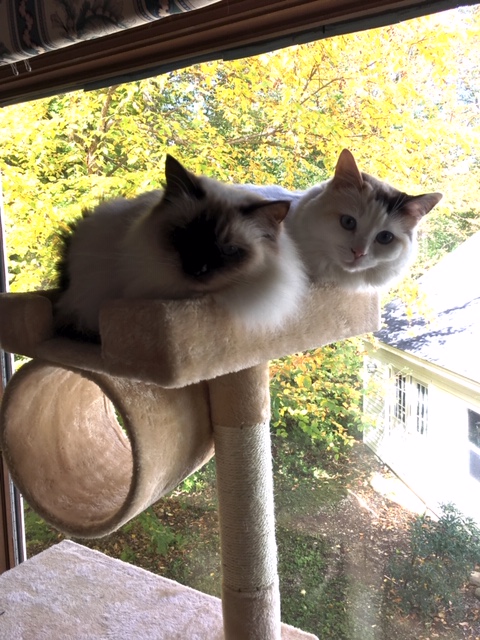 Cats Have Moved
In the middle of all this, every single time we made a trip from the farm house to the new house we loaded up whichever car or cars were going with boxes and other loose items that we could carry. As a result the garage is full of boxes lining the walls now. Thank goodness it is over sized. Still plenty of room for the cars. I don't think we realized how much stuff we needed to move. Haven't gotten to the furniture yet. The adventure is living in two places at once. The cats are not welcome at the farm house so we had to move them over to the new house on Thursday. The dogs are fine so they go back and forth with us. We cleaned the fridge and have lunch stuff and wine and cheese for emergencies so we are able to be here for the whole day only heading back in the evening for dinner and bed. It will work out.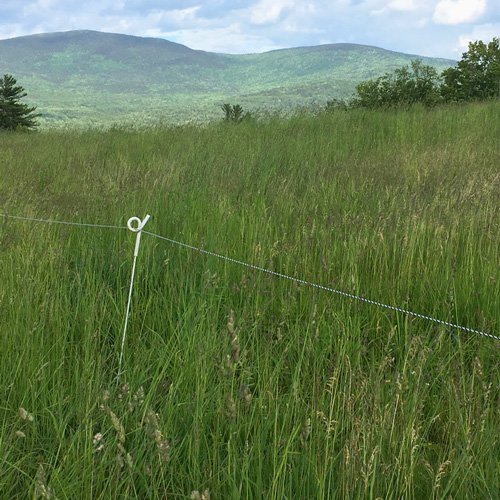 Happy Birthday Johnny
Saturday was John's birthday so he took most of the day off to enjoy resting his muscles. I surprised John with a visit to Cascade Brook Farm where we can buy grass fed beef and farm raised pork. Ed Canane greeted us and gave us a short tour of the farm and while we chatted we just stared at the gorgeous view up the mountain. It was a perfect fall day and the colors were gorgeous. We loved chatting with him about his cows and hearing how he came to be a farm in New Hampshire. We left with filet mignon for the birthday dinner, five pounds of hamburger, some stew beef and Ed threw in a package of his maple sausage as a birthday present. Through him we now have the name of someone who raises chickens and has eggs and other produce for sale in the area. I am so home!!!!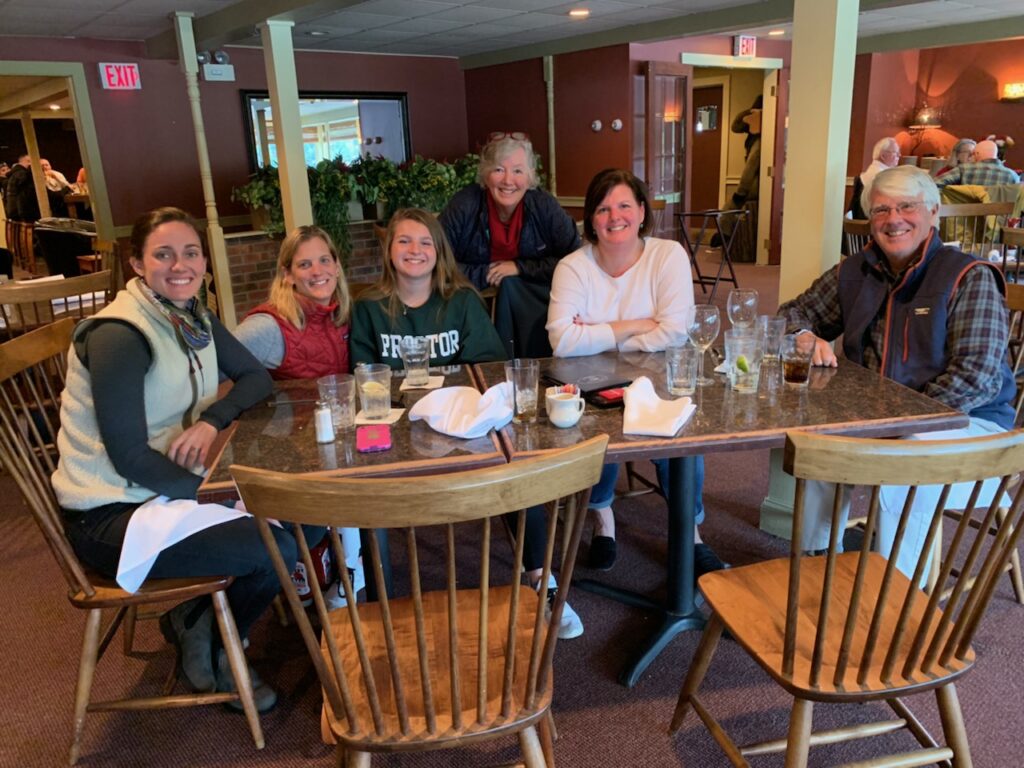 The really big surprise though was a visit with Margot and Hadley who were up in New Hampshire to attend a concert with Hadley's parents. John and I did not know they were coming and when they called him on his birthday to wish him a happy they invited us to lunch with them in Holderness the next day. What a lovely surprise for John to have both his girls with him on his birthday weekend.
Tired but Ready to Go Again
So this is the end of Week 1 – Reno Begun. Stay tuned. Not much cooking going on but lots of running up and down stairs and the occasional walk in the woods means that there is no shortage of exercise. I did come across a Smoothie Recipe this week that I am definitely going to add to my breakfast menu. It is from another person that I have recently begun following, Naomi Whittel. Give it a try.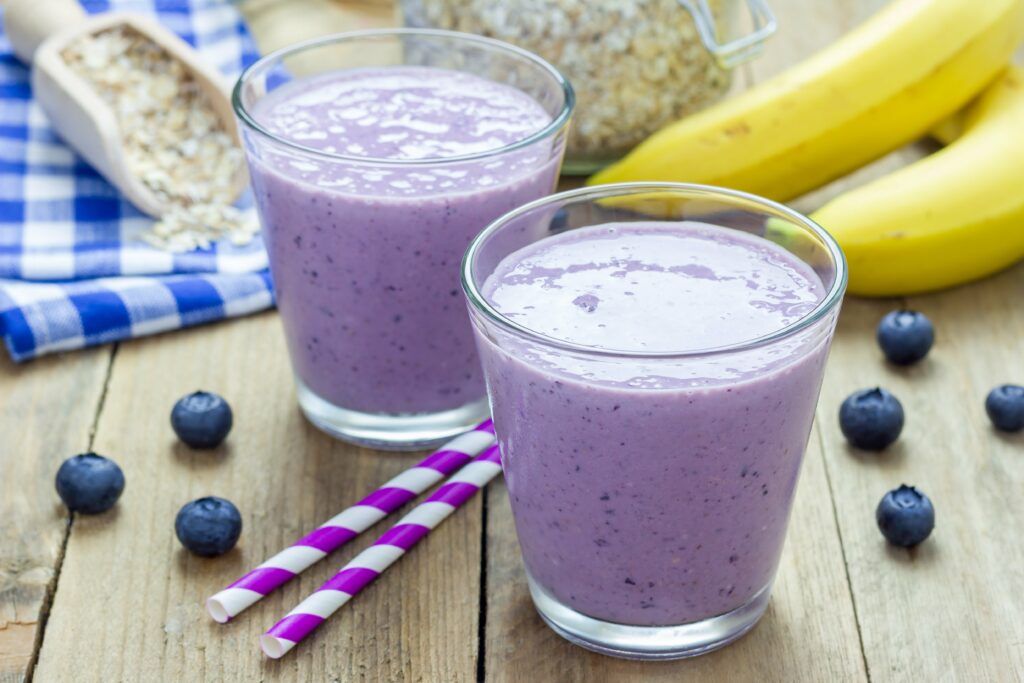 Blueberry Banana Almond Bergamot Smoothie
1 1/2 cups unsweetened coconut milk
2 cups spinach or leafy greens of choice
1/2 frozen banana
1/2 cup wild organic blueberries
juice of 1/2 lemon
1/4 cup raw almonds
1/4 avocado
Contents of 1 capsule  Bergamot Cholesterol Support
3 ice cubes
Blend all ingredients in a high-speed blender until desired texture is achieved. Drink immediately.