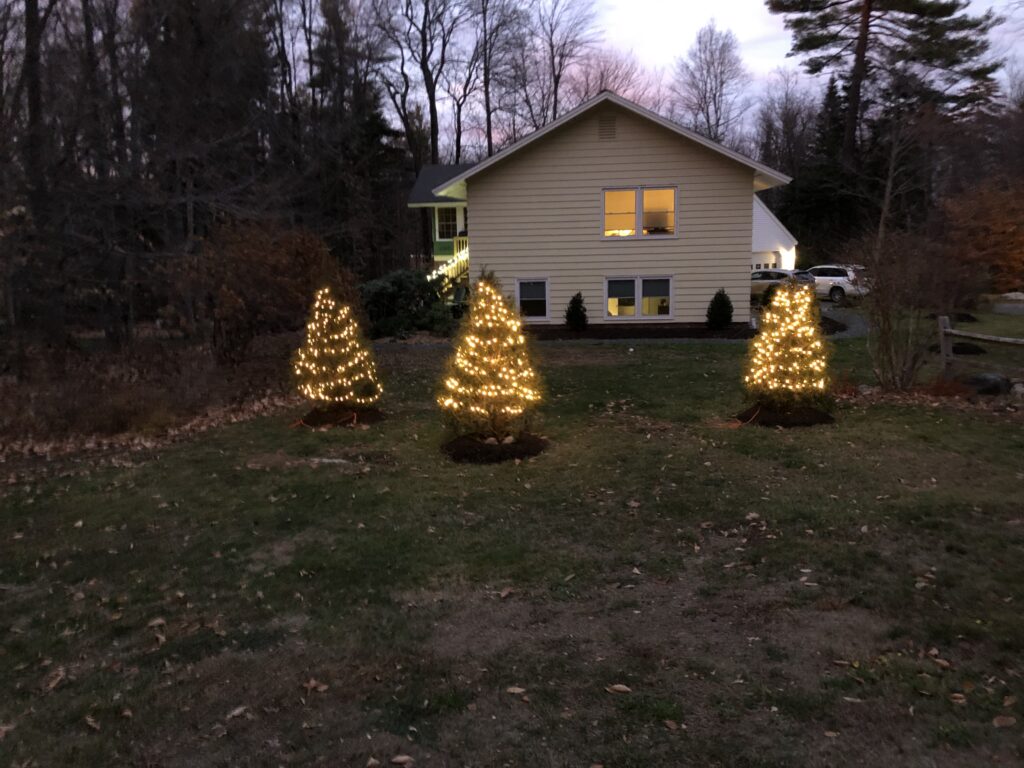 We are in the thick of it now. A number of things came together this past week that have given us hope of seeing some of this project actually get finished. Not that we really want it to be done quite yet but we would like to feel that significant progress has been made. Yes, it has. We have four bedrooms that are done but there is the inevitable but or except that we need closet doors in two of them and the electricity upgraded in the other two. Generally though, the rooms are very comfortable and livable. We finished up Jack's bedroom in preparation for his coming home for two and half months from college. He has not been in New Hampshire since last February and things really looked different back then – in more ways than one!!!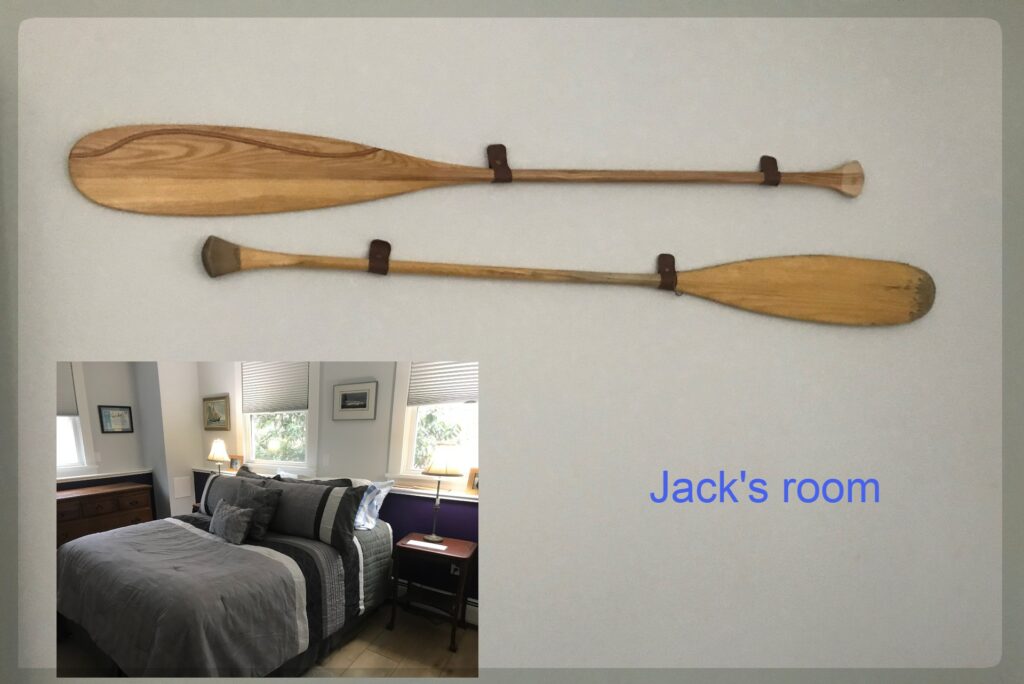 John was very creative in hanging Jack's paddles on the wall in his room. One paddle he made at Proctor his senior year, the other was the paddle he used to get to James Bay in Canada in 2017 and 2018 with the Wabun A trip. That is the camp that both he and Libby have attended for a number of summers. We were determined to make him feel welcome and at home. He was very impressed with his grandfather and how he attached the paddles to the wall. The leather holders unsnap so he can take the paddles down if he wants to. Nice to be able to look at them when he wakes up. So glad we got this done before he got home.
Trim Going in The Bonus Room and Office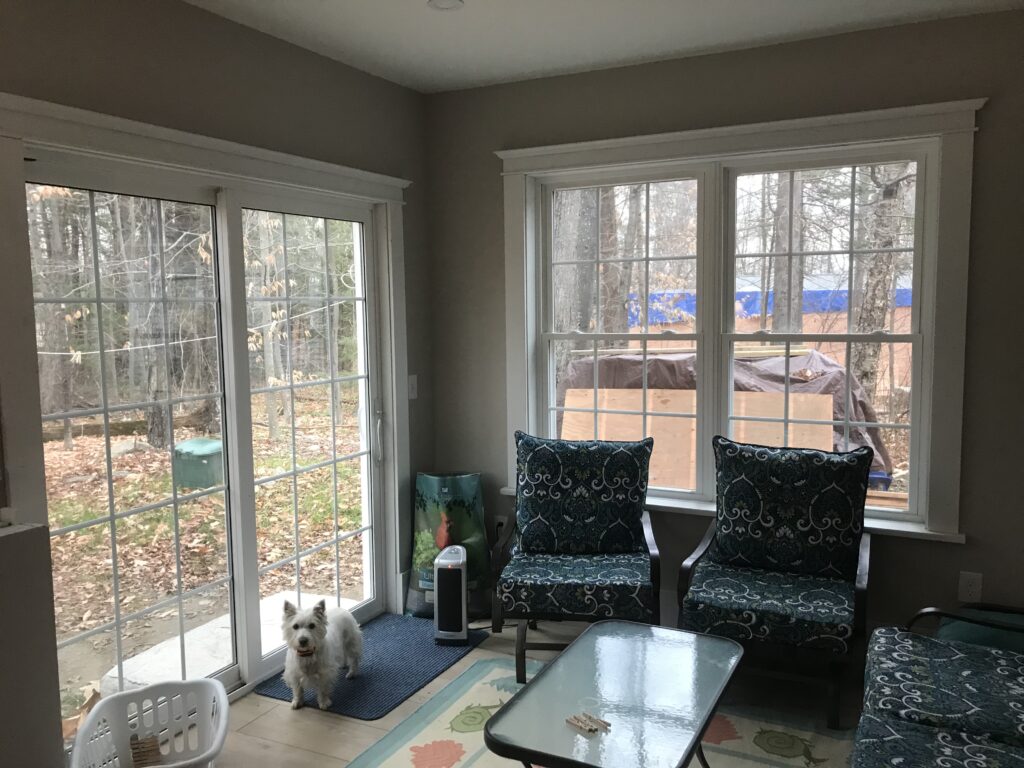 We had one day this week when Les was here and he spent the whole time putting the rest of the trim together. He figured out a method for cutting and creating the trim so when he went to install it he was able to do all the doors and windows in one room very quickly. Yes, it all has to be painted but does it every make a difference. The room looks finished. This is now my office and I am so completely happy in here. I have my music, candles, my salt lamp, chairs and a rug and my great find in the desk. Not to mention a wonderful view out the windows to the woods and the birds. Bean spends all day in front of the door watching for chippies and, yes, the bear. He hasn't been back for almost a week so we are hoping maybe he has decided to hibernate.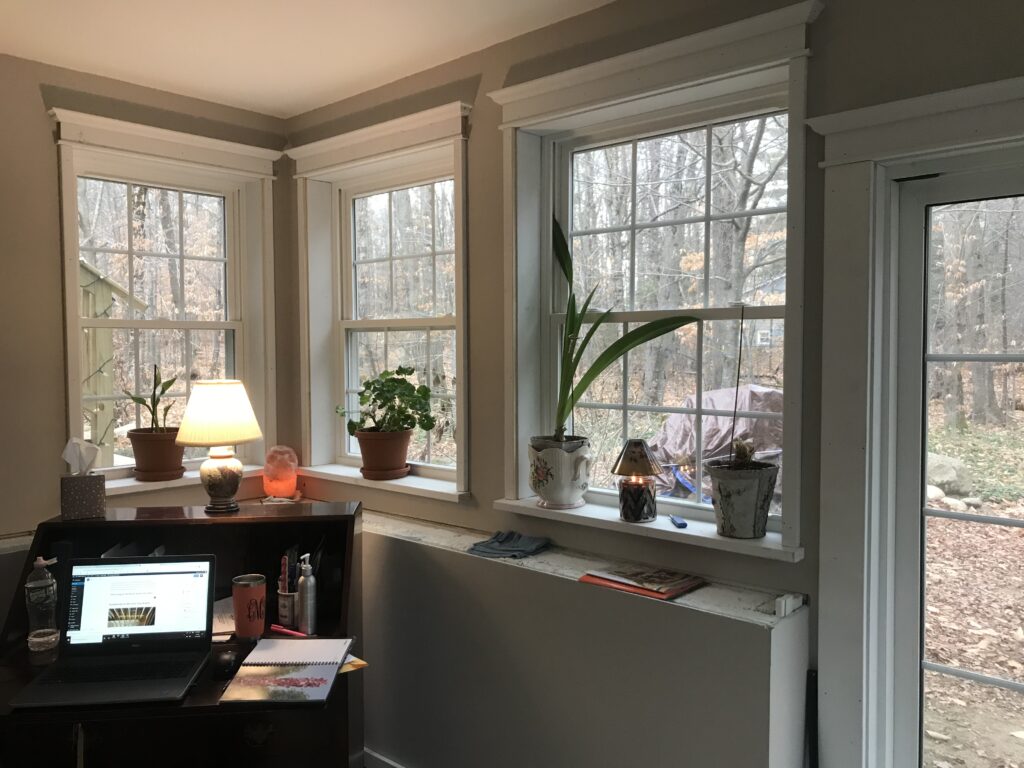 Insulation in the new Sun Room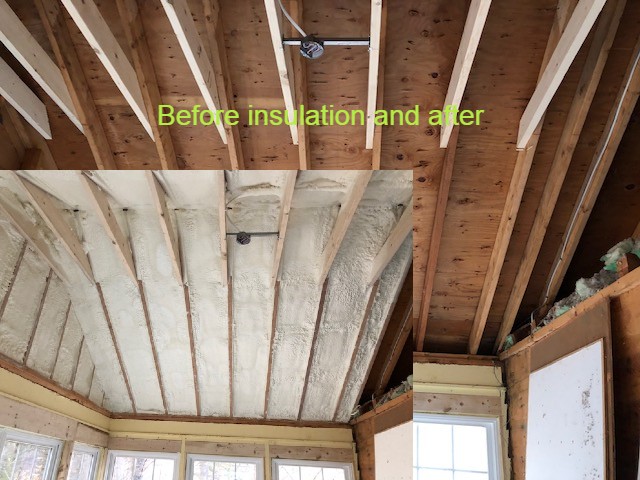 One of our favorite people is Jason who has done all the insulating in the house since we started this project. His company, Claremont Spray Foam, LLC. does the blown in insulation that is called Closed Cell Foam which is often made from renewable resources. It is also energy efficient and will last for the life of your home. What I didn't know is that fiberglass insulation has a shelf life of around 10 years. Yikes. When he arrived we showed him how the most recent rooms had turned out. He was impressed as he only gets to see them when they are in very rough basic condition, i.e. studs and wires. He was here to insulate the new Sun Room formerly known as the screen porch. It is now fully insulated but we don't have a door so you don't want to sit out there yet but we can see it in the not too distant future.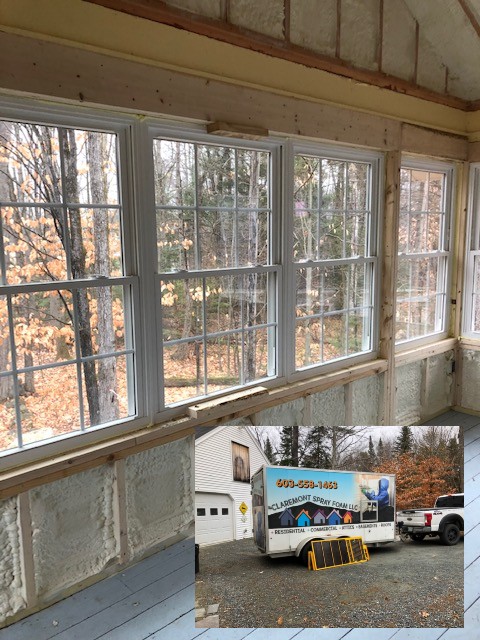 The sunsets from this room have been incredible this week. A bonus that we hadn't expected to have as we look out into the woods but without the leaves the sky shows through and it was something else on at least two or three nights this week.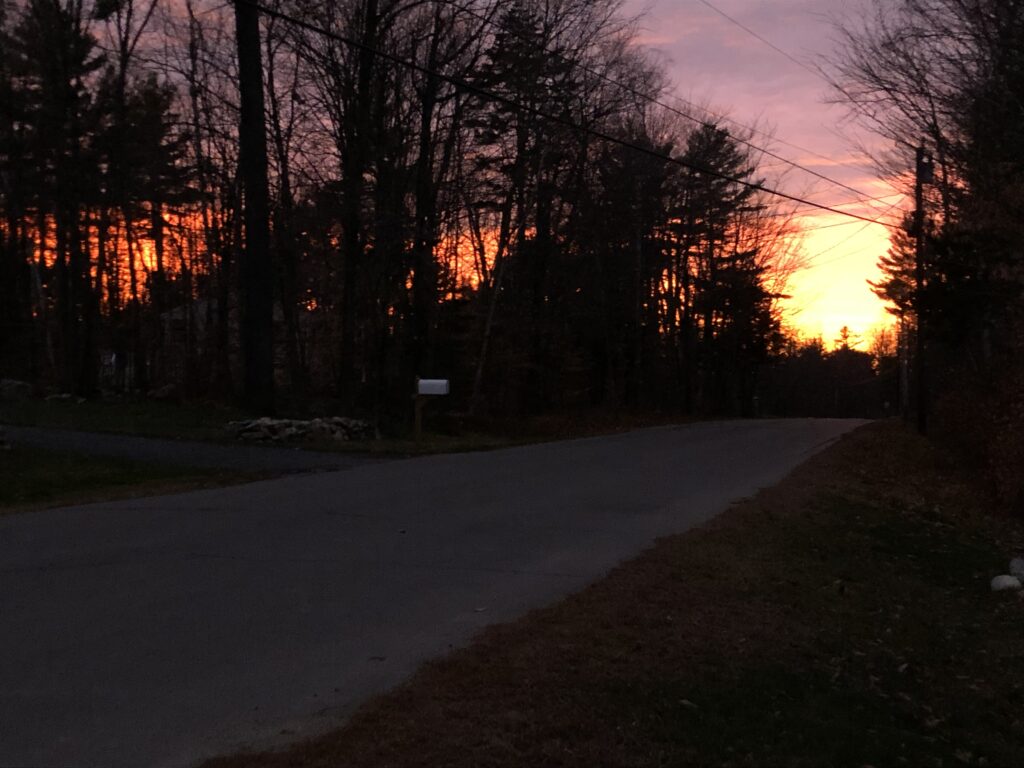 Getting Outside with Katie, Wyke and Bean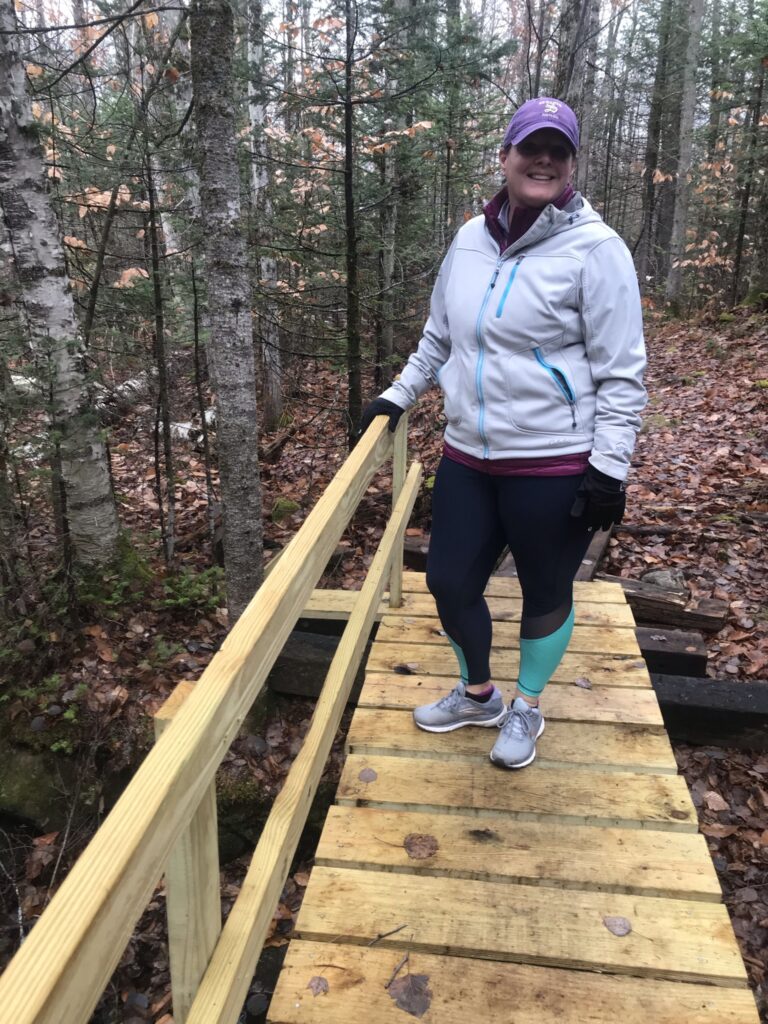 The beginning of the week was very warm so we walked happily for about two hours each day. The dogs went swimming and now Bean has a cold. Katie and I found a new hike that we both loved but it is much too short. We both really enjoy about a 5 or 6 mile hike and this one was only about a mile and a half. So we finished the walk and then went to another one of our walks to get a bit more mileage in. Around New London there is quite a network of foot paths that are maintained by the New London Conservation Commission. So far I think we have walked most of them. None of them are very long but they are interesting and well maintained.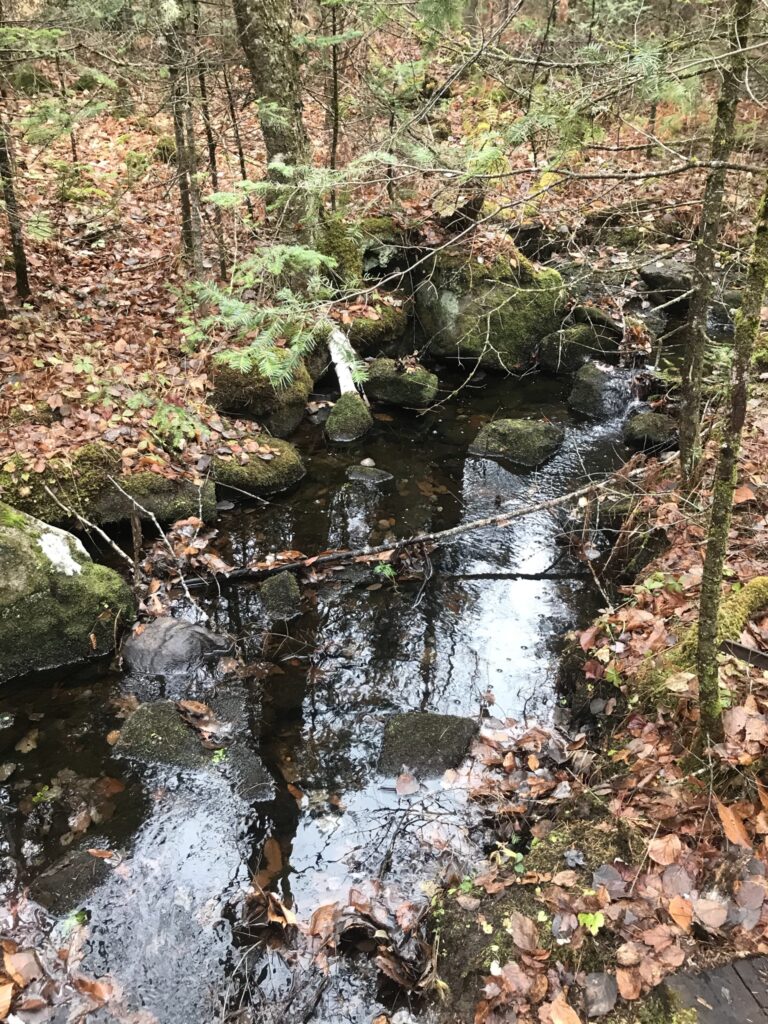 No Knead Bread becomes Cinnamon Raisin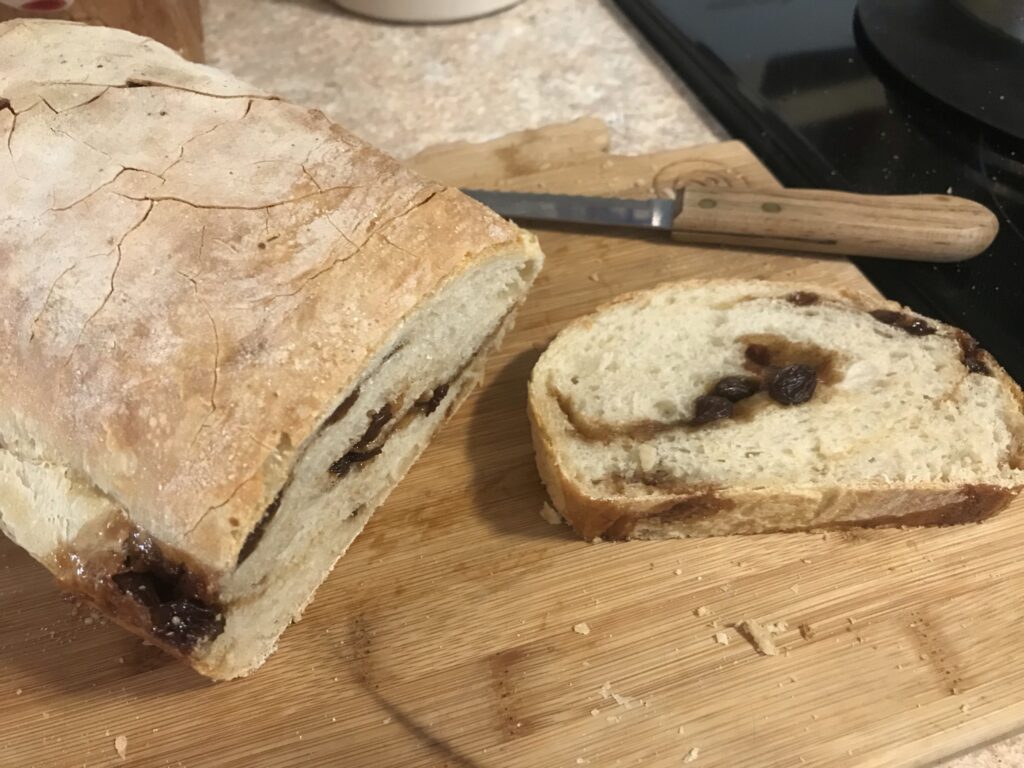 My grand daughter happens to love my bread. Next week is exam week for her so I decided to make her a surprise. She also loves the cinnamon raisin bread that we have been getting from a local farm stand. Since she drinks her coffee and eats her toast in the car on the way to school in the morning I felt this was a nice way to cheer her on. I made a regular loaf to go with my "everything but the kitchen sink" soup and then made her loaf. My first time trying and it turned out just about perfectly. Always a way to make it better but for a first attempt I am happy how it came out.
From the NY Times No-Knead Bread Recipe
INGREDIENTS
3 ⅓ cups/430 grams all-purpose or bread flour, plus more for dusting
¼ teaspoon instant yeast
2 teaspoons kosher salt
 Cornmeal or wheat bran, as needed
PREPARATION
In a large bowl combine flour, yeast and salt. Add 1 1/2 cups plus 2 tablespoons/390 milliliters water, and stir until blended; dough will be shaggy and sticky. Cover bowl with plastic wrap. Let dough rest at least 12 hours, preferably about 18, at warm room temperature, about 70 degrees.
Dough is ready when its surface is dotted with bubbles. Lightly flour a work surface and place dough on it; sprinkle it with a little more flour and fold it over on itself once or twice. Cover loosely with plastic wrap and let rest about 15 minutes.
Using just enough flour to keep dough from sticking to work surface or to your fingers, gently and quickly shape dough into a ball. Generously coat a cotton towel (not terry cloth) with flour, wheat bran or cornmeal; put dough seam side down on towel and dust with more flour, bran or cornmeal. Cover with another cotton towel and let rise for about 2 hours. When it is ready, dough will be more than double in size and will not readily spring back when poked with a finger.
****This is where I rolled out the dough, spread the cinnamon, brown sugar and raisin mix on the dough and then rolled it up and put it in a bread pan to rise for the two hours. When I put the other bread in the cast iron pot I just put the cinnamon loaf in the over along with it. Cooked it for 30 minutes.****
At least a half-hour before dough is ready, heat oven to 450 degrees. Put a 6- to 8-quart heavy covered pot (cast iron, enamel, Pyrex or ceramic) in oven as it heats. When dough is ready, carefully remove pot from oven. Slide your hand under towel and turn dough over into pot, seam side up; it may look like a mess, but that is O.K. Shake pan once or twice if dough is unevenly distributed; it will straighten out as it bakes. Cover with lid and bake 30 minutes, then remove lid and bake another 15 to 30 minutes, until loaf is beautifully browned. Cool on a rack.