Update on Jenny Lane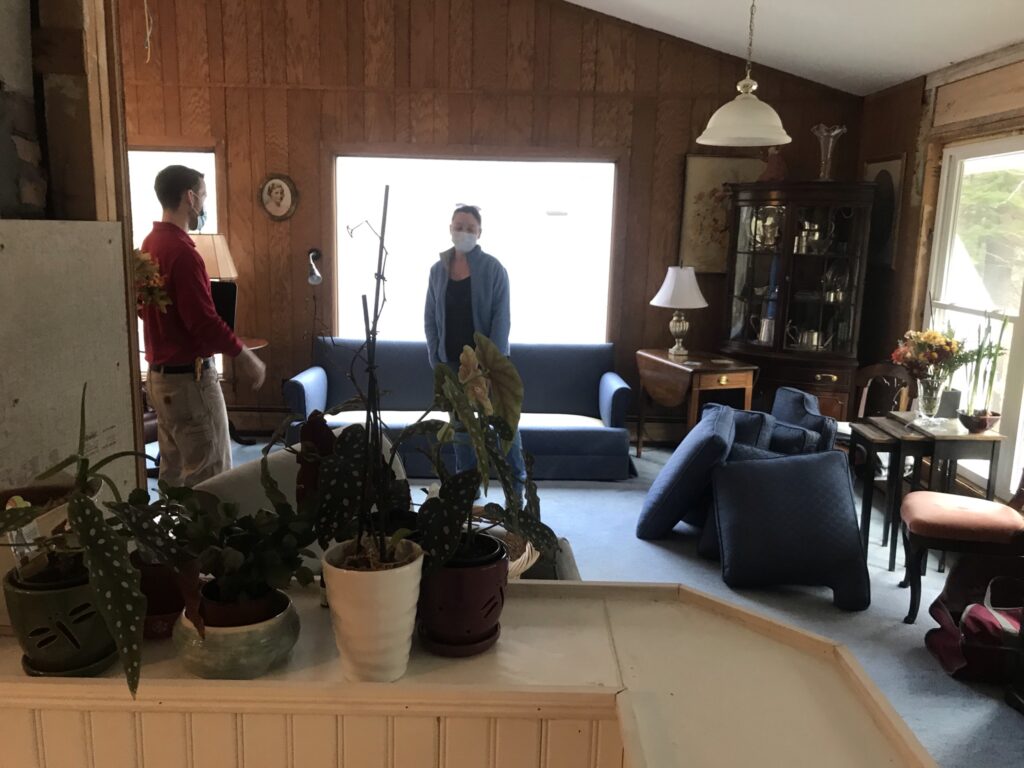 We had two days this week that were just pure craziness. On Monday it was a three ring circus with the long awaited delivery of the reupholstered couch, the quick visit by the Budget Blinds guy to measure some windows, the arrival of the guys who are working on the house and the chimney fellow who stopped by to see what was needed for the gas fireplace chimney. In all cases everyone wore a mask and stayed at least six feet apart plus we had windows and doors opening and closing constantly. Luckily it was a pretty nice day. I was so confused I wrote the wrong name on the check for the Melissa who did the reupholster work on the couch. AND the dryer is broken!!!!!
The Return of the Couch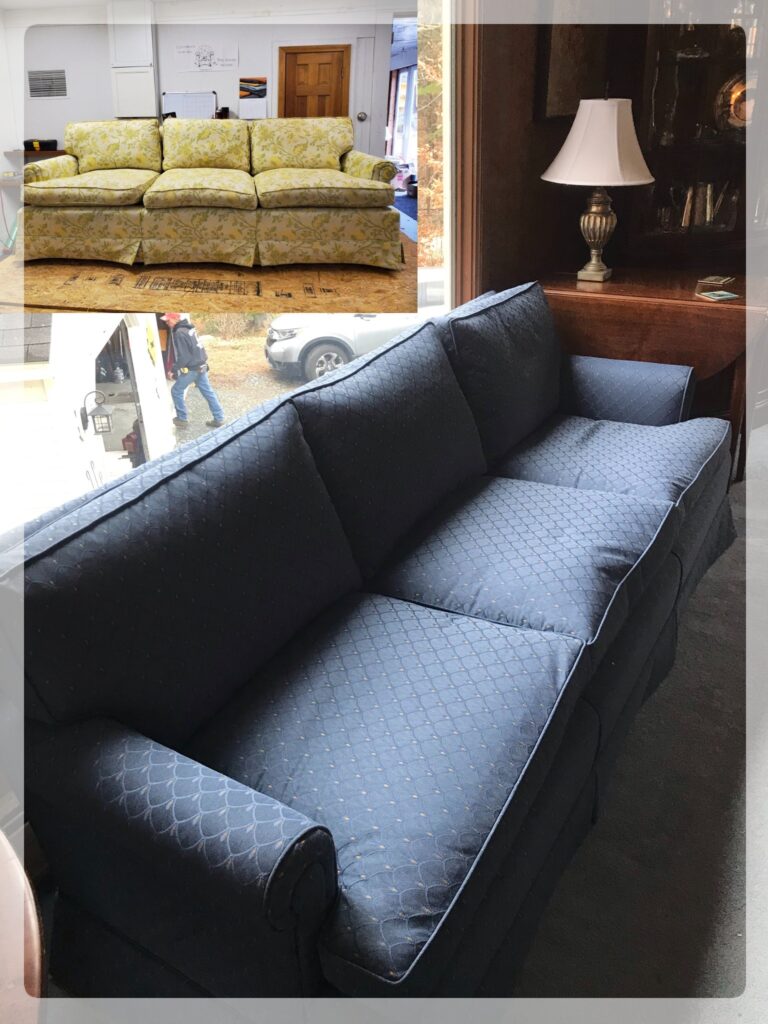 The couch belonged to my mother and hadn't been redone in I would bet 30 years or more. It arrived at daughter Katie's farm house after we moved things out of mum's house in Montreal. When we moved out of the farm house last October, the couch went to Melissa's with instructions to not hurry as we wouldn't be ready for it for quite awhile. Little did we know. We ordered the material in May and it was delivered to us this week. We moved the upstairs couch to the new family room to make room for the new refurbished couch. Luckily we had three strong guys here who were able to move it because it is a beast. They were able to bring in the new couch and put it upstairs too. I wasn't sure how Melissa, who is absolutely tiny, along with her Dad, Roger, thought they were going to do it. Roger had recently broken his collar bone and torn a bunch of ligaments so he wasn't in very good shape. By the way, Roger is the person who did all of our outside work with the drains and the pathway and the stairs and patio. Plus he dug the hole for the propane tank and supervised the cement work for the Bonus+ room. It is definitely a family affair here in New Hampshire.
Windows and Chimney Stuff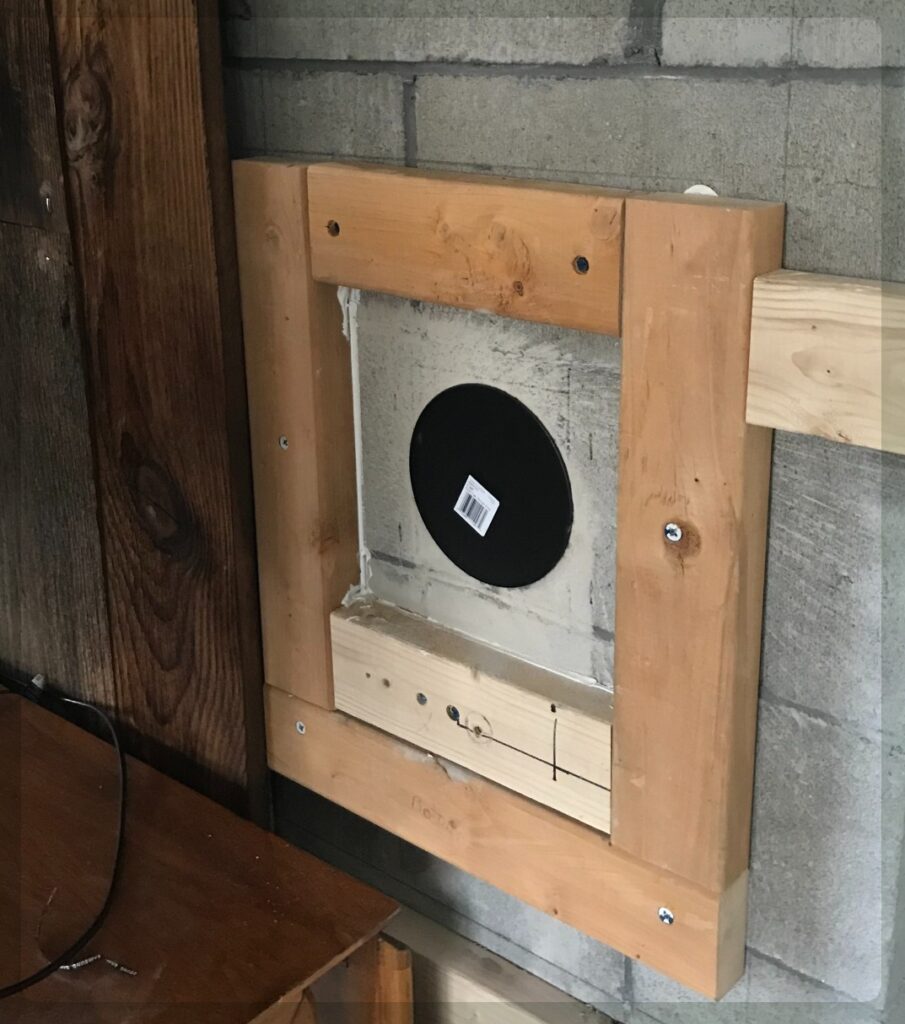 The window shades got ordered as it was pretty easy since we wanted the same thing we already had. Aaron just made sure he had the right size for the windows. The chimney guy actually worked with stove guy to make sure that all was good for the gas fireplace. Our guys had to make an adjustment by putting an 11×11 frame around the thimble they had cut into the chimney but otherwise it all looked good. Don't know when the liner and topper will go in but sooner rather than later I guess.
Barn Board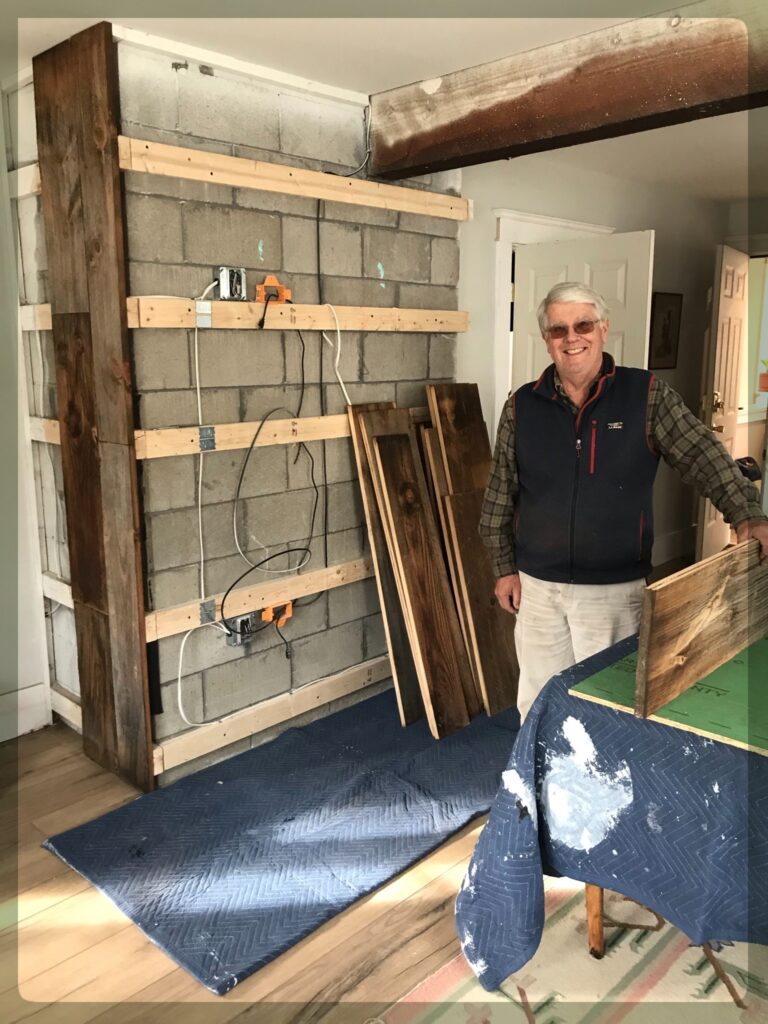 Then the barn board arrived. It comes from an over 100 year old barn that Chris and Les had bought after it was torn down. Oh my is it beautiful. We are thrilled with this extravagance. Chris was so excited to start putting up the barn board he could hardly contain himself. They enlisted John's help in brush cleaning the boards and staining the edges. He used a very stiff wire brush to scrape out years and years of dirt then he stained the sides of the boards. By Friday they had 2/3 of the chimney covered. The boards that will cover the beam are too long for John to work with without saw horses but he will get to them this week I think. Grand daughter Libby said it was like real HGTV seeing it go up. John and I agreed. We actually sat and watched them put a bit of it on. Chris is using a nail gun to attach them and them putting in the flat head authentic nails to accent the boards. This is really going to be the signature spot in the family room (aka Bonus Room).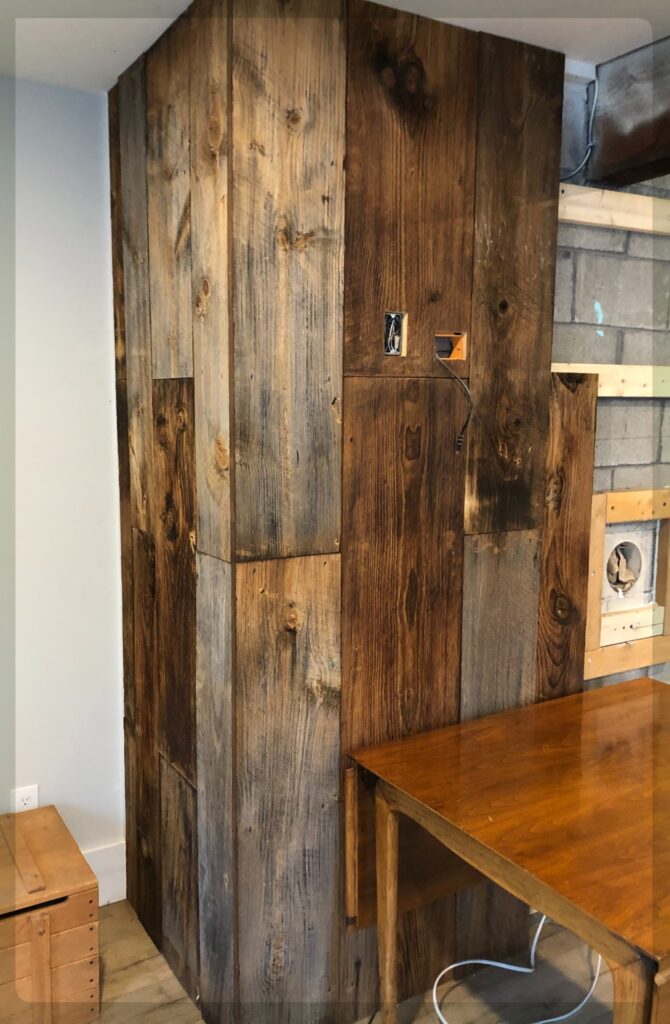 We Are Ready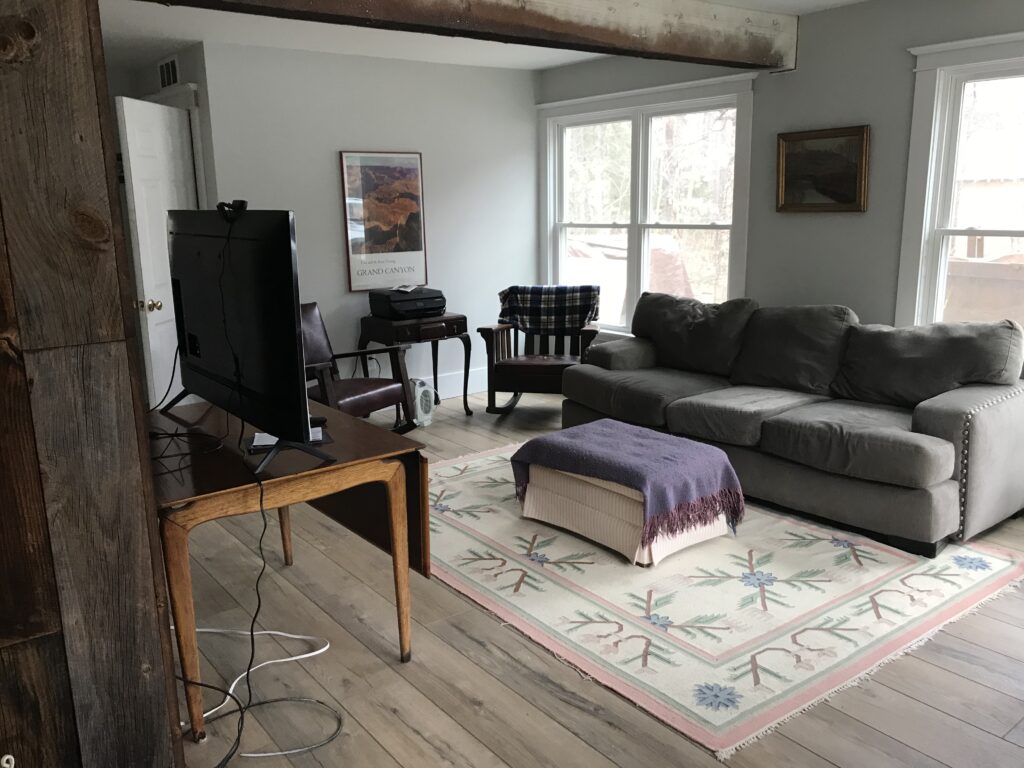 The guys finished all the trim in the two downstairs rooms this week as well. All the baseboards are in and the "counter top" in my office is done too. It all needs to be painted but that is a job for a snowy stay inside day in the future. However, it really looks good to see things finished. The replacement for the broken tv came and is now up and running. It's hooked up to the internet but not to the cable yet but will be eventually. In the meantime we can watch Netflix or HGTV or whatever is streaming on the internet. Not too bad actually. Once Jack gets home we will be able to have a spot for him and for Libby to go and watch what they want without making the rest of us join them. Since we will be five living together for the next two months or more it seemed prudent to prioritize this project.
Deal of the Month
Somewhere in there I found the deal of the century when I went to the Renaissance Shop (supports the work of the VNA in our area) and found two matching arm chairs for the living room for $20 each, plus a footstool. They had just come in and have some stains on the sides but otherwise are in excellent shape. We will enlist the help of Melissa, the upholsterer, to find material and to reupholster them come the spring. Meanwhile they are very comfortable and certainly useable.
Walking This Week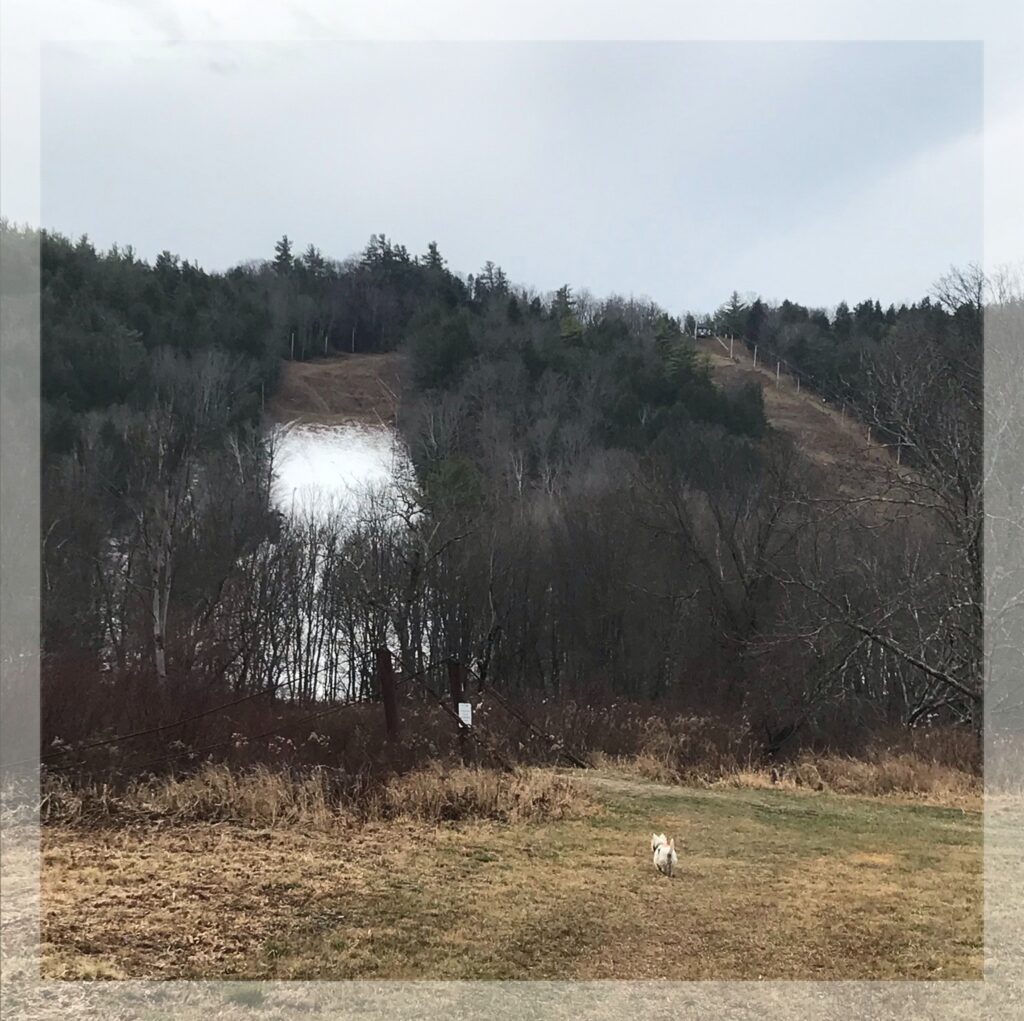 Weather was pretty decent this week so the dogs and I got out for almost 20 miles on four days. I recently read a blog post from Tom Ryan who said " I returned to the marathon and Ironman training of my late twenties and we're concentrating on LSD—long slow distance. It builds endurance in the cardiovascular system and our muscles." I was so relieved to read this. It has been a question that I have asked myself from time to time. Is it better to go out for a fast three mile walk or go for distance and a longer time. Tom had an almost deadly health situation a few years ago and has been on quite a journey himself. I love his writing and his stories about his hikes with his dogs. I see a little of myself in him. We share a love of the outdoors and our dogs. I am not quite as solitary or brave as he is but I certainly appreciate what he has to say. His dog, Emily, had reconstructive surgery a few months back and he has been focused on getting her well again which is what he is referring to in the quote. Emily is doing exceedingly well. Click on his name above if you want to learn more.
Cooking and Baking This Week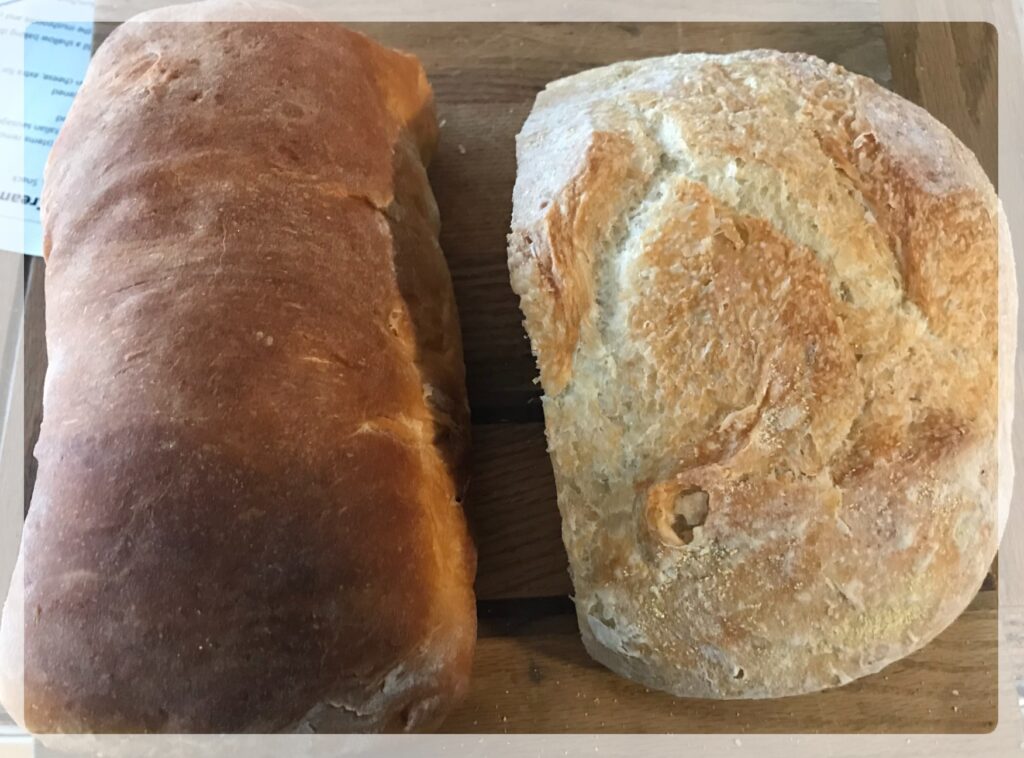 I made more bread again this week and worked on perfecting the Cinnamon Raisin Bread to Libby's expectations. It came out much better but I realized I needed another bread pan because my recipe made two loaves and a round loaf doesn't work as well with the filling.
We have also been placing a weekly order for fresh fish from our local Springledge Farm. John is the pro at cooking fish and has provided some really delicious meals. This week was Flounder with a Garlic Aioli Sauce.
Baked Flounder with Lemon and Butter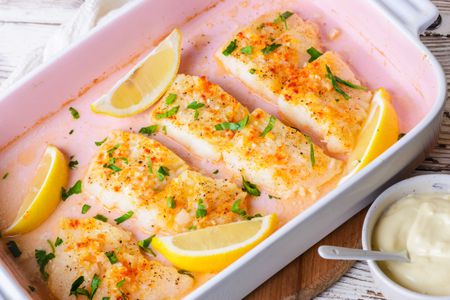 Ingredients

For the Flounder:
1 1/2 pounds flounder fillets (or sole)
1 teaspoon salt (or to taste)
1/8 teaspoon black pepper
4 tablespoons butter (melted)
2 tablespoons fresh lemon juice
2 teaspoons onion (finely minced)
1 teaspoon paprika
For serving: fresh parsley and lemon wedges

For the Garlic Aioli (Optional):
2 medium cloves garlic
1/2 cup mayonnaise
2 tablespoons olive oil
1 tablespoon fresh lemon juice
Salt (to taste)
Prepare the Fish
Gather the ingredients.
Grease a shallow baking dish. Preheat oven to 325 F/165 C/Gas Mark 3.
Cut the flounder fillets into serving-size portions.
Arrange the pieces in the prepared baking dish, and sprinkle fish with salt and the freshly ground black pepper.
In a small bowl or measuring cup, combine melted butter, 2 tablespoons lemon juice, and minced onion.
Pour the lemon-butter mixture over fish.
Sprinkle the fish with paprika.
Bake in the preheated oven for about 20 to 25 minutes or until fish is cooked through and flakes easily with a fork.
Garnish with chopped parsley, lemon wedges, and serve with garlic aioli (if desired).
Prepare the Garlic Aioli (Optional)
Gather the ingredients.
Place the garlic in a small bowl and mash well with a fork. Or mash it using a mortar and pestle.
Add the mayonnaise, olive oil, and lemon juice and then whisk to blend thoroughly.
Season with salt.
Cover and chill until serving time.