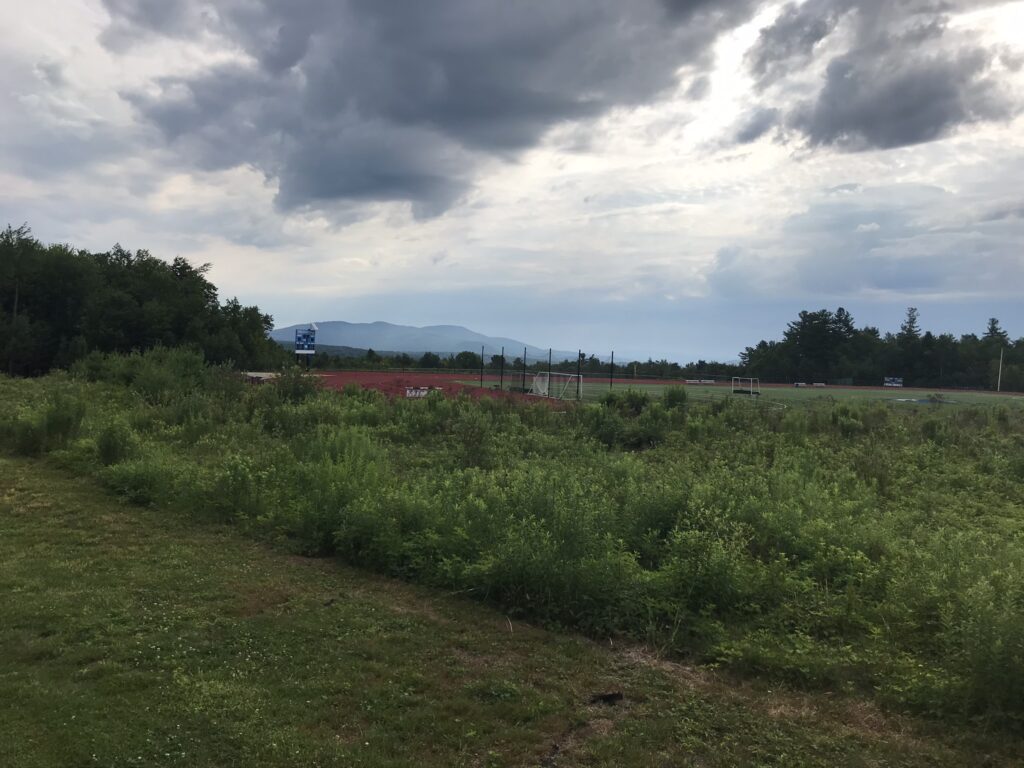 We have now completed our second time in quarantine. After our trip to North Carolina we were asked to self-isolate for 14 days as we had been out of New England. We were able to do so with one or two exceptions to get some medicine and groceries. Obviously wore a mask and used hand sanitizer. We are now able to move about freely. The nice thing about this time of year is that we can be outside pretty much all the time and walking on ones own is fine. The weather is now very warm so we are back inside for a day or two but this is quite unusual in New Hampshire. The lower half of our house is very cool as part of the walls are below ground level which keeps it cool.
Walking in the Woods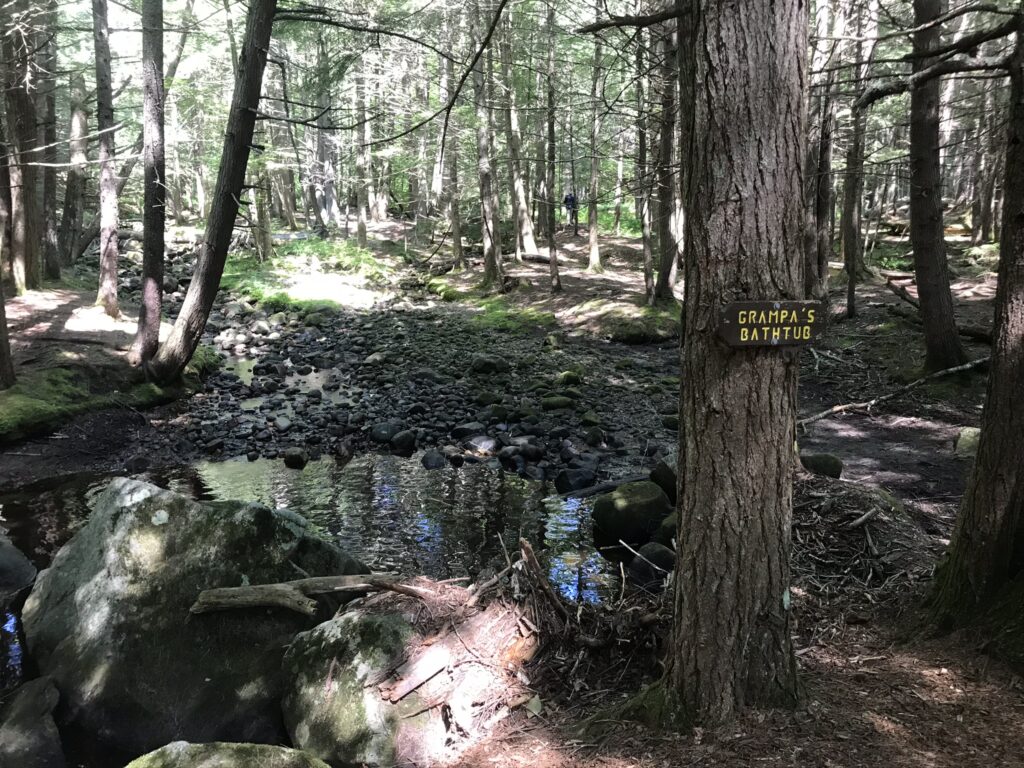 Most of my walking this week was in the woods around Pleasant Lake. In January Katie and I went for a hike on the Bunker Loop and climbed all the way to the top. When we got there we took a wrong turn and that is when I fell on the ice and cut my leg rather badly. I went back there this week because I wanted to be near a stream but not to far off the beaten path. It is quite different in the summer. The last time I was on the route it was frozen solid and covered with ice and snow. It is beautiful now. The dogs absolutely loved it. The lower route is not terribly long, about two miles, but it has a very steep climb so you get a really good workout. My heel is better but I am still very slow so the dogs had to wait for me and frequently came back to make sure I was still following them. They have become very good at keeping an eye on me as I do on them. We have become very good hiking companions. Bean is usually exhausted from chasing the chippies through the stone walls. Wyke runs ahead to check on things along the path but he always either waits for me to catch up or he comes back to find out where I am. It was a good week of hikes.
Jenny Lane Update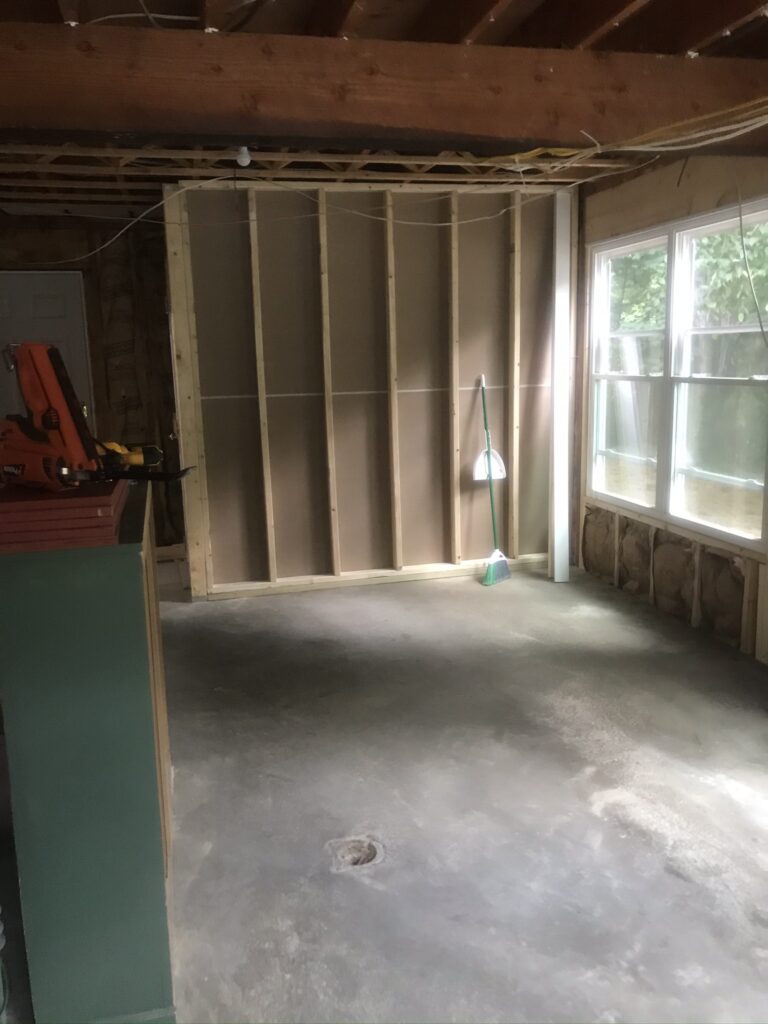 Another busy week. The guys came and spent quite a bit of time working on the trim of the new windows. This is time consuming but does it ever make a difference in the look of the house. Our landscaper, the digger man Roger, finished up his part of the project and left us with a big bill but a much beautified back and side yard. The fun is in the planting of the two new gardens that he created around the new addition. The other item that was completed was the enclosing of the furnace and moving of the laundry room door. Fascinating to watch them build the wall that went up around the furnace. They built it on the floor and then, just like a barn raising, they pulled the wall up and put it in place. They reused the original door to the garage from the hall as the door to the new furnace room.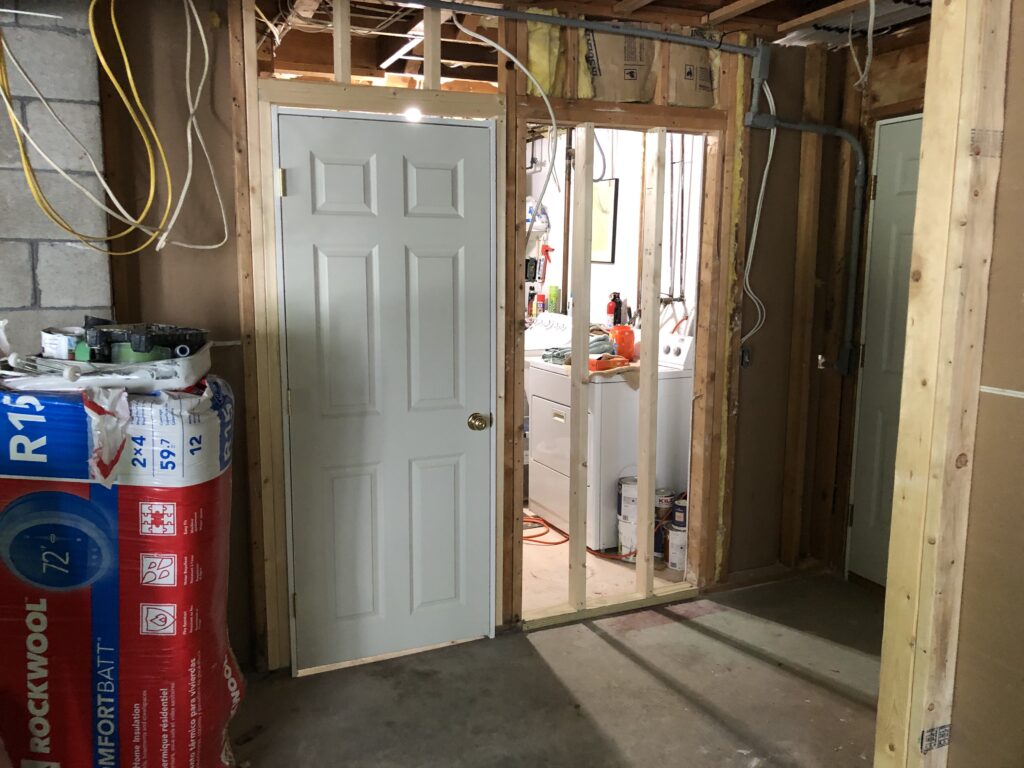 Then they moved the laundry room door over so that it didn't open right into the space where the furnace room is. It's the little things. This week the electrician comes to do the wiring, then the insulation guy and then we get to put up the walls in the new bonus room, formerly the under house garage. The house already feels bigger. John finished taking down the walls in the hallway in preparation for the new flooring which will go in the first week of August. He still has to get the old flooring up which is going to be a big mess. Right now everything is very open which is nice but it won't stay that way for ever. We will close it up again but with real walls and new electrical work. We are looking forward to that day. The first thing you see when you come in the house is the entry hall so it needs to be welcoming.
The Stove is on the Fritz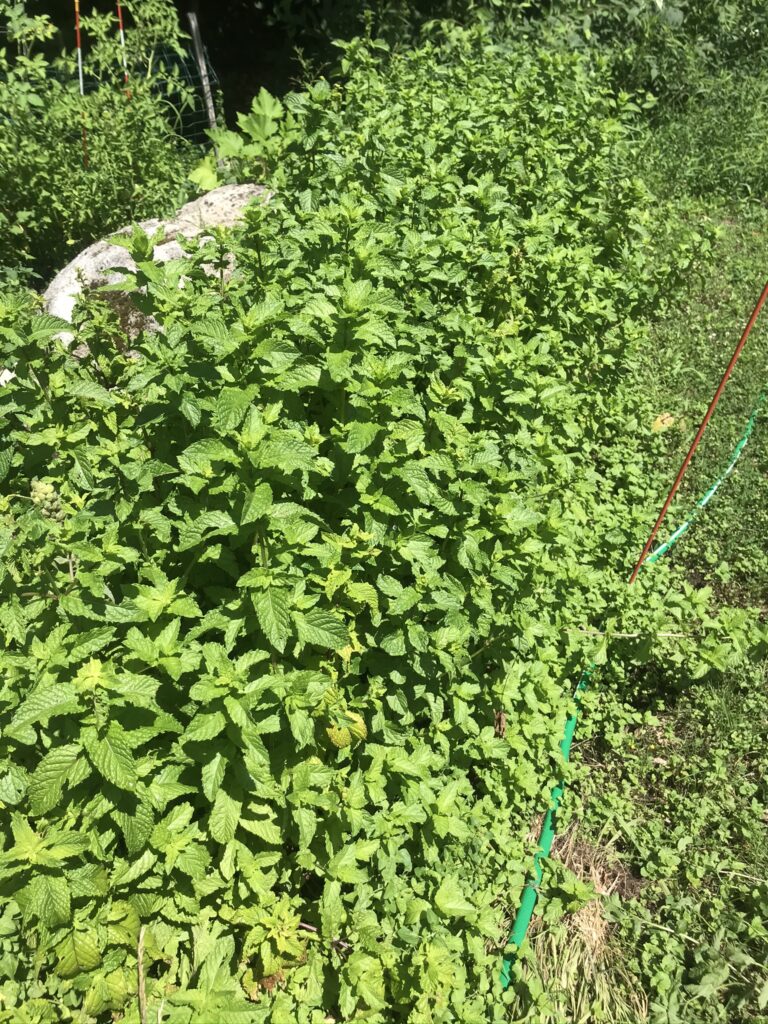 There is a heat sensor that seems to have gone berserk on the new stove. We cannot use the oven and every time we use a burner it beeps at us. So cooking has become a grilling event every night. We have tried some new things this week including lamb burgers. Katie decided to cook them and we did not remember that they are easily ignited so we had a conflagration in the grill. No danger but it caused quite a stir. Not thinking we will do that again soon. She did, however, make Naan bread to go with the burgers which was delicious and used some of our volume of mint to make a sauce for the burgers.
The Victory Garden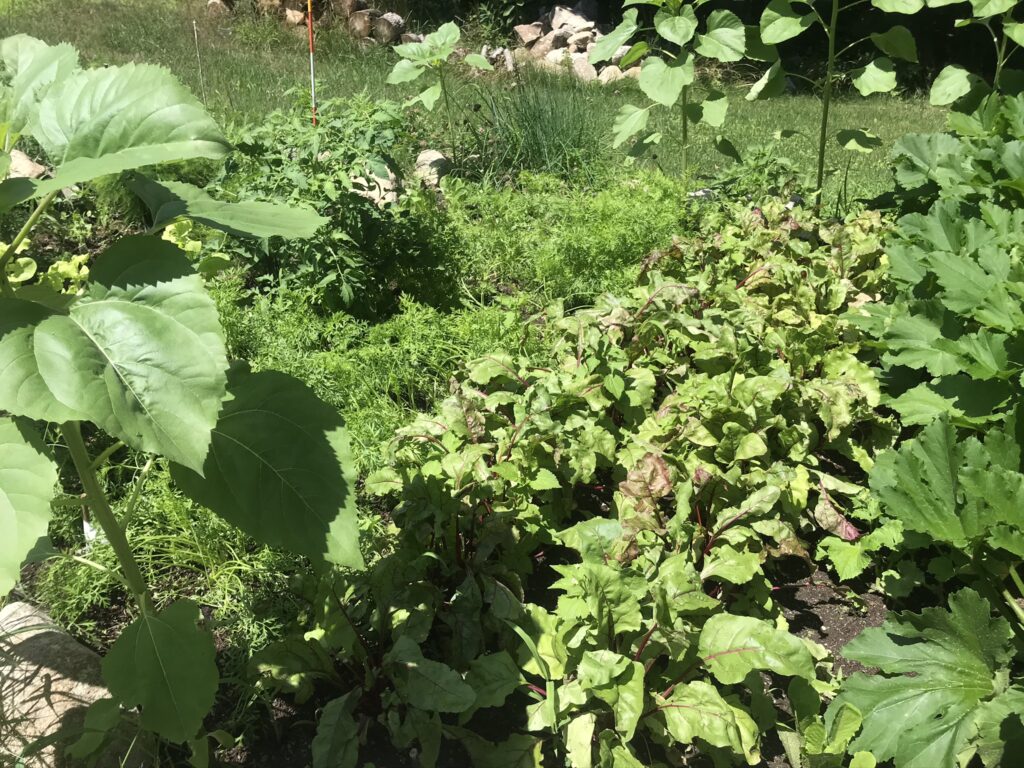 We are starting to harvest vegetables from our garden. We have had broccoli and beets and some baby carrots this week. In addition, we have finished up all the spinach and the green leaf lettuce. Now we wait for the Romaine Lettuce. The beets are yummy. We also have had zucchini and some little orange cherry tomatoes that are delicious. The basil is doing well as is the cilantro which Libby uses when she makes her guacamole. We have enough mint and oregano to feed the entire town. John planted sunflowers around the outside of the garden and they are huge. However, we awoke Saturday morning to find that one of them had been denuded of all foliage. I guess the deer came by for a visit. Not sure why they didn't eat the rest of them or anything else in the garden but so far so good. Maybe said deer actually didn't like the sunflower in retrospect.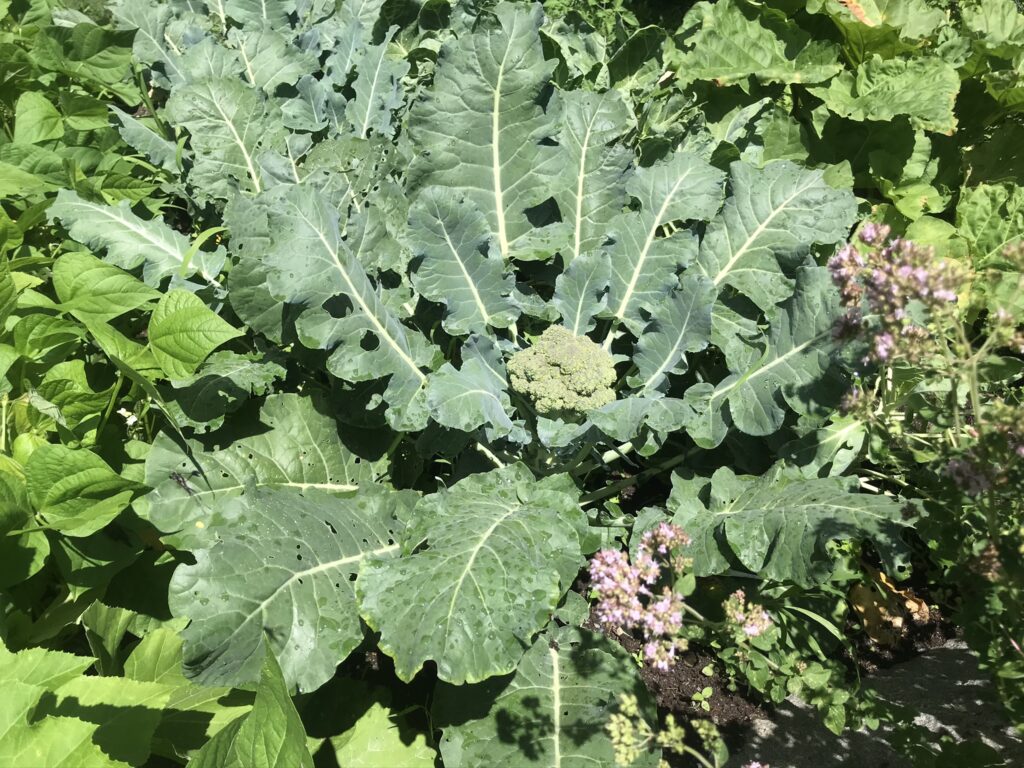 Our grass is growing and filling in very quickly. Not quite ready to be mowed but it won't be long. It already looks so much better. We are beginning to plan flower gardens and foundation plantings. There is always something fun to look forward to doing around here. When we did the drainage in the fall we lost all the foundation plantings that had been around the house for years. In some cases it was lilacs that had been there for ever. We were sad to see them go but they were way too close to the house. John found a young man who is taking a landscaping course and he has offered to do a plan for us as part of his schooling. We are interested to see what he comes up with for us. So far he has taken lots of measurements and soil samples. Fun to watch where this project goes.
Adventure of the Week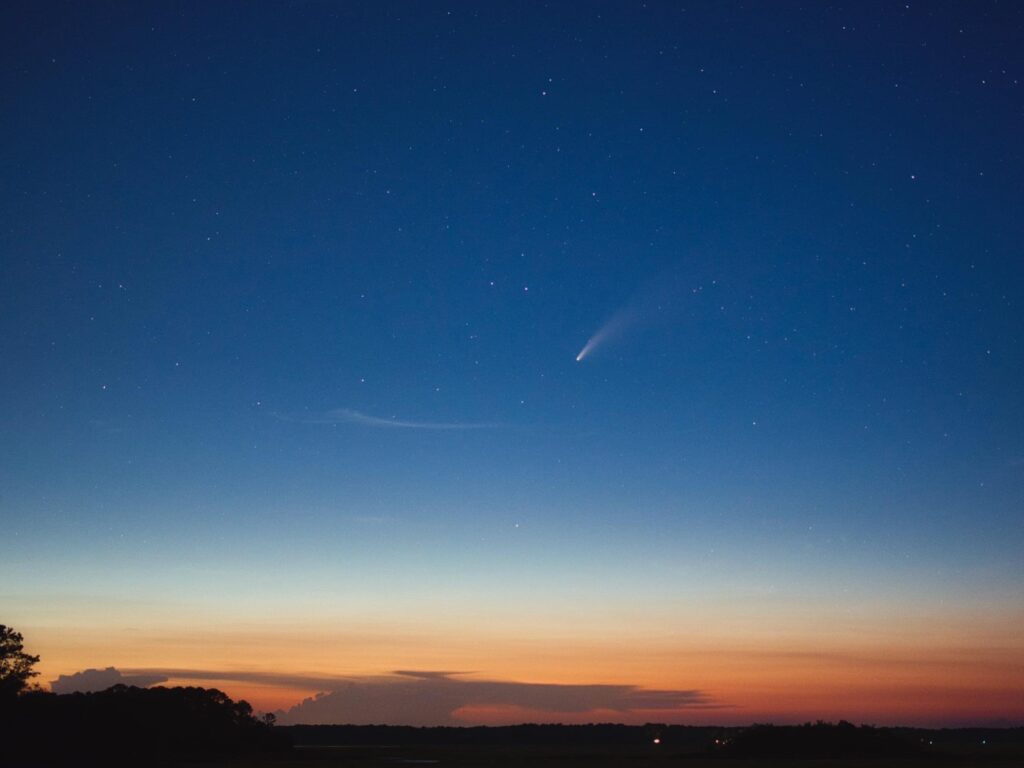 I had been reading about the comet all week and saw some great pictures taken from the Mount Washington Observatory so decided that we needed to go on a hunt to see if we could find it in the sky. Our first thought was to go over to the fields at Colby-Sawyer. There is a big open sky there and we were pretty sure we would be able to find the Big Dipper and the horizon from in the middle of the fields. However, we went a little bit too early and ended up being eaten alive by the mosquitoes. Then Katie suggested that we try one of the beaches to see if that was better. It was. We got there and found the Big Dipper right over our heads. With a little adjustment it was Katie who found the comet in the sky just below the bucket of the Big Dipper. John had given me some beautiful binoculars for my birthday last year and they proved to be wonderful. We could really see the comet very well through them. Once our eyes adjusted we could even see it with the naked eye. It really was exciting to find it. We don't have a very good camera so couldn't get a picture but a good friend of ours took one in South Carolina. I hope you get a chance to see it before it is gone from our view.
A Recipe For You to Try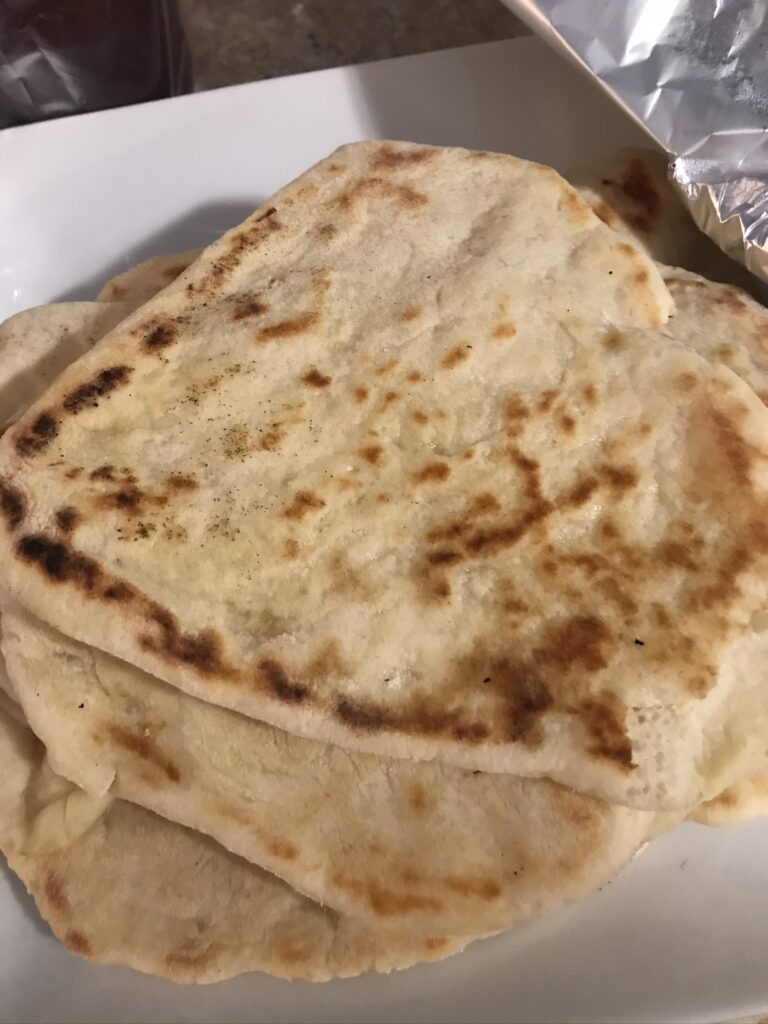 Not lamb burgers!
1/2 cup warm water
2 tsp instant yeast
1 tsp sugar
3 Tbsp olive oil
1/4 cup plain yogurt
1 egg
1/2 tsp salt
2 1/2-3 cups all purpose flour
2 Tbsp melted butter
2 tsp garlic, minced (optional)
Instructions
Combine warm water, yeast, and sugar in a large bowl; let sit for five minutes or till bubbly. Add olive oil, yogurt, egg, salt and 2 cups of flour. Stir till smooth.
Add enough flour to make a soft dough. Knead a few times on a floured counter until smooth. 
Place dough in a greased bowl. Cover and let rise in a warm place until doubled.
Preheat a skillet to medium heat.
Cut dough into eight pieces. On a floured surface, roll out each piece into a 6″ circle. 
Add a little oil or non-stick spray to the skillet. Cook each circle for 2-3 minutes or until bubbly and golden brown on the bottom. Flip over and cook for another 2-3 minutes.
Brush the top (the bubbly side) of each with melted butter.
Serve with Yogurt-Mint Tzatziki Sauce